Last updated on January 31st, 2023
What are aluminium prices in 2023?
Look forward to stunning, panoramic views and reduced energy bills with our guide to aluminium windows. With benefits, the average cost of aluminium windows & more.
Hiring Advice
Practical measures for preventing scams and choosing reputable trades
Why install aluminium windows?
For unparalleled views and fantastic aesthetics, aluminium windows are the perfect choice for any home. With the promise of thin frames and a seamless transition between panes of glass, choosing to invest in these stunning windows is a decision you won't regret.
Aluminium windows fit well into modern homes but can also complement other design themes and come in a range of colours and finishes. Slim frames mean more glass, letting in extra light and heat. This can translate to a reduction in your energy bills and aluminium is also an eco-friendly option.
Whether you are planning to replace old uPVC windows or upgrade to triple glazing, aluminium frames offer so much in terms of functionality and style.
Keep reading for aluminium windows prices and their benefits.
What is the cost of aluminium windows?
Type of window
Cost + VAT
(Range low - high)
Average cost
Cost of aluminium windows
£350 - £600
£475
Cost of uPVC windows
£250 - £400
£325
Cost of aluminium sliding windows
£340 - £990
£665
Double glazed aluminium windows are generally more expensive than uPVC options. The difference in price reflects the visual and practical advantages of aluminium window frames. Your required budget will strongly depend on the number of windows you need and styles you choose.
Top-end designs cost around £600 but thankfully most aluminium windows will come in well under this price. The average UK cost of aluminium windows is £475.
If you're looking to install doors, check out our aluminium sliding doors cost guide.
Common types of aluminium windows
Once you have made the smart decision to install aluminium windows in your home, you will need to consider the type of windows that are right for you.
Some types are safer for children and others are more secure (casement windows are generally considered the safest and most secure).
Below are the most common varieties of aluminium windows:
Sliding
Sash
Tilt and turn
Casement
Panoramic
Bi-fold
What are the benefits of aluminium windows?
Aluminium windows have a whole range of excellent benefits. From aesthetic to practical, these windows have many advantages over other materials. The main pros of choosing aluminium windows include:
Aluminium is an eco-friendly material.
These windows have a modern and stylish appearance.
You can choose from a variety of colours and styles.
Aluminium windows are durable and designed to last.
You can look forward to reduced energy bills due to the extra light and heat entering your home.
These windows are more affordable than timber options.
Aluminium windows are lightweight and available with thin frames.
These frames are resistant to warping and corrosion.
Factors affecting aluminium windows costs
Not every aluminium window is created equal. In fact, there is a range of factors that influence the amount you will pay for your aluminium windows. Below we have summarised the most important of these:
Style of window: From sash to panoramic, each style or type of window will have a different price.
Size of window: Larger windows have more materials (glass and aluminium) so will be more expensive than smaller windows.
Number of windows: Usually, you will be quoted a price depending on how many windows you want to be replaced. Always check whether any costs given to you are per window or for the total job. More windows will increase your total cost but potentially reduce your cost per aluminium window.
Ease of access: Difficult to access homes and windows will mean higher labour times and therefore higher labour costs.
Double or triple glazing: Choosing double and triple glazed windows will push up the price you pay. If you are considering to install double glazing, please see our double glazing cost guide to help you make the right choice.
Added security features: Child-proof locks, window sensors and tempered glass are all extra security features that can be added to your aluminium windows. These optional additions will be charged at a premium.
Type of glass: As we mentioned above, you can choose to upgrade the glass in your aluminium windows to tempered glass. Tinted and safety glass are other options you may wish to install. Again, these upgrades will come at a cost.
See the tradespeople we've checked and recommend for your job
Aluminium window costs by job type
Aluminium window cost calculator
You may be looking for an online aluminium window cost calculator, but it's hard to calculate. Any calculation would still be an estimation.
Have the £350 – £600 for an aluminium window and installation in your mind as a really rough ballpark. Speak to multiple trusted tradespeople to get a variety of quotes and see if they all line up.
There's many designs, finishes and of course sizes to consider, each of which have different prices. Then there's also other factors around the installation that could add to the cost, particularly if the windows are in areas hard to reach and need scaffolding.
Whilst it's true that uPVC windows are usually cheaper than aluminium options, both types have their own benefits.
Aluminium windows are of higher quality, and this can clearly be seen when comparing the two side by side.
Both types of material are very durable and long-lasting if properly maintained, although aluminium needs very little maintenance. The best thing about aluminium windows is the thin frames, uPVC options simply don't offer the same incredible aesthetics.
For those on a tight budget, uPVC windows may be the best choice with an average cost of £325, whilst the average cost for aluminium windows is around £475.
Cost of aluminium sliding windows
The average cost of aluminium sliding windows is £665.
Sliding windows can be a great choice in terms of visual and practical benefits. They are easy to open as well as being energy efficient.
Combined with aluminium frames, sliding windows can help to greatly improve the external appearance of your home.
Can I install aluminium windows myself?
Installing windows, even with lightweight aluminium frames, is very difficult. Glass is heavy and windows are cumbersome to work with. That is not to mention the dangers of working at heights. Unless you have excellent DIY skills, it's much safer to leave window installation to professionals.
Even if you are proficient in DIY and carpentry, there is a high risk that any windows not properly installed could let in moisture. This will then lead to dampness and mould. There is also the possibility that the windows could fall out if not safely installed.
For safety and peace of mind, we would recommend hiring a professional.
To find a local, reputable, tradesperson in your area and get a personalised aluminium window installation quote use our free search feature.
FAQs
What other options are there for aluminium windows?
The most common materials that are used for window frames, apart from aluminium, are uPVC and timber.
Useful aluminium window checklist
The benefits of choosing aluminium windows include extra light, durability and energy savings.
The average cost of aluminium windows will usually fall into the range of £350 – £650.
Factors such as size, style and type of glazing can all affect the cost of aluminium windows.
UPVC windows are generally cheaper and lower quality than aluminium windows.
It's not wise to attempt aluminium window installation without a trained professional.
Quotes for aluminium windows
Hopefully, you now have a clearer understanding of the costs of installing aluminium windows on your property. Armed with this knowledge you can better judge any quotes you receive from window specialists.
The exact cost of your aluminium windows will depend on how many you're ordering, their shape, size and the complexity of installation. As with any project, and particularly with windows, it pays to request prices from a number of businesses in order to assess professionalism and cost before signing on the dotted line.
To get quotes from trusted and local window specialists, simply enter your postcode in our free search tool below.
See the tradespeople we've checked and recommend for your job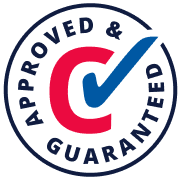 The Checkatrade guarantee
When you contact a trade through Checkatrade, our guarantee could cover you for up to 12 months. You can claim up to £1,000. Exclusions and T&Cs apply.