Everything you should know about a glass staircase for your home
Are you dreaming of a glass staircase? Make like Cinderella and have glass on your feet every day with these unique and modern designs. Keep scrolling to discover everything you need to know about installing a glass staircase, their pros and cons, and whether you need to marry a Prince to afford one.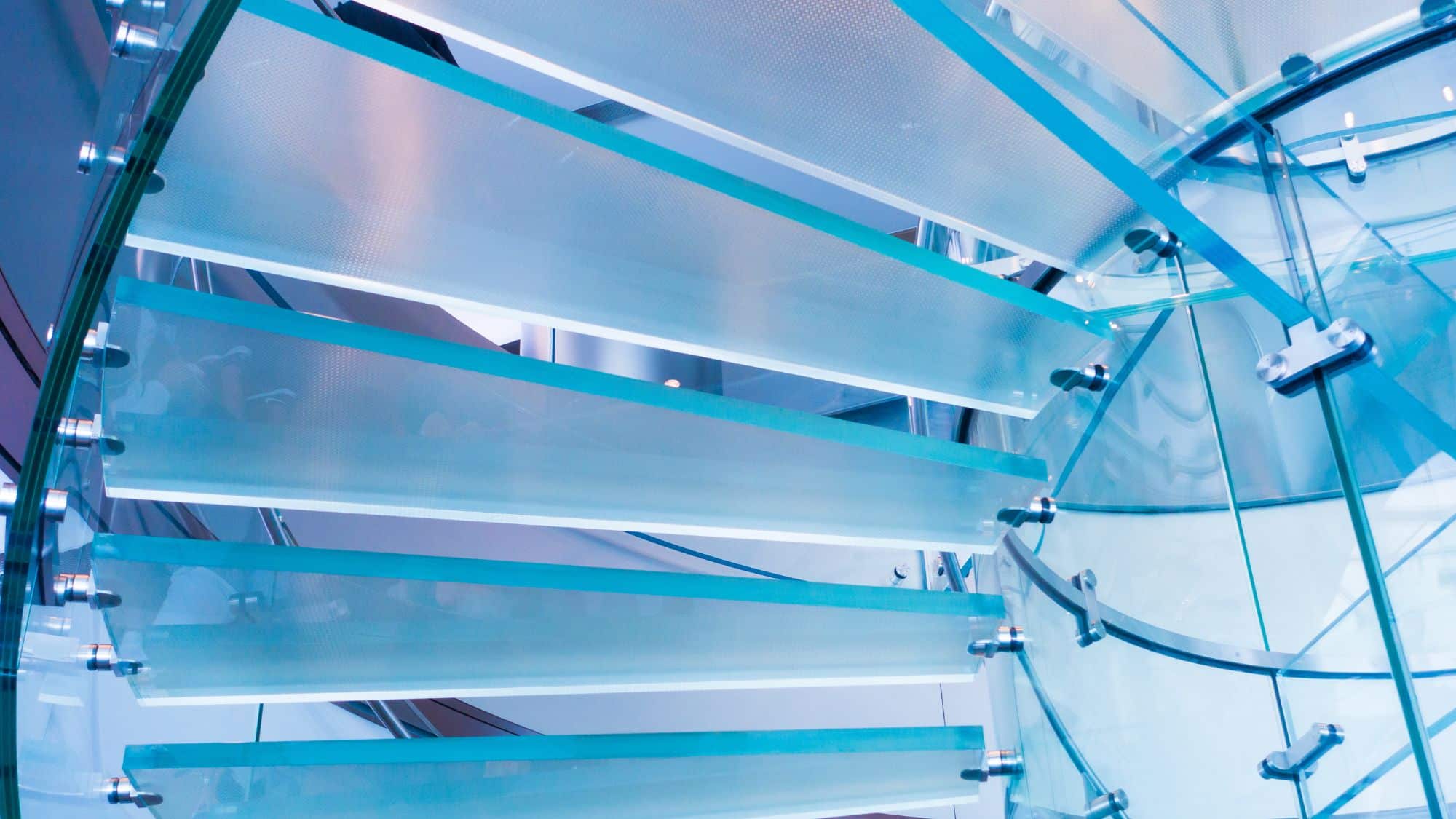 If you're considering a glass staircase, you've either watched Frozen one too many times and want your own ice castle, you're a minimalist fiend with a penchant for see-through aesthetics, or you want to give the illusion of more space.
Whatever your reason for clicking on our article, this is a judgement-free space. We're just going to take you through the highs and lows – sorry, pros and cons of glass staircase ownership, how much they cost, and what designs we think are worth considering.
Keep reading for our full breakdown.
See the tradespeople we've checked and recommend for your job
Staircase glass design options
When it comes to glass staircases, there are several design options to choose from. The type of glass used and the design of the staircase can greatly impact the overall aesthetic of the space.
Here are a few popular glass design options for staircases:
Double up with a glass bannister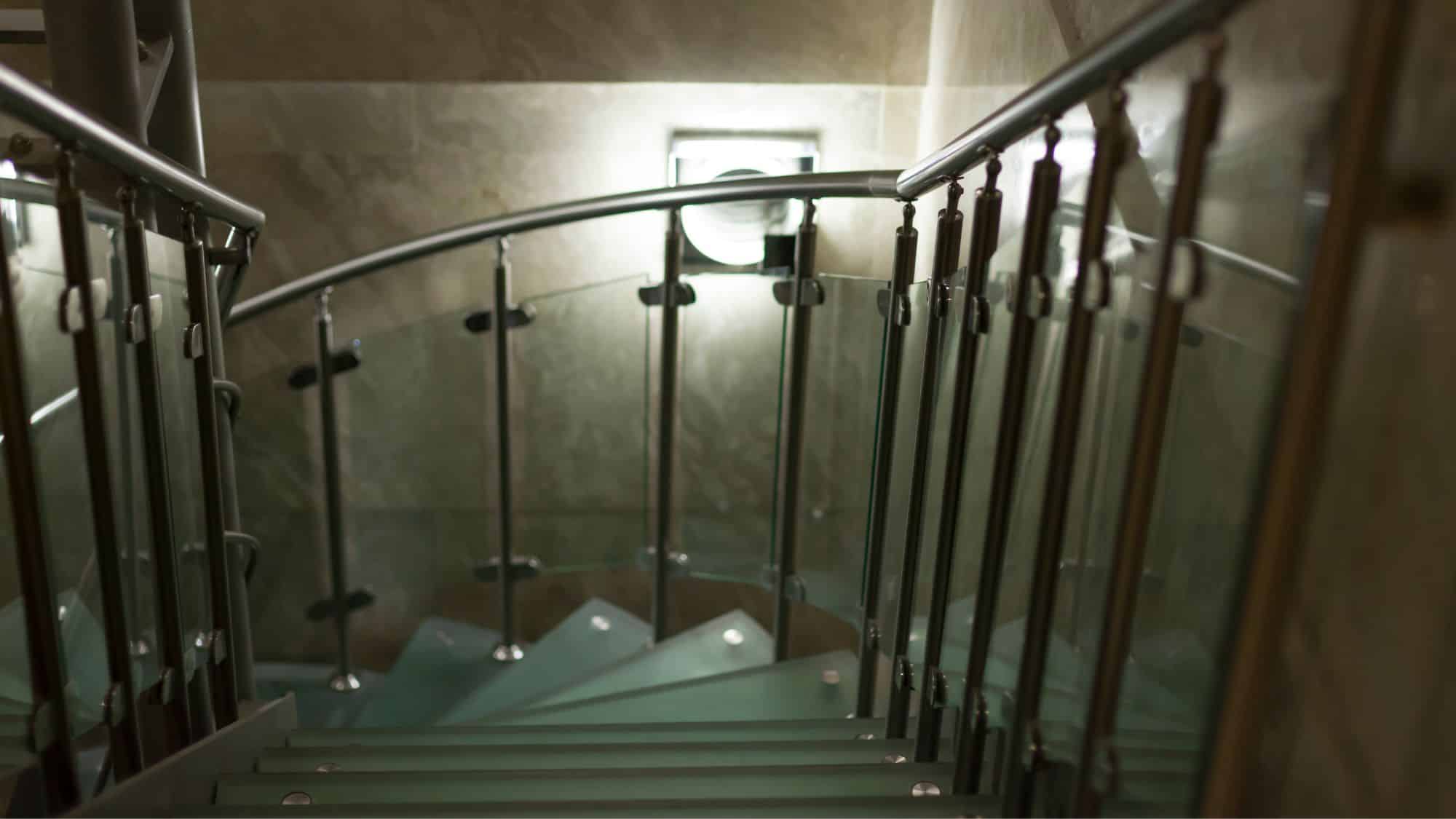 Glass bannisters are great for adding a modern touch to a traditional staircase. A glass bannister consists of glass panels mounted onto a metal or wooden handrail, allowing for an unobstructed view of the staircase and an illusion of more space.
Float away with glass stair panels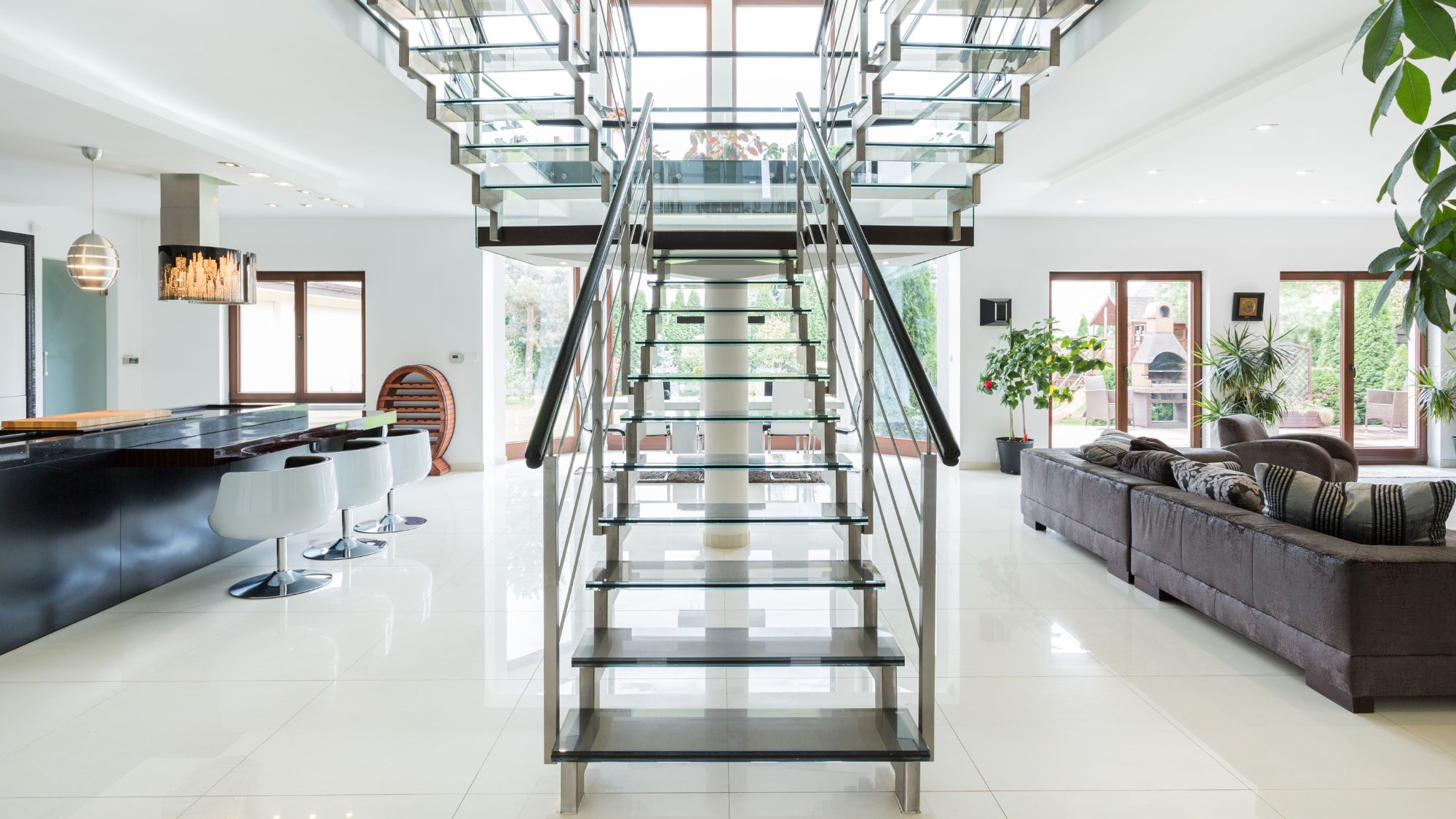 Installing glass stair panels is another way to create a sleek and modern look in your home. For example, you can mount glass panels onto the staircase stringers or treads to create a floating effect (as pictured).
However, if you're worried about privacy and safety (vertigo anyone?), consider using frosted or textured glass to include the popular design aesthetic (and maintain your balance!)
Glass balustrade stairs keep it clean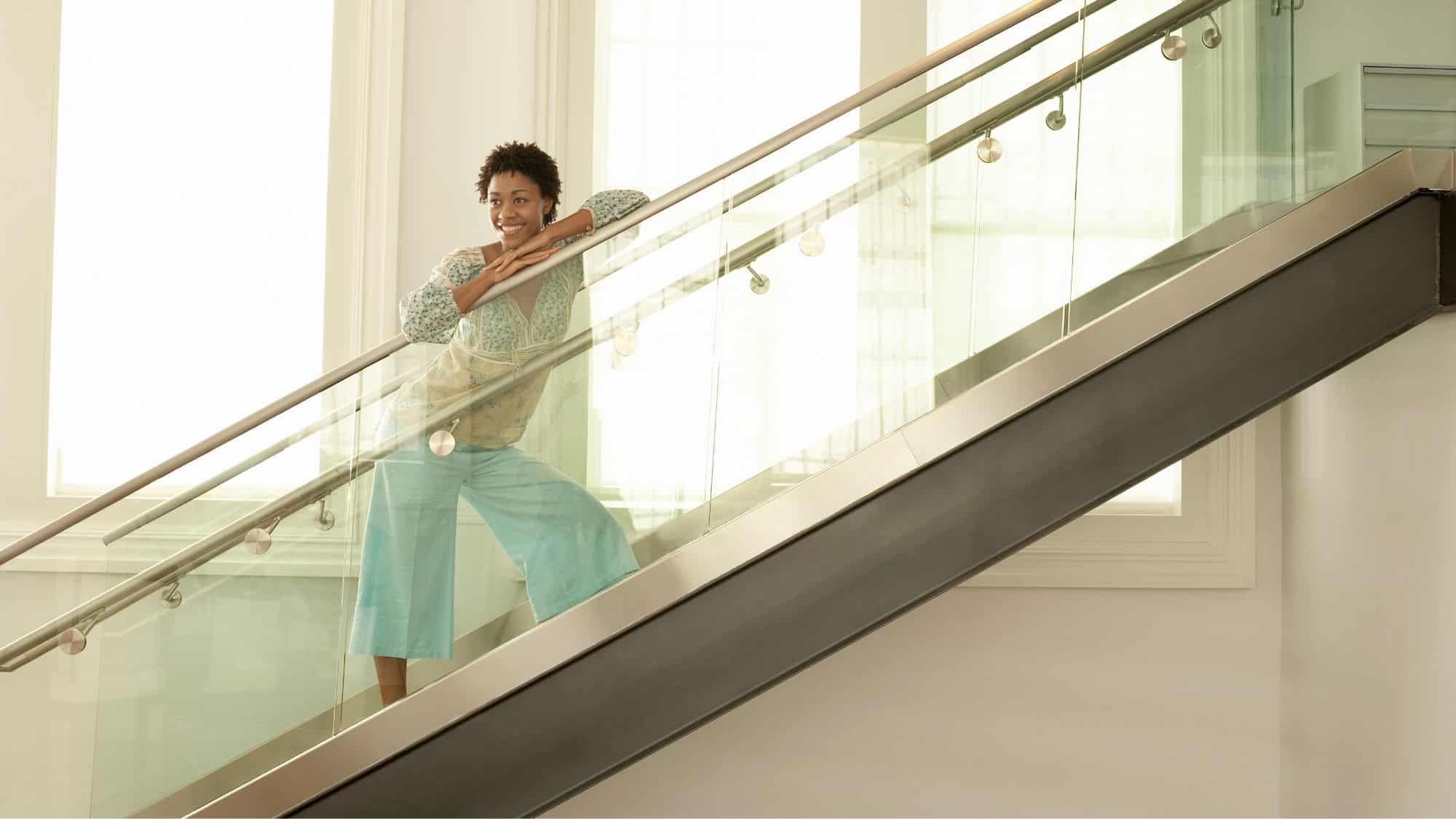 Glass panels replace traditional spindles or rail balustrades on glass staircase designs. This allows for a seamless transition between the staircase and the surrounding space, giving a more open and floating aesthetic.
Glass balustrades are perfect for those who want to keep the traditional look of a staircase while adding a modern touch.
Stay minimal with a glass stair railing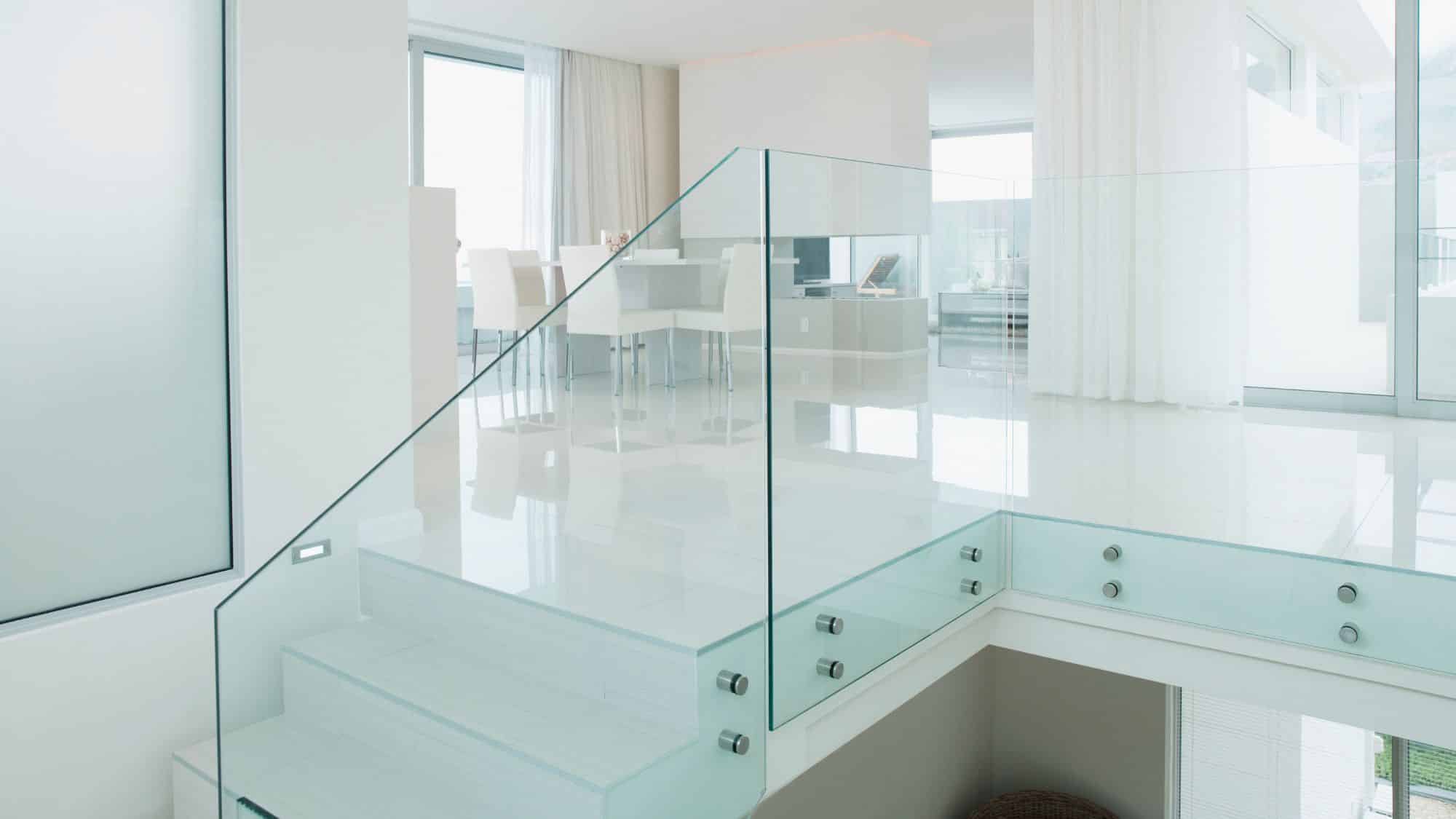 Glass stair railings are an important and required safety feature for most residential and commercial staircases. They also enhance the overall aesthetic of your home when designed and installed to match your decor.
You can mount a glass stair railing onto the staircase stringers or treads to provide a clear view of the surrounding space. As pictured, the result is a futuristic and almost invisible design that lets the rest of the house shine.
Related: Read our Staircase ideas: Stunning railings, banisters and stairs for more design inspiration.
The pros of glass staircases
Aesthetically pleasing
Sleek, modern, and effortlessly premier, glass staircases add instant sophistication and elegance to any space. Furthermore, they allow for an unobstructed view so your home seems larger and brighter.
Easy to maintain
Glass is a low-maintenance material (unless it's used in Princess shoes). Consequently, it's easy to clean with a good glass cleaner and microfibre cloth. Unlike wood or carpet, you don't need to sand or vacuum glass, making it a more hygienic option too.
Durable and long-lasting
The tempered glass often used in staircases is heat-treated to make it four times stronger than regular glass. As a result, it's resistant to scratches and chips and can withstand heavy foot traffic to boot.
Safer than you think
As the tempered glass used in staircases is designed to shatter into smaller, rounded pieces in an unfortunate event, the risk of injury is reduced.
See the tradespeople we've checked and recommend for your job
The cons of glass staircases
Cost a pretty penny
Glass staircases are often more expensive than their traditional counterparts. This is because the cost of the materials, installation fees, and any customisation options add up quickly.
Slippery when wet (or dry)
Glass is a smooth and slippery material, especially when wet. However, adding a non-slip coating or using frosted or textured glass helps reduce the risk of slips and falls.
Privacy isn't a given
Glass staircases provide an unobstructed view, which is a concern for those who value privacy or want their home to retain an air of mystery.
Requires some maintenance
Although glass is easy to clean, fingerprints and smudges do show up and need wiping off more frequently than other materials. Top tip: Keep a pack of window wipes handy for when you go up and down the stairs.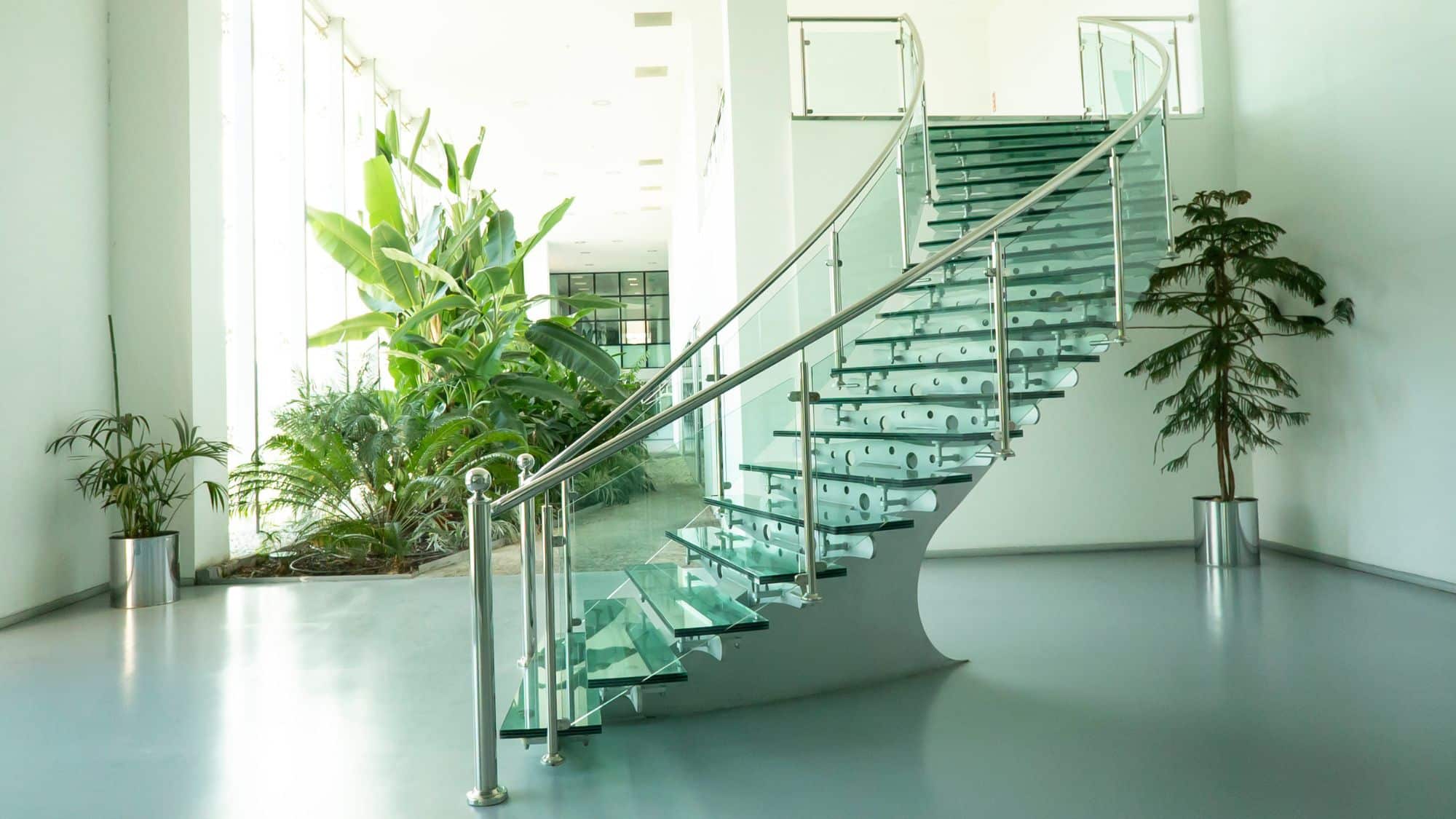 The average cost of a glass staircase
The cost of a glass staircase in the UK varies depending on the size, type, and design you choose, as well as your specific customisation options.
A basic glass staircase costs an average of £8,000. However, a more elaborate design with custom features can cost upwards of £40,000.
The cost of installation is also a factor. Prices range from £800 to £4,000 depending on the size and complexity of the job. It's important to consider your budget and desired design when planning for a glass staircase in the UK.
Related: Read our new staircase cost guide for a full breakdown of material and installation prices.
Glass stair railing cost
When considering a glass staircase, it's important to also factor in the cost of glass stair railings.
A glass stair railing is an important safety feature that prevents falls and injuries.
The cost of glass stair railing depends on the size and design of the staircase, as well as the type of glass used. For example, tempered glass, which is heat-treated for added strength and durability, is the most common type of glass used for stair railings.
The cost of glass stair railing can range from £200 to £500 per linear foot, depending on the complexity of the design and the type of glass used. It's important to choose a reputable supplier and installer to ensure the safety and durability of your glass stair railing.
Why not choose a trusted tradesperson with verified ratings?
Related: Read our glass stair railing cost guide for more information.
See the tradespeople we've checked and recommend for your job
Glass staircase manufacturers in the UK
Spiral Stairs Direct: A UK-based company that specialises in bespoke spiral staircases. They can design and manufacture custom glass staircases to suit your needs.
Canal Architectural: They offer an impressive range of glass staircases, including cantilevered and floating designs. They also offer glass balustrades and stair treads.
Glass & Stainless: Specialising in glass and stainless steel staircases, including spiral and helical designs, they offer a range of customisation options and bespoke designs to suit your taste.
Abbott-Wade: Offer a range of staircase designs, including glass balustrades and glass panel options. They also offer a range of finishes and customisation options.
Glassolutions: Specialising in glass products, they provide a range of glass staircase options, including glass panels and balustrades. They also offer installation services.
FAQs
How much is a glass staircase in the UK?
The average cost for a basic and straight glass staircase is around £15,000. However, for floating designs, the costs can soar to a whopping average of £50,00. It all depends on the design and features you want.
Can glass stairs break?
Like all furniture and features in your home, glass stairs aren't damage-proof. However, as they're made with tempered or reinforced glass, the likelihood of them breaking is the same as any staircase. So, be sure to keep it well-maintained to increase its longevity.
Related: Read our new staircase cost guide for a full breakdown of material and installation prices.
See the tradespeople we've checked and recommend for your job