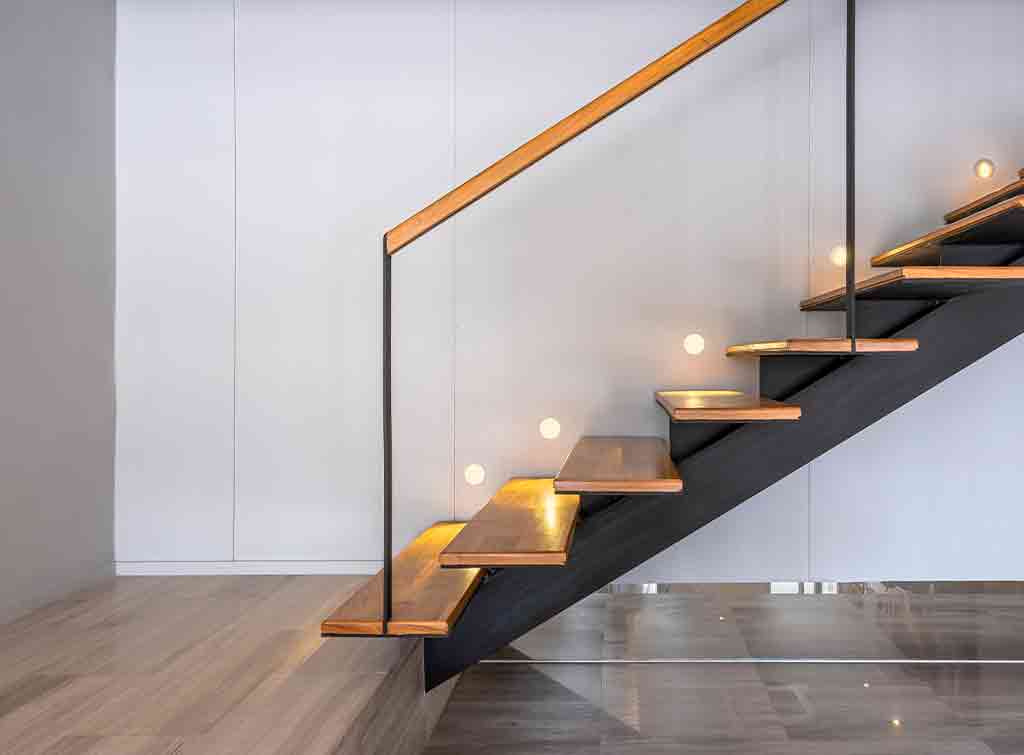 Not just a way of accessing higher floors, a staircase can play a pivotal role in your interior design scheme. As staircases are often the first thing visitors see when entering your home, why not wow them with a beautiful feature that they won't forget!
If your old staircase has seen better days, this could be the perfect opportunity to create a stunning and practical focal point in your home. There are so many opportunities to inject style into a staircase – from decorating the walls to customising the individual components, such as banisters and flooring.
You can even move your staircase to a different room altogether! Creating the opportunity to free up space in one room and create a stunning feature in another.
If you are considering renovating, replacing or redesigning your staircase, read on for a range of fantastic staircase ideas and designs. You won't be disappointed.
Stairs designs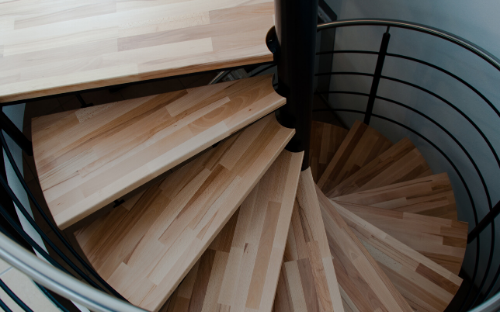 With any project, you have to start somewhere, and with staircases, the best place to start is deciding on which stairs design best suits your needs.
From traditional steps to floating and spiral steps, you will be amazed at the difference a carefully designed set of stairs can make.
Not only can you choose your perfect stairs design, but you can also even choose the materials your new staircase will be constructed from. Below are the most common materials available and it's a great idea to pick the one that complements the rest of your home:
Natural wood: For a rustic, traditional look.
Painted wood: To add life into dull wooden staircases.
Carpet: For a comfortable, cosy experience.
Tiles: Easy to clean and with a Mediterranean appearance.
Runners: A great way to brighten up a dull staircase with a soothing feel.
Glass: To make a narrow staircase look wider with a modern finish.
Metal: For an industrial or modern feel.
To better understand the cost of each material, view our in-depth new staircase cost guide.
Stair railing ideas
Once you have chosen the design that fits best in your home, it can be fun to experiment with different stair railings. Again, you will have a choice of materials, from metal to wood and even glass. Wooden railings can also be customised to your exact taste through painting, varnishing or staining.
If you need more stair railing ideas, consider changing up the railing style. As well as the following common styles you can even order bespoke railings for a truly unique staircase:
Newel posts
Balusters
Floor to ceiling vertical railings
Glass panels
See the tradespeople we've checked and recommend for your job
Banister ideas
Most banisters will either be made from wood or metal but by no means does this limit the huge scope for personalisation. You have the opportunity to add not only the usual banister but also a wall-mounted option for those who need a little extra help on the stairs, or as a contemporary design touch.
Banister ideas you can choose from include integrated, grooved and ungrooved options. Plus, wall-mounted banisters come in two styles, mopstick or pigs ear.
Staircase design ideas
After customising the different components of your staircase, you can elevate its aesthetics with some brilliant staircase design ideas, including:
Try using dark colours to add drama and sophistication.
Alternatively, bright colours work better for narrow or dark staircases.
Use paint, wallpaper or tiles to upgrade your staircase walls.
Add paintings and pictures along the staircase walls to infuse a little personality onto a plain wall.
Consider matching the colour of your staircase to your walls for a seamless finish.
Staircase ideas for all homes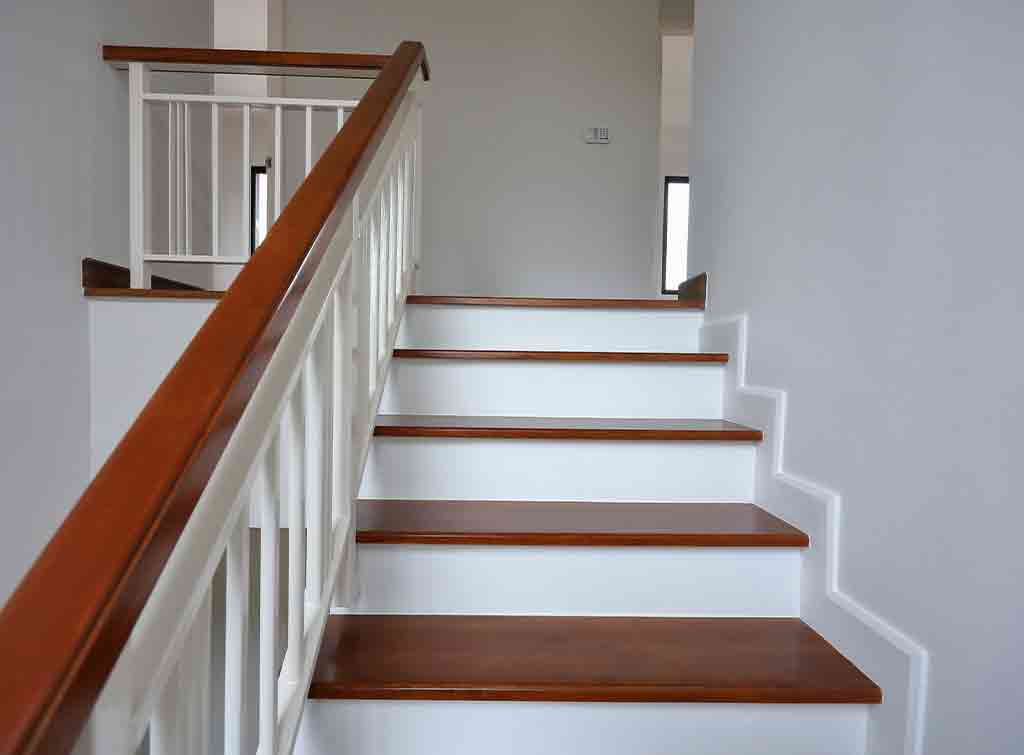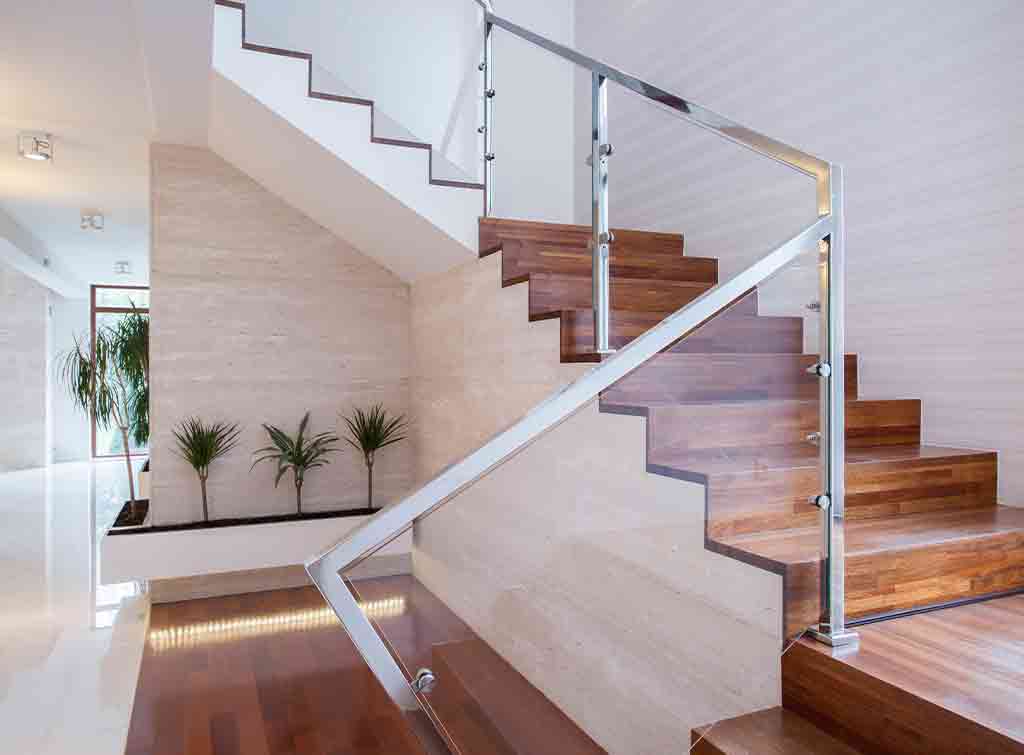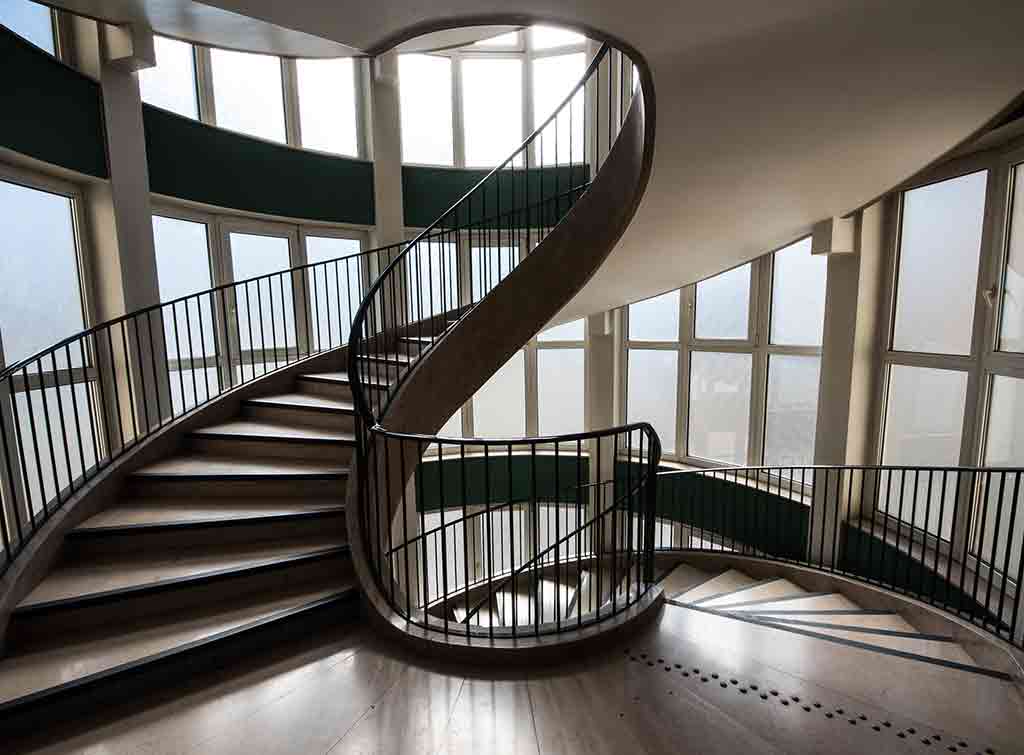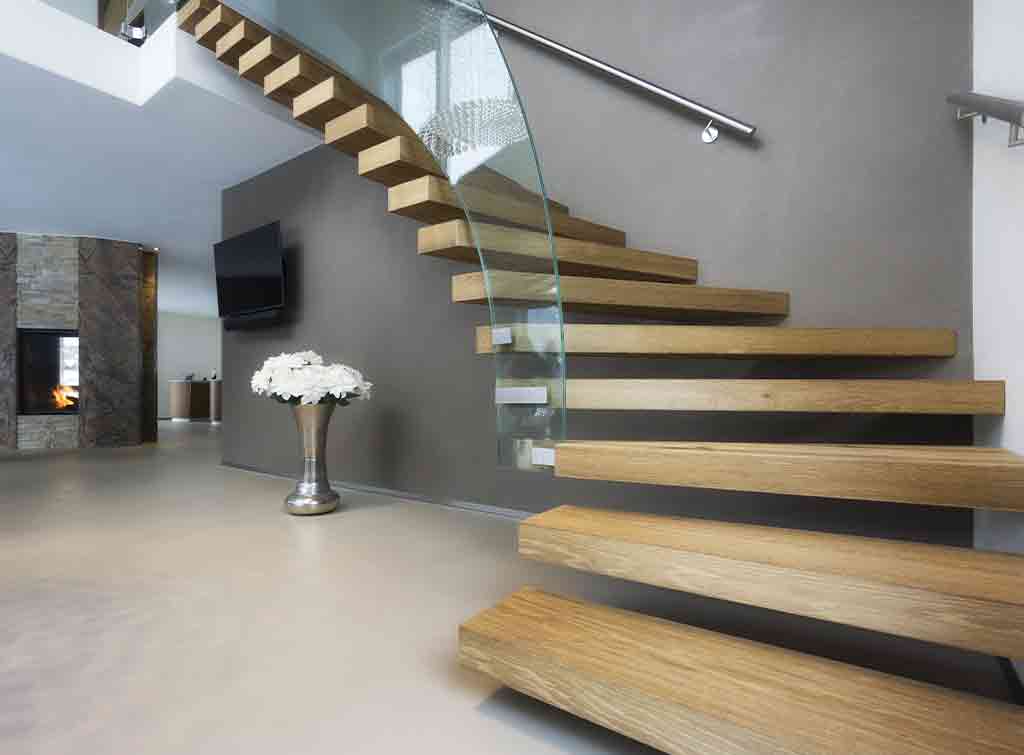 Stylish stair railing ideas
With beautifully painted white wooden stair railings, this home has a traditional, clean feel. Using light colours and slim railings can make a narrow staircase seem wider while still adding in a barrier for safety.
The white railings perfectly complement the well cared for wooden stairs and landings, while the white painted walls create a seamless look.
High end design staircase ideas
This staircase captures the essence of modern luxury. Large glass panels open up the staircase so it fits perfectly into the home and light can flow freely throughout the area. The light-coloured walls highlight the stunning wooden stairs without looking too sterile.
With silver banisters, the modern look is completed, and this staircase is sure to wow guests and visitors.
Wooden banister ideas
Wooden banisters offer excellent aesthetics while creating a safety feature for anyone descending the stairs. Dark wood can look classy and inviting, whilst being perfect for a family staircase. Add into this the white railings and walls for a clean and traditional feel.
Perfectly balancing light and dark, this staircase would fit well into most styles of home.
Spiral stair design
Dramatic and visually stunning, spiral staircases are a fantastic design feature for larger homes. This staircase idea uses dark colours to create an awe-inspiring feel that will never go out of style.
Metal railings and banisters are used to complete the look. With an industrial and captivating appearance, this staircase would be an incredible focal point in any home.
You can find more details and prices for this design in our spiral staircase cost guide.
Floating steps
Fascinating and intriguing, this floating staircase looks impossible, but is very safe to use. Floating steps can complement a minimalist home with their large openings and are very modern.
Here a tapered glass panel has been used to further open up the staircase and infuse light throughout the space. With light wood steps, metal banisters and monochromatic walls, this staircase embodies modern style.
See the tradespeople we've checked and recommend for your job
Tell us what you think
What others think of this article:
Need More Information?
Related posts