There are several elements to consider when it comes to log burner fireplace ideas. We don't just love them for their heat. The way they smell, the sound they make, and the light they give create an atmosphere that's both familiar and relaxing. Even an inactive fireplace can enhance the ambience of any room. So, whether it's a dormant fireplace or one that burns brightly, we're here to inspire your kinetic aesthetic.
Log burner fireplace ideas
When it comes to log burner design ideas, there are so many to choose from. Why not consider an elegant wood-burning stove set within your fireplace? It's perfect for when the cold weather forces us to snuggle up indoors and bed down for the winter. There's nothing quite like settling in with a good book, a roaring fire, and a cup of hot chocolate. The Danish even have a word for it: Hygge.
Types of fireplace designs include:
A traditional chimneypiece
A rustic wood burner
A pared-back fireplace
An open masonry fireplace
A free-standing stove
For more help choosing the perfect wood burner, check out our ideas guide here.
Benefits of log burners
Small environmental impact: The carbon wood takes to grow is countered by the carbon it gives off when it's burned, which is why it's considered a low-carbon fuel option. However, it does depend on where it's grown, how it's processed, and whether the wood is burned when it's dry. Wet wood gives off polluting chemicals, so it's important to make sure your logs stay out of the rain.
Reduced heating bills: Whether you use your wood burner to heat one room in your house or you attach it to your central heating, a log burning stove will reduce your yearly heating bills.
A warmer house: Fire is the perfect kinetic energy for making your home toasty – sometimes too toasty! (You can probably ditch the blankets…)
Softer ambience: A log burner is a sensory treat that evokes tranquillity and warmth inside your home, unrivalled by anything artificial.
If you're looking to have a log burner installed, be sure to check out our cost guide here. Don't forget to hire a professional for an expert installation!
See the tradespeople we've checked and recommend for your job
Read on for more design ideas and trends in our carousel content below.
Log burner fireplace ideas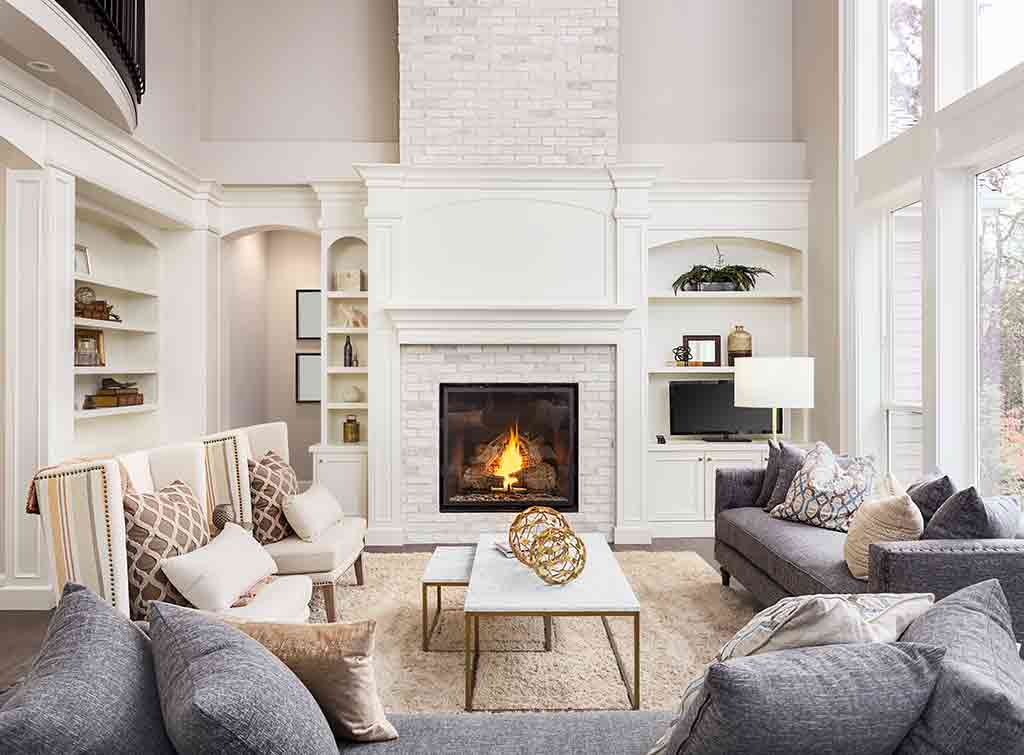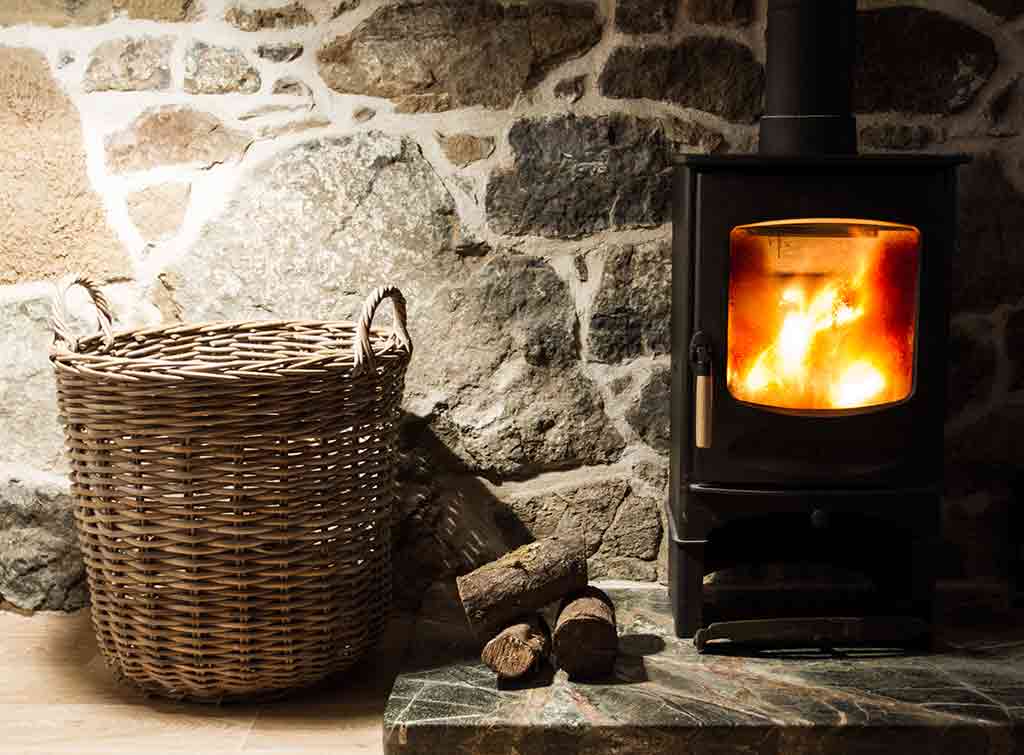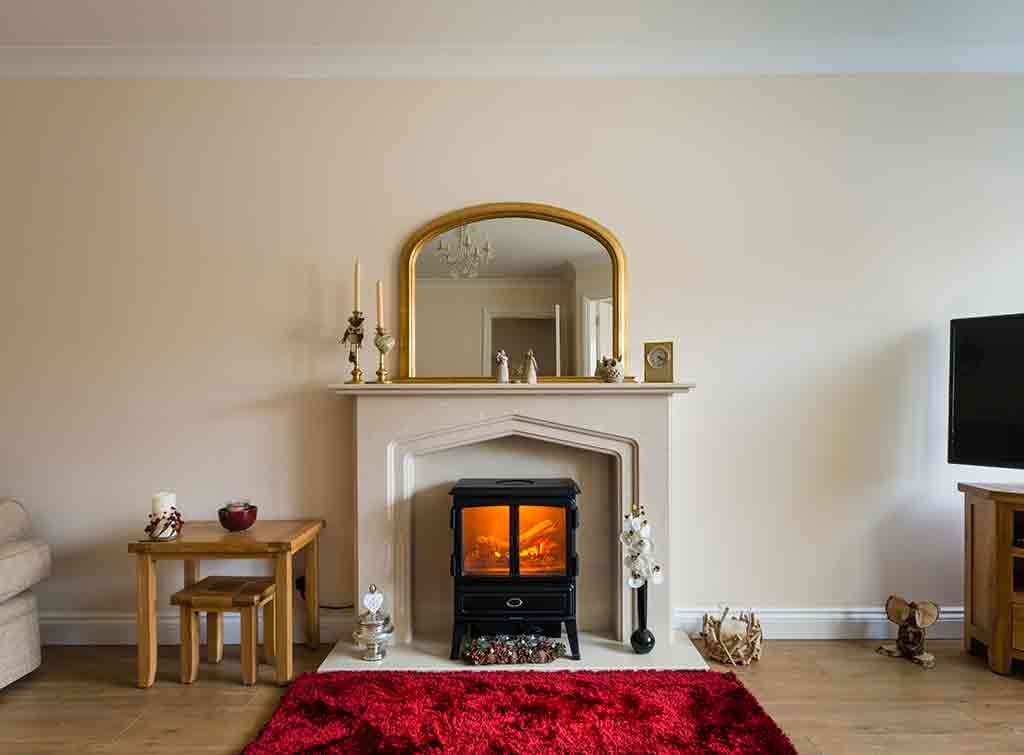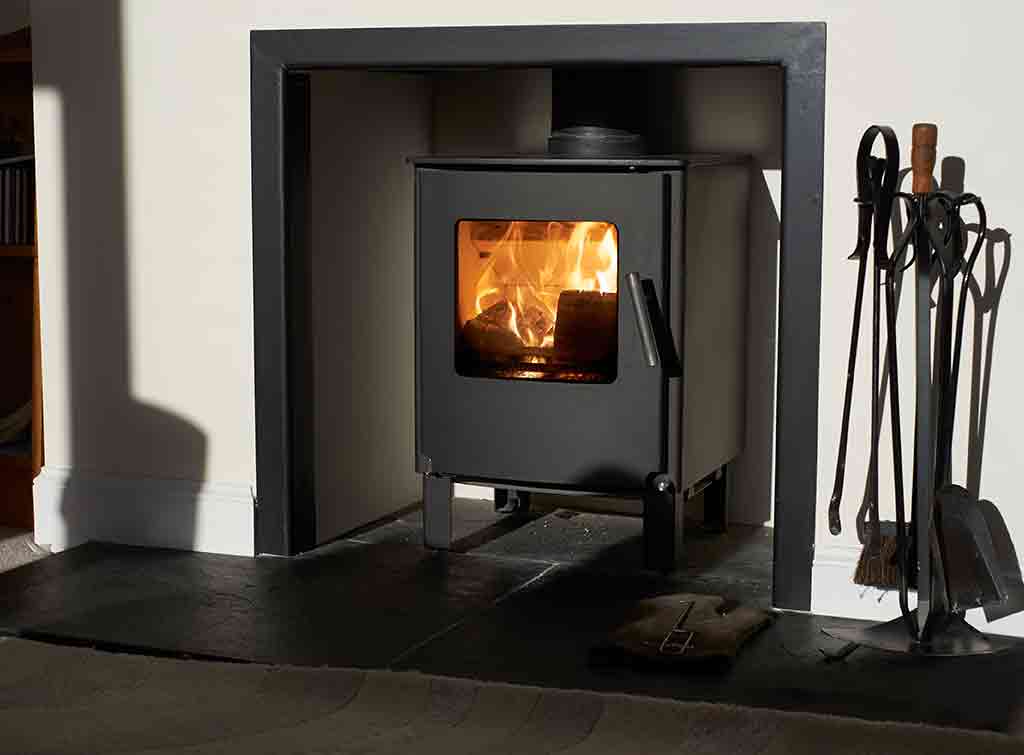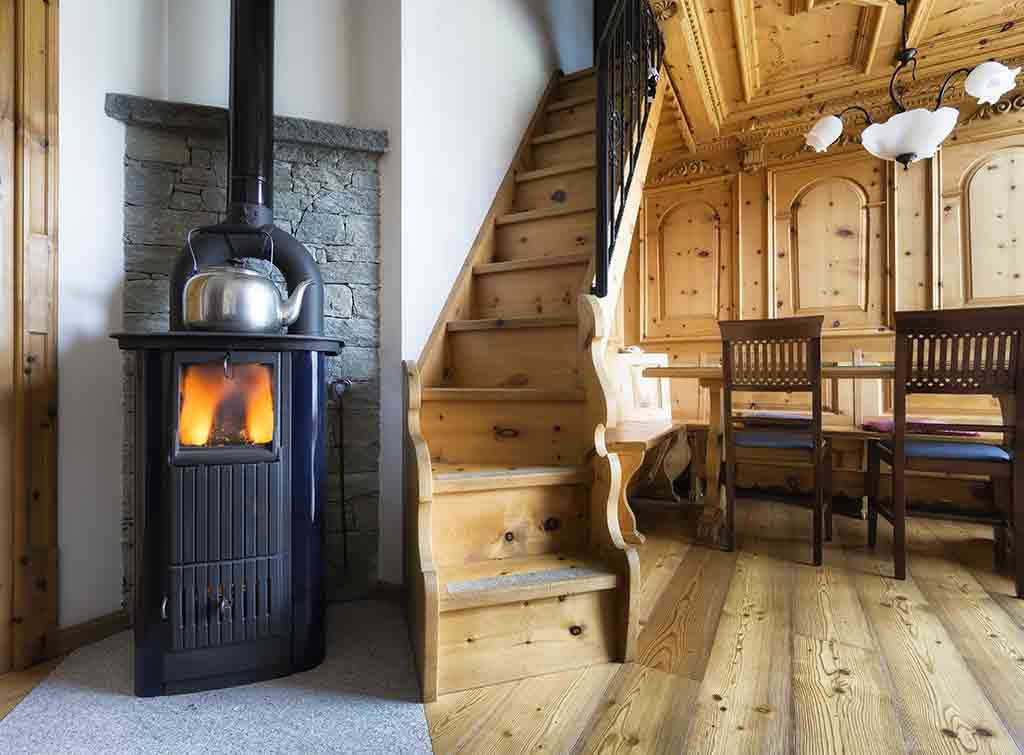 Log burner fireplace design ideas
Scandi meets rustic in this clean and tranquil living room. The white-bricked flue and matching fireplace is striking and stark; however, the square log-burning fireplace generates both kinetic and aesthetic warmth in this bright and open space. Paired with plush furnishings and soft lighting, we can imagine cosying up in here after a winter's stroll. Can you imagine the view from those floor-to-ceiling windows? Gorgeous!
Wood burning stove design ideas
This free-standing log-burning stove sits on a gorgeous marble plinth. The rustic open bricked wall-guard is a stylish and practical design choice, while the wicker basket and logs pull the look together for a homely feel.
This simple but elegant design is perfect for almost any aesthetic.
Wood burner design ideas
Modern design meets traditional elements with this pared-back log burning stove. Beautifully framed by the cream mantel, mirror and accessories, the original feature complements the contemporary upgrade.
Wood stove design ideas and photos
This pared-back fireplace design with its free-standing log burner is an elegant and simple design that works well in any modern home looking for extra character. The black fireside set perfectly matches the hollow's frame and stove, giving it a simple but striking effect.
Wood stove heat shield ideas
This small wood burning stove is a multi-functional feat of engineering. Not only does it heat the entire house, including the teapot atop its stove, but it's also a stunning feature that fits into its corner nook perfectly. We love the grey stone back-board and tall burner design, which shows how a touch of the traditional can turn a wooden cabin into something both beautiful and functional.
Corner wood stove design ideas
This matt grey corner stove is a contemporary and stylish design. The circular elements are clean and minimalist, which makes this wood burning stove perfect for new-builds. The heat proof back-board is unassuming yet effective for defining the space, while the log racks are a nice touch that add character and depth.
See the tradespeople we've checked and recommend for your job
Tell us what you think
What others think of this article:
Need More Information?
Related posts