Why install a wood burner?
As an efficient, environmentally friendly method of keeping your home warm, wood burners are a great way to save money. Wood burning stoves are not only a practical heating option, but they make a stunning focal point in any room; creating a comforting environment for stress reduction.
More efficient than open fires, they need little maintenance and can be expected to last 10 – 20 years. Finally, as the name would suggest, wood burners use wood for fuel, which is a fantastic environmental choice.
Cost of installing a wood burner
Over time a wood burner will be more cost effective than an open fire although there is an initial cost for the burner and the labour required to install it.
The average cost of a wood burner is: £950
The average cost to install a wood burning stove is: £2,000
Type of stove
Cost + VAT
(Range low - high)
Average cost
Wood burning stove (with installation)
£2,000
Wood burning stove (stove only)
£400 - £1,500
£950
Wood burning fireplace
£1,460
Fireplace
£230 - £3,460
£1,845
Pellet stove installation
£840 - £3,050
£1,945
Gas stove
From £750
Stove Installation
£700 - £1,000
£850
Chimney flue
£1,700
Benefits of different common burners
Every variety of stove offers pros and cons, so we have compiled the following list to help you choose the best option for your home:
Wood burning stoves (log burning and multi-fuel): Less costly than coal or similar stoves, this option burns wood making it environmentally friendly.
Pellet stoves: Using compressed wood or biomass, pellet stoves require electricity and can be more efficient than wood burners.
Gas stoves: Producing less pollution than wood burners, these stoves use gas to provide an instant warming effect and are easier to maintain.
Electric stoves: Running on electricity these stoves emit heat whilst having the look and feel of an open fireplace. With portable and wall mounted options.
Wood burning fireplaces: A beautiful feature in any room, open fires are great for use during power outages and offer appealing scents.
Factors affecting the cost of installing a wood burner
Once you have decided to install a wood burner in your home it is essential that you take into account the following factors that will affect costs when choosing your stove:
Surrounding structures: It is generally advised that you install your new stove in a hearth of some sort, to protect the floor and wall adjacent to the wood burner. You will also need a chimney or flue to channel the emissions.
Type of stove: Whether you choose a wood burner, a gas stove or a fireplace each option has a different cost for the materials and the installation. Refer to our above table to see the different prices.
Size/wattage of stove: Depending on the size of the room where you are installing the burner, the cost of the stove will increase or decrease. If you have a small room you may only need a 4 – 6kw stove, however, if your room is much larger you may need a 10 – 15kw stove. These have a significant price difference.
Stove material: Stoves come in all shapes, sizes and materials. The most common materials used are iron and stone, whichever you choose will impact the cost.
Design: It is possible to purchase stoves with different designs which will increase the visual beauty of the burner but also increase the cost.
Additional features: Optional added features such an ability to swivel, or double-sided stoves will also increase to overall cost of your burner.
Find a fireplace specialist near you
How much does it cost to install a wood burning stove?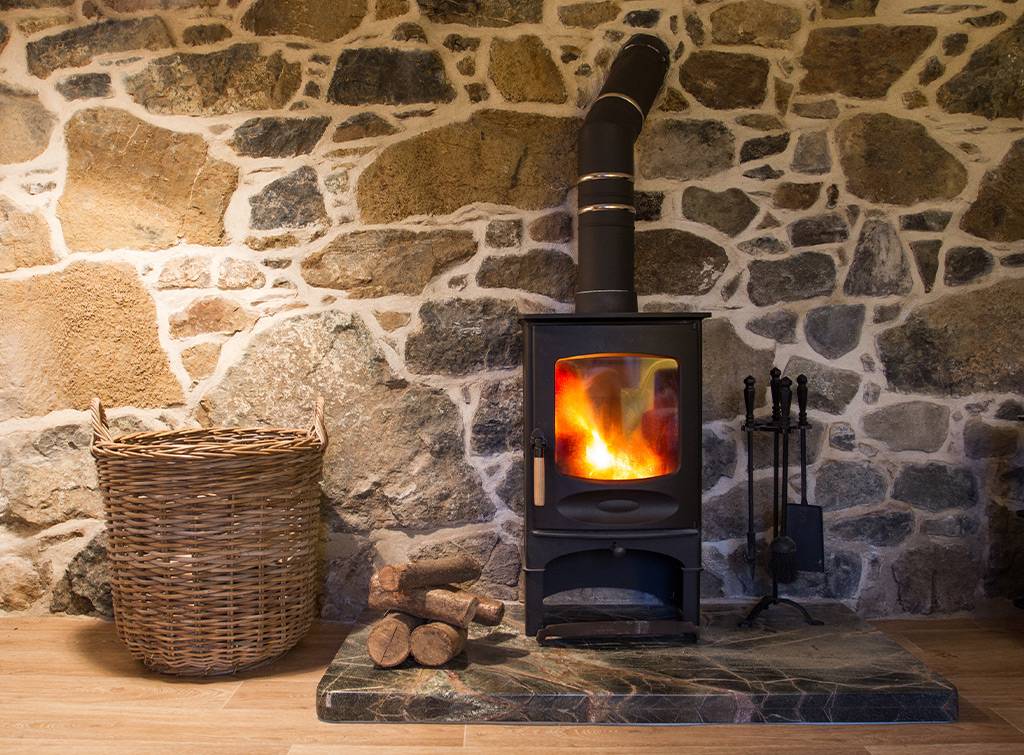 With the wide range of benefits that come with these stoves it is no wonder they are a popular and smart choice.
The average cost to install wood burning stoves is £2,000 with a cost of £950 for the stove itself.
How much does a wood burning fireplace installation cost?
These fireplaces are perfect for cold evenings with their comforting scents and appealing visual effects.
The average wood burning fireplace installation cost is £1,460.
How much does a fireplace installation cost?
A fireplace is a brilliant surround for any stove or fire and is heat and burn proof for safety.
The average fireplace installation cost is £1,845.
How much is the cost to install a pellet stove?
For an efficient alternative to wood burners, pellet stoves use compressed pellets of wood or biomass and electricity to heat a room.
The average cost to install a pellet stove is £1,945.
How much is the cost to install a gas stove?
An alternative option to wood burners, gas stoves emit less pollution, provide instant heat and are easier to maintain.
The average cost to install a gas stove is £850 with the average cost of the unit being £750.
How much does a chimney flue installation cost?
When installing a new stove, it is often essential that you add a new or replace an old chimney flue.
On average, chimney flue installation costs come in at around £1,700.
How long does it take to install a wood burner?
This depends on your current fireplace set up. If you are simply installing a stove it will take 1 – 2 days, however if you need a complete overhaul and installation then the time taken is likely to stretch to 5 – 7 days.
Can I install a wood burner myself?
It is important to consider the risks and dangers when installing a new wood burner.
Stoves made from metal or stone are very heavy and can cause injury from lifting or dropping, plus if they are not correctly installed the effects of fire and smoke may damage the surrounding areas of the fireplace or any bystanders.
It is also essential that you ensure that any stove installation complies with building regulations. A professional will take on any risk and use their wealth of knowledge to make sure the installation and future use of the stove is safe and compliant with regulations.
To find a local, reputable, tradesperson in your area and get a personalised cost to install a wood burner use our free search feature.
Key takeaways for wood burner installation
Wood burners stand out as beautiful centrepieces and are environmentally friendly.
The are other types of stove such as gas, electric and pellet stoves you may want to consider too.
Factors affecting the cost of installing a wood burner include the wattage, type and design of the stove.
The cost of adding a new burner includes the cost of the stove itself plus the installation cost.
It can be risky and dangerous to install a wood burner yourself.
Tell us what you think
What others think of this cost guide: