How to repair your chimney
A chimney is exposed to a lot of wear and tear over the years. Whether it's taking a battering in severe weather conditions or helping you heat your home through those long, cold winters, our faithful chimneys go through a lot.
So, it's not uncommon for a chimney to need repairing or a little TLC from time to time. It pays to ensure you maintain your chimney so that it is ready to warm your home when you need it.
Here's a rundown of some of the main chimney repair and maintenance techniques, as well as how to know when your chimney might need some upkeep.
Chimney repointing
Repointing is a process that involves renewing parts of a chimney's mortar joints, which may have succumbed to weathering over time.
This process is extremely important. Failing to address repointing issues can lead to serious problems, especially if your brickwork is damaged and letting water into your chimney.
Repointing the brickwork of a chimney is a common and essential measure when it comes to preventing and resolving many internal issues. Repointing a chimney can cost anywhere between £500 and £1000.
Chimney flaunching
The term 'flaunching' refers to the bed of mortar that is responsible for holding a chimney pot in place, as well as preventing water from entering your chimney. It's not uncommon for chimney flaunching to deteriorate over the years. This is why it's essential to check the condition of flaunching regularly.
Letting flaunching issues go untreated can result in chimney pots becoming insecure and even in danger of falling. A toppling chimney is obviously a real hazard, capable of causing significant damage to your property and even passers-by.
See the tradespeople we've checked and recommend for your job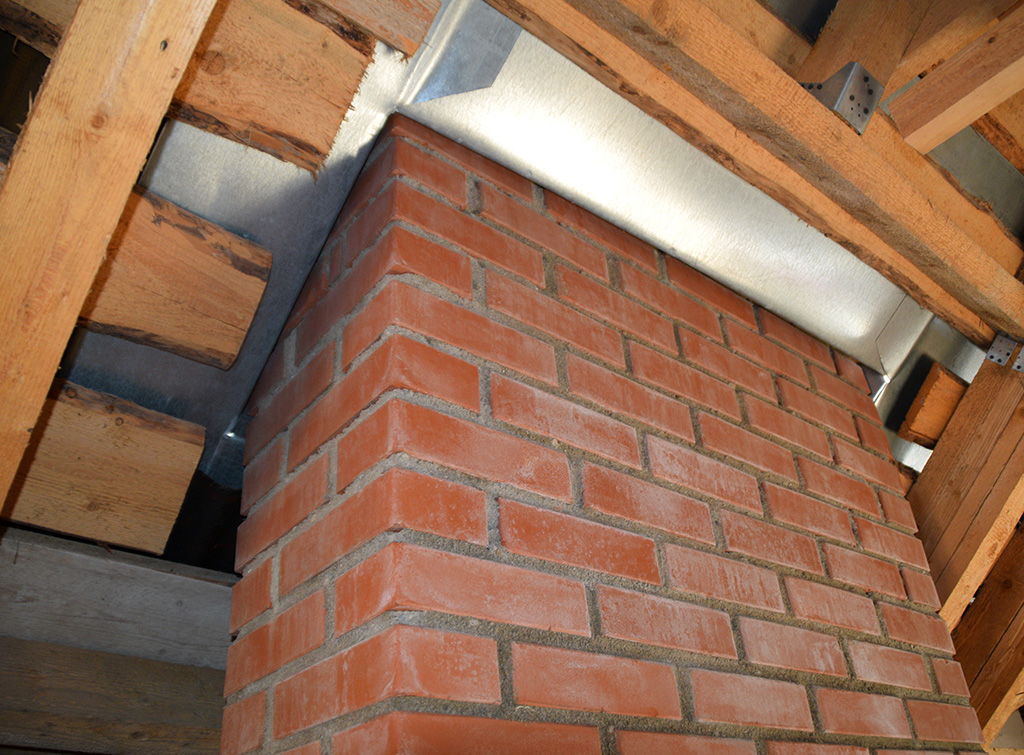 Chimney flue lining
Chimney flue lining is used to repair a deteriorated or unsafe chimney safely. It can also reduce the likelihood of a potentially deadly carbon monoxide leak.
A chimney flue lining plays a major role in improving energy efficiency and fireplace maintenance. Chimney flue installation costs vary tremendously depending on the size and age of your property.
Chimney flashing
The lead flashing around a chimney is designed to protect the overall roof structure while keeping the rain out and protecting it from other elements. There to preserve the part of the chimney where it meets the tiles, flashing is a crucial part of your chimney's design. If it becomes loose or cracked, it can cause bigger and more costly issues further down the line.
With this in mind, if your chimney flashing needs to be repaired or replaced, you must act straight away. The cost of flashing depends on the size of your property and chimney, but as a general rule of thumb, you can expect to pay between £300 and £400.
How do I know when my chimney needs repairing?
So, how do you know when your chimney needs repairing? There are many signs that could indicate that your chimney requires some TLC, including the following:
Deteriorating mortar joints
Excessive rusts
A cracked chimney crown
Fireplace bricks crumbling
Vertical cracks in the chimney flue
White staining
If you notice any one of these red flags, you should consider calling in a professional chimney repair company to assess your chimney and recommend maintenance measures.
Call in the professionals
The best way to tackle any repairs to your chimney is to call in the professionals. Here at Checkatrade, we've handpicked a selection of professional and trusted chimney repair experts who are highly trained in fixing any chimney issue.
So, whether you need a chimney professional to repair your chimney flashing or you require chimney repointing work, use our Checkatrade search to find a vetted and monitored professional.