If you're looking for chimney breast ideas, then you likely own or live in a house that has or had a fireplace. There's a portion of the wall that projects forward and you want to know what your options are in terms of decorating it.
Well, look no further! We have all the latest ideas, trends, and tips for dressing your chimney breast. Make this classic design feature stand out and fit with your desired aesthetic. There's nothing more homely and welcoming than a chimney, whether you use it as a fireplace, transform it into a feature wall, or turn it into something else entirely…
Read on for some inspirational chimney breast design ideas.
Chimney breast uses
Chimney breasts have several uses, whether they're dormant or active.
Open fireplace
The most obvious reason for having a chimney breast is for the fireplace. Whether it's an open electric, wood-burning or gas design, they're used to heat your house and add a cosy aesthetic.
Types of fuel include:
Wood or other biomass
Various grades of coal
Carbonised charcoal
Smokeless fuel
Carbonised coke (a type of coal)
Flammable gases (e.g. butane, propane and methane)
Ethanol
Oil
Pellets
Freestanding stove
Similar to an open fireplace, with wood, coal, oil or pellet fuel options, a self-contained stove is usually installed in the chimney breast alcove. They're used to heat the house in the same way a fire is, although in a much more fuel-efficient way. If they're connected to your central heating, they also help reduce heating bills.
Check out our log burner fireplace ideas for more inspiration.
Feature wall
If your fireplace is no longer in use, they can still make beautiful design features. Consider decorating your non-active chimney breast by installing a mantelpiece (if you don't already have one), putting flowers, logs, ornaments, books, bunting or even artwork in the hearth.
Entertainment centre
For a contemporary feature, why not consider installing a television unit in your chimney breast or above your mantel? When you're not catching up on the latest Netflix series, you can pop on a digital roaring fire and give your space a 'modern-rustic' vibe.
See the tradespeople we've checked and recommend for your job
Chimney breast design ideas
If you're stuck for chimney breast ideas, let us help you get started. Check out a few trends below and see if any tickle your fancy.
Inset cooker
Think white tiled chimney breasts with warm wooded frames and inset cookers – perfect for bright, modern and rustic kitchens. Consider hanging utensils on the adjacent wall for a tidy and homely aesthetic.
Plants
Decorate your hearth with hanging plants, potted ferns, orchids or prayer-plants. Let the outdoors enhance your indoors and turn your chimney breast into a living wall.
Logs
Perfect for both active and dormant chimneys, pile some logs in the alcove for a rustic design impact. Adorn with candles, adjacent fire utensils, ornaments or bunting for a unique touch. Alternatively, decorate with Scandi baskets and neutral floor tiles to make the space pop.
Inset shelves
Turn the projected wall into an entertainment centre by boring out inset shelves for items like digital fires, TV's, stereos, books, LED lights, clocks, mirrors or candles. Get creative with shapes and textures for a truly contemporary feature wall.
Paint or wallpaper
Whether you remove or keep the mantelpiece, either make your chimney breast blend in with the rest of your decor or let it stand out with a personal touch. Textured wallpaper, brick effect tiles, a stone fireplace or stripped back walls will offer different aesthetics, so consider your theme before changing the entire room. Add a shelf or two for extra decoration or leave it bare for a minimalist vibe.
Books
For the most relaxing reading nook in the world, consider filling your dormant fireplace with stacks of your favourite books. Think about placing a feature chair adjacent to the chimney, next to or atop a round jute rug, and install some delicate string lights for extra tranquillity. Now, sit in the chair, turn on the lights, and lose yourself within the pages of a novel.
See the tradespeople we've checked and recommend for your job
Still can't decide? Why not hire one of our experts for a bespoke transformation? Or, for more ideas like this, check out our carousel content below.
Like what you see? We have plenty more where this came from. Check out our blog for more ideas, inspiration and how-tos.
Chimney breast ideas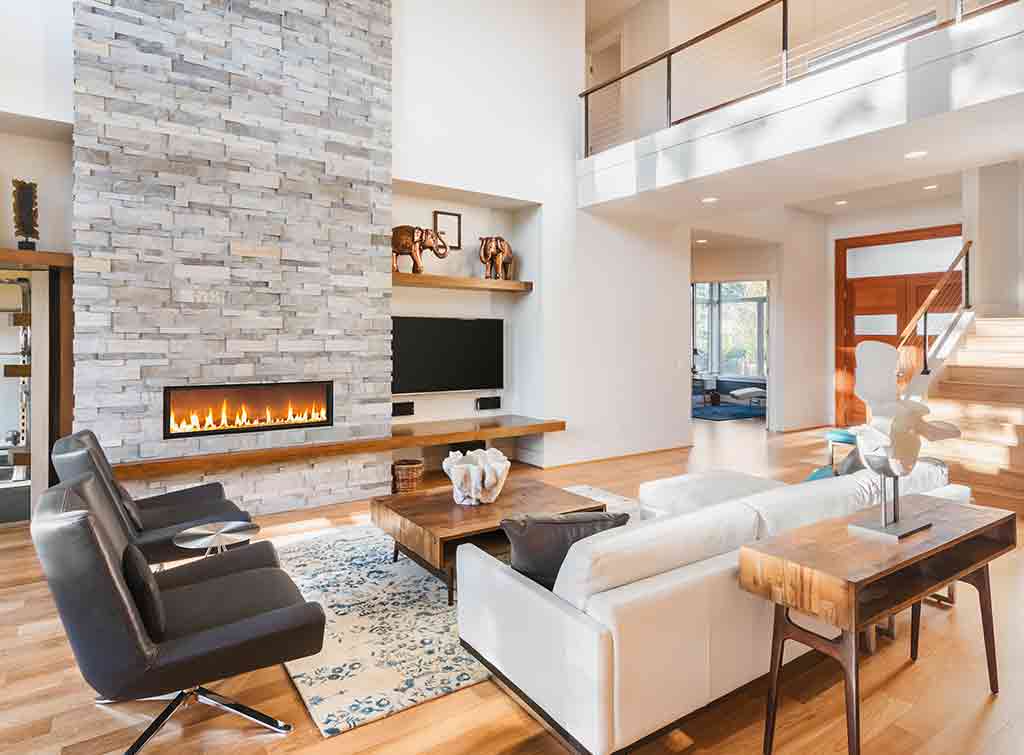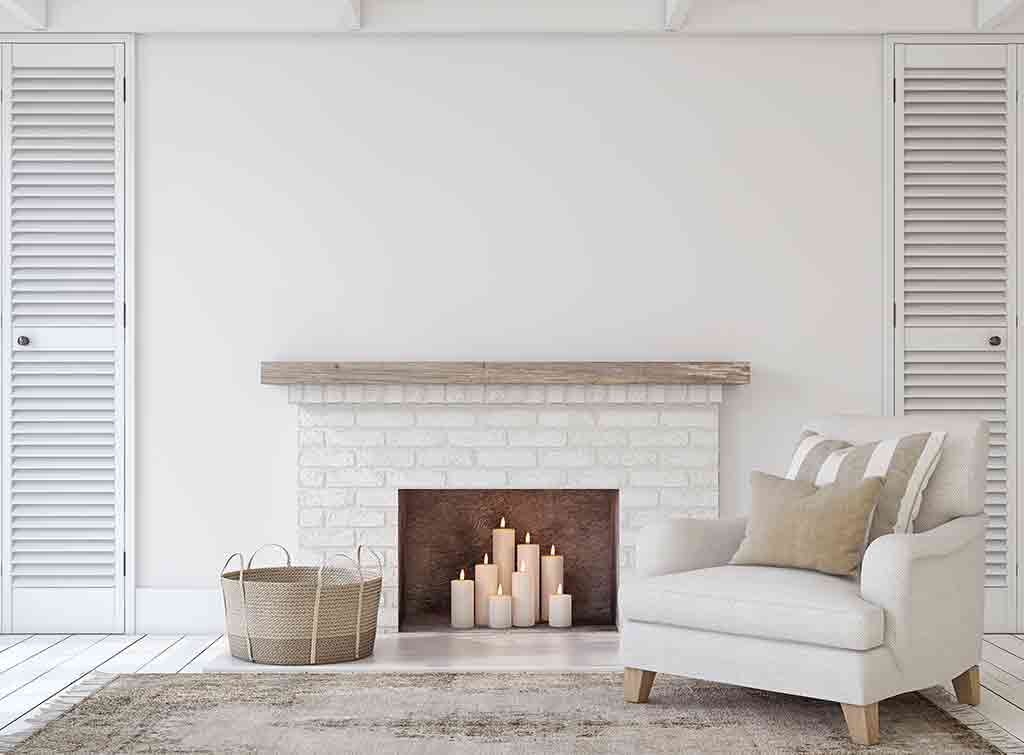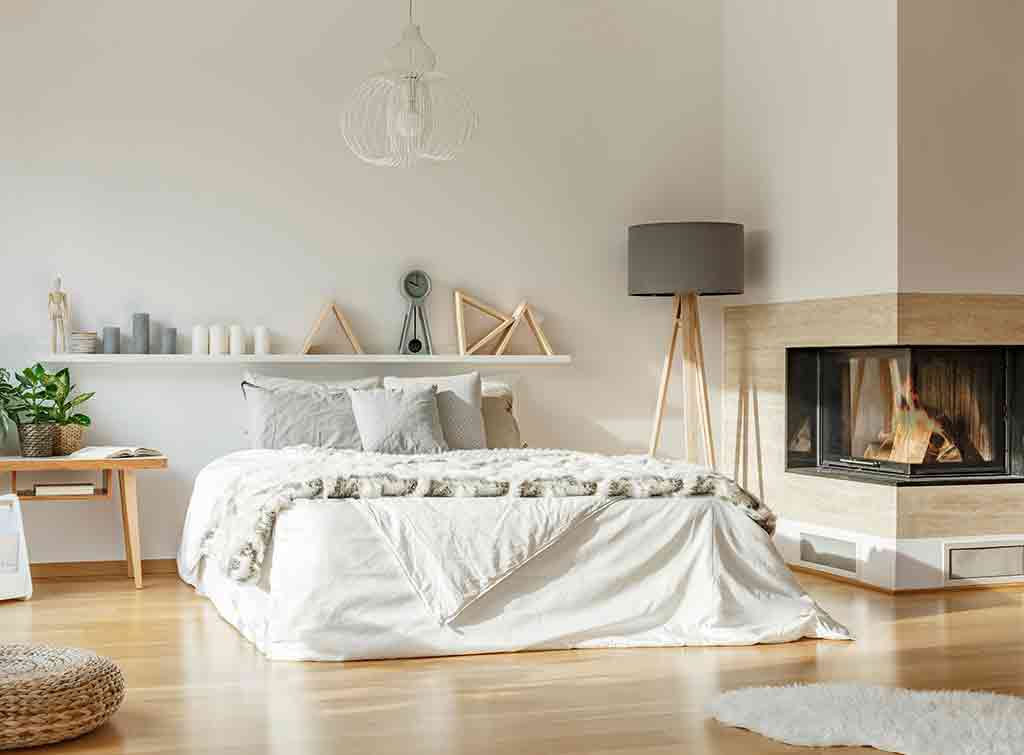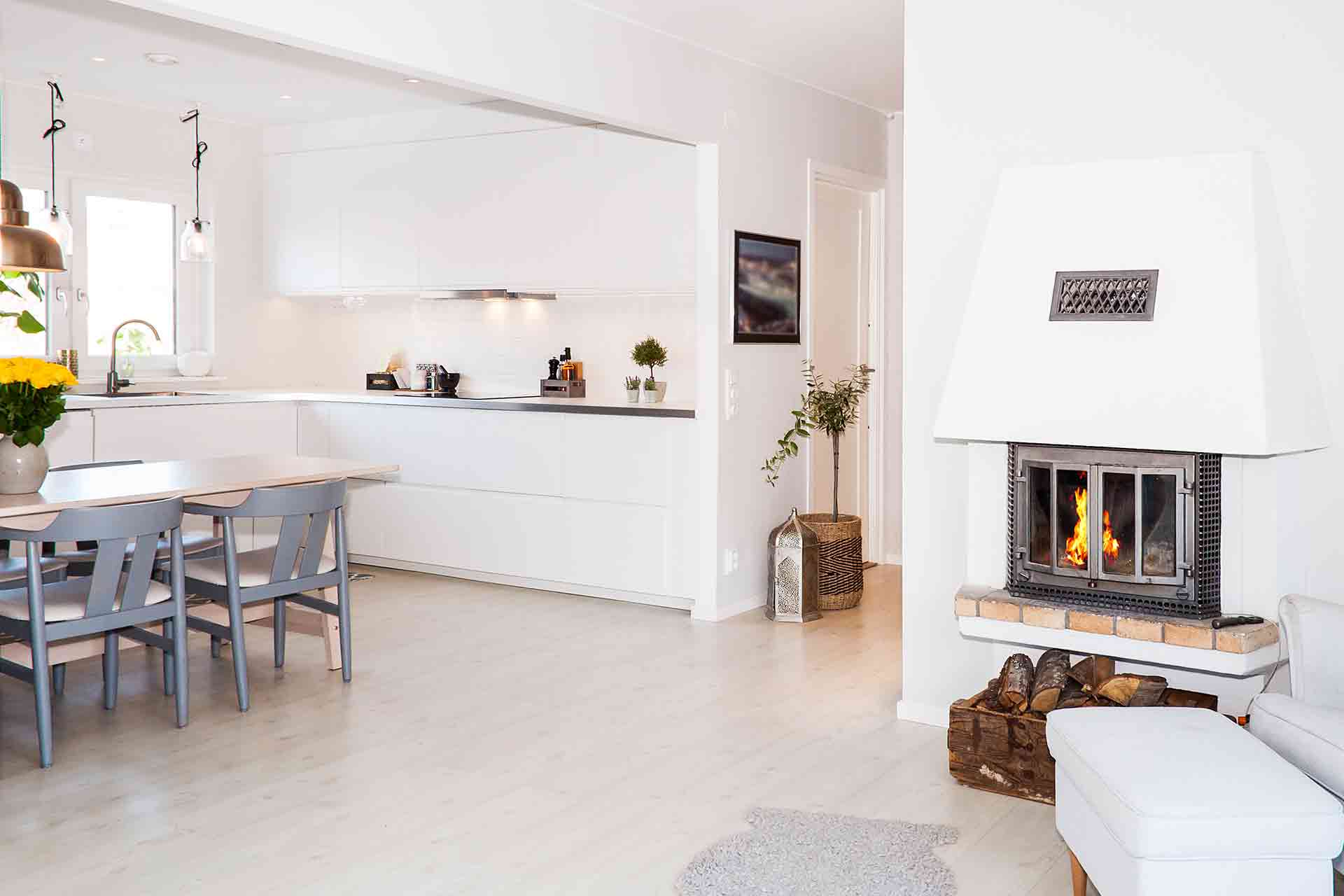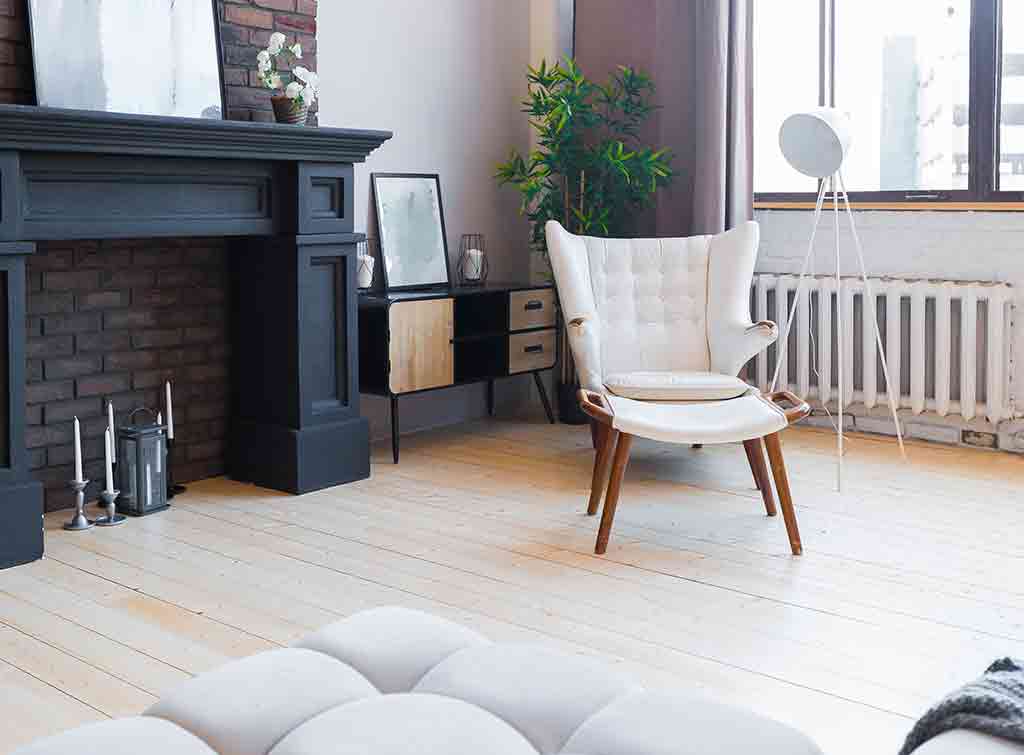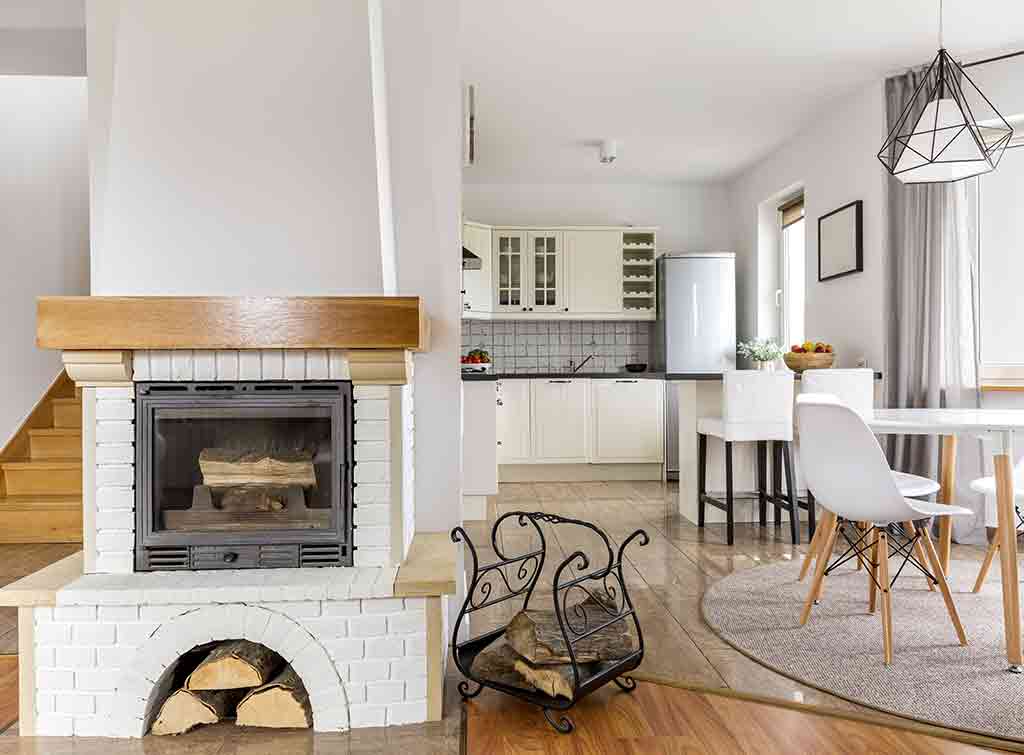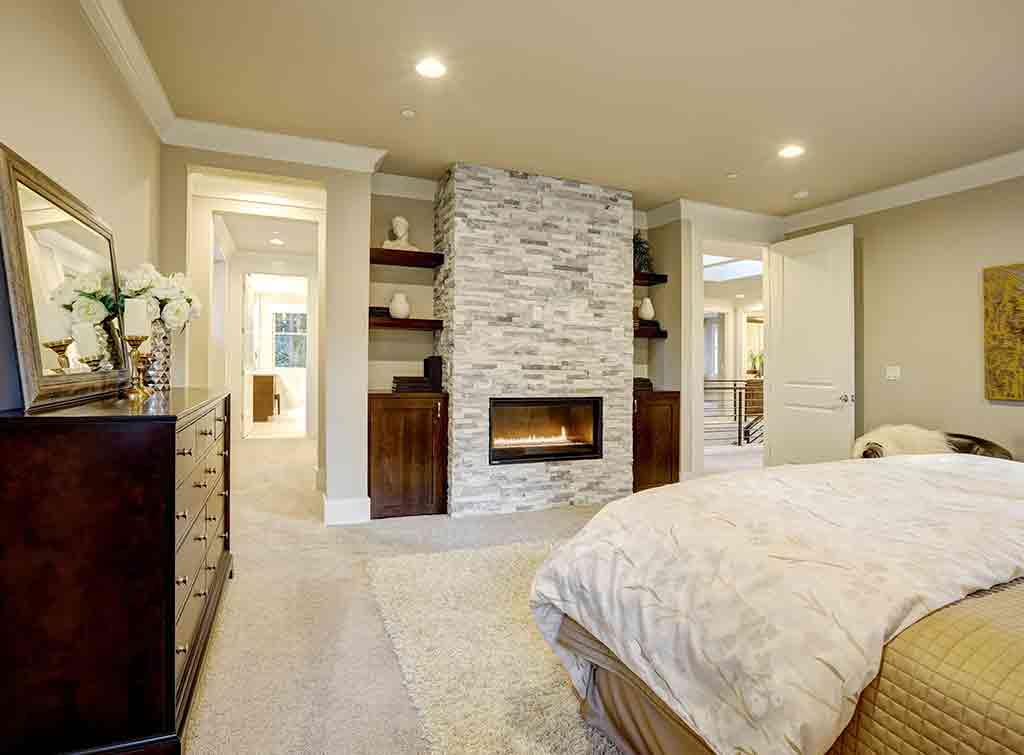 False chimney breast ideas
This simple and elegant chimney breast is decorated with floor to ceiling stone-effect tiles. A short and long electric fireplace within the wall offers a beautiful ambience that enhances this living room's aesthetic.
Chimney breast ideas without fireplace
Opt for minimalism with this serene chimney breast idea. We love the light-wood mantel, mixed height candles, and delicate Scandi-basket. Sitting in this room would offer a truly Zen experience.
Bedroom chimney breast ideas
This corner fireplace is a wonderful way to make the most of an awkwardly-shaped chimney breast. Inset and accented, it adds both interest and calm to this bright and light bedroom.
Chimney breast design ideas
This wood-burning stove is beautifully framed with a pitched roof and vent. The white painted concrete chimney breast and complementary wood stack give this room a warm and homely Mediterranean vibe. 
Living room chimney breast ideas
This dark bricked chimney breast and black-framed mantelpiece is both striking and bold. The complementary neutral decor let this traditional feature stand out without dominating the space. We love the white accent chair and tall potted plant that both add a touch of serenity.
Kitchen chimney breast ideas
Another excellent example of how to dress an awkward corner, this kitchen chimney breast is inset with a wood house and wood-burning stove. The light wood frame and uninformed white bricks complement the rest of the kitchen, while the wrought iron log holder is a decorative accessory that adds a touch of whimsey.
Tiled chimney breast ideas
These mosaic brick tiles are a perfect frame for the electric fireplace. We love the adjacent inset shelves that clash beautifully so the units stand out, making this bedroom warm, inviting, contemporary and unique all at the same time.
See the tradespeople we've checked and recommend for your job
Tell us what you think
What others think of this article:
Need More Information?
Related posts