Van jobs: I have a van and need work
Ever thought about making a living from your van? Here are some van jobs that could be right up your street.
In this article, we'll cover:
Need work? Have a van? Then why not make a living from your van by using it to run a business – whether that's providing a 'man in a van' service or setting yourself up as a trade if you have the necessary skills.
Trades rely on being able to get themselves and their equipment from job to job. So, if you have a van, you're already partway there. Plus, you'll have the added benefit of getting to be your own boss!
Here are some ideas of van jobs you could try.
'Man/woman with a van' jobs
First things first, you could hire yourself out as a man (or woman!) with a van.
As a self-employed 'man with a van,' you'll help customers move items, remove rubbish and complete deliveries, and carry out any other odd jobs that a van might be needed for.
You'll normally serve a specific area and will start off carrying out odd jobs at short notice. But as time goes on, you'll also be able to build up repeat business through loyal customers.
As well as your van, you'll probably want to invest in some boxes, ropes or ties, blankets or sheets, a toolbox and some heavy-duty gloves.
How much can I charge for providing a man with a van service?
Man with a van prices tends to range from £35 per hour for a man with a transit van to £93 per hour for a man with a Luton Lorry.
Exactly how much you can charge to provide a man with a van service will depend on how big your van is, where you're based and whether you're operating alone or working in a group.
Cleaning jobs
Another van job that might be up your street is starting a cleaning business.
This is slightly different as you won't be hiring your van out as such. Instead, you'll be using your van to travel from job to job, transporting your cleaning equipment with you.
As a house cleaner, you'll be able to take on one-off jobs such as end-of-tenancy cleans. However, most of your business is likely to come from regular clients who need their homes cleaned on a weekly or bi-weekly basis.
Read Elaine's story to learn more about what it takes to start a cleaning business.
How much can I charge for providing cleaning services?
When you're deciding how much to charge for cleaning services, you'll need to consider how fast you are at cleaning, how long it takes you to get to your clients' homes and how much petrol you use to get there.
Generally, house cleaning costs start from around £15 per hour for an independent cleaner or £20 per hour for an agency.
You can also charge more for bigger, one-off jobs. For instance, you could charge anywhere from £79 to £199 for an end-of-tenancy clean.
Removal van jobs
Another option if you're looking for van jobs is to set up a removal company.
In this case, you'll use your van to help homeowners move house, transporting their belongings from their old home to their new home.
When you set up a removal company, you'll need to work out what size of house removals you can offer. For instance, are you going to stick to one-to-two bedroom homes? Or can you take on clients looking to move from a three or four-bedroom house? This is likely to be influenced by the size of your van.
You'll also need to consider what services you can offer. Will you provide a packing service as many removal companies do? Similarly, lots of removal companies provide storage services for homeowners that are living between two houses and need a safe place to keep some belongings.
Remember, you don't have to provide everything all at once – you can always start offering straightforward house removals with one van and then scale over time so that you have a whole fleet and even employees!
How much can I charge to provide a house removal service?
How much you can charge for house removals depends on how big your clients' homes are and what level of service you offer. You can charge more to move clients from a three-bedroom house than you can from a one-bedroom house. Similarly, you can charge homeowners more if you're providing a packing service alongside the removal service itself.
As a rough guide, you can charge between £50 and £60 per hour if you're working with a partner. Read our guide on the cost of moving house to learn more.
Gardening jobs
Like the idea of working outdoors? Then why not consider starting a gardening business from your van?
You'll need to invest in garden tools, and then you'll be able to use your van to travel from house to house, providing gardening services.
If you're fairly new to the world of gardening, you could offer services like garden clearance or grass cutting. Or, if you're green-fingered, you could even offer full gardening services, including landscape gardening!
Either way, you could end up with a mix of one-off and regular clients, giving you a decent amount of work near where you live.
How much can I charge to provide a gardening service from my van?
When it comes to how much you can charge, it'll all depend on your level of experience in the garden and what kind of services you're offering. The typical garden clearance cost is around £185 for an overgrown garden. Meanwhile, you could charge between £70 and £290 for garden waste removal or £25 per hour for residential grasscutting services.
On the other hand, if you're skilled enough to offer a full gardening service, gardener prices can go up to £200 per day or up to £280 per day for landscape gardening!
Read Ali's story to learn how he set up his gardening business from scratch.
Handyperson jobs
Handymen are jacks-of-all-trades, also known as fixers or handy workers. If you fancy yourself a bit of a pro when it comes to DIY, starting a handyman business could be right up your street.
As a handyman, you'll travel from job to job in your van with a selection of tools, to help homeowners with everything from quick repairs to regular maintenance. Here are some things you'll typically get asked to help with:
Building flat pack furniture
Putting up shelves
Installing curtain rails
Hanging pictures, mirrors and toilet roll holders
Fixing fences
Minor electrical or plumbing work
Painting woodwork
Just remember to only accept work that you have the knowledge and experience to complete to a high standard.
How much can I charge as a handyman?
The average handyman price in the UK is £30 per hour. Exactly how much you charge will usually depend on your skillset and location, and you could charge more for some jobs than others.
It's also worth noting that lots of handymen have a minimum call-out fee – often around £40 to £50. It's worth considering something like this, so you know that it will be worth your time travelling to each job.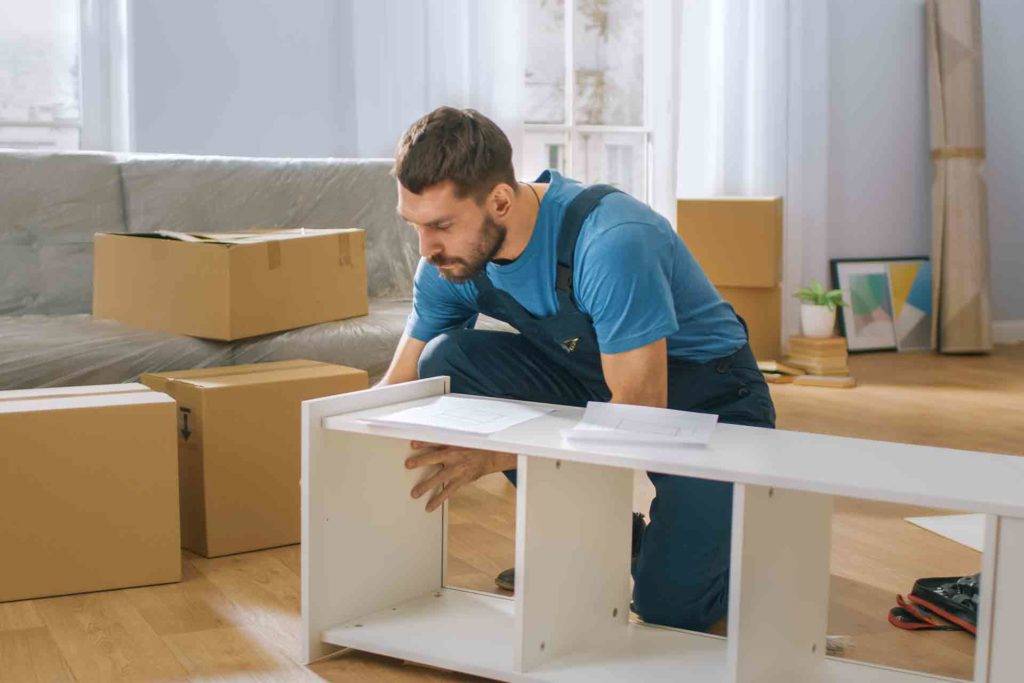 How to set up my new van job
Decided on a van job and ready to get started? Here's what you'll need to do.
Decide what service you offer.
Buy the necessary equipment (packing materials and protective equipment if you're starting a removal company, or cleaning products if starting a cleaning business).
Decide the nitty gritty (what locations you're going to cover and how much you're going to charge).
Get insured (this should include getting public liability insurance and commercial van insurance).
Start marketing your business.
When it comes to getting your business off the ground, Checkatrade can help.
By becoming a member, you'll be listed on the number 1 trade directory in the UK, which is a great way of getting leads. Plus, Approved Checkatrade members get exclusive deals with partner brands, including money off tools, van insurance, business breakdown cover and more – making it cheaper and easier to start your business!
FAQs
What job can I do with my van?
There are lots of van jobs you can do with your vehicle – from offering a 'man with a van' service to starting a removal company, cleaning business or gardening business.
How much does a man with a van earn?
On average, you can earn around £35 per hour for providing a man with a van service from a transit van. However, exactly how much you can earn will depend on your location, the size of your van, whether you're operating alone or in a team, and how much work you book.
How can I make money with my van UK?
If you want to make money with your van in the UK, you'll need to register your company or register as self-employed. You'll also need to make sure you have the proper insurance in place. Usually, you'll need commercial van insurance if you want to make money with your van, as typical insurance policies won't cover using your van for business.