Last updated on July 5th, 2022
Garden clearance cost guide
We've put together this garden clearance cost guide to show the average costs in the UK and highlight important considerations.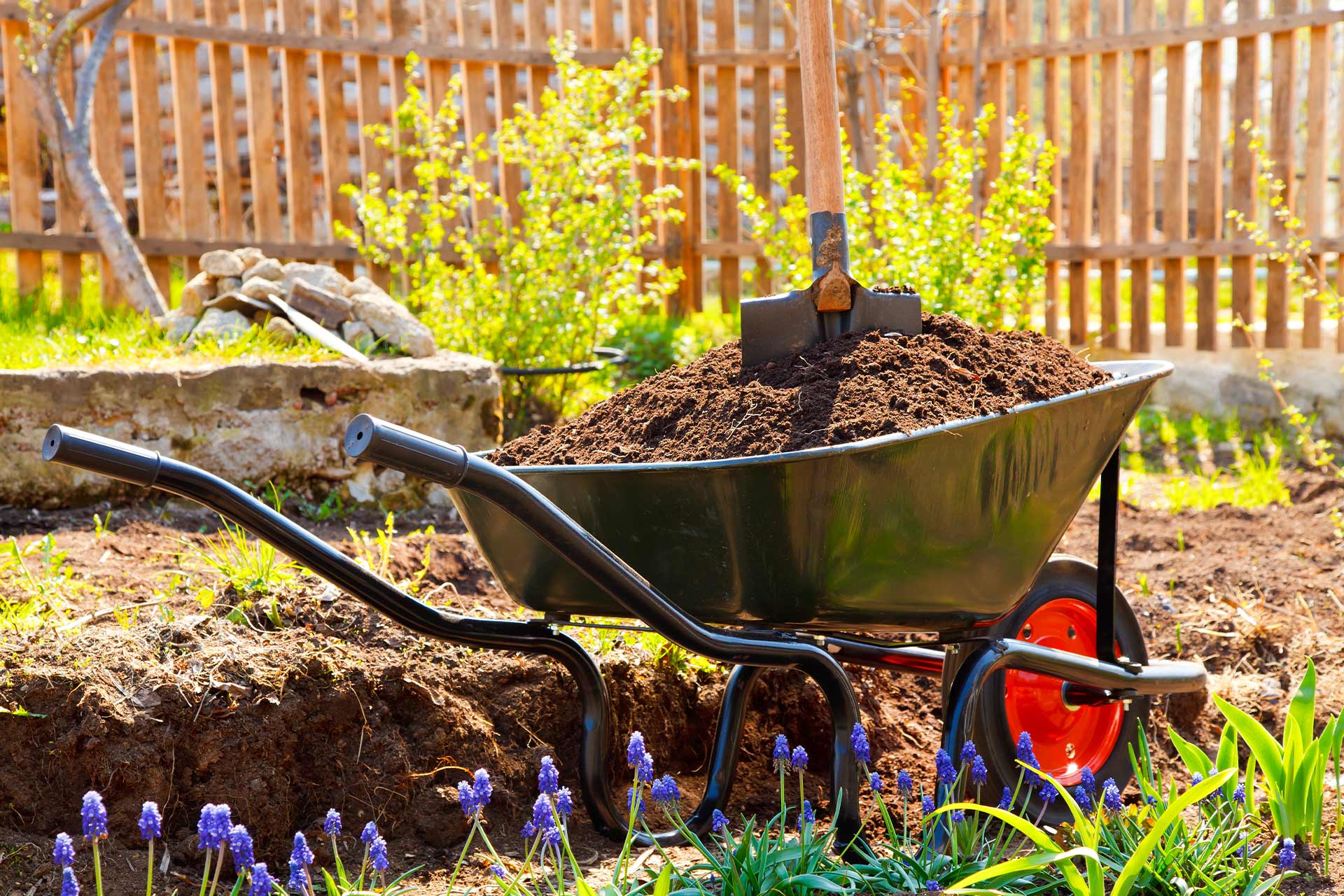 Tackling a garden clearance yourself can be a difficult and time consuming job, so getting professional help is often a great solution.
Whether you need a regular garden clearance service (e.g. collecting grass cuttings or disposing of green waste) or help with a one-off clearance (e.g. after a large scale garden clean-up), hiring a garden clearance expert can help keep your garden neat and tidy with minimal effort – and may cost less than you think.
You may also find our guides on grass cutting services and garden landscaping costs useful as well.
| Cost provided item | Unit | Price range - Low | Price range - High | Average UK cost |
| --- | --- | --- | --- | --- |
| Garden clearance | Per hour | £45 | £60 | £52.50 |
| Garden clearance | Per load | £60 | £360 | £210 |
| Overgrown garden clearance | 70kg (5 bags) - 900kg (60 bags) | £70 | £300 | £185 |
| Soil removal (skip hire) | Ea | £150 | £350 | £250 |
| Green waste removal (via local council) | Per year | £40 | £70 | £55 |
How much does garden clearance cost?
The cost of garden clearance is affected by a number of key factors and are generally quoted per hour or per load, or even based on the particular type of waste to be cleared.
Assuming typical conditions, however, the average garden clearance cost is £52.50 per hour or £210 per load.
Overgrown garden clearance cost
Once a garden is allowed to become overgrown it becomes more difficult and time consuming to clear. In this case, it is more likely the job will be priced per load. On average, an, overgrown garden clearance cost is £185.
Soil removal cost
Discarding excess soil is not as simple as hiring a garden clearance service specialist. The most efficient method is to hire a skip. As such, the average soil removal cost is £250 for skip hire.
Green waste removal cost
Green waste can be removed by a clearance company, but the most cost-effective way to do this is through your local council for a small fee. The average green waste removal cost is £55 but will vary depending on your location as every council charges differently.

Types of garden waste
Garden waste does not just mean green waste and actually covers a wide range of unwanted debris and rubbish. Certain types of items that are dangerous or very large cannot be removed by garden clearance services and may add on additional costs.
Some of the common types of waste include:
Grass clippings
Hedge cuttings
Weeds
Fallen leaves or blossom
Wood
Garden furniture
Builders waste e.g. glass, plaster, tiles etc.
Even home appliances e.g. fridges, washing machines, TVs etc.
Different types of garden clearance
Every type of garden waste may need to be cleared in a different way and this will affect the timescale and cost. The most common types of garden clearance are as follows:
Green waste removal: This covers grass cuttings, hedge clippings and excess weeds and flowers. You may have bagged this waste yourself or you may choose to pay extra to a garden clearance service to gather this.
Leaf blowing: We are all familiar with the effect of the changing seasons on our trees and hedges, as they shed their leaves all over the garden. Leaf blowing involves gathering and clearing leaves and blossom.
Gutter cleaning: After months of rain and wind it is common for gutters to become clogged and for them to need to be emptied.
Rubbish removal: Following a garden project there will usually be waste that needs to be disposed of. Another scenario is when garden furniture is damaged or replaced and the old items need to be cleared.
See the tradespeople we've checked and recommend for your job
Factors affecting the cost of garden clearance
Understanding how much garden clearance costs is not always as simple as a rough estimate and can be affected by many important factors. The most important of which is time – many of the factors affecting the cost are because of an increase in time required.
The most common factors affecting the cost of garden clearance are:
Amount: The greater the amount of waste to be cleared, the longer this will take, which will increase the hourly cost of the clearance.
Type of waste: Some types of waste, such as grass cuttings (already gathered by a lawnmower), are simple to collect. Others, like gutter waste, are not as they may need to be unclogged or be in an awkward position. As such this will affect the garden clearance cost.
Weight: Heavier types of waste like furniture or bricks are more difficult to collect and will take longer to clear, thus increasing the price of removal.
Access: Difficult to reach areas will also take longer to clear and as such increase the cost.
Location: Garden clearance rates are often affected by your location. For example, services in London are usually more costly.
Garden clearance cost calculator
To calculate the cost of garden clearance work you'll need to start by estimating the amount of garden waste you'll have – the more waste, the higher the cost. The type of waste is also important, as more cumbersome items (tree trunks, large branches, etc) will increase the cost when compared to grass cuttings and small branches.
You'll also want to factor in the access to your garden, as this can affect the time it takes gardeners to clear the site. And when speaking to local gardeners, it's also worth asking how many people they think they'll need to do the job. The more people needed, the greater the cost of the garden clearance.
Garden clearance quotes
We always recommend obtaining at least three quotes from our trusted tradespeople. Our request a quote feature is perfect for getting quotes – you post details about the job you want doing and we'll send it out to local tradespeople in your area. Try it out!
Garden clearance hourly rates
The average hourly rate for a gardener to carry out garden clearance work is around £52.50 per hour – depending on the individual gardener, their experience and the extent of the clearance work. For more information, check out our guide to gardener prices.
Can I clear garden waste myself?
This question is difficult to answer as it depends on a number of variables. For example, removing garden waste can be very arduous and time consuming so less able-bodied people may struggle with the job.
Also, depending on the size of your vehicle it may take many trips to your local recycling centre and this will increase your overall petrol and time costs.
Another issue is the type of waste you are removing, as it may leak and damage or stain the interior of your vehicle, which can mean costly cleaning or repairs.
If you hire a professional, then all you need to do is sit back, relax and watch your garden be revitalised.
To find a local, reputable, tradesperson in your area and get a personalised cost for garden clearance use our free search tool.
Key takeaways
Types of waste include grass, leaves, wood and more.
Garden waste clearance services offer options such as gutter cleaning and leaf blowing.
The amount, weight and type of waste you are disposing of all factor into the total cost.
You may be able to clear garden waste yourself but this is difficult and time consuming, plus it risks the interior of your vehicle.
Local councils offer green waste removal services.
See the tradespeople we've checked and recommend for your job