Last updated on March 31st, 2022
Garden waste removal cost guide
Garden waste can accumulate quite easily. Find out how much to budget to have it removed.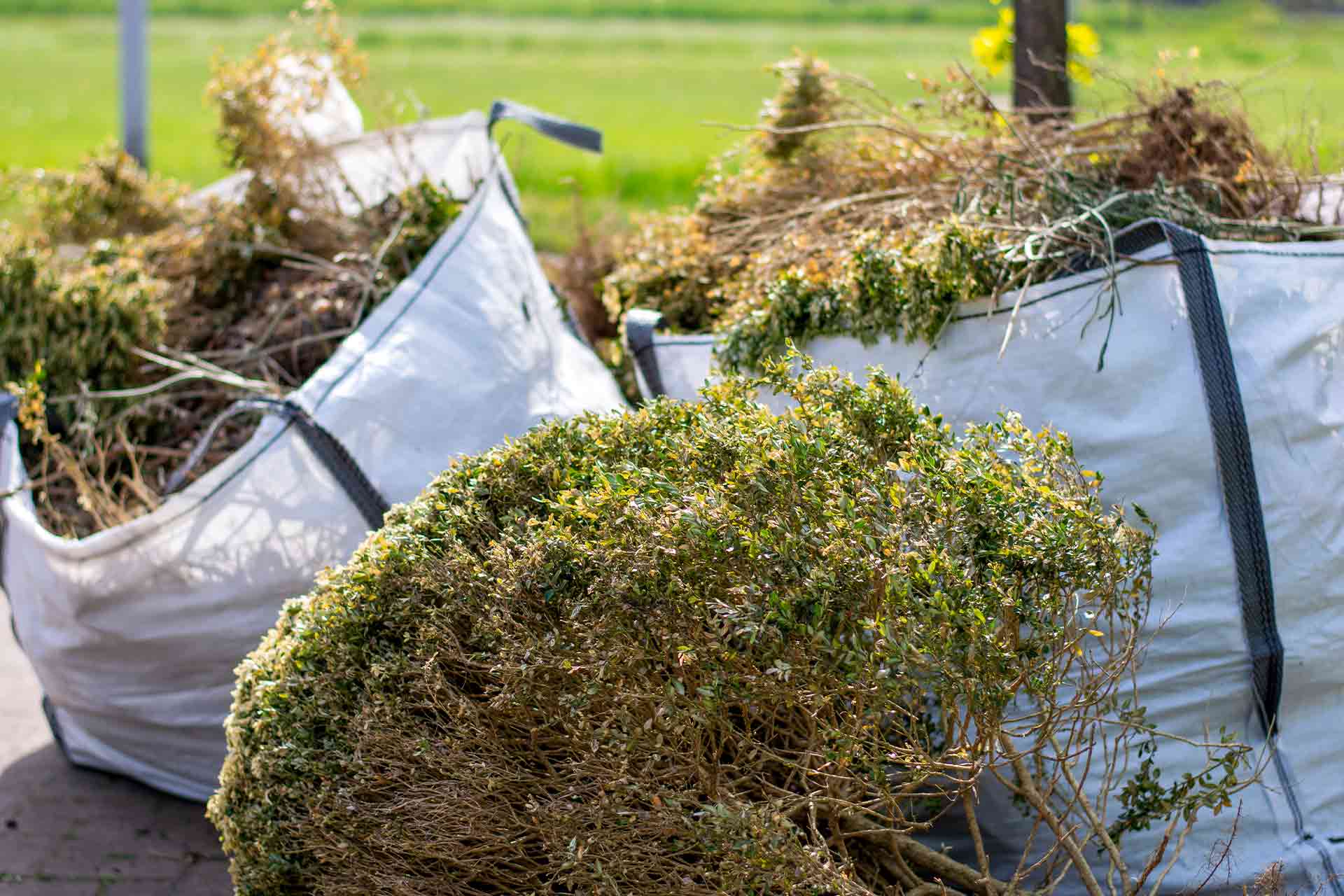 Whether you have a lot of waste from a garden renovation or a smaller amount from mowing the lawn or weeding, there are some great methods to get garden waste removed quickly and effectively.
Garden waste removal costs are well worth it to keep a garden in good condition, make sure the garden remains safe for children and pets, remove smelly waste and stop pests from living in the waste.
How much does garden waste removal cost?
Cost of removal
Cost + VAT
(Range low - high)
Average cost
Garden waste removal - independent company with a van
£70 - £290
£180
Garden waste removal - local council
Free or
£47.50 - £70 per year
Free or
£58.75

Skip hire
£60 - £450
£255
Garden clearance (hourly)
£45 - £60
£52.50
Garden clearance (per load)
£60 - £360
£210
Depending on the method of removal you choose and type of waste, garden waste removal can cost absolutely nothing or can vary from £47.50 to £450. We dive into why the cost can vary so much a little later in this article.
What does garden waste include?
Commonly, garden waste includes organic waste, such as bushes, flowers, grass and weeds. To keep things simple, we'll refer to this as "green waste". The good news is, green waste costs the least to remove.
You may also see garden waste used as a term to refer to other items in the garden, such as broken fence panels, cracked ornaments, ruined decking, rusted garden furniture and even collapsed garden sheds. Although this is not technically garden waste, you'll find many of the specialists in this guide can remove it. If in doubt be sure to check with your specialist.
See the tradespeople we've checked and recommend for your job
Should I remove garden waste in the spring?
You can remove garden waste any time of the year, but spring tends to be the most popular. In fact, if you want to get your garden under control, then the best time to do it is in the early spring.
For the green fingered, you'll be able to do rejuvenation pruning, which involves drastic cuts to overgrown plans to get them back in order. You'll also be able to make space to plant new bulbs and seeds.
Lastly, you may find your garden furniture has not fared well in the winter. Without proper covers, garden furniture can rust and fabrics can get damaged or stained beyond repair. If this happens then the spring is the best time to get them cleared out.
By clearing your garden and removing any non-organic waste in the spring, you'll have a perfect garden ready for a nice long summer.
Garden waste removal methods
As mentioned above, garden waste removal prices are driven in a big way by the method of removal. Here are some of the most common options:
Local council: Using your council's garden waste removal scheme is a great option if you want to make regular smaller disposals. You'll either receive a designated bin (usually green, but in some locations brown) or pay per bag and there are regular collections.
This can be completely free (in some lucky areas!) or around £47.50 to £70 a year depending on your location. You'll find more information on your local council's website.
Skip hire: If you have more than just green waste to remove, or even need to dispose of excessive household waste, then a skip is a great all-purpose solution. They're also ideal if the waste weighs a lot but doesn't take up much space, although bear in mind you'll have to lift and carry it to the skip yourself. Skip hire prices vary from £60 - £450 depending on the size of the skip and how long you need to keep it.
Independent company via a van: This is the best option if you have a lot of waste, know exactly what you want removing and need it all to be removed in one go. Some will even bag up the waste for you, but they won't do the gardening or prepare it in any other way. You will pay around £70 - £290, depending on the size and weight of the waste.
Following garden maintenance by your gardener: If you are already using a gardener then they may be able to dispose of the waste for you as part of their services. This takes the hassle out of keeping a garden tidy, although can cost more as you also have to pay for the garden work. For more information view our guide to gardener prices.
See the tradespeople we've checked and recommend for your job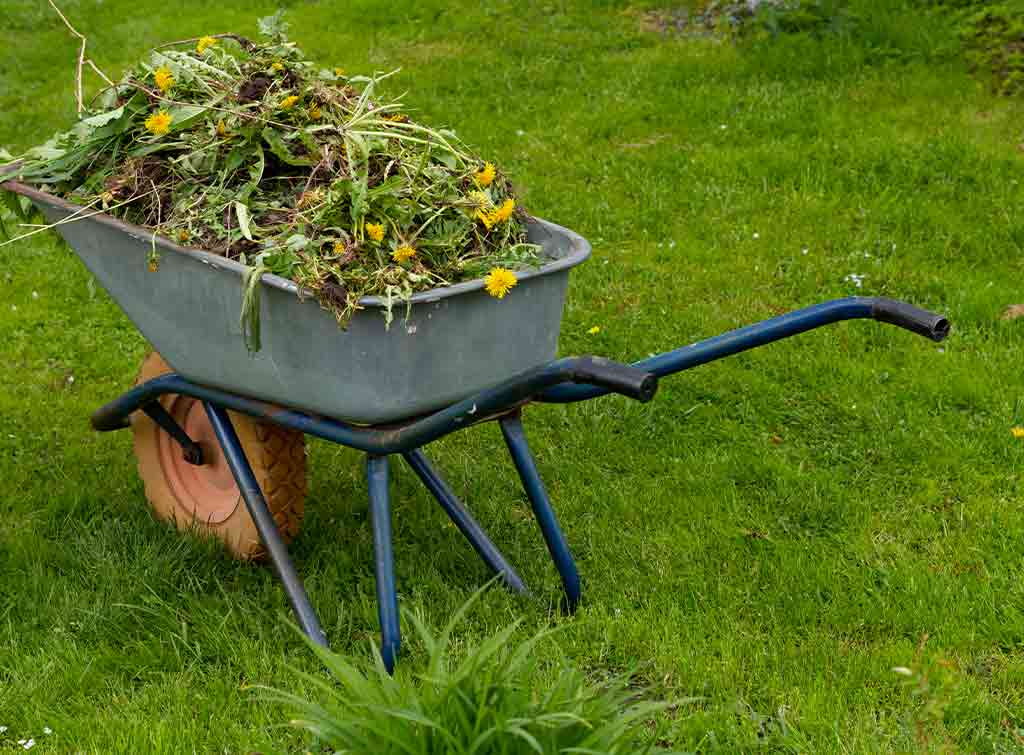 Factors affecting garden waste removal costs
In addition to the method of removal, the following factors will also affect the garden waste removal prices you are quoted:
Type of waste: Green waste costs far less to remove than heavier and larger materials such as fence panels and garden furniture. Certain waste will carry a premium cost, such as removing hazardous items like sharp or decaying waste.
Weight of waste: If you are moving very heavy materials, such as soil, concrete and rubble, then you will likely be charged by weight and not by volume. This is usually more costly than the volume of weight so you may find a skip works out better value overall.
Volume of waste: If your contents do not weigh a lot, such as grass and garden cuttings, then you will be charged by the volume of the waste. For example, if you have broken garden furniture, it will take up a lot less space if you dismantle it first. This tends to work out cheaper per metre the more you do and is ideal for collection by van.
Accessibility: If your garden is hard to access then this can increase the time of the job and will increase the cost.
Preparation: If you're not able to prepare the waste (such as by cutting it down or mowing the lawn), or bag the waste ready for collection, then this will push the cost up. You can use a garden clearance service to do this and they'll remove the waste as well for around £210 per load.
Can I remove garden waste myself?
If you're able to prepare and bag the waste, you may wonder if you can dispose of it yourself? Well, if you have the time and easy access to a tip then this is an option.
You'll also have to make sure you can fit the load in your car – as what looks like a small amount when it's on a bush can quickly fill bag after bag when cut down. And, the last thing you want is grass cuttings loose in your car if one of the bags spills.
Hiring a professional ensures everything is cleared away to a high standard, removes the physical labour and can save you time too. As such, we would recommend hiring a professional. To find a local, reputable, tradesperson in your area and get personalised garden waste removal costs use our free search feature.
FAQs
What about composting?
If you only have green waste, then it's possible you could choose to store the waste whilst it composts. This is an excellent form of environmentally friendly waste disposal and provides fertiliser for soil and plants. It's not a good solution if you don't have a lot of space, but if you have the area available and the time to wait (composting can take over a year) then it's worth exploring.
Useful garden waste removal checklist
Be sure to check what garden waste your specialist can remove and if it includes non-organic materials, if required.
The spring is an excellent time to prepare a garden and remove waste, but don't let that stop you if you have lots of waste any time of the year.
Whether you want the waste removed in one go, at set times during the year, or over a week, there's an ideal option to suit you.
Hiring a professional removes the hassle and garden waste removal costs are fairly reasonable for the time saved.
See the tradespeople we've checked and recommend for your job