Last updated on March 31st, 2022
House cleaning cost guide
Working long hours and having a family pushes cleaning your home right down the priority list. Hiring a cleaner will save you precious time and energy. Or maybe cleaning isn't your forte. Either way, you'll want to know what the average house cleaning service costs.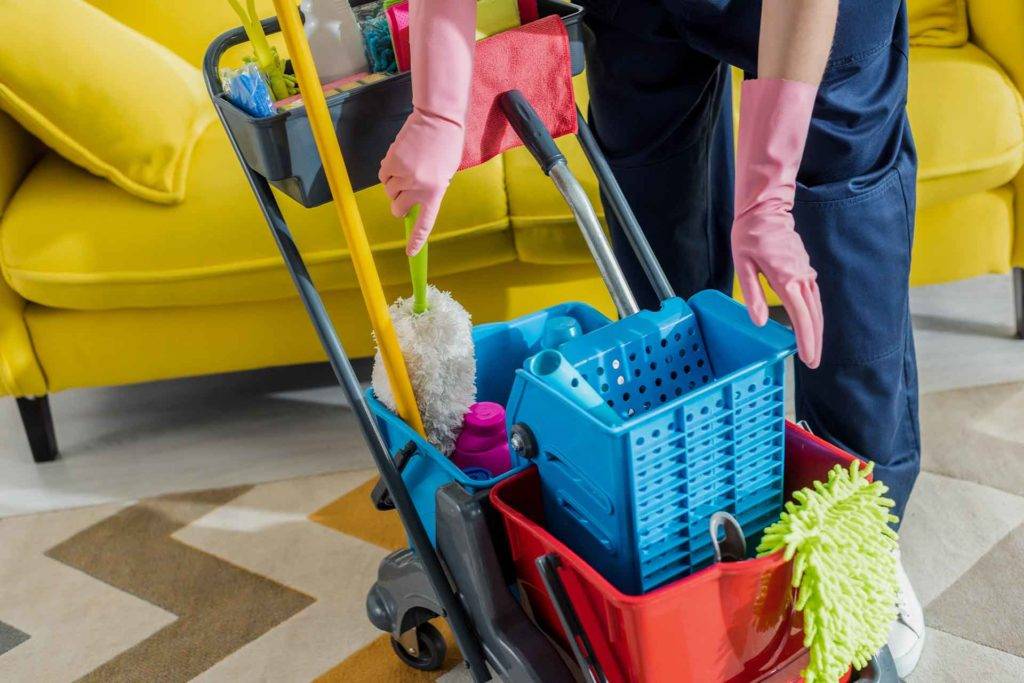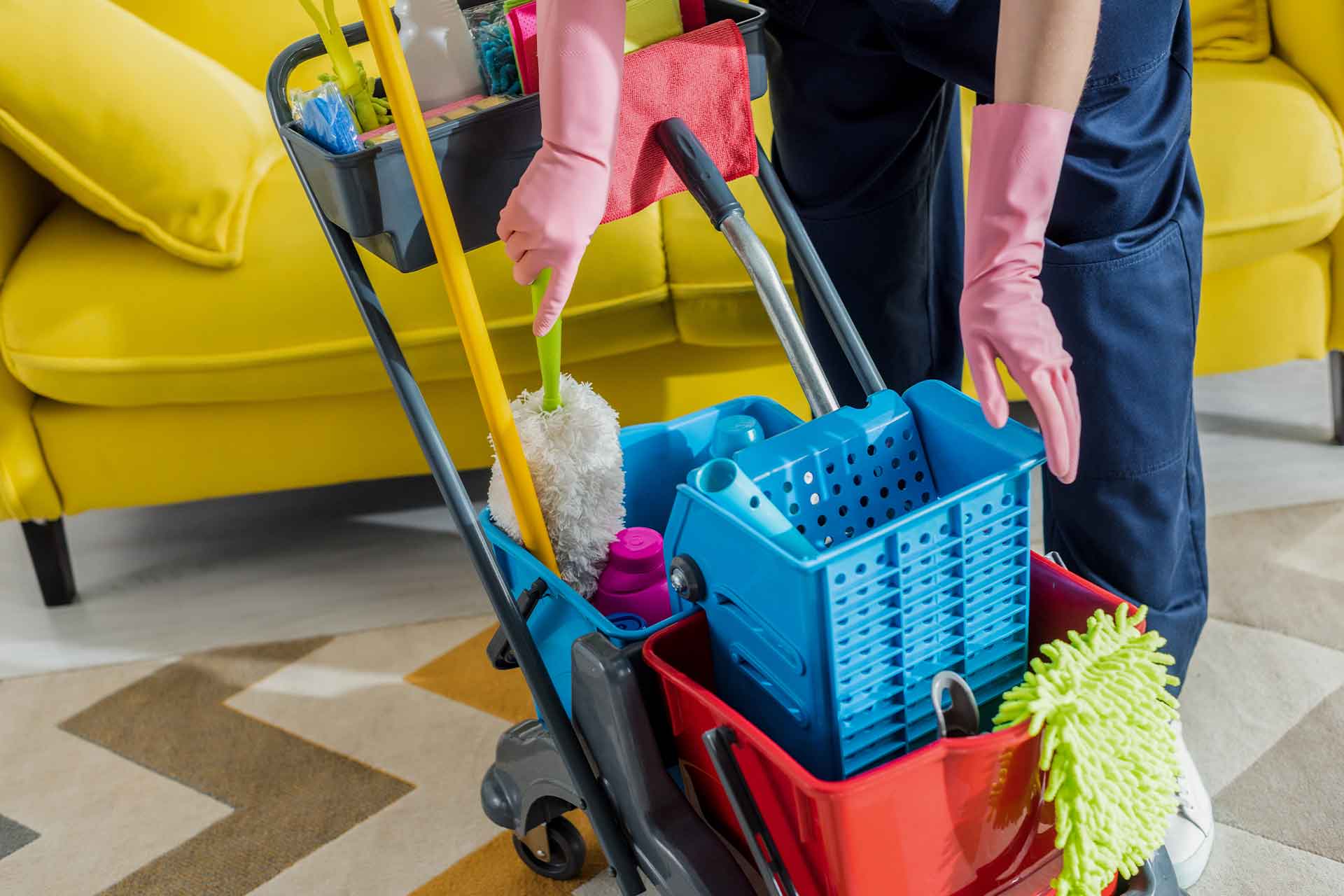 Fast Facts
The average weekly cleaner cost (for 3 hours a week) is £45
Independent workers will generally be cheaper per hour.
Many cleaners will offer discounted hourly rates for continued weekly services.
Why pay for house cleaning?
Cleaning is hard work, it's as simple as that.
There's many reasons why people hire a cleaner or cleaning team to keep their homes looking and smelling fresh:
Family life makes it hard to dedicate time to clean.
You have a large home that needs constant cleaning.
You want to have regular deep cleans.
Cleaning is physically taxing.
It's no surprise that hiring a cleaner is becoming more common.
Cleaners offer regular cleaning slots, one-off cleans and even specialist cleaning services, such as following renovations.
Read on to discover up-to-date house cleaning costs, types of cleaning jobs and handy house cleaning FAQs.
Is the deep cleaning cost worth it?
To get further insights, we spoke with Dr Dawn Harper, GP. She explained:
''As we've been juggling family life, our jobs and managing the household, cleaning can often fall at the bottom of our list." Dr Dawn recommends our number one priority should be getting our carpets professionally cleaned. Whilst we may have been sure to hoover our homes regularly, it only removes surface dirt and still leaves behind the dust mites, bacteria and other allergens that can ultimately affect our health.
''However, the additional time we've all been spending at home means areas like carpets are likely to be dirtier than ever before. Getting a cleaning professional in is a sure-fire way to save yourself the time and stress of trying to do something like a deep carpet clean properly, and will give you peace of mind at a time when cleanliness is top of everyone's agenda."
House cleaning costs
Types of house cleaning costs
Cost incl. VAT
(Range low - high)

Average cost
House cleaning - agencies hourly rate
£12 - £20
£16
House cleaning - independent cleaners hourly rate
£10 - £15
£12.50
Weekly cleaner cost (3 hours per week)
-
£45
Carpet cleaning
£31 - £63
£47
Cleaning after building work
From £20 per hour
End of tenancy cleaning
£79 - £199
£139
Window cleaning
£40 - £150
-
When choosing to hire a cleaner, you have the option of an independent professional or a larger agency. The cost of these options differs significantly.
A clear benefit of hiring an agency is the protection and guarantees that come with choosing larger businesses.
For example, if the work is not up to scratch, it is likely the agency will send another cleaner or refund you. However, with an independent cleaner, you are at the mercy of their goodwill, which can be riskier.
On the other hand, it is more affordable to hire an independent worker with an average house cleaning cost per hour of £12.50 vs £16 for agencies.
Common types of cleaning job
In addition to general house cleaning services, there a number of other scenarios when you may need to hire a cleaner. The below list covers some of the most common cleaning jobs:
Weekly or hourly cleaning – Standard cleaning jobs, covering your whole home.
Specific room cleaning – For example, the bathroom or kitchen.
End of tenancy cleaning – A deeper clean between tenants to leave a fresh home for the next occupants.
Window cleaning – On a regular or one-off basis.
Cleaning after building works – Renovations and extensions create large amounts of dust and debris which can be difficult to clean.
Carpet cleaning – Particularly useful if you have pets or children.
Find cleaners your neighbours recommend
Factors affecting the cost of a domestic cleaner
While cleaners can be an affordable luxury, it's important to estimate what the total house cleaner cost will be before you get started.
The following factors will impact the price of a cleaner:
Time taken – The longer a job takes, the higher the total will be.
Type of cleaning job – Cleaning jobs like end of tenancy and following building works are much more in-depth than simply cleaning a bedroom. As such these jobs will take longer and require more cleaning products, leading to higher house cleaning costs.
Difficulty of task – More difficult jobs will take longer and therefore increase the total cleaning price.
Current condition of area to be cleaned – If your home is in good condition and mostly clean it will be much more affordable to maintain than a house that is dirty and untidy.
Hazardous or dangerous jobs – Jobs involving human waste or sharp, dangerous items will be charged at a premium and require specialist cleaning supplies.
Pets or kids – Whilst our children and furry companions are dear to our hearts and improve our lives every day, there is no escaping the fact that they increase levels of dirt, fur and stains in our homes. As such, homes with kids or pets will take longer and be more expensive to clean.
Location – Areas with higher living costs tend to have increased professional hire costs. London, in particular, has greater cleaner costs.
Number of rooms to clean – The more rooms to be cleaned the longer the job will take and the higher the total cost of a domestic cleaner will be.
House cleaning hourly rate
Most house cleaners will charge for their services by the hour but depending on whether you need one-off cleaning or if this will be a regular weekly occurrence, the cost can vary. Many cleaners will offer discounted hourly rates for continued weekly services.
House cleaning hourly rates start at £12.
Weekly cleaner cost

As mentioned above, if you do choose to have a regular weekly cleaning service you may be able to negotiate reduced hourly rates.
It's also worth noting that it is unlikely you would hire a cleaner for only one hour a week, otherwise they would not have sufficient time to make an impact on your home.
The average weekly cleaner cost (for 3 hours a week) is £45.
Cleaning job example costs
Many cleaning companies offer specialist cleaning services with set costs or hourly rates. Some examples of this are listed below:
Can I clean my house myself?
Of course, it is possible for you to take on any cleaning requirements yourself to keep the house cleaning cost down. However, there are certain circumstances where you may need professional help:
If you have physical limitations or disabilities that make cleaning impossible.
Some cleaning jobs can only be tackled with specialist products.
For complex jobs, you may need the help of an experienced professional.
The demands of life and work can mean you simply don't have the time to clean.
In the above instances, we would recommend hiring a professional. To find a local, reputable, tradesperson in your area and get a personalised house cleaning quote use our free search feature.
FAQs
What cleaning products will be used?
If you do not inquire, it is likely your cleaning professional will use generic products. However, many cleaners also offer environmentally friendly and specialist options on request.
How often will I need a cleaner?
This depends on a number of factors, including:
How much cleaning you are doing yourself.
Whether you have children or pets.
The type of cleaning job you need help with.
Whether you wish to potentially save money with regular weekly cleanings.
Useful house cleaning checklist
Professional cleaners can help with many types of job such as carpet cleaning, end of tenancy cleaning and generic household cleaning.
The cost of a domestic cleaner can be affected by the complexity of the job, the time required and the current condition of the area to be cleaned.
Committing to regular weekly cleanings can mean a reduced house cleaning price per hour.
You will need a cleaner more often if you have children or pets.
Find cleaners your neighbours recommend
Good jobs, guaranteed
Get covered when you book with Checkatrade.