Last updated on April 12th, 2023
Handyperson prices
A handyperson can help with a number of home renovation jobs. From flatpack furniture to minor electrical, plumbing or carpentry work, a handyperson's skill set is ideal for odd jobs, quick fixes and home improvement work.
Hiring Advice
Practical measures for preventing scams and choosing reputable trades
If you're looking to save time and ensure a job is carried out correctly, professional assistance can make all the difference. Costs will inevitably vary depending on the scale of the project and scope of work, not to mention a number of other factors.
To help you plan your budget ahead of hiring a handyperson, we've put together the following guide to the typical costs you can expect to find.
Handyperson prices
With such a variety of jobs in their repertoire, it can be hard to know what sort of prices you might expect to pay when you hire a handyperson.
Also known as a fixer or handy worker, these professionals are the Jack of All Trades in the industry. Their job is to help with everything from quick repairs to regular maintenance, saving the less-experienced DIYer considerable time and fuss. Handyperson job prices vary from task to task – the typical jobs you can call upon them for include:
| Handyperson job | Average time taken | Average cost +VAT |
| --- | --- | --- |
| Flat pack furniture assembly | 2-4 hours | £90 |
| Put up 8 basic shelves in living room | 4-8 hours | £200 |
| Paint woodwork (skirting boards and door in 4m x 4m room) | 3-5 hours | £95 |
| Picture and mirror hanging | 1-2 hours | £45 |
| Put up curtain rail | 1-2 hours | £45 |
| Minor electrical work | 1 hour | £60 |
| Minor plumbing work | 1 hour | £60 |
As well as;
Decorating
Decking
Fixtures and fittings
Moving and assembling furniture
Re-sealing baths & showers
Shelving and fitted furniture
Small carpentry/building jobs
Minor plumbing jobs
Small electrical jobs
Handyperson prices per hour
The average UK hourly rate of a handyperson is £30 per hour, but charges can range depending on their skill set and your location.
Inevitably, the hourly rate will increase in London and other big cities where the demand is higher. Factors such as access and complexity of the job could see additional charges, so make sure you have communicated your requirements clearly ahead of sourcing a quote.
It's worth noting that most handypeople have a minimum call-out fee of £40-£50, so you may want to make a list of small jobs you need doing before making the call. 
With this in mind, the average cost to hire a handyperson is £80.
If you have a large job or a number of small jobs that are likely to take a whole working day (between 7-8 hours), it's worth asking a handyperson to charge their day rate which could be cheaper overall.
When getting quotes for the work, keep in mind that larger firms often subcontract work to individual handypeople – these are usually more expensive at £60 per hour.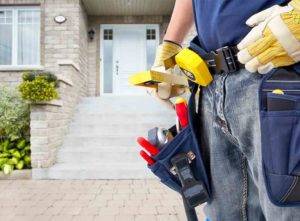 Flatpack furniture assembly cost
Ever find a supposedly simple furniture assembly taking twice as long as it should? Or perhaps on more than one occasion, you've built an item and been left with some seemingly crucial fixtures left over. If that sounds familiar, you certainly aren't alone.
Flatpack furniture can be surprisingly tricky at times and benefits greatly from the help of a handyperson.
Prices will vary, but as an example, a handyperson will charge an average of £90 to assemble a flat pack double wardrobe and five-drawer chest of drawers. On average, you should put aside between 2-4 hours for this.
See the tradespeople we've checked and recommend for your job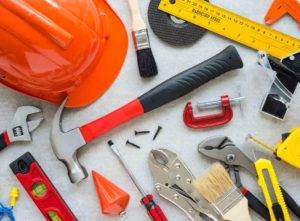 What to consider when hiring a handyperson
Most professionals in this trade will have a 'handyperson price list' that provides the average cost for the typical home improvement tasks they can help with.
However, there will be instances in which fees will increase, so it's worth communicating your requirements clearly before hiring a handyperson. Factors that will influence the total amount quoted include:
Type of project
As you would expect, the more complex or time-consuming the task, the higher the price. For example, hanging a picture or putting up a curtain rail costs an average of £45. Electrical work is charged at a minimum of £60, while a bigger project such as putting up eight shelves will cost £200.
Time
Since handypeople are more than familiar with most home renovation or repairs, they know how long to account for a particular job. However, jobs that end up over-running due to being more time-consuming than expected will be charged at an hourly rate.
Number of projects
Got more than a few odd jobs that need tackling? The longer your list, the higher the total cost.
Additional work
Should you request further assistance once the handyperson has completed a job, an additional charge per half hour will apply. We recommend drawing up a list of tasks ahead of time to get the best price.
Location
Across the UK, the average hourly rate of a handyperson is £30. However, London rates skew higher, with typical costs starting at £50 per hour (£20+ for subsequent half hours) and £350 per day.
Why hire a handyperson?
We're all guilty of putting those small repairs or odd jobs off when life gets a bit too busy. Hiring a handyperson can allow you to tick off all those tasks in one fell swoop, getting them off the list for good. But that's not all – the expertise of a handyperson can ensure home renovations or repairs are done safely and to a high standard.
What's more, since most handypeople have vast experience in domestic repairs and improvements, they'll complete the task in a timely manner – saving you days, weeks or even months.
While big projects such as building a porch or getting an extension are best left to specialist contractors, a handyperson can help you tackle the little face-lifts and quick fixes that can make all the difference. It will also save you the costs of equipment or materials should you opt for the DIY approach.

See the tradespeople we've checked and recommend for your job
FAQs
How much does a handyperson cost?
Handyperson prices range depending on your requirements but on average, £80. 
Can a handyperson do painting?
Yes, a handyperson can help with painting. They can also help with plastering and drywall repair.
What does a handyperson do?
A handyperson helps with minor home renovation or improvement tasks. Fixing a fence, painting your skirting boards, servicing your windows or installing a rail are all examples of small tasks a handyperson can help with.
When should I hire a specialist?
For larger, more niche projects that require a qualified expert, it's best to call in a specialist. There are also jobs that will need licensed professionals. This includes more complex plumbing, electrical or building works. When getting a quote for handyperson prices, they may advise that a particular project is beyond their remit.
See the tradespeople we've checked and recommend for your job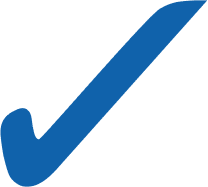 The tick you can trust
8/10 homeowners would choose a tradesperson endorsed by Checkatrade over one who isn't*
Claims are sourced from a survey conducted by Deep Blue Thinking on a nationally representative UK sample in November 2021. *8 out of 10 people would choose a trade endorsed by Checkatrade compared to one that isn't endorsed.
Claims are sourced from a survey conducted by Deep Blue Thinking on a nationally representative UK sample in November 2021. *8 out of 10 people would choose a trade endorsed by Checkatrade compared to one that isn't endorsed.