H. I. T Scaffolding Ltd
Mr John Humphreys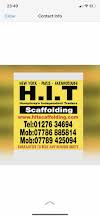 10+
Approved member since 2011
Company info
HIT Scaffolding are a family run business excelling in both commercial and domestic scaffolding.
We specialise in new builds, extensions, temporary roofs, solar installation towers & excess towers for painting and decorating, Chimney stakes and linings.
Established for 10 years, with over 20 years experience.
We are a fast, customer friendly & and highly dedicated scaffolding firm who assure a great and efficient service to our clients.
Our staff are trained in CITB & CISRS.
We will beat any genuine quote by 10% on every occasion and provide free estimates for our clients.
Please visit our main website for further information and examples of the work undertaken by our company: www.hitscaffolding.com
We are also proud sponsors of The Foresters Fund for Children (Registered Charity no 212869) www.fffc.org.uk 
Reviews Summary
Average score based on 33 reviews in the last 12 months
The reviews below represent customers' views and not the views of Checkatrade
Quote Accuracy
(32 Reviews)
Customer Reviews
SC Jonsons
Hit put up aprox 95m 4 lifts of Scaffolding at SC Jonsons in Frimley Green. The guys were very professional in every way from H&S to workmanship and they were extremely courteous. This is the second time they have worked on SC Jonsons for me and the head guy down there is very particular and insisted on only using Hit again. So 100% happy and would always highly recommend them.
Reviewed in:
October 2022
Erect and dismantle scaffolding to allow for roofing works
Superb service from John and his team. Erected and dismantled on requested days. Excellent as always from the H.I.T Team.
Reviewed in:
October 2022
Erecting scaffold on a second storey extension
Great job we've been looking for new scaffolders for a while and these guys turn up on time are reasonably priced got the price back quick great service will be using them in the future
Reviewed in:
October 2022
Very tricky 10 dormer large property for external rendering by pro finish plastering .
We have used a lot of scaffolders ( pro finish plastering ) , and these guys made very difficult access a dream enabling us to access all the essential areas . Access is very important for rendering in terms of finish and this was a massive help ! Great job
Reviewed in:
September 2022
Hit scaffolding supplied scaffolding around my building so we could have a new roof done
I can highly recommend Hit Scaffolding , the scaffolding was put up on time and was taken down on time we used this company because was recommended and I cannot recommend them enough they are very reliable and reasonably priced .
Scaffolding on detached house
Amazing team of guys. So professional and always polite. I couldn't recommend them enough.
Locations
Works in
London, Hampshire, Surrey, Berkshire, Sussex, Middlesex, Hertfordshire - South Coast.
Approved member since 2011
Yes: Registered as a Company  No: 07403735
Public Liability Insurance
Current: Self-Certified on: 09/11/2022
Accreditations and Memberships
CITB/City & Guilds NVQ Level 2 Certificate awarded to Daniel Humphreys in L2 Accessing Operations & Rigging- Scaffolding (Construction) issued 2006.
Construction Industry Scaffolders Record Scheme (CISRS) - Scaffolder
Daniel Humphreys - Registration number - 02034028/1, Expiry date - July 2023
Mr T Skinns