A clogged gutter can lead to all sorts of problems for your home, including mould, structural weakening and even pest infestation. Keeping an eye on your roof gutters and regularly cleaning is the key to preventing further damage.
But what is the average gutter cleaning cost, how long does it take to clean and what does a professional clean include?
A gutter cleaning service typically involves clearing the leaves and debris that are clogging the gutters and flushing the system.
| Type of house | Unit | Average cost +VAT |
| --- | --- | --- |
| Small terraced house | 5m2 of gutter | £20 |
| Medium semi-detached | 15m2 of gutter | £100 |
| Detached 4-bed house | 20m2 of gutter | £150 |
| 3 storey townhouse | 15m2 of gutter | £250 |
How much does gutter cleaning cost?
The average roof gutter cleaning cost is charged at £4 per metre of guttering. 
If left neglected, water can get in places it shouldn't, pooling around the foundation and pouring down your soffit and fascia. The result is several thousand pounds in repair fees.
Gutter cleaning is dangerous work, so unless you have experience and a sturdy ladder, we strongly recommend calling in the professionals. If you'd like to find a local pro, simply type in your postcode into the bar below and find a tradesperson near you.
We know how important it is to budget for work of this kind, so we've put together this guide on gutter cleaning prices.
Find a gutter cleaner near you
Why is it important to clean gutters regularly?
A gutter system is essential in protecting your home from damage, guiding rain water away from the foundation. However, it can only do this successfully if gutters are kept clean and free of debris.
When gutters fill with debris, this can cause blockages and quickly result in water seeping under the roof. No matter how gentle the rainfall, water builds up when not diverted. Eventually, this will result in a stream of water that pounds the foundation line, eroding the soil and threatening the structural integrity of your house.
Regular roof gutter cleaning is essential in preserving your garden, as well as your neighbour's. When left unchecked, poorly functioning gutters cannot control drainage – in some cases, this can cause rainwater to cut streams through your garden, creating pools that wreak havoc on lawns and vegetation.
In winter, water blockages in a clogged roof gutter can lead to ice dams forming at the edge of your roof, preventing additional snowmelt from draining off.
For the above reasons, it's a good idea to clean your gutters at least twice a year, or more if you have overhanging trees that shed leaves directly onto your gutter system.
If it's your first time dealing with this issue, you likely have a number of questions – how much should I pay to have gutters cleaned? What does gutter cleaning include? Do window cleaners clean gutters? How do I know if my gutters need cleaning?
For a seemingly simple task, there are a number of points to consider.
For starters, roof gutter cleaning costs will vary depending on a number of factors including size of property, but we recommend budgeting for at least two sessions that factor in the change of seasons (e.g. dead leaves piling up from autumn).

How to tell if your gutters need professional cleaning
Gutters should be inspected frequently – particularly if you live in a semi-detached property with shared guttering.
If you notice any of the following, we recommend finding a professional gutter cleaning as soon as possible:
Plants are growing from the gutters – moss being the most common
Water is overflowing over the edges of the gutters
Your gutters are bending, sagging or coming away from your house
Your siding has stain marks, suggesting build up of water and foliage
There are signs of pest infestation such as bugs or rodents
We recommend checking twice every season to stay on the safe side.
Find a gutter cleaner near you
Factors affecting the cost to clean your gutter
The main factors that will determine the total gutter cleaning cost include:
The type of property
Houses differ in shape and size: the larger the home and therefore the guttering, the higher the cost will be for cleaning. As such, prices will differ for owners of detached, semi-detached, terraced and end-of-terraced homes.
The height of your guttering system
The higher up your guttering system, the higher the cost of cleaning – the difference isn't massive, but it's certainly a factor in the calculation of the quote. For example, the cost of gutter cleaning for a property located on the second floor will be a little higher than one on the ground floor.
Additional work required
Upon inspection, the need for additional work may arise such as cleaning the exterior of the gutters and downpipes or replacing of a leaking part. You may even need the entire gutter system replaced altogether. In other cases, a gutter that is difficult to access could drive up the costs due to the labour required to clean it.
Gutter cleaning costs per m2 
As shown in the table above, costs are typically calculated by how many m2 of guttering you have on your house.
For a small terraced house with only 5m of guttering, the cost would be under £20 – however, the minimal call out fee charged by professionals is usually £40. 
For larger properties in which guttering lines the roof on all sides of the property, you can expect to pay £120 or more. Additional gutter cleaning prices will be incurred if there are accessibility issues, or if there are any parts that need to be replaced. Leaking parts will typically come at a cost of £10 per piece on top of the call out fee.
If you need new down-pipe filters, these will come at an additional price of £5 per filter. A specialist will be able to tell you upon inspection what will be needed – whether it's a simple cleaning service or there is additional work required.
Find a gutter cleaner near you
How long does it take to clean gutters?
The time it takes for a professional tradesperson to clean your gutters will once again depend on the size of your house, how easy the gutters can be accessed, the condition of the gutters and the work required. On average, our online estimators advise gutter cleaning to take around 30-90 minutes.
What types of tradespeople clean gutters?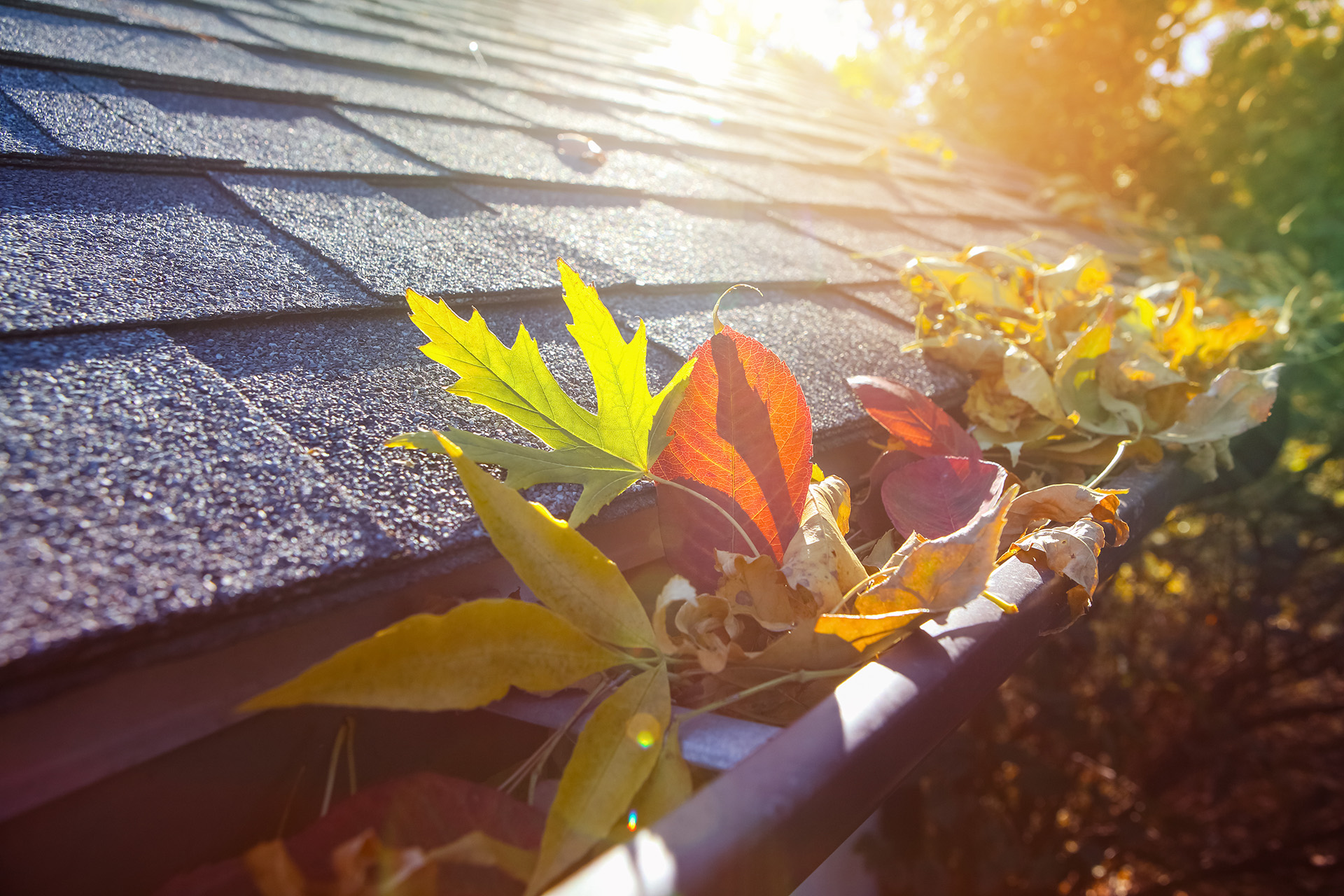 We cannot stress enough the need to use a professional for gutter cleaning. While it comes at a small fee, gutter cleaning is a dangerous task that can result in harm from a high fall or even electrocution. There is also a risk of damage to the property.
When searching for a tradesperson to clean your gutters, you will be presented with a few options – guttering specialists who will help to install, repair and maintain your gutters, fascias and soffits; window cleaners who also do gutter cleaning and roofers who will charge a minimal fee for the job.
Roof gutter cleaning cost breakdown
Clogged gutters may seem like a small problem, but when water cannot be channeled away from your house, it can leak into the foundations of your house and cause structural damage.
Roof gutter cleaning costs will vary depending on your house size, ranging between £40-150 on average. The cost for fixing foundational problems is likely to be a four figure sum.
Signs of clogged gutters include stained sidings, plant life, insects or small animals nesting in guttering.
Cleaning your gutters is a dangerous task that is best left to the professionals who are experienced and insured to do the job.
Gutter cleaning prices are typically calculated by how many square metres of guttering you need cleaned.
Even if your house is small in size, most tradespeople will charge a minimum fee set for call-out on gutter cleaning of £40.
Tell us what you think
What others think of this cost guide:
Need More Information?
Related posts