Your roof is amongst one of the most essential parts of your home, as it's what protects your property from the elements. Unfortunately, from time to time, roofs can suffer damage and might need to be repaired, or in some cases, completely replaced.
In this checklist, we go through everything you need to know about fixing your roof problem.
How to calculate roof replacement costs
If your home has been hit by a major storm or is very old, then it might need to have its roof replaced. This is normally only required in extreme circumstances. However, if necessary, it's a job that can't be avoided. Whilst it's not exactly cheap to replace the roof on a home, there are ways to complete the job in a cost-effective manner. The costs associated with the job will depend on a few things, such as:
• The roofer you hire
• The size of your roof
• The types of material you want to use
• Whether you're altering the current roof style
How much does a full roof replacement cost?
| Cost provided item | Lower Range £ | Upper Range £ | Average cost £ |
| --- | --- | --- | --- |
| Replacement Roof | £3,000 | £16,300 | £5,500 (national average) |
| Scaffold Hire | £800 | £1,000 | £900 |
Getting a full roof replacement will vary a great deal depending on the location and the roof type. The UK national average cost to replace a roof is £5,500 with most homeowners spending between £3,000 and £16,300. Roof installation cost ranges from £300 – £380 per square metre depending on the roof size and materials used in roofing.
Expect to spend £1,050 to £2,100 to remove your current roof before installing a replacement.
For roof repair costs, check out our roof repair cost calculator.
Find a roofing replacement expert near you
Are there any additional costs for a roof replacement?
There are a number of additional costs associated with roof replacements that might not always be included in the quote. For one, most contractors will expect the existing roof covering to be stripped off and removed before they'll start work. Similarly, many roofing contractors will expect good access to the roof. If this is not possible, some tradespeople might turn down the project, or look for an additional fee. As always, it's highly likely that VAT won't be included in the quote, so remember to add that on too.
What are the benefits of re-roofing?
If your roof has only suffered minor damage, then it might be better to just have it re-roofed. Re-roofing is the process of layering one set of new shingles over a set of existing shingles. Unlike a roof replacement, it doesn't involve completely tearing off everything on the roof.
Enlist a roofing contractor to examine the roof and make the judgement of whether it needs re-roofing or not. If your roof has suffered serious damage, e.g. from a storm, then re-roofing could cause further damage. However, in most cases, it will be fine to re-roof a home, and the process has several benefits, such as:
Provide stronger support
Re-roofing a home gives it extra support by adding another layer of protection against potential damage. It can also be used to patch over any minor damage in the roof's structure.
Provide a facelift
It's hard to underestimate the effect your roof has on the aesthetic of your home. After years of use, tiles and shingles can become discoloured. Replacing tiles can bring your roof back to life and improve the look of your home.
Quick and easy to do
When compared to a roof replacement, re-roofing is a pretty simple process. Most roofing contractors will only need a couple of days to cover minor fixes.
Find a roofing replacement expert near you
How long should a roof repair last?
Most roofs last around 20 years without needing any work. Fortunately, more modern roofing materials can last a lot longer. If you build your roof out of metal, then it can last between 50 to 100 years. Similarly, clay and concrete roof tiles will last between 25 to 40 years. However, the life expectancy on roofs of any material will be affected by things like bad weather.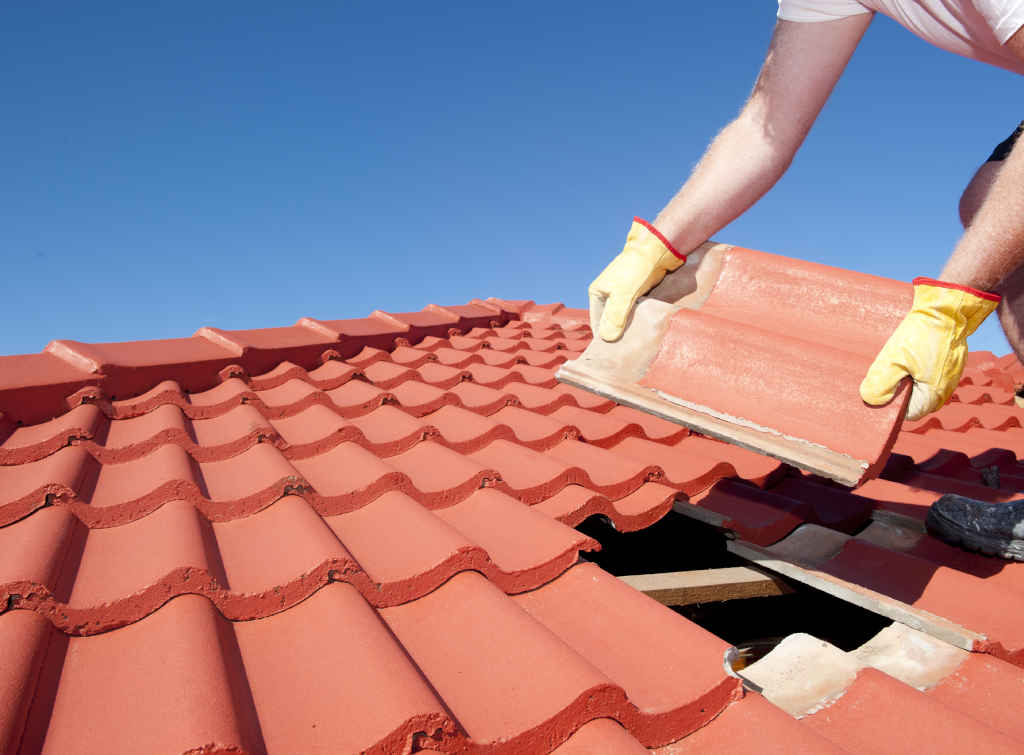 How do you repair a flat roof?
Due to their design, flat roofs tend not to last as long as standard designs and will need replacing more often. In general, flat roofs will last around 20 years, but only if they are correctly maintained. Without the right maintenance, flat roofs can quickly become a problem.
Flat roofs are constructed from several different parts, which can all be fixed independent of each other. Therefore, the cost of replacing the roof will depend on how many elements of the roof need replacing.
How much does flat roof replacement cost?
Different suppliers will charge differing prices, but flat roofs tend to be cheaper to replace than standard designs. Depending on what needs fixing, flat roof system replacements will cost between £750 – £1,200. There can be additional costs, which generally occur if the contractor needs to replace either the guttering, fascias or soffits. Similarly, if contractors need to fit any extra insulation to help the roof meet building regulations, then this will also be charged for.
For a more in-depth review of roofing repairs versus full roof replacement read our cost guide.
Find a roofing replacement expert near you
How much does a garage roof replacement cost?
The average single garage roof replacement cost is £800, assuming it's a bitumen felt roof. This includes around £450 for materials and £350 for labour. However, the total replacement garage roof cost will depend on a number of factors, including:
Material and style: The typical garage flat roof replacement cost is cheaper than the cost to replace a pitched roof with tile or slate.
Size of garage: A single garage roof replacement will normally cost less than that of a double garage.
Location: Labour costs can rise in some parts of the country.
Accessibility: If accessibility is an issue, your total garage roof replacement cost could climb significantly.
Time to complete: It should only take around 1 day to replace a garage flat roof, but it could take longer to replace other garage roof types.
Condition of the timber: If the timber beneath the roof covering needs replacing, this will add around £500 to the costs provided above.
Asbestos: The average asbestos garage roof replacement cost will generally be much higher. You should budget between £500 and £900 in asbestos removal costs if you need to get asbestos corrugated sheets removed and disposed of.
Depending on all the above factors, your replacement garage roof cost could be as high as £3,600.
What is the best roof for a garage?
The best roof for a garage will all depend on your priorities. If your priority is reducing your new garage cost, you can't get cheaper than a flat bitumen felt roof, which will generally come in at £50 per m2. Its lightweight nature makes it easy to build with and means it requires shallower foundations than a pitched garage roof.
The downside of this roof type, however, is that bitumen degrades when it's exposed to water and sunlight, causing it to crack over time and allow water to leak onto the timber underneath.
Other roof types may be more expensive but they'll also last longer. The typical rubber roofing cost for a garage is around £90 per m2, while a fibreglass roof is likely to cost you around £100 per m2.
How long does a garage roof last?
Some garage roofs last longer than others, and this is mostly down to the material and style that your garage roof is made from. Cheap flat roofs made of bitumen felt will normally only last 10 or 15 years. Meanwhile, a pitched roof with a tile or slate covering could easily last 50 years.
So, although the cost to replace a garage roof in the UK is cheaper for garages with felt roofs, you'll normally end up spending more in the long run as this kind of roof will need replacing much more regularly.
Find a roofing replacement expert near you
Tell us what you think
What others think of this article:
Need More Information?
Related posts