Last updated on May 31st, 2022
Roof replacement cost
Your roof is one of the most essential parts of your home, as it's what protects your property from the elements. If it becomes damaged, you will need to repair or replace it urgently. Find out how much to budget.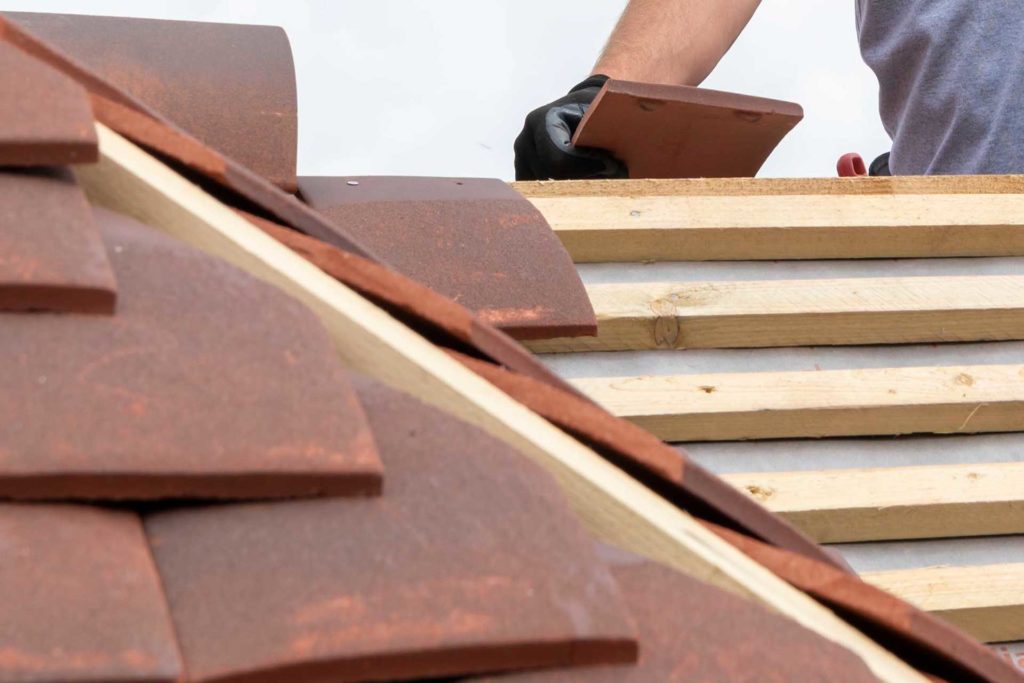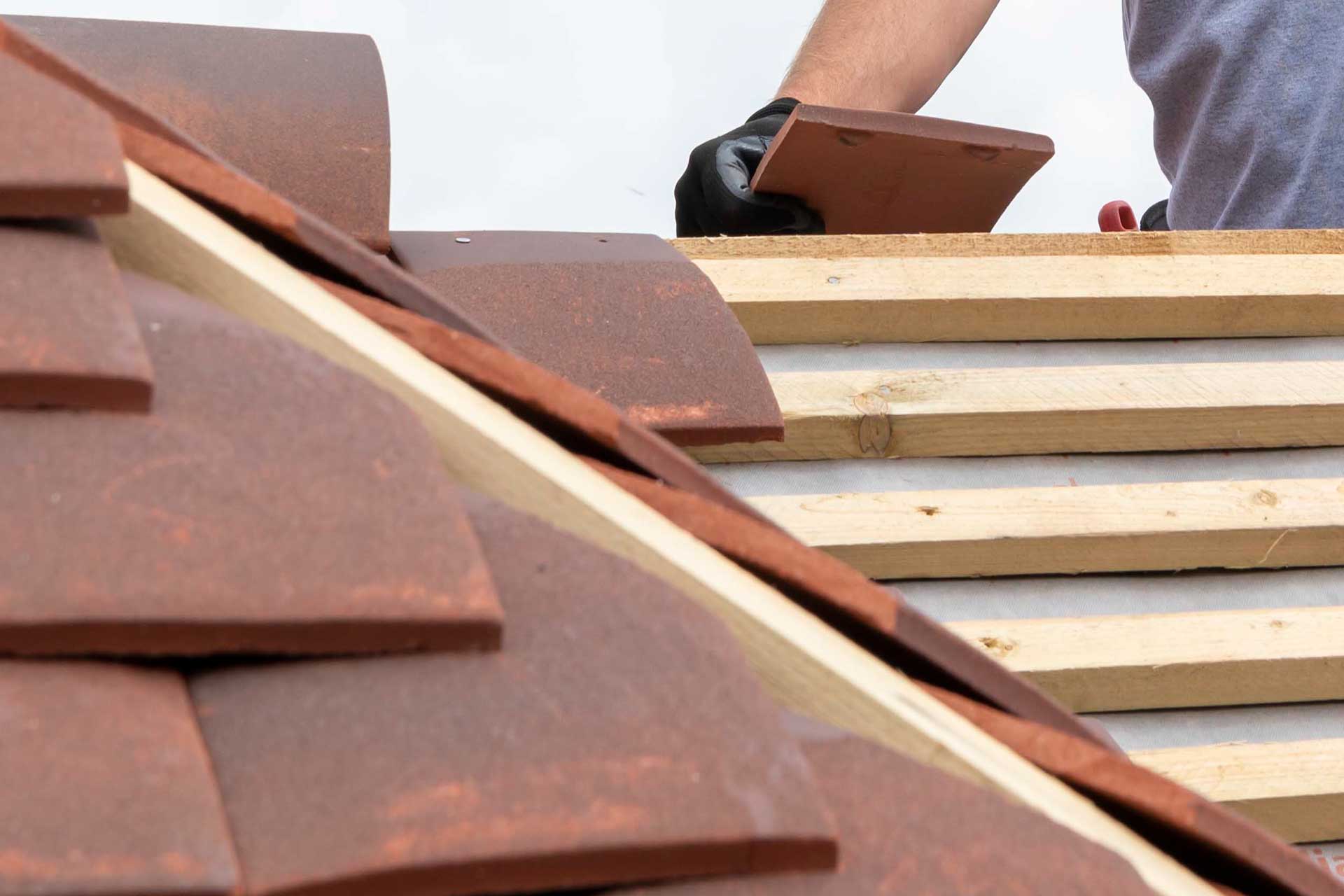 Fast Facts
The UK national average cost to replace a roof is £5,500
Most roofs last around 20 years without needing any work
It will take up to a week to replace your roof depending on its size
Unfortunately, from time to time, roofs can suffer damage and might need to be repaired, or in some cases, completely replaced.
We've covered everything you need to know about replacing your roof, including roof replacement costs.
How much does a roof replacement cost?
| Type of roof replacement | Low - high cost estimate | Cost per m2 |
| --- | --- | --- |
| Hip roof cost | £8,000 - £17,000 | £125 - £265.62 |
| Gable roof cost | £7,000 - £15,850 | £109.37 - £247.66 |
| Flat roof cost | £1,440 - £3,400 | £45 - £100 |
The UK national average cost to replace a roof is £5,500, with most homeowners spending between £3,000 – £18,000 (the higher costs will be for a larger, more complex slate hip roof). Roof installation cost ranges from £120 – £290 per m², but this depending on the size of the roof and the materials chosen for your roofing.
The different types of roofs to replace will also affect the cost.
A hip roof replacement cost: £8,000 - £17,000
A gable roof replacement cost: £7,000 - £15,850
A flat roof replacement cost: £1,440 - £3,400
Also, budget for a cost of £1,000 – £2,500 to remove your current roof before installing the replacement roof.
The full roof replacement costs will depend on the design of the roof, the roof tiles chosen, the size of the roof, and where you live in the UK.
The costs in the table reflect an average area of:
64m² hip roof
64m² gable roof
32m² flat roof
If you're not looking for a complete roof replacement, check out these roof repair costs.
What is and isn't included in a roof replacement quote?
When you receive a roof replacement quote, make sure to keep an eye out for what is and isn't included in the cost.
Along with all the roofing material and labour time in your roof replacement cost estimate, you can also expect other additional areas to be included, such as velux windows, vents and the chimney.
There will likely be additional cost estimates for:
Existing roof removal
Skips for the existing roof materials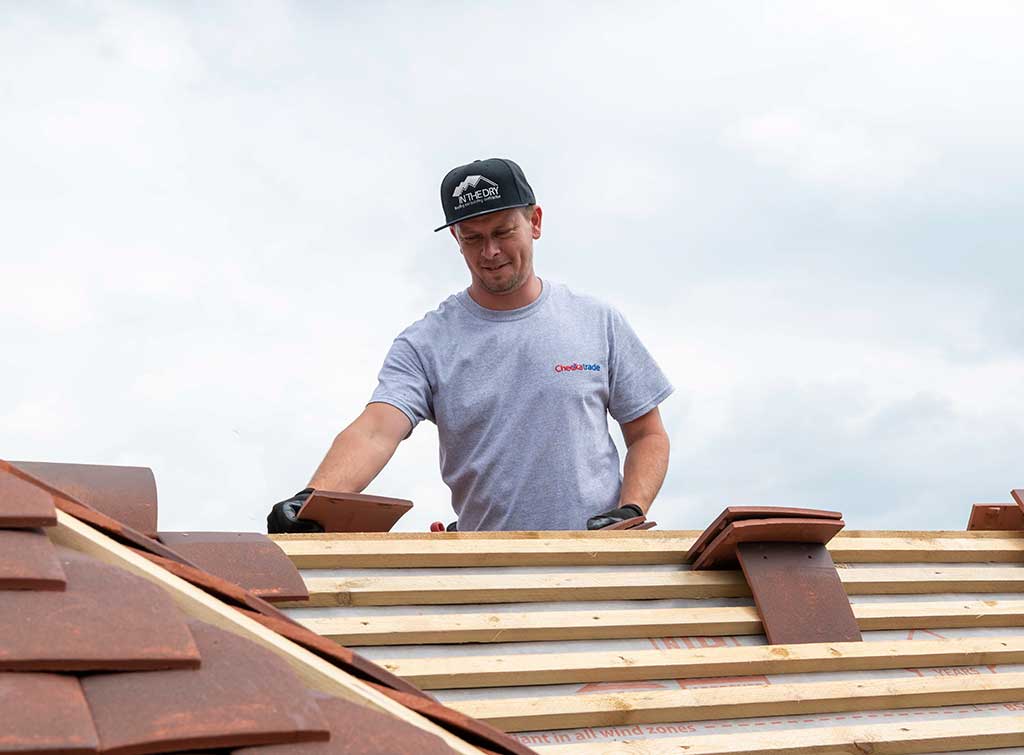 Find roofers your neighbours recommend
How to calculate the roof replacement cost
| Roof replacement cost calculator | |
| --- | --- |
| Scaffolding | £800+ |
| Remove existing roof (incl. skip) | £1,000 - £2,500 |
| New roof frame | £2,500 - £4,500 |
| Slate roof (incl. membrane) | £2,800 - £5,000 |
| Insulation | £400+ |
| New fascia and soffits | £2,100+ |
| Gutter installation | £700 |
A professional tradesperson will calculate the roof replacement cost by what's required for the job.
A standard roof replacement project requires the following:
Scaffolding – the cost to set up and remove, plus weekly hire – £800+
Removal of the existing roof – demolish and skip hire costs – £1,000 – £2,500
Roof frame cost (including wall plates and anchor brackets) – average roof frame cost £2,500 – £4,500 standard house build
Type/material of roof cost (tiles or slate, including the membrane) – average slate roof cost £2,800 – £5,000 standard house build
Insulation cost – £400+
Fascia and soffit board installation cost – £2,100+
Guttering installation cost – around £700
Roof replacement quotes
Of all the jobs you can pay for on your property, replacing a roof is one of the biggest. As a result, the cost of roof replacement can be quite considerable, which is why it's essential to get multiple quotes before starting the job.
You should get quotes from at least five local, and ideally recommended, roofing specialists to ensure you have a good cross-section of prices from the marketplace. Ensure the tradesperson actually comes out to see your property, rather than quoting from a satellite image, and make sure they assess your roof properly, both inside and outside.
Remember, quotes will vary by the type of roof needed, such as garage, conservatory or whole house, and will also be significantly affected by the tile material you require. This is why, when seeking quotes, it's important to first know what you want re-roofing and in which type of tile.
Find out if finance is available for your roof replacement project. Get a quick quote, please note terms and conditions apply*.
How much does flat roof replacement cost?
Different suppliers will charge differing prices, but flat roofs tend to be cheaper to replace than standard designs.
Depending on what needs fixing, a flat roof replacement will cost between £1,440 - £3,400 and charged at £45 - £100 per m².
There can be additional costs, which generally occur if the contractor needs to replace either the guttering, fascias or soffits. Similarly, if contractors need to fit any extra insulation to help the roof meet building regulations, then this will also be charged.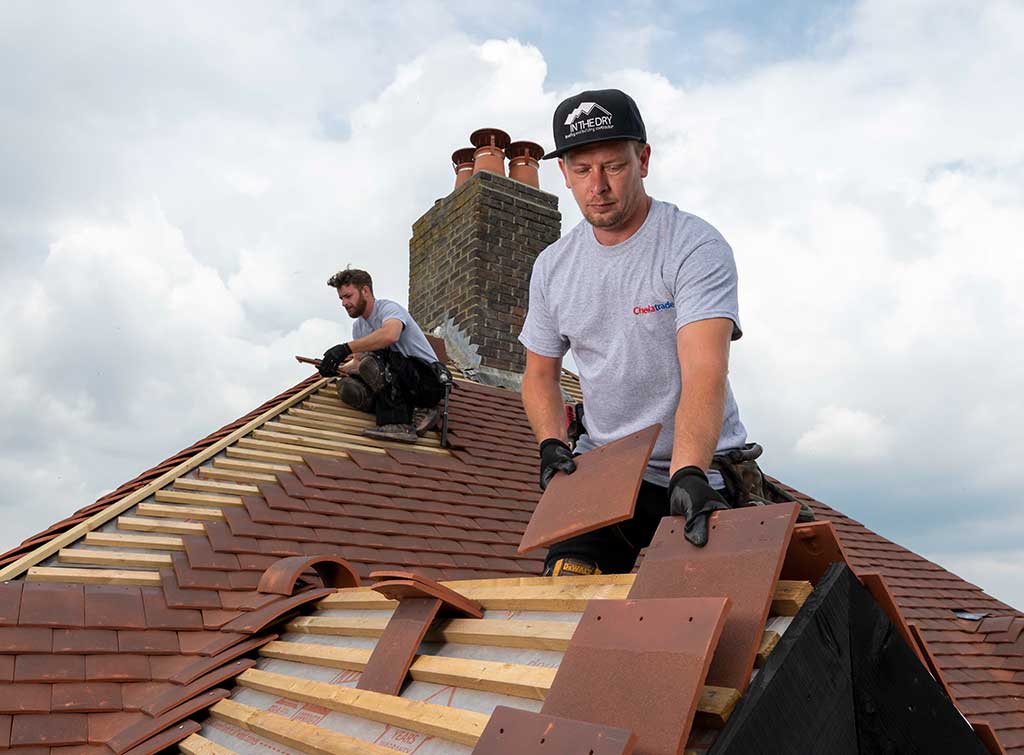 What are the benefits of re-roofing?
There is a range of benefits to re-roofing, including:
Improved protection – Re-roofing gives you the peace of mind that your home is going to be protected from the elements.
Increased energy efficiency – A re-roof can maximise the efficiency of your home by retaining heat better. This means less energy used to heat your home and fewer pennies on your energy bills.
A chance to give your home a facelift – It's hard to underestimate the effect your roof has on how your home looks. After years of use, tiles can become discoloured. Replacing tiles can bring your roof back to life and improve the look of your home.
Adds value – A new roof can add value to your home and increase the kerb appeal for future buyers.
What are the telltale signs that your roof needs replacing?
You may now be second-guessing yourself as to whether your roof does need replacing. We've included some of the key signs that your roof needs replacing:
Water damage
If you notice staining on your interior walls or on the ceiling, then it's very likely that there's a leak, and probably from your roof. Head up into the loft and take a look to see if you can see the leak and confirm it's the roof.
Misshapen, sunken or missing tiles
You might think that your roof doesn't look right, and it might be due to structural sagging. If that's the case then go with your gut. Missing roof tiles could be the other issue here, and this could lead to further disappearing too, so it's worth getting your roof checked by a professional.
Worn looking chimney flashing (the grey looking material that protects roof joints)
Old rooftop flashing will wear over time, making it rain's best friend to get in your home. If it looks patchy or looks as though it's peeling away then it would be time to review the entire roof structure.
Moss and mould growth
If there's a lot of moss and mould inside your home, then check the roof.
Streaks of light coming into the attic
This is a big telltale sign that your roof needs urgent attention.
Damaged or rotten underlay
If you're taking a look at the underlay in your roof and it's damaged or rotting, then this is another big sign that your roof may need to be reroofed.
If your roof is over 20 years old
If it's a case that your roof is just old, then it's certainly worth getting your roof checked.
Find roofers your neighbours recommend
How long should a new roof last?
Most roofs last around 20 years without needing any work. More modern roofing materials can last a lot longer.
If you build your roof out of metal, then it can last between 50 to 100 years. For metal roofing however they are usually bespoke, so for a cost estimate, you will need to speak with a specialist contractor.
Clay and concrete roof tiles will last between 25 to 40 years. The life expectancy on roofs though can be heavily affected by the weather conditions it has to deal with. Extreme weather and even falling trees can obviously heavily reduce the time your roof lasts for.
How long will it take to replace your roof?
The time it will take to replace your roof will entirely depend on the size of the project. Expect anything from a week.
How much does a replacement conservatory roof cost?
If you came here to find out the cost to replace a conservatory roof, then we have a cost guide with much more information on this.
As a rough ballpark cost, the costs of conservatory roof replacement ranges between £2,250 – £7,000+.
Find out more in our conservatory roof replacement cost guide.
How much does a garage roof replacement cost?
The average single garage roof replacement cost is £800, assuming it's a bitumen felt roof. This includes around £450 for materials and £350 for labour. However, the total replacement garage roof cost will depend on a number of factors, including:
Material and style: The typical garage flat roof replacement cost is cheaper than the cost to replace a pitched roof with tile or slate.
Size of garage: A single garage roof replacement will normally cost less than that of a double garage.
Location: Labour costs can rise in some parts of the country.
Accessibility: If accessibility is an issue, your total garage roof replacement cost could climb significantly.
Time to complete: It should only take around 1 day to replace a garage flat roof, but it could take longer to replace other garage roof types.
Condition of the timber: If the timber beneath the roof covering needs replacing, this will add around £500 to the costs provided above.
Asbestos: The average asbestos garage roof replacement cost will generally be much higher. You should budget between £500 – £900 in asbestos removal costs if you need to get asbestos corrugated sheets removed and disposed of.
Depending on all the above factors, your replacement garage roof cost could be as high as £3,600.
What is the best roof for a garage?
The best roof for a garage will all depend on your priorities. If your priority is reducing your new garage cost, you can't get cheaper than a flat bitumen felt roof, which will generally come in at £50 per m². The downside of this roof type, however, is that bitumen degrades when it's exposed to water and sunlight, causing it to crack over time and allow water to leak onto the timber underneath.
Other roof types may be more expensive but they'll also last longer. The typical rubber roofing cost for a garage is around £90 per m², while a fibreglass roof is likely to cost you around £100 per m².
Good jobs, guaranteed
Get covered when you book with Checkatrade.