What are the best conservatory roof options?
We weigh up the best conservatory roof options including glass, polycarbonate, and tiles so you can select the best option for your needs and your budget.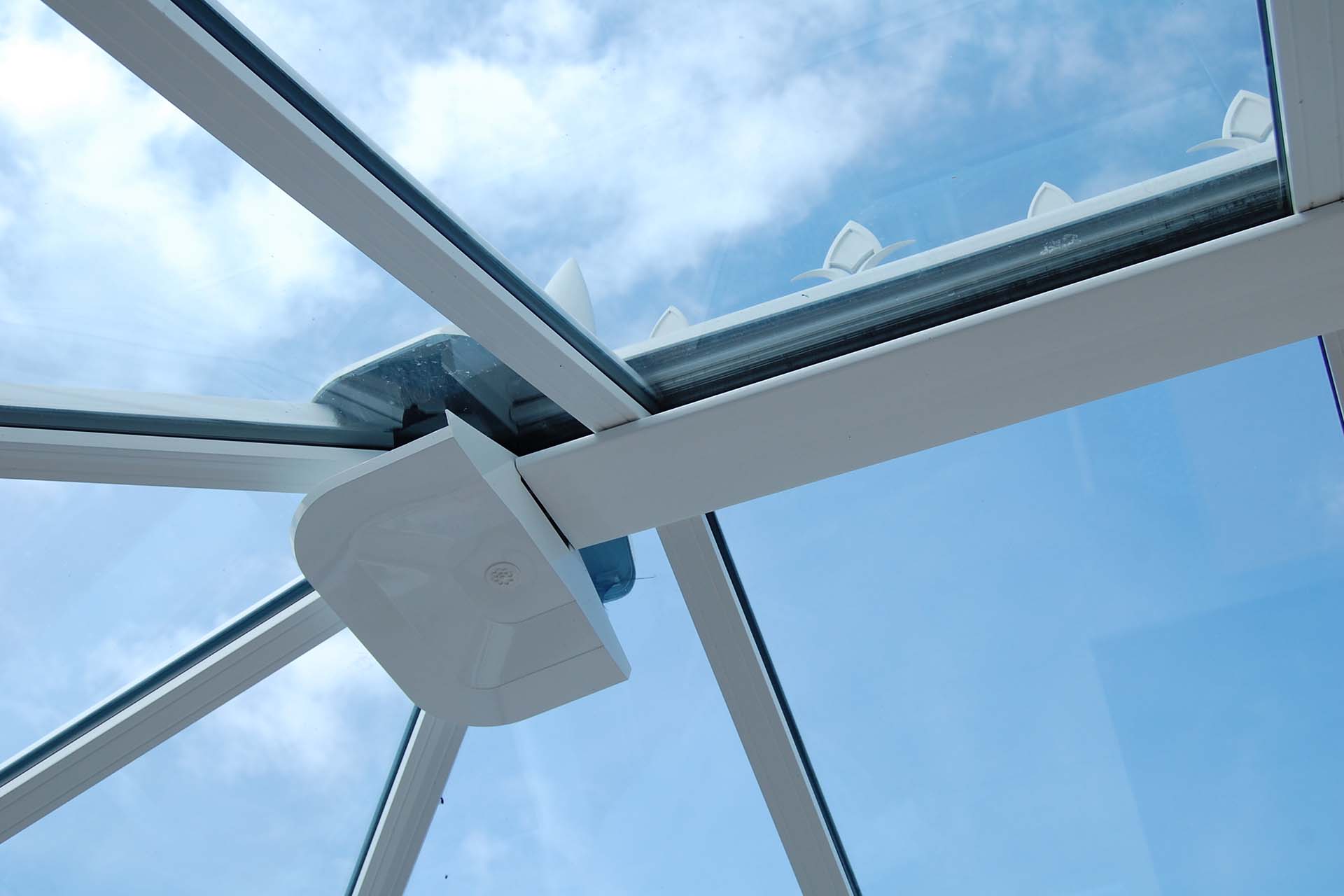 New building regulations, due to come into force in June 2022, are encouraging many homeowners to consider the best conservatory roof options.
Why? Because the new rules seek to cut carbon emissions from new homes by 30% by improving energy efficiency, and conservatories play a big role in this.
Read on to see which roof is best for you and how to avoid the common pitfalls of not getting it right.
Conservatory roof options
If your home has a conservatory, you'll know all too well how cold it can be in winter and how stifling it can be during the summer. Often, the reason for this is the conservatory roof, which can leak up to a quarter of the room's heat.
In this post, we'll look at the best conservatory roof options out there including glass, polycarbonate, and tiles, so you can decide which option suits your needs and your budget.
Glass conservatory roofs vs polycarbonate roofs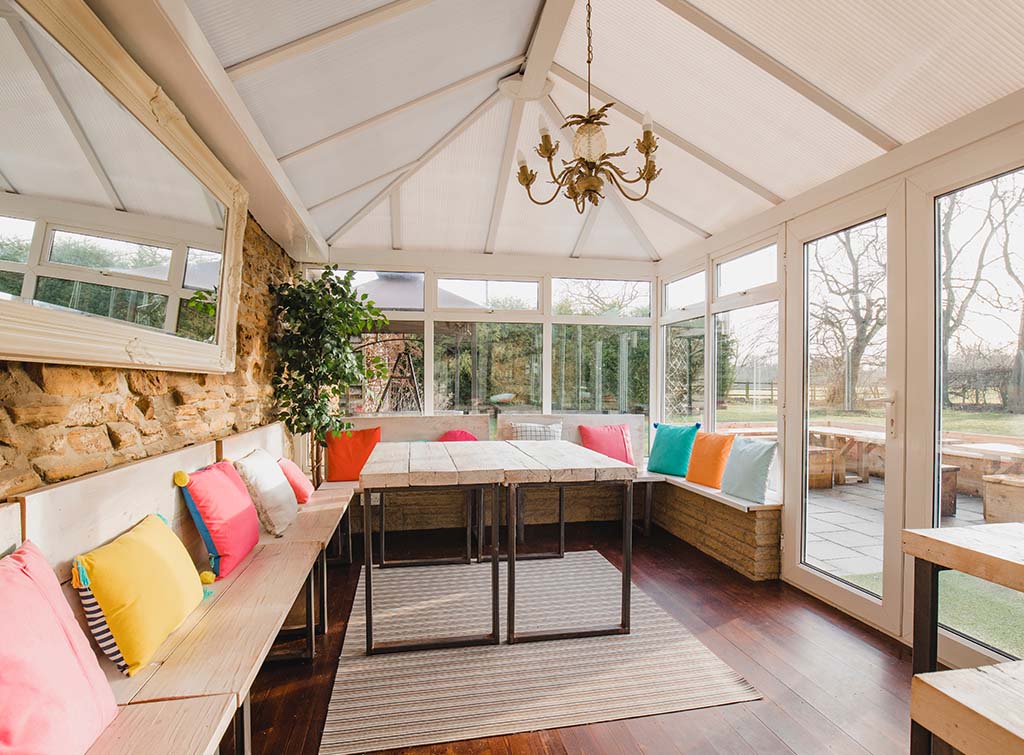 Glass and polycarbonate roofs both have their pros and cons, with the biggest difference being the cost. Let's take a look:
A glass roof will retain more heat than a polycarbonate roof, which means the conservatory will be warmer when the outside temperature drops.
Glass also has a better energy efficiency rating than polycarbonate, making it a better choice from an environmental standpoint.
In terms of energy bills, you'll spend less on heating a conservatory with a glass roof vs a polycarbonate roof.
A glass roof is longer-lasting and will stand up to the elements much better than polycarbonate – it's less likely to be damaged or scratched.
It's possible to have tinted or self-cleaning glass
Both options will allow plenty of light to enter the room, but polycarbonate is often opaque, so you won't have the same views as with a glass roof.
While a polycarbonate conservatory roof is arguably not as aesthetically pleasing as a glass roof, it is the most affordable option.
Another factor to consider is noise. If you have a polycarbonate conservatory roof, you'll clearly hear the pitter-patter of rain when the heavens open.
You can expect glass or polycarbonate roofs to last around 15-20 years.
How much does a glass conservatory roof cost vs polycarbonate?
The cost of a new glass or polycarbonate roof for a conservatory depends on its size.
For a lean-to-conservatory (3,000mm x 3,500mm) prices start at around £3,200. This compares to £2,150 for polycarbonate.
For a conservatory sized 4,000mm x 4,000mm, prices average around £5,000. Polycarbonate averages around £4,000.
Check out our post on the price of conservatory roof replacement for more information.
See the tradespeople we've checked and recommend for your job
Benefits of replacing a conservatory roof with a solid roof
Another conservatory roofing option that is growing in popularity is a solid, tiled roof, sometimes with the addition of skylights for increased ventilation and natural light.
The benefits of a tiled conservatory roof include:
A warmer conservatory.
A room that feels more like a natural part of the home – a proper extension.
Increased shade in summer, when a conservatory can often be too hot to enjoy.
Low maintenance and very long-lasting (50 years+).
A note of caution, though, you will need to make sure your existing conservatory structure can take the weight of a solid roof. The same can be said if you're switching to a glass roof. Of course, the best way to be certain of this is to use an experienced roofing specialist.
Replacing the roof on a conservatory does not normally need planning permission, however, you may still need building regulations approval. A quick call to your local planning authority will clarify whether this is needed so you can budget accordingly.
How much does a tiled conservatory roof cost?
It'll set you back around £4,000 to add a tiled roof to a conservatory sized 4,000mm x 4,000mm, or up to £6,000 for a larger roof. These are ballpark figures to help to weigh up which option is best suited to your budget.
To receive quotes from our members, use our request a quote feature to receive estimates straight to your inbox. Be sure to check whether the quotes include the internal ceiling finish, as plastering will be an additional cost to budget for if not.
You may find our post on tiled conservatory roofs helpful.
See the tradespeople we've checked and recommend for your job
What's the best conservatory roof insulation?
Nowadays, with advances in materials, some of the best conservatory roof insulation comes in the form of uPVC cladding or panels that contain an insulated and ventilated core.
Benefits include:
Incredible insulation, creating a more temperate room, year-round.
Greater energy efficiency.
No glare, therefore protecting your floors, furniture, and wall hangings from sun-bleaching.
What's the best conservatory roof replacement?
There are a number of conservatory roof replacement options out there, but which is best for you?
If budget is the main factor driving your decision-making, polycarbonate is a good option. It's cheaper than glass or tiles and offers good security as it's hard to break.
It's not as good as glass in terms of insulation, but this can be improved with solar inserts for polycarbonate roofing.
Glass has a very pleasing aesthetic, and a full glass roof allows you to gaze up at the clouds or the stars from the comfort of indoors. It is more expensive than polycarbonate, but it's durable and will make your home more energy-efficient.
A solid, tiled conservatory roof is the most expensive option, but it will make the room feel more like a natural part of your home with an enclosed roof. So if you're looking to extend your downstairs living space, putting a tiled roof on your conservatory could create this option for you. Switching to a tiled roof may require building regulations approval, and it must also be considered whether your conservatory structure and foundations can support the additional weight.
Before deciding on the best conservatory roof option for your home, consider how you want to use the space and how much you are able to spend to help weigh up the options. To speak with an experienced conservatory specialist in your area, use our search function below.
FAQs
Do you need planning permission to change the conservatory roof?
If you add a solid or tiled roof to your conservatory, it may change the classification of the space from a temporary to a permanent extension. If this is the case, you will need to meet building regulations approval. Contact your local planning authority to check before you commence work.