Are you in need of a new boiler? Wondering what a new boiler will cost? We have put together this new boiler cost guide to help you understand what options are available to you and how you might find the best boiler to suit your needs.
Prices for new boiler installation can often vary from region to region and also depend on whether you choose to work with a sole trader or a larger company, but this helpful guide should give you a good idea of what costs are associated with the job you require.
How much does a new boiler cost?
| Example Boiler Type (typically 30kW) | Average Price |
| --- | --- |
| Combi | £2400 + VAT |
| System | £2600 - £2800 + VAT |
| Conventional | £2000 + VAT |
It's difficult to estimate the average cost of a new replacement boiler as there are so many variables to consider. Quality manufacturing of the boiler itself is essential and you should not skimp on this essential home investment, to do so will cost more in the long run.  The average price shown here is based on a like for like a new combi boiler installation,  where all building regulations and safety requirements have been met  (including gas and condenset ) and are current. Although these costs act as a good guide, prices may vary. Remember you need the right boiler for your particular household circumstances so ask for advice from a Checkatrade qualified boiler installer before you commit yourself.
Not sure which type of boiler you have in your home, or keen to learn more about the varieties available? Take a look at our guide to different boilers types here.
Locate a boiler expert near you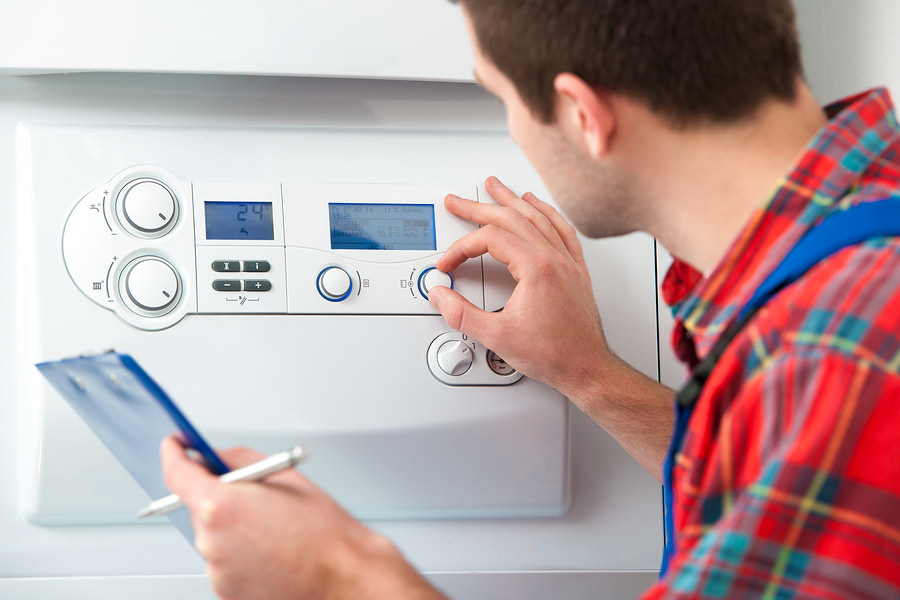 How to save money on new boiler installation?
Now you have a clearer understanding of the costs that this may entail, it's important to consider how this will fit into your existing budget. Boiler installation can be expensive but is vital when it comes to modern living. There are many ways in which you can save money on your replacement and ensure you don't get stuck in the cold with a broken central heating boiler:
Prepare the area – If you have any DIY skills, you could put them to use by removing any cabinets and clearing the space around the boiler itself, saving valuable time when the boiler installation.
Before the installation
Now that you have found a reputable boiler expert to install the best boiler for your needs, you may be wondering what will happen next.
Before boiler installation can occur, they should visit the property to take a look at the following:
The current boilers position
The water pressure
The number of radiators
The position of the flue
The number of bathrooms in your home
They will then be able to discuss which will be the best boiler for your new home, whether that may be the best combi boiler on the market or an alternative model
During the installation
If you have selected a reputable boiler engineer through Checkatrade, you can rest assured that you will be in safe hands. Each business listed on our site is thoroughly checked and provides work of an exceptional standard.
On the day of installation, they will carry out the proceedings as quickly and efficiently as they can. You can expect them to treat your property with care, as if it were their own and they will ensure that they leave the property tidy, having cleared up after them.
After The Installation
You can relax now, knowing you have an expertly fitted boiler keeping your home warm and cosy. Should you have any issues, the installer will be happy to discuss your concerns.
Locate a boiler expert near you
Tell us what you think
What others think of this cost guide:
Need More Information?
Related posts