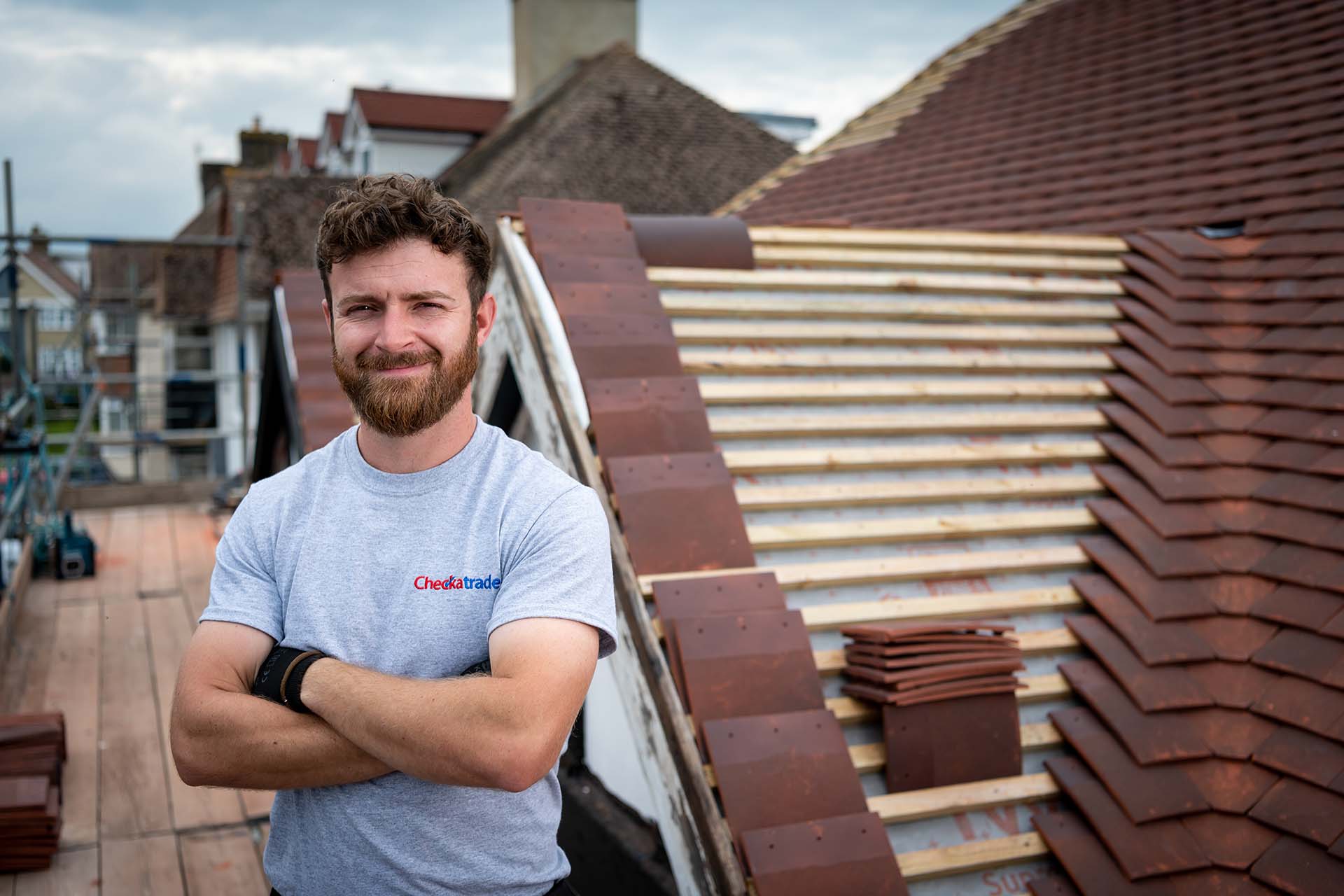 Find highly-rated, Checkatrade-approved roofers near you in a few clicks
We've made finding local roofers easier for you. No need to call around or ask for recommendations and a portfolio of work. You can see it all on our Checkatrade roofers' profiles.
Hit in your postcode below and see which roofers are recommended in your local area.
See the tradespeople we've checked and recommend for your job
Looking for a good roofer is a daunting task when you're ill-prepared. After all, your roof is one of the most important parts of your home. It keeps you and your belongings warm and dry, so you naturally want to repay this level of loyalty by making sure someone good and capable is able to fix it.
However, that doesn't mean your search needs to be boring or stressful!
In fact, we're here to prove how easy finding a local roofer near you can be.
So, grab a cup of tea (or a pint if you prefer) and let's dive in.
Let's start with your query about 'how to find local roofers near me'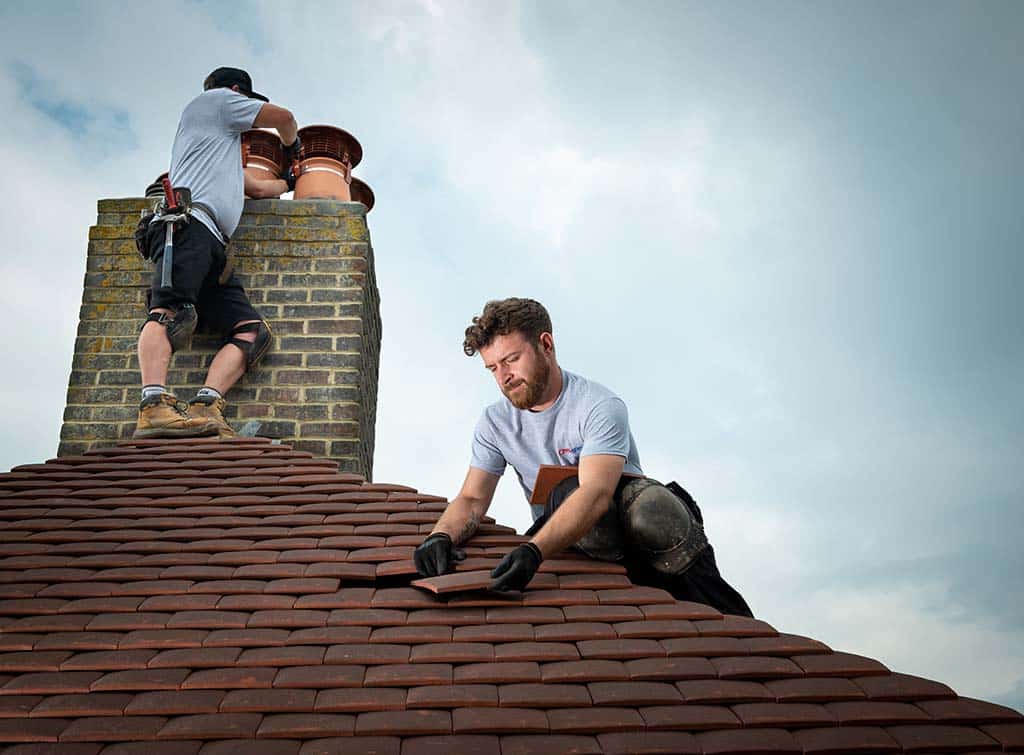 What roofing companies are near me and how do I find a good local roofer?
There are several ways to work out where the good roofers near you are hiding/waiting for your call.
To get the lowdown on all the roofers in your neighbourhood, search for them on Checkatrade. You'll be able to get all the information you need about any roofer quickly from their Checkatrade profiles; for example, customer reviews, background checks, accreditations, and photos of their past work.
Better yet, use our handy request a quote feature and make use of the biggest and most trusted online directory in the UK. Just tell us what work your roof needs and we'll reach out to our highly recommended roofing experts. They'll then contact you directly to iron out the finer details.
Alternatively, browse through our Checkatrade roofing experts by inputting your postcode below. We'll then show you a list of our top members who work in your area.
See the tradespeople we've checked and recommend for your job
NB: Using Checkatrade to find a roofer saves you from having to browse multiple websites, online directory listings and social media pages. What's more, Checkatrade has done all the pre-checks for you, giving you the peace of mind that your roofer is legitimate, qualified, and a dedicated professional.
Your questions about roofers, answered
How much do roofers charge in the UK?
On average, the hourly rate for a roofer in the UK is around £40 per hour. However, this rate can go up or down depending on the roofer's level of skill. It also depends on the size, complexity, and location of the job. For example, London roofers are a *touch* pricier!
Average roofing costs for some of the most popular jobs
For larger roofing jobs, such as installing a new roof or replacing an old one, the cost can range from £1,500 to £12,000. Again, this depends on the size of your roof and the materials used.
That's why it's important you ask for multiple quotes from different roofers before making a decision, as this can help you get a better idea of the average cost in your area.
NB: When it comes to roofing, quality is key. While it may be tempting to choose the cheapest option available, this can sometimes result in poor workmanship and more expenses in the long run. So, it's important to find a roofer who offers a fair price but also has the necessary experience and expertise to get the job done right.
What's the hourly rate for a roofer?
Well, that depends on where you live and the roofer's experience. However, it's usually around £40 per hour. 
How to find a good local roofer
We've got a guide specifically for you on hiring a good roofer in the UK.
The signs of a good roofer include:
Them being an approved roofer on Checkatrade
Having a membership for official trade associations; for example, the NFRC
Great reviews and ratings!
Find out more in our guide on how to hire a good roofer.
How long does a new roof take to install?
It depends on the size and complexity of the job. However, as a general guide:
A small to medium-sized roof – for example, those seen on a typical semi-detached house – typically takes around 1 – 3 days to install
A larger or more complex roof, such as one with multiple gables, dormers, or valleys, takes around 3 – 5 days and upwards to install
NB: If there are any unforeseen issues or complications, such as structural damage or the need for additional repairs, the installation time may take longer.
How many roof tiles do I need per square metre?
It depends on the size and shape of the tiles and the area you need to cover. However, as a general rule:
Standard-size tiles, such as concrete tiles, need around 60 tiles per square metre for an average-sized roof
Larger tiles, such as clay tiles, need around 45 tiles per square metre for an average-sized roof
Smaller tiles, such as plain slate tiles, need around 100 tiles per square metre for an average-sized roof
NB: Your professional roofer will be able to give you an accurate estimate for the number of tiles required for your roof and the length of time it will take.
Related: Solar roof tiles cost guide
How to find out if a roofing company is licensed?
Ask to see their license! And if you're feeling extra detective-y, do some research online and make sure their license is up-to-date. You can do this by checking online databases for your chosen contractor's details.
NFRC is an official roofing trade organisation. You've also got GOV.UK for their VAT details, and Checkatrade for our vetted checks.
You can also ask for a copy of their liability insurance and workers' compensation insurance to ensure that they are fully insured.
See the tradespeople we've checked and recommend for your job