What to do if you have a leaking roof?
Have you discovered a leaking roof and are now worried about what to do and how to fix it? In this guide, we cover what to do when you discover a roof leak, what could have caused it, and how to fix a leaking roof.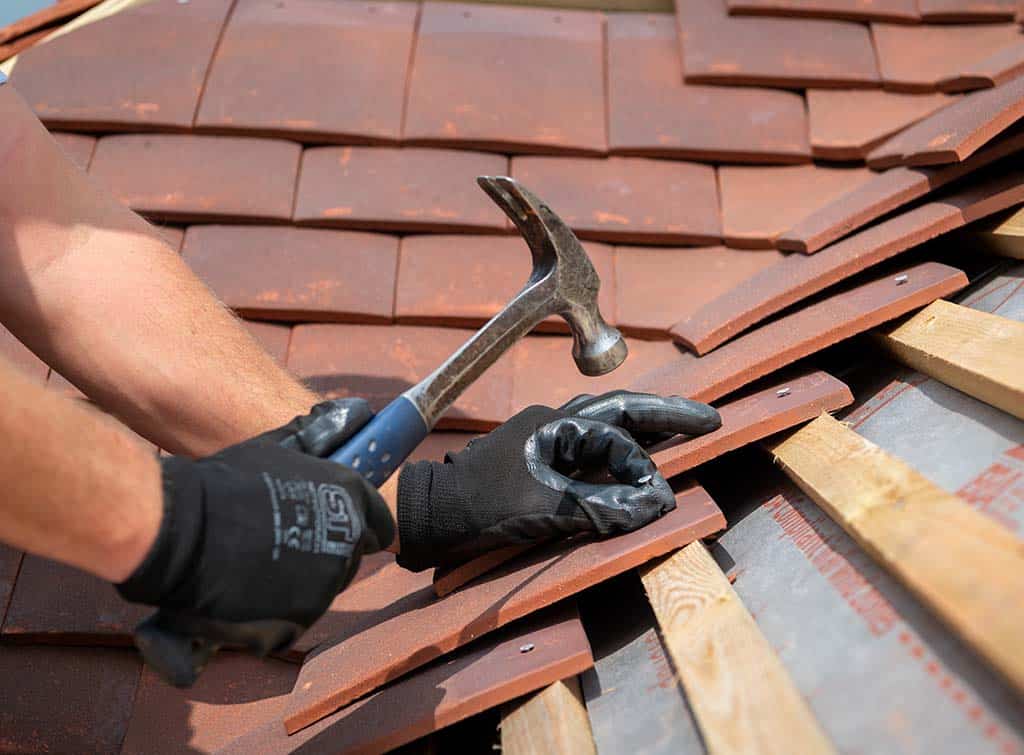 What causes a leaking roof?
A leaking roof can be caused by age and general wear and tear, as tiles come loose, or roofing felt gets damaged. Sometimes the worst happens, and your roof can leak due to damage from bad weather such as storm damage or a falling tree.
What to do when you find a leaking roof?
If you find yourself facing a leaking roof, what are the important things to do?
Move anything you can out of the way of the leak. A leaking roof is bad enough, so move any possessions or furniture out of the way of the leak.
Contain the water. If you can, try to collect the water in buckets to reduce the damage to the surrounding area of your home.
Take photo's in case you need them for an insurance claim.
If your roof has been damaged severely and it makes your home uninhabitable, or the structure is exposed to the elements, then this is classed as an emergency situation and you should contact a roofing expert immediately.
See the tradespeople we've checked and recommend for your job
How to detect a roof leak
The first step in resolving a leaking roof is knowing how to find a roof leak. The main things to look out for are whether you can see signs of a leak internally.
Roof leak detection is like being a detective – check your ceilings and walls for signs of water or watermarks and stains, as well as checking for damp patches on the floor.
Whether or not you find any clues in the rooms of your home, if you're trying to detect a roof leak it's also important to get up in your loft or roof space. Signs of a leaking roof include damp timbers and a strong musty smell.
Don't forget to take a torch with you and a pencil or piece of chalk. If you do detect the signs of a leaking roof, circle the area and take measurements from key marker points such as chimney stacks or vents so you can pinpoint the leak from the outside.
A good time for detecting a roof leak is after some consistent rainfall, as it will be easier to see the signs of whether your roof leaks in heavy rain. On a rainy day or after heavy rainfall you may see water coming in or dripping which will help you to pinpoint the leak.
Other ways to detect a roof leak are to conduct a water test with a hose pipe. This is best done after a dry weather spell. By directing water onto your roof with a hosepipe and then checking inside your roof space, you should be able to locate any roof leaks.
Also head outside to see if tiles are missing from the outside (top of your roof riles), or if the roof surface is torn or damaged, or covered in moss. Do not attempt to climb onto your roof to inspect it. This should only be done by a professional with the right safety equipment.
See the tradespeople we've checked and recommend for your job
How to find a roof leak on a flat roof
Finding a leak on a flat roof can be harder as the water can travel in all directions, making it harder to know where the leak is coming from. Inside your home, look for dark brown damp patches.
Externally, look for signs of sagging, dipping or water pooling, as well as rings of debris and dirt. All of these signs are good indicators that there may be a leak.
The best time to find a leak in a flat roof is when the weather and therefore the roof is dry for a couple of days. You will need to be able to inspect your flat roof and as above, conduct a water test using a hosepipe. You might need to wait a while to see if and where water appears as it makes its way through all the layers of your flat roof.
Again, do not attempt to climb onto your flat roof as this can be dangerous. If it is difficult to access or inspect your flat roof then contact a professional.
See the tradespeople we've checked and recommend for your job
How to spot a leaking conservatory roof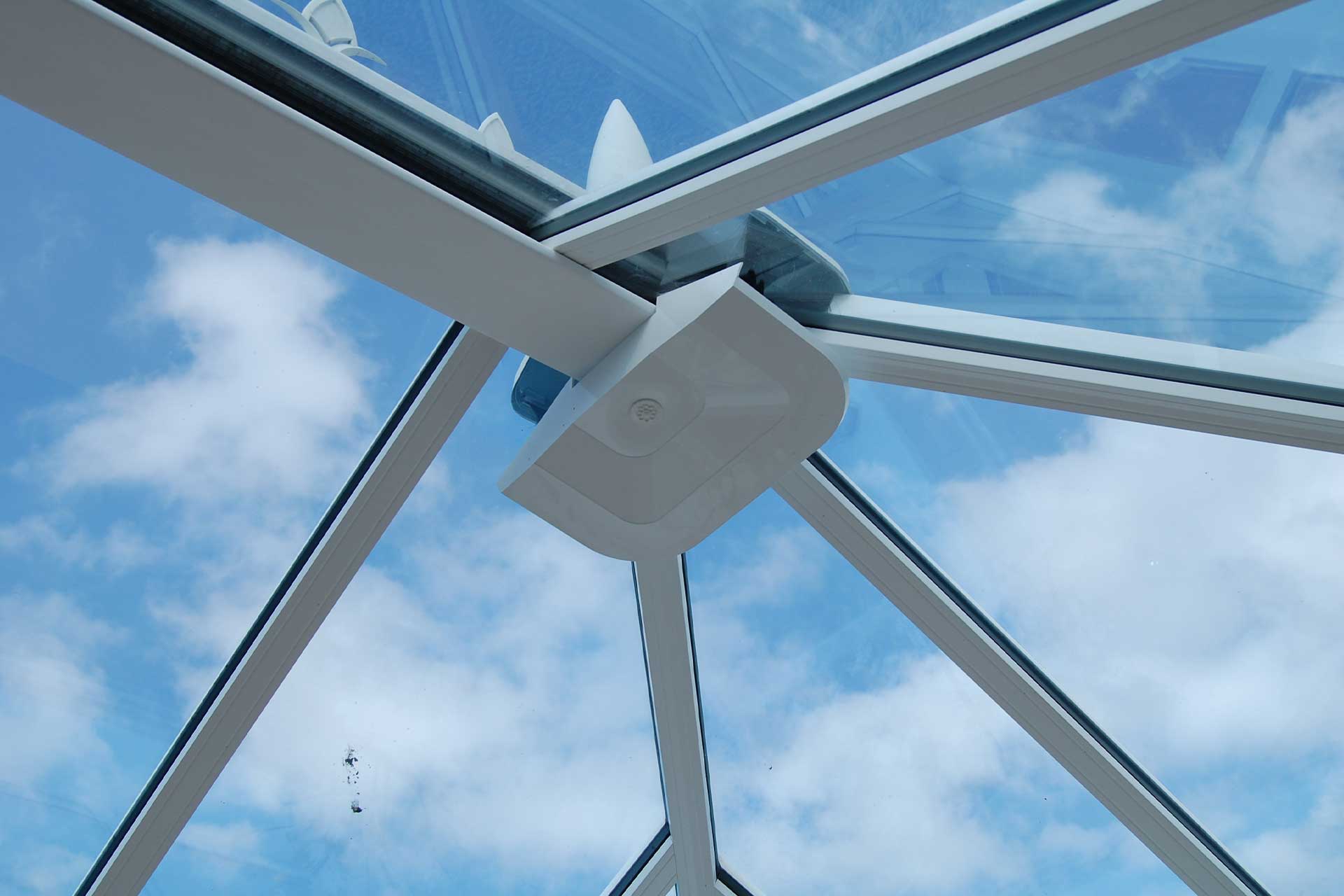 Conservatories are battered by the elements and over time can be prone to leaks due to age and wear and tear. If you think you have a leaking conservatory roof, look in the corners and where the roof panels join as these are common areas for a conservatory roof leak.
If your conservatory roof is leaking where it joins to the house, this indicates that there could be an issue with the flashing. Flashing acts as a bridge between your home and your conservatory and offers a watertight seal, so inspect it for any visible signs of damage.
Before attempting any DIY fixes, find out if your conservatory is still under warranty, and if it is contact the installer. If your leaking conservatory roof has been caused by sudden damage then you may be covered by your home insurance, so check your policy.
It's important to fix a roof leak ASAP, as long-term small leaks can cause damp and more serious issues that are expensive to repair, as well as affecting your health.
How to fix a leaking roof
If there is an active leak try to divert the water and seal any gaps. Draw a circle around the area to mark the original leak location and size. If the leak is large, then call a professional roofer as soon as possible.
To fix a leaking roof from the inside:
Use a bucket to collect any water.
Apply a liberal amount of roof patch to the leaking area and use a scraper to cover the area in an even coat.
Allow to dry, and apply caulking around the edges and any holes.
Consider applying roof patch tar to a shingle or piece of timber to provide a barrier to water coming in.
This is only a temporary fix to stop the leak from getting worse or causing any further damage from water coming in. We would always recommend seeking advice from a professional, so they can assess the situation and make long lasting repairs.
For more advice, take a look at our guide – What to do when you have a leaking roof.
How to repair a leaking flat roof
To repair a leaking flat roof you can use acrylic waterproofing paint on small areas as a temporary fix. If your flat roof is leaking, before applying the waterproofing paint make sure to clean away any debris from the area first to allow for the best possible seal. This is only recommended for very small leaks.
Flat roofs can be made from a variety of materials including fiberglass, rubber and felt. Fiberglass can be temporarily repaired with acrylic sealant. Rubber roofs can be patch fixed with lap sealant or self-adhesive flashing secured with rubber tape and a coating of lap sealant.
Felt roofing is the most common for a flat roof. You can seal a flat felt roof with acrylic paint if only a small area is damaged. Due to the low cost of roof felt it is usually worth replacing it than repairing it. For a more in-depth guide see our blog How to felt a flat roof.
Roof leak repair costs by a professional
Now for arguably the most important part – how much does a roof leak repair cost? The total cost will vary depending on how severe the leak is.
In some cases, it may be necessary to replace a section of your roof or the whole roof if the damage is extensive and it needs to be made structurally safe.
For a typical pitched roof, roof leak repair can cost anywhere from £200 to fix some roof tiles to £12,000 for a complete renovation. The cost will also increase if there is any structural damage that needs to be assessed and repaired. The emergency call out fee for a roofing expert is approximately £350.
For a conservatory roof repair, you can expect to pay anything between £300 to £6,000+ depending on the issue and the size and style of your conservatory roof. The average day rate for a roofer is between £200 and £300. For more information on roof repair costs take a look at our roof repair cost guide.
Flat roof leak repair cost
The flat roof leak repair cost will again depend on the extent of the damage. Felt roofing costs approximately £40 to £60 per square metre, plus any labour charges of approximately £250 per day. The acrylic waterproof roof paint can cost upwards of £20 depending on the quantity you need.
As mentioned, depending on the nature of the leak it may be more cost-effective to replace the roof, so it's always best to consult a professional for their advice.