What to do when your outside drain is blocked
If your outside drain is blocked, we'll take you through your options on how to clear it yourself, including tools and expert techniques.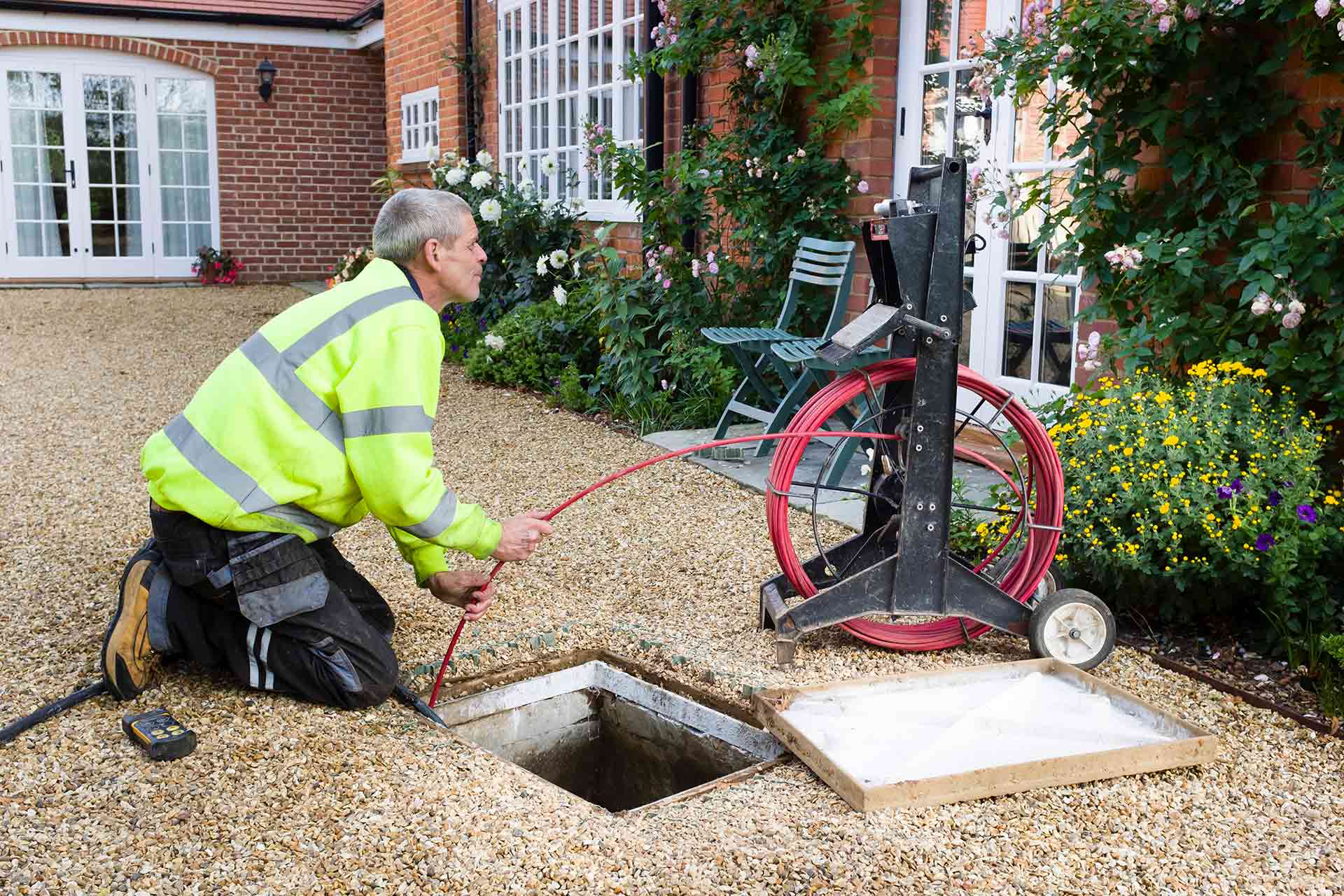 You're here because you've probably noticed a stench, damage to electrical fittings, or there's a lot of water sitting on the ground outside your home.
These signs are often the telltale sign of a blocked drain.
The common reasons for a blocked drain outside?
There are many reasons:
Leaves covering the grid or inside the drain
Food waste, fat or oil from the kitchen sink
Soil or sand due to a collapsed drain
Objects lodged in the pipes
Tree root damage
Toilet roll build-up
Before deciding what to do – whether to repair yourself or hire a professional – you'll need to assess the damage.
Assess the blocked outside drain
Before you pick up a tool, the first step is to take a look at the drain and see what you're dealing with. It might be that the blockage is caused by leaf litter on the grid, in which case you can just clear it by hand.
In most blocked drain cases though, you'll need to lift the cover and take a look inside.
Check the drain lid cover
To lift a cover you might need a screwdriver or a piece of rope.
Once you have access to the pipe below, you're looking to see if the blockage is visible or out of sight, this will give you an idea of the work and tools needed to clear it.
If you can see the blockage, is it simply slime or is there something down there that shouldn't be?
If, after assessing the cause of the blockage, you're confident that you can clear it yourself, then you can source the tools needed for the job.
Tools required to clear a blocked external drain
If you're going to take on a blocked outside drain yourself, then you'll need to prepare properly for the job.
This means buying the right products and materials to help you complete the task first time and as effectively as possible.
Different clogs require different solutions to clear them, from a simple pair of rubber gloves to rods and chemical drain cleaners.
Using one of these solutions could work on your outside drain if the blockage isn't too serious.
What you'll need for DIY unclogging:
Rubber gloves with long sleeves
Goggles and a face mask
Drain rods
Bucket and bin bags
Pressure hose
How to clear an outside drain yourself
Armed with the tools and equipment above, including the all-important safety gear, you can take action yourself if your outside drain keeps blocking.
Bear in mind that clearing an outside drain without the help of a professional is only possible if it's not too clogged or too complex a job.
Follow the steps below to free your pipes from stuck waste:
Remove any blockages – This is all about doing the obvious and simple stuff first, as that might be all it takes to clear a blocked drain outside your house. Put on your long-sleeve gloves, goggles and face mask, remove any debris you can easily reach, such as leaves, soap scum or food waste, and place it in your bucket or bin bag.
Clear the blockage with your rods

– If 

clearing

 the drain by hand doesn't work, then it's time for the rods. Start with 

one and carefully insert down the drain and into the pipe below. If you feel resistance, twist the rod into the blockage with sufficient pressure until you break through, Can't feel it? Connect more rods until you find the blockage.
Clean up the debris – You don't

 want do do all that dirty work only to have to do it all over again in a few days, so 

clear

 up any material you removed and use the opportunity to clear away anything nearby that might 

cause

 another blockage. Again, pop it in your bucket or bin bag.
Cost to professionally unblock an outside drain
It's important to take care when using rods or any kind of invasive equipment down your outside drain and pipes, as any damage caused could result in a hefty repair bill and a lot of upheaval to access the area.
To avoid this, or if your drain won't unblock, it's always advisable to call in a professional to take care of the job and it might not cost as much as you think.
On average you'll pay £60 for a call out, with drain rodding costing £80, jetting £175 and a drain CCTV survey for really difficult jobs costing on average £250. They will have the equipment, know-how and insurance to unblock your outside drain efficiently and safely. Plus, you don't get dirty!
You can get quotes from a number of plumbers your neighbours recommend by entering your postcode in the free search tool below.
Find drain clearance experts your neighbours rate
Blocked outside drain FAQ
How do I unblock a drain pipe outside?
If you need to unblock a drain pipe, then you first need to assess the blockage.
Is it at the surface or is it in the pipe? If it's down inside the drainpipe then you can try to unblock it using drain rods, connecting as many as are needed to reach the debris.
If rods don't work, then it's time to call in an expert with professional drain-clearing equipment.
How do I clear an outside drain blocked with mud and silt?
Clearing mud and silt from a drain is a difficult job, mainly because it doesn't flow away easily during dislodging. Plus, it may be a sign of a bigger problem in the form or a broken or collapsed pipe.
Wearing long-sleeve gloves, goggles and a mask, remove as much mud and silt as you can with your hands before using drain rods to break up any deeper debris.
Once clear, blast down the pipe with a hose pipe or pressure washer to clear it out.
How do I clear an outside drain blocked with fat?
Boil a kettle full of water and, wearing long sleeve gloves, goggles and a mask, pour it down the outside drain being careful not to cause any to splash back onto your skin.
If hot water doesn't work, you can try using caustic soda, also known as sodium hydroxide. This reacts with the acids in the fat to dissolve it, you only need to use a few tablespoons at a time.
Purpose-made drain cleaning chemicals are an option if caustic soda doesn't do the trick. They're available from supermarkets, hardware stores and online retailers, just be sure to follow the manufacturer's instructions on the container.
Is there a blocked outside drain home remedy?
If you don't want to buy rods and chemicals to unblock your outside drain, or if you want to try a low-cost solution first, there's a time-tested remedy that uses everyday household products. You'll need boiling water, a cup, bicarbonate of soda and some vinegar.
Take the drain cover off and pour the boiling water down the drain. Add a cup of bicarb followed by a cup of vinegar, it should begin to fizz and bubble up. Replace the drain cover and repeat every couple of hours until the blockage is cleared.
Remember, this is a basic solution and it won't work on serious blockages.
For professional help with your blocked outside drain and peace of mind knowing the job is done right, you can get quotes from trusted local plumbers by entering your postcode in the free search tool below.
How to prevent outdoor drain blockages for the future
Prevention is definitely better than cure in terms of drain maintenance, and a lot cheaper, too.
There are a number of actions you can take to prevent outside blocked drains from occurring in the future:
Add hair traps to bath and shower plugs to catch hair.
Place a grid guard over the outside drain to stop leaves from getting in.
Don't pour used cooking oils or fats down the kitchen sink, absorb with kitchen roll and place it in the bin.
Check your outside drains once a month, clear any build-up using the advice in this guide.