D Walker Roofing Specialist Ltd
Mr David Walker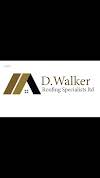 5+
Approved member since 2017
Skills & expertise
Asphalt Roofing Installation
Asphalt Roofing Repair
Chimney Cowlings Installation
Chimney Cowlings Repair
Chimneys Installation
Chimneys Repair
Conservatory Roof Conversions
Dormer / Roof Windows
Dry Ridge Installation
Dry Ridge Repair
Dry Verge Installation
Dry Verge Repair
Emergency Roofing Service
Felt Roofing Installation
Felt Roofing Repair
Fibre Glass Roofing Installation
Fibre Glass Roofing Repair
Flat Roofing Installation
Flat Roofing Repair
Glass Roof Installation
Glass Roof Repair
Green Roofing Installation
Green Roofing Repair
Hot Melt Roofing Installation
Hot Melt Roofing Repair
Leadworks Installation
Leadworks Repair
Liquid Plastic Roofing Installation
Liquid Plastic Roofing Repair
Moss Removal
Pitched Roofing Installation
Pitched Roofing Repair
Polycarbonate Roofing Installation
Polycarbonate Roofing Repair
Ridged Tiles Installation
Ridged Tiles Repair
Roof Lights Installation
Roof Lights Repair
Roof Replacement
Roofing Repairs
Rubber Roofing Installation
Rubber Roofing Repair
Sealoflex Roofing Installation
Sealoflex Roofing Repair
Single Ply Membrane Roofs Installation
Single Ply Membrane Roofs Repair
Slate Roofer Installation
Slate Roofer Repair
Slate / Tiled Roofing Installation
Tiled Conservatory Roof Installation
Tiled Conservatory Roof Repair
Warm Roof Construction
Skills & expertise
Asphalt Roofing Installation
Asphalt Roofing Repair
Chimney Cowlings Installation
Chimney Cowlings Repair
Chimneys Installation
Chimneys Repair
Conservatory Roof Conversions
Dormer / Roof Windows
Dry Ridge Installation
Dry Ridge Repair
Dry Verge Installation
Dry Verge Repair
Emergency Roofing Service
Felt Roofing Installation
Felt Roofing Repair
Fibre Glass Roofing Installation
Fibre Glass Roofing Repair
Flat Roofing Installation
Flat Roofing Repair
Glass Roof Installation
Glass Roof Repair
Green Roofing Installation
Green Roofing Repair
Hot Melt Roofing Installation
Hot Melt Roofing Repair
Leadworks Installation
Leadworks Repair
Liquid Plastic Roofing Installation
Liquid Plastic Roofing Repair
Moss Removal
Pitched Roofing Installation
Pitched Roofing Repair
Polycarbonate Roofing Installation
Polycarbonate Roofing Repair
Ridged Tiles Installation
Ridged Tiles Repair
Roof Lights Installation
Roof Lights Repair
Roof Replacement
Roofing Repairs
Rubber Roofing Installation
Rubber Roofing Repair
Sealoflex Roofing Installation
Sealoflex Roofing Repair
Single Ply Membrane Roofs Installation
Single Ply Membrane Roofs Repair
Slate Roofer Installation
Slate Roofer Repair
Slate / Tiled Roofing Installation
Tiled Conservatory Roof Installation
Tiled Conservatory Roof Repair
Warm Roof Construction
Company info
Hi, I'm David Walker and I am very proud to say that I run our family business D Walker Roofing specialist.
From father to son, as a family business we have over 50 years experience.
How can we help you? By giving you a highly personalised service,which is reliable,honest and focussed on our customers.
We offer a high quality, comprehensive range of services at sensible and competitive cost which include
Roof repairs, high performance felt roofs, fibreglass roofs, slate and tiled roofs, rubber roofs, fascia soffit guttering, chimney stack repairs and removals, lead work, basically we specialise in any roof work.
Weather job is small or big, we are serious about customer satisfaction.
Should you require any further information. Please check out our website at Dwalkerroofing.co.uk.
Thanks, David.
Dwalkerroofing.co.uk
Reviews Summary
Average score based on 7 reviews in the last 12 months
The reviews below represent customers' views and not the views of Checkatrade
Quote Accuracy
(5 Reviews)
Customer Reviews
Minor repairs
Dave and his team did some excellent work during the winter so I asked if he could fix a couple of unrelated problems. Not only were they fixed, he refused to charge me. Top team!
Chimney breast repair.Loose tiles repaired/replaced.
Work carried out on time and completed at the quote given. Excellent.
Roof repairs
Good price and happy with repairs carried out. Would definitely use again!
Renew flat roof after previous contractor left it leaking
Reliable, punctual, polite. Very pleased with result
Porch flat roof repair
Good work, good communication. Would recommend.
Reviewed in:
February 2022
Replace porch roof
Great team and an excellent job
Reviewed in:
January 2022
Services
Insurance Work Undertaken
Locations
Works in
Abergavenny, all South Wales valleys area and Bristol, Cardiff, Chepstow, Cwmbran, Hereford, Monmouth, newport, pontypool, usk
Approved member since 2017
Yes: Registered as a Company D WALKER ROOFING SPECIALIST LTD No: 10760005
Public Liability Insurance
Current: Self-Certified on: 20/11/2022