Jaystone Kitchens
Robert Hutchins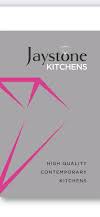 Skills & expertise
Accessible Kitchens
Bespoke Kitchens - Supply & Installation
Emergency Kitchen Service
Kitchen Appliance Supplier
Kitchen Designers
Kitchen Doors - Installation
Kitchen Doors - Repair
Kitchen Doors - Supply & Installation
Kitchen Fitters - Installation
Kitchen Fitters - Supply & Installation
Kitchen Refurbishments
Kitchen Showroom
Kitchen Supplier
Painting Kitchen Cabinets
Worktops
Worktops - Acrylic
Worktops - Glass
Worktops - Granite
Worktops - Marble
Worktops - Quartz
Worktops - Solid Wood
Worktops - Stainless Steel
Skills & expertise
Accessible Kitchens
Bespoke Kitchens - Supply & Installation
Emergency Kitchen Service
Kitchen Appliance Supplier
Kitchen Designers
Kitchen Doors - Installation
Kitchen Doors - Repair
Kitchen Doors - Supply & Installation
Kitchen Fitters - Installation
Kitchen Fitters - Supply & Installation
Kitchen Refurbishments
Kitchen Showroom
Kitchen Supplier
Painting Kitchen Cabinets
Worktops
Worktops - Acrylic
Worktops - Glass
Worktops - Granite
Worktops - Marble
Worktops - Quartz
Worktops - Solid Wood
Worktops - Stainless Steel
Company info
Jaystone Kitchens specialise in supplying and fitting only our own kitchens, so that we can ensure the highest quality product is provided and installed.
We offer bespoke designs at affordable prices, come and visit our showroom in Oldham for your free consultation and design. Alternatively make a private appointment in our relaxed environment. Our family run business has a vast knowledge in the industry and building works connected with achieving the dream.
Showroom address 
Temple Works Temple St Oldham OL1 3NJ
Reviews Summary
Average score based on 4 reviews in the last 12 months
The reviews below represent customers' views and not the views of Checkatrade
Quote Accuracy
(3 Reviews)
Customer Reviews
A large new kitchen project complete with building works to fit bi-folds!
Rob did a great job of all the works and the kitchen looks fab!
Building work to open up double doors to create bifolding doors, moving a gas meter, new kitchen
Brilliant! Stunning kitchen, excellent planning and communication, quality craftsmanship . Jaystone project managed building work to install bifolding doors as well as install our new kitchen. Delighted with everyone aspect of the job. Would highly recommend
New kitchen
Excellent workmanship and customer service, highly recommended.
Vetting Status
Public Liability Insurance: Expired
Approved member since 2022
Yes: Registered as a Company Jaystone Construction Limited No: 09747911
Public Liability Insurance