KINGS CUTS TREE SERVICES
Mr Jason King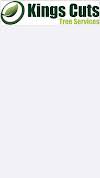 Skills & expertise
Crown Reduction
Crown Thinning
Emergency Tree Surgeon Service
Logs
Stump Grinding
Tree Felling
Skills & expertise
Crown Reduction
Crown Thinning
Emergency Tree Surgeon Service
Logs
Stump Grinding
Tree Felling
Company info
Hello and welcome to our page – Jason and Paul from Kings Cut Tree Services here.
Our company, a family run business, has been established since 2011 and we have over 35 years of combined experience in tree work.
All of our quotes are Free & No obligation.
We specialise in all aspects of tree surgery. We are experienced in large reductions and large section fells, with Paul often doing a lot of crane work, although we are just as capable working with smaller trees.
Our team pride themselves in being approachable, respectful & always eager to please our customers.
Between us we have reduced/section felled/felled hundreds of tonnes worth of trees with no damage to customers' properties or possessions.
Any good tree surgeon should be able to prune or remove a tree but a very good one does it without causing any damage and a good team leaves the garden with no evidence of having been there apart from a well-shaped tree/hedge etc.
We pride ourselves on providing this kind of service.
We are very passionate about going the extra mile to ensure complete customer satisfaction and we will always communicate with you during every aspect of the job to make sure that you are happy.
We also offer OAPs the option to pay (regardless of the amount) in instalments and we never take a penny until the job is finished and the customer is satisfied.
Whether it's just trimming a little bit more or giving the garden one last rake, we understand that they have to see our work every day not just the few hours we are there so we strive to get it right for their enjoyment all year round.
We are also very passionate about the environment, We recycle 100% of our waste from providing free woodchip to the local community for use on allotments or projects in schools etc., to biomass companies to produce electricity & solid wood for furniture, carvings or as seasoned wood for log burners.
We also have a scheme that allows customers to take part in our "Take a tree - Give a tree scheme" that allows a tree to be replanted somewhere its needed in the UK for each tree that is removed, allowing for a lower carbon foot print of our company & our customers.
Tree Surgeons covering Dagenham, Romford, and all areas of Essex and London.
Contact details
Reviews Summary
Average score based on 37 reviews in the last 12 months
The reviews below represent customers' views and not the views of Checkatrade
Quote Accuracy
(37 Reviews)
Customer Reviews
Scale down si,e of a magnolia tree.
A quick quotation was e mailed, which was accepted. Work was carried out quickly and professionally and all mess cleared. A very good job and would recommend.
Triminmg back a large Maple and shaping a overgrown Lilac
Excellent job. A very complete, short back and sides haircut for the Maple and a stylish reshape for the Lilac. Recommended. Have used before and will use again.
To reduce depth of trees and over hanging branches from two neighbours and a school.
It's always stressful choosing a tree surgeon but Jason and the Team was an excellent choice. Jason knew immediately what my elderly father wanted. He took the time to ok the work with the school that the branches were over hanging into. Quick booking, very reasonable quote and the job completed by the next week. Look no further!!!
Cutting overgrown hedges and remove tree stump
We have had this company for many years they are a family run business their workers are very friendly and polite always on time they are very tidy and clear everything up we cannot fault their ethics and work would thoroughly recommend Kings Cuts and thank you Paul for your services our garden looks lovely
Remove tree
Delighted with the whole team. Office ladies so polite and helpful. Jason and his team were lovely guys, work carried out fast, efficiently all mess cleared at very reasonable price. This was second time of using them and would highly recommend.
Removal of trees and shrubs and grinding out stumps
Brilliant
Services
Insurance Work Undertaken
Locations
Works in
Dagenham, Hornchurch, London & within M25, Romford, Upminster, Ilford.
Accreditations and Memberships
Related Searches