Premier Driveways And Patios Ltd
Mr James Connors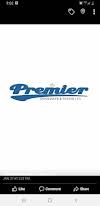 Skills & expertise
Driveways / Patios / Paths

Block Paving
Bonded Aggregate Surfacing
Concrete Driveways
Driveway Cleaning / Sealing
Driveway Repair
Driveway / Patio Design
Emergency Driveways / Patios / Paths Service
Gravel / Shingle Driveways
Patios / Paving
Patterned Imprinted Concrete
Permeable Paving
Polished Concrete
Resin Bond Surfacing
Resin Bound Surfacing
Soakaways
Tarmac Driveways
Skills & expertise
Driveways / Patios / Paths

Block Paving
Bonded Aggregate Surfacing
Concrete Driveways
Driveway Cleaning / Sealing
Driveway Repair
Driveway / Patio Design
Emergency Driveways / Patios / Paths Service
Gravel / Shingle Driveways
Patios / Paving
Patterned Imprinted Concrete
Permeable Paving
Polished Concrete
Resin Bond Surfacing
Resin Bound Surfacing
Soakaways
Tarmac Driveways
Company info
Hello I am James, the proud owner of Premier Driveways And Patios Ltd,

A little about us
With many happy and returning customers over the last 25 years, you can be sure of being well looked after. Our aim is to provide a stress free project, delivered in a manner that I am confident will exceed your expectations. I work with a small team of trusted colleagues, who communicate and work together well. Our customers often comment that every colleague they interact with is approachable and cheerful; we find that promoting a positive attitude always helps projects run smoothly with good communication throughout.


Main work we undertake
But are not limited to

Driveways, Patios, Paving, Tarmac, Concrete, Resin Drives, Indian Stone, Landscaping, Astro Turf, Decking and Fencing

Availability
We offer a 24/7 service, you are welcome to contact our team at a time that suits you
If for any reason you are unable to get through to us please leave me a message and a colleague will get right back to you. (Please leave your phone number in the voicemail)

Thank you for taking the time to consider our company's profile, I look forward to hearing from you.

Premier Driveways And Patios Ltd
Contact details
Reviews Summary
Average score based on 6 reviews in the last 12 months
The reviews below represent customers' views and not the views of Checkatrade
Quote Accuracy
(6 Reviews)
Customer Reviews
Remove old tarmac / concrete / 2 walls from existing drive. Lay new wider drive and build 2 new walls
FIRST CLASS job at reasonable price. VERY hard working team. Job started on date promised. On time every day. When bricklayer let them down at the last minute Jim did the walls himself with the team working to 19:30 to keep to schedule. Will be coming back later in the year to do the back garden.
Repointing Indian flags on 2 patios
Jim and his son Danny turned up when they said and completed work in good time.
Taking up tarmac driveway and grassed area to be replaced with block paving and new front lawn
This Company does exactly what it says on the tin From coming round to give an estimate, starting when they said they would, having daily updates to completion they are brilliant and completely transparent No deposit and payment only when the job is done The whole team work non-stop and have transformed the front of our house so much so that both of our adjoining neighbours are having work done by Jim and the team We will be having them back next year to carry out work in the back garden No hesitation in recommending them
Remove old tarmac driveway and grass at the front of the house and dispose of.
I was very pleased with what Jim and his team did for me. Jim showed me the type of brick/block he was going to lay and I thought they looked like a load of rejects and told him so. I don't think he was too happy about it so went to his truck and got a brochure to show me, it then became clear that they were specially made to look aged and worn. Once they were all laid into different patterns the whole driveway and parking area at the front of the house was transformed and I was over the moon with the end result.
Reviewed in:
February 2022
Tarmac Driveway and Extending Garden, Removal of Wall and 3 Telescopic Security Posts
I contacted James after finding his details on here to ask him if he would like to quote for a tarmac driveway that would replace a block paved drive and front garden. I also needed the front wall removed, a small tree and bush gone and 3 security bollards adding too. We met up the same day and we agreed on a price that we thought was very fair considering the work involved. To my surprise he turned up a few days later with his team to start the work. They are a trustworthy super efficient company who just ooze quality. If you need your drive doing choose Premier Driveways. Thanks Again
Reviewed in:
November 2021
Laid a path.
So professional and so courteous. A wonderful job.
Reviewed in:
September 2021
Locations
Works in
', Wigan, Leyland, Chorley, Rossendale, Lancashire,