Pro Point Repointing Specialist
Mr David Marshall
Locks Heath, Southampton, Hampshire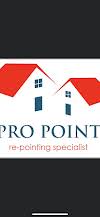 Skills & expertise
Brickwork
Dry Stone Walling
Repointing

Brick / Concrete Structural Repairs
Cladding
Concrete Garages
Concreting
Diamond Drilling
Foundations
Garage Conversions
Repair and Listed Building Specialist
Skills & expertise
Brickwork
Dry Stone Walling
Repointing

Brick / Concrete Structural Repairs
Cladding
Concrete Garages
Concreting
Diamond Drilling
Foundations
Garage Conversions
Repair and Listed Building Specialist
Company info
Pro-point Is a specialist repointing company established in 2016. We have quickly developed a good reputation for high quality work at very competitive rates.

All our staff have over over ten years experience working in the industry and references are available upon request.

Services Undertaken-

- We offer a high quality repointing service
- All types of re pointing covered
- General Brickwork
- Driveways
- Patios
- Jet wash

Check out or facebook page https://www.facebook.com/propointuk/
I look forward to hearing from you.
Contact details
Reviews Summary
Average score based on 14 reviews in the last 12 months
The reviews below represent customers' views and not the views of Checkatrade
Quote Accuracy
(14 Reviews)
Customer Reviews
Repointing - crack in mortar.
Needed work done on side of house, as a crack had appeared in mortar between original House and extension. Work was completed in approximately 3 hours.
Re-pointing Making good render
Arranged for areas of my elderly parents bungalow to be repointed and some cracks and rendering made good. Work was carried out poorly. Lots of areas still in need of pointing, loose pointing not raked out, rendered area very shabby. Area was not swept very well after work was carried out. Parents reported that the company workers were only there for 2 hours and they were charged £350. For £350 I would have expected a more comprehensive and neater finish. Very disappointed and now need to try and find another trades person to complete the job properly.
Repointing and repair of chimney.
David and Sean did an absolutely brilliant job of repointing and repairing our chimney stack which had been storm damaged. They took the bricks back and repointed and repaired so that it looked back to its original condition. We were delighted with the work as were our neighbours. David and Sean were polite, helpful and engaging and we were so pleased we found them. We will definitely be asking Propoint back to do any similar work. We highly recommend.
Repoint the front of house
Scaffolding was erected just before the repointing work and removed promptly afterwards. David was unable to start on time due to his illness but once it was started the two of them worked each day until it was complete. We are very pleased with the the work - it looks to be a quality job but I will update the review in 40 years and comment on how long it lasts! We were very impressed by how the clean up went when the job was finished.
Repointing our house and replacing two chipped bricks
David and his colleague came to do our repointing today and have done a fantastic job!.. very friendly and professional, would highly recommend!
Repointing
The repointing looks really good and David provided excellent communication throughout the process.
Reviewed in:
February 2022
Services
Insurance Work Undertaken
Locations
Works in
Fareham, Southampton, Salisbury, Hampshire
Approved member since 2018
Related Searches