Desperate for a modern kitchen makeover, but a limited budget is holding you back? Take inspiration from these clever yet cheap kitchen updates that will transform your space without denting the bank balance.
It's the simple changes that can truly make all the difference, such as a fresh coat of paint on cabinets or walls, switching out pendant light fittings, or freshening up a tiled splashback. So read on and take your pick from these quick, cheap, and super-easy revamps.
Want to know what you can afford? Check out our kitchen remodel cost guide.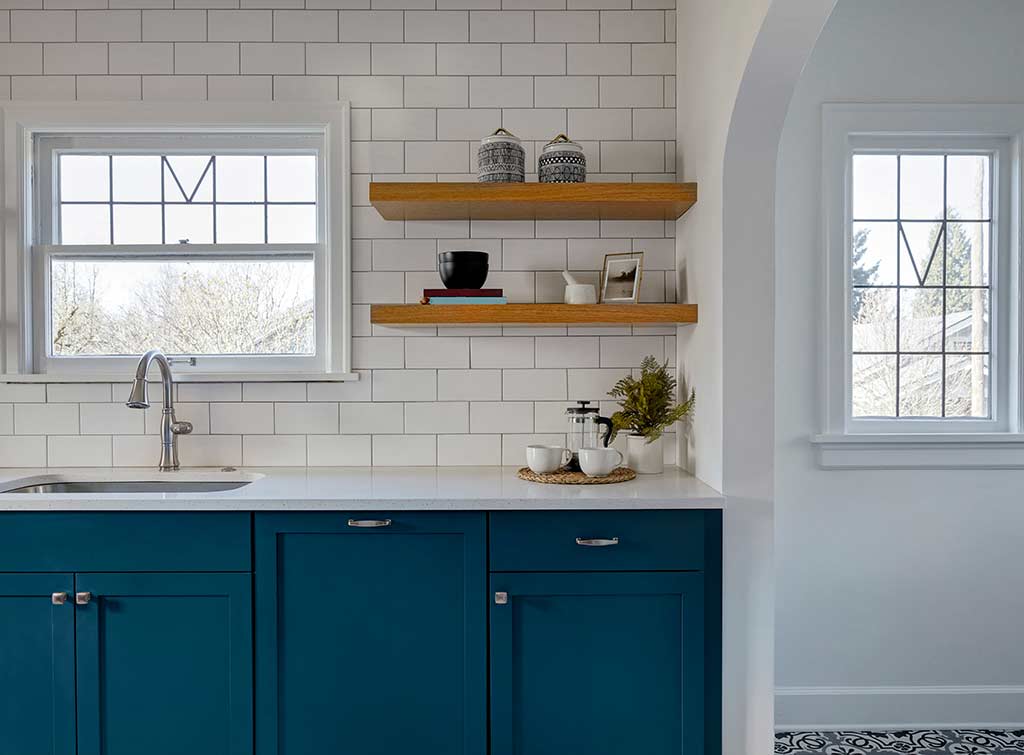 Cheap kitchen makeover for a new lease of life
Grab your paint brushes! If your kitchen cupboards are sound but just a bit tired and grubby, this is the cheapest way of making a huge difference in your kitchen! Painting your cupboards can give your space a completely different look, and it's pocket-friendly to boot. You could even paint the inside of the cupboards in a different colour for a surprising impact.
Before painting, remove all handles and wash down the doors with soap water to remove grease and dirt.
For an even smoother surface, give the doors a sand down with fine sandpaper. Apply a wood or melamine primer depending on whether your units are timber or laminate, and then when dry, apply two coats of your chosen colour. The bolder the better! If this isn't for you, then find a professional to take the job off your hands.
Kitchen makeover ideas for a tight budget
If you can only afford to splash out on one design update, then make it a gorgeous statement light. Hang your bold, eye-catching light above a breakfast bar or island as a distraction technique, drawing the eye upwards and away from elements of the kitchen that you'd rather not highlight, such as dated worktops.
Keep your eye out for cheap yet striking lighting designs in online or high street sales, and make a feature of it by hanging it low over the worktop, but with plenty of head clearance.
Need some more design inspiration? Read our blog 'small kitchen ideas on a budget' for more savvy solutions.
See the tradespeople we've checked and recommend for your job
Cheap but extremely cheerful kitchen makeover tips
If the idea of a major kitchen renovation fills you with dread (and also scares the life out of your bank balance), then consider simply giving your space a proper deep clean and an extreme declutter.
Use an abrasive cleaner to freshen up surfaces, and you could even freshen up the tile grout of your splashback with a grout pen.
Then declutter the surfaces, only leaving on display appliances or items you use regularly and add a fresh display of blooms for a pretty uplift. You'll be amazed at just how sparklingly your kitchen can look!
Want to find out more about the average price of a deep clean? Check out our house cleaning cost guide.
Inexpensive kitchen makeover
Wondering how to revitalise a plain white kitchen? Take a cue from natural textures, such as rich timber chopping boards, rattan baskets or wicker bowls, and bring a cosy warmth to your bright white kitchen cabinets.
If you want to make an even bigger impact, source cheap timber work surfaces and stain them with a rich coloured oil to make them super dark and super waterproof.
Tie the look together by adding open shelves at the end of your cabinets in your worktop off-cuts. Then display pretty jars and trailing houseplants for instant colour and texture.
Why not hire one of our professionals to help you get the look?
See the tradespeople we've checked and recommend for your job
Cheap countertop makeover
If your worktops have seen better days, there are tonnes of cheap laminate work surfaces out there that will pep up your kitchen in no time. Laminates are a low-cost option that are also durable, robust and easy to maintain. But how to choose the right one for you?
The key is to pick a surface that will either complement your cabinets or act as a bold contrast. Decide whether you want to keep your space light and bright with a pale option, like the marble-effect worktop shown here. Or, go dark and dramatic with a black granite-effect design. If a warm country look is your bag, go for a timber-effect surface for a farmhouse feel.
If you fancy giving it a go yourself to save some money, check out our comprehensive guide on how to fit cheap kitchen worktops. Or, if that seems like too much hard work, find a professional worktop fitter who can help.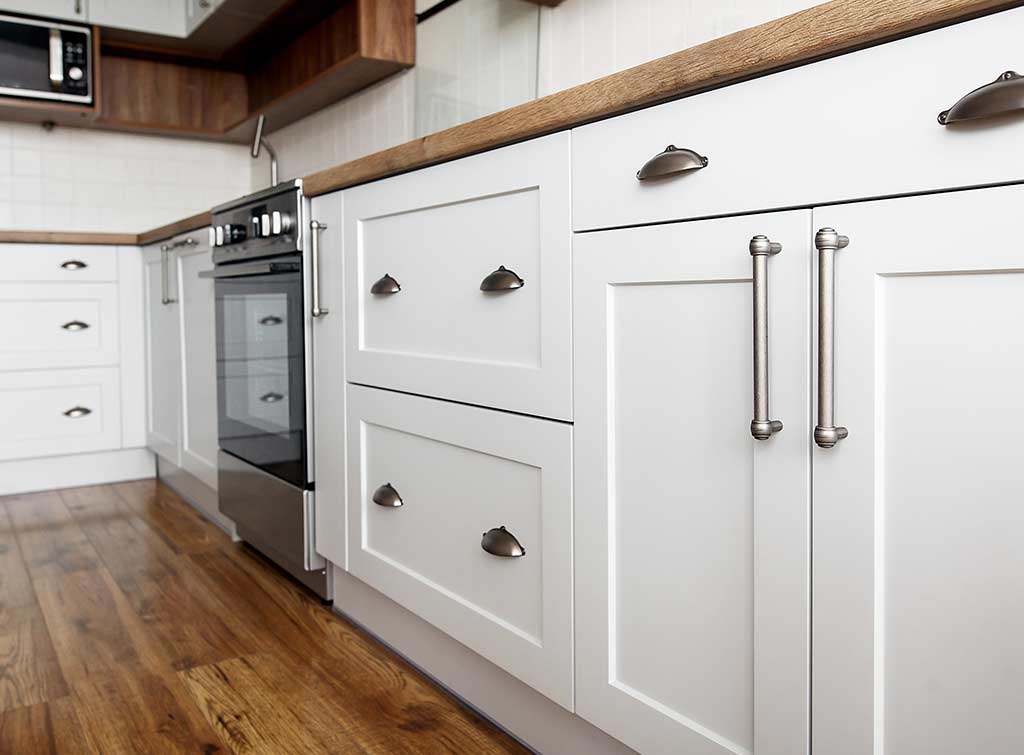 Cheap kitchen cabinet makeover
Changing up your kitchen cabinet handles may seem like a basic change, however, it is an incredibly simple and relatively cheap way of ringing the changes and adding a touch of style.
The latest trends in handles include seductive matt black, glamorous gold, and classic brushed brass; all of which are versatile choices that would work with most kitchen cabinets.
There's also a growing trend for trim oversized drawer pulls, which can be used on the horizontal for wide drawers and on the vertical for tall cupboards.
Like what you see? There's more where this came from. Check out Checkatrade's blog for more tips, ideas, how-tos, and inspiration.
See the tradespeople we've checked and recommend for your job
Tell us what you think
What others think of this article:
Need More Information?
Related posts