Last updated on September 1st, 2022
Corian worktop cost guide
Unsure on the price you'll pay for Corian worktops? We've compiled the following cost guide to help you create an accurate budget for your project.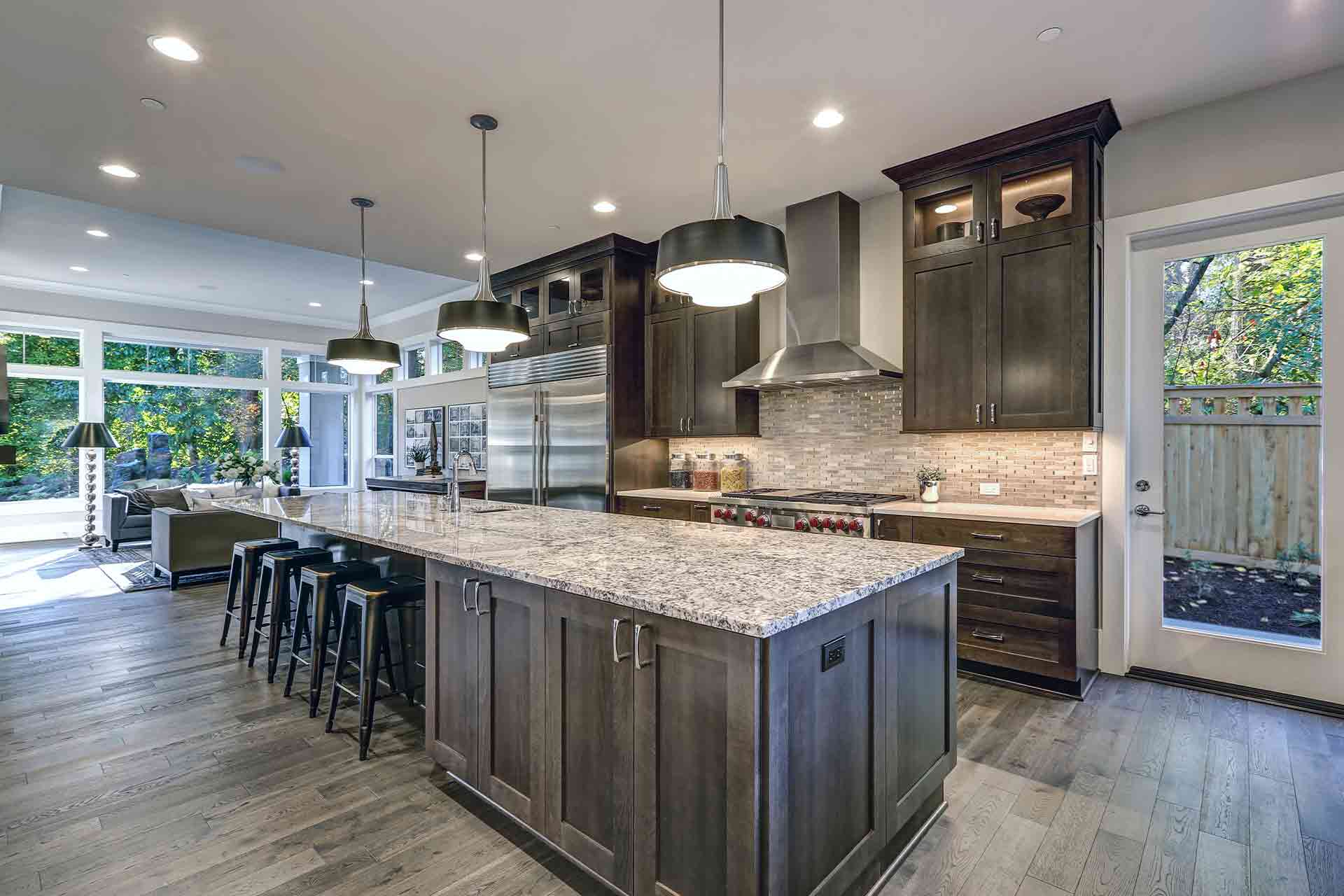 Why install a Corian worktop?
Kitchen worktops play a large part in the design and practicality of a kitchen, so choosing your perfect worktop shouldn't be a rushed decision. With the large variety of worktop styles, materials and colours available it can be confusing to know the best choice for you.
One excellent option to upgrade your kitchen is by installing Corian worktops. Corian worktops are a great way to enhance your tired kitchen with a seamless, aesthetically pleasing finish. They are highly functional and are available in 100 colours, giving you the opportunity to create a unique space.
Whether you are looking to refresh an old kitchen or are installing a new kitchen, this article covers everything Corian, from benefits to the average Corian worktop cost.
How much does a Corian worktop cost?
| Cost provided item | Unit | Average UK cost |
| --- | --- | --- |
| Corian worktop | 600mm x 3000mm | £1,125 |
| Corian worktop | Per m2 | £625 |
| Corian worktop | Per sq ft | £58 |
| Labour to install | Per day | £250 |
High quality and long-lasting, Corian worktops can be a little expensive but the saying 'you get what you pay for' really does apply here. The average Corian worktops cost is £1,125.
What is a Corian worktop?
You may have never heard of Corian, however, it is a fantastic worktop material that has been a strong competitor in the kitchen worktop market since 1967. Designed by DuPont, this acrylic resin offers a seamless finish for a sleek and modern kitchen.
Furthermore, Corian worktops are practical, they can take any shape or style, and are available in 100 eye-catching colours.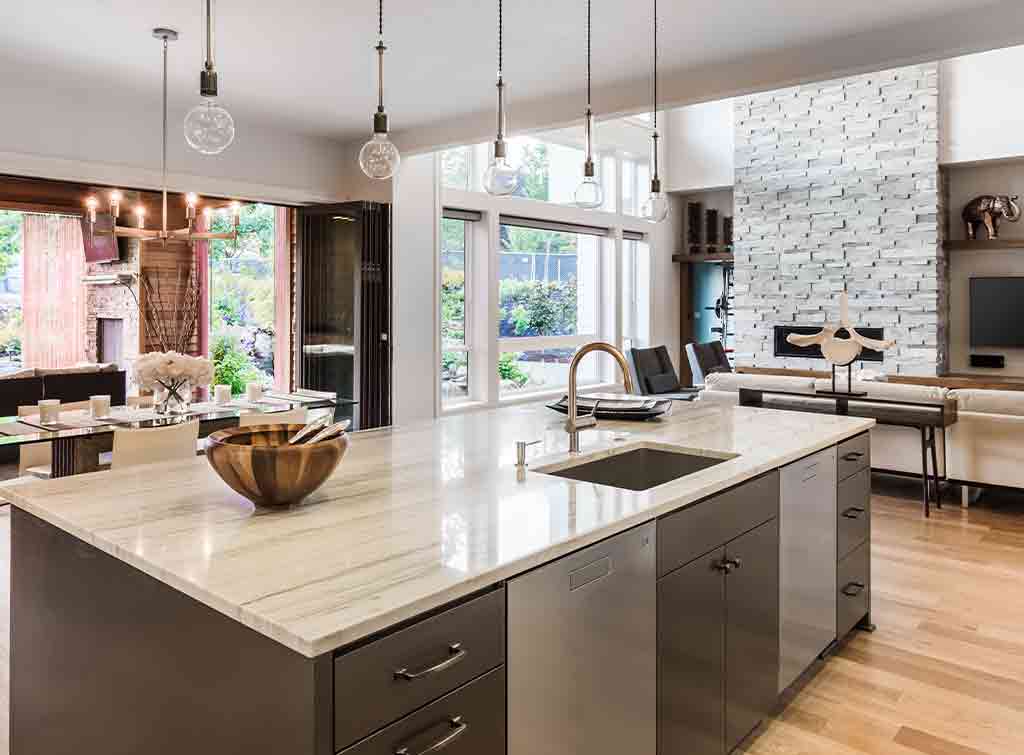 Benefits of Corian worktops
Now we know a little more about Corian as a material, it is a great opportunity to discuss the benefits of these worktops. Thankfully, Corian worktop prices are easily offset by these benefits. You can expect all of the following positive features when choosing a Corian worktop:
Wide variety of colours: Up to 100 options.
Can mould to any shape: Yes, we actually mean any shape you can imagine.
Seamless appearance: There are no join lines to mar the perfect finish of the worktop. Optional integrated sinks and drainers, also with no joins, can be included with one flowing surface.
Can be quickly repaired: Scratches are easily sanded out.
Stain resistance: This surface does not absorb stains as it is non-porous.
Optional wireless charging: Incredibly, due to the nature of Corian, it is possible to install a wireless charging point in your work surface.
Warm to touch: Corian is basically high-end plastic and as such feels warm to the touch.
Antibacterial surface: Bacteria cannot live on non-porous Corian worktops.
Factors affecting Corian worktop costs
In order to estimate Corian worktop prices, it is important to look at the many variables influencing this. Below are the most common of these factors:
Size of worktop: The larger the worktop, the higher the material and labour costs.
Thickness of worktop: Thicker worktops can look incredible but will be more expensive than thin versions.
Shape of worktop: It is possible to shape Corian into a bespoke worktop, however, any complex designs will incur extra costs compared to a standard shape.
Current worktop: In order to install your new Corian worktop, your tradesperson will need to remove your old countertop (at a cost to you). If this is in poor condition with a lack of stability, you may need to replace your worktop base and supports.
Colour chosen: Some colours may be more expensive than others.
Added extras: Choose from options like integrated sinks, draining boards and wireless charging. Each of these and any other extras will incur additional costs.
See the tradespeople we've checked and recommend for your job
Costs per metre and square foot
Corian worktop cost per metre
Worktops may be sold on a per metre basis. This is useful for shorter worktops as you will not be charged for a pre-determined size worktop to be cut to size. It can also give you the freedom to choose the exact length you require.
The average Corian worktop cost per m2 is £625.
How much do Corian countertops cost per square foot?
In the UK, Corian countertops would usually not be priced per square foot, but if dealing with companies outside the UK, this may be the case. As with ordering by metre, it does mean you will only be charged for the exact size you want.
The average Corian worktops cost per square foot is £58.
Can I install a Corian worktop myself?
Take care when taking on a project this big as there are a number of risks and difficulties that could rear their heads. For starters, if you are planning to take measurements yourself, it is vital you do not make any mistakes, or your worktops will not fit and you may not get a refund.
You should also consider your physical ability and strength. Corian worktops can be heavy and unwieldy, causing accidents and other types of damage. Also, don't overlook the value of specialist tools in the installation process, they may be essential to ensure proper fitting.
Remember any mistakes could lead to injuries and damage to your home down the line. A professional installer can guarantee a high quality, safe job, removing any concerns.
As such, we would recommend hiring a professional. To find a local, reputable, tradesperson in your area and get a personalised Corian worktop installation quote use our free search feature.
FAQs
What other options are there to Corian worktops?
Of course, there are a number of alternatives to Corian worktops. The right option for you depends on your requirements and taste. Below are the most common other types of worktop:
You can find prices for many of these options in our guide on replacing kitchen worktops costs.
If you're on a strict budget, you might also enjoy our guide on how to fit cheap kitchen worktops.
Useful Corian worktop checklist
Corian worktops are made from acrylic resin and have been used in kitchens since 1967.
Benefits include a seamless appearance, stain resistance and optional wireless charging.
The average Corian worktop cost can be affected by the size of the worktop, the shape of the worktop and the condition of the current worktop.
You may be charged by the metre or per square foot when choosing a Corian worktop.
It can be difficult and risky to attempt to install a Corian worktop yourself. Plus, you have no guarantee you will do a safe job.
See the tradespeople we've checked and recommend for your job