How easy is it to rip out a kitchen for a kitchen refit?
A kitchen refit can be an expensive project. Save money by using our step-by-step guide to rip out the kitchen yourself.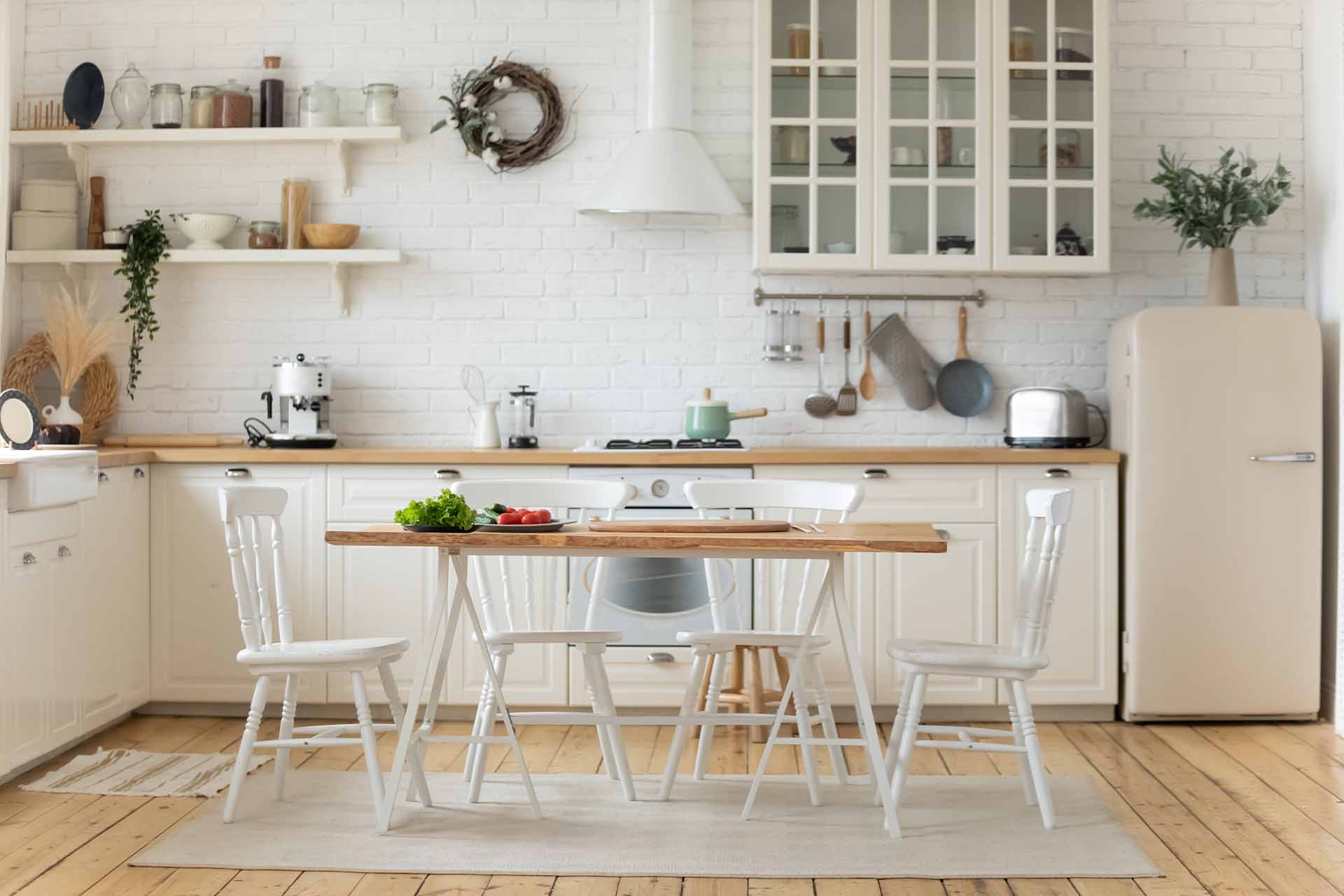 A kitchen renovation is not the cheapest job, but there are ways to save time and money when refitting your kitchen.
The best way to do this is by removing your kitchen carefully so that you can reuse and recycle parts of it. Read on for our tips on how to remove a kitchen for a refit.
Planning a kitchen refit
Before your new kitchen can be installed, you will first need to remove your existing one. Granted, this is not the most exciting part of the project, but there are ways to use this opportunity to save money and materials.
In this post, we'll guide you through how to rip out a kitchen, including:
Removing kitchen cabinets
Removing a kitchen worktop
Removing kitchen drawers
Step-by-step: how to rip out a kitchen
First things first, gas, water, and electrical fixtures need to be shut off before you begin to rip out your kitchen. It's helpful to clearly mark these fixtures too. You should contact a professional tradesperson to disconnect any gas appliances.
With these utility supplies safely shut off, you can remove kitchen appliances such as the washing machine, oven, and fridge, and begin to rip out the kitchen units.
How to remove a kitchen worktop
A kitchen worktop is normally fixed to the top of the cabinets with screws.
Remove any drawers or items within the cabinets to provide easy access.
You will then be able to identify and unscrew the fixings along the underside of the worktop.
Next, carefully cut the sealant between the worktop and the wall or tiles.
It should now be possible to lift the worktop away. You may need an extra pair of hands at this point depending on the size of the worktop and what it's made from!
If you have tiles on the wall above your worktop it may be necessary to remove the bottom row before the worktop can be taken off. Use a hammer and bolster to do this. Remember to wear safety goggles and thick gloves.
If your worktop has been glued to the cabinets, gently use a chisel or utility knife to cut any adhesive or caulking. Next, use a small pry bar to carefully pry the worktop away from the cabinets.
Kitchen drawer removal
With your worktop removed, you can now remove the kitchen drawers.
Make sure your kitchen drawers are empty.
Open the drawer so it's fully extended on its runners.
Feel for the drawer adjustments. These can be found on either side of the drawer, either under a cover on each side of the drawer or underneath the drawer (on the outer edge).
Once you've located the drawer adjustments, lift the levers on either side (or push the lever up if it's underneath the drawer), and pull the drawer out, off its runners.
How to remove kitchen cabinets
After you've removed the kitchen drawers, begin removing the cabinets.
Cabinet doors
First, remove the doors from the cabinets.
The easiest way to do this is to check for a release clip. This is a tab on the back of the hinge. Press the tab in and the hinge will release from the cabinet.
If there's no release clip, simply unscrew the hinges from the cabinet.
Remember to support the weight of the door as it comes away.
Cabinets: base units and wall units
Before removing the kitchen cabinets, make sure they're empty and take out any internal shelves.
Base units will be fitted to the wall and adjoining cabinets using fixings and screws. Therefore it's just a case of unscrewing the cabinets from each other, and then from the wall itself. Then simply lift the cabinet out.
When removing wall cabinets, first unscrew the cabinets from each other.
Next, look for the wall fixings. These will be located at the top and bottom, either inside or outside of the cabinet.
Unscrew the wall fixings while someone supports the weight of the cabinet as it releases from the wall.
Top tip: Hire a professional to remove your kitchen so that you can be sure it's being removed properly. This way, you have a better chance of reusing and reselling it.
How to dispose of your old kitchen
An important part of planning a kitchen refit is what you'll do with the old units and appliances.
Reuse
Your existing appliances such as your fridge, oven and washing machine could be given a new lease of life with a professional clean and service. Not only will this be cheaper than buying new ones, but it will also help reduce the waste from your refit too.
Find an appliance repair specialist near you and click to find an oven cleaner near you.
Recycle
Provided you have removed your kitchen carefully (if you don't know where to start, we recommend getting a helping hand in) then you can recycle different parts of your kitchen such as your worktops, cabinets and sink.
You can list the items on a website such as Freecycle, eBay or even Facebook Marketplace. You'll be surprised at what can be reused by someone else, preventing your old kitchen from going into landfill.
Skip
If your kitchen is beyond saving and disposal is your only option, then you may need to hire a skip. Here's our guide to skip hire prices.
How much does a kitchen refit cost?
The average cost to fit a new kitchen is £1,500. This cost is for labour only and is based on an average-sized family kitchen.
When planning your kitchen renovation, bear in mind the following factors will impact the overall cost:
The size of the kitchen being fitted
The area to be tiled (walls and floor)
The cost of the new units and appliances
Where you live
Plastering, plasterboarding, or refinishing before the new kitchen is fitted
Other costs to plan for:
Removal and disposal of existing units and appliances
Individual trades required for removing gas appliances, fitting electrics, or making alterations to mains services (water, gas, and waste)
Structural work, if needed
Finishing and decoration
Take a look at our guide on the cost of a kitchen refit, or take a look at how much a new kitchen costs. If you're looking for inspiration, check out our kitchen ideas.
FAQs
How long does it take to rip out a kitchen?
Expect this part of your project to take a day or two.
How long does it take to fit a kitchen?
Fitting a kitchen can take around 10 working days, depending on the size of the kitchen to be fitted and any other work involved, as outlined above.
How do I dispose of old kitchen units?
The best way to dispose of old kitchen units is to recycle them. What you may no longer need could be just the ticket for someone else's home renovation project. Therefore consider putting your old kitchen units and appliances on free selling or recycling sites such as Freecycle or Facebook Marketplace.