How much does a professional oven clean cost in 2022?
Cleaning the oven is one of those housework chores that can be a little gruesome. Thankfully there are dedicated professionals who specialise in turning grime to gleam.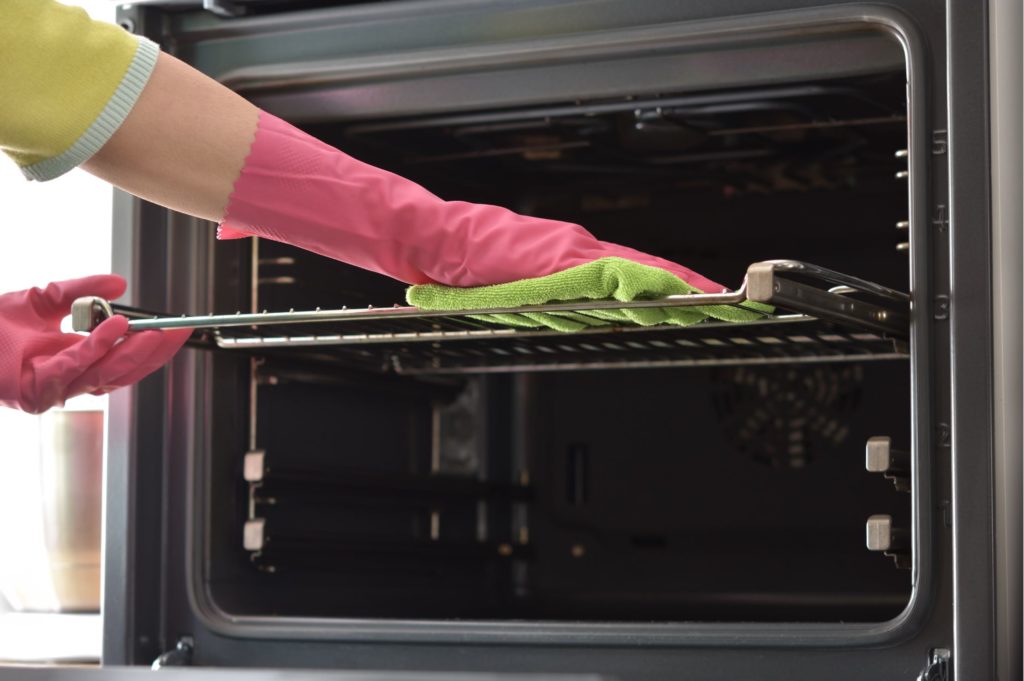 Whether you're fed up with your oven looking dirty, it's started to affect the taste of your food, or you're moving out of a rented property – it's time to get your oven cleaned professionally.
In this oven cleaning prices guide you'll find average UK costs for professional oven cleaners.
How much does oven cleaning cost?
| Item | Cost range | Average cost | Timescale |
| --- | --- | --- | --- |
| Standard oven | - | £50 | 1-2 hours |
| Double oven | - | £70 | 1-2 hours |
| Range cooker | £80-£100 | £90 | 2-3 hours |
| Ceramic/glass hob | £15-20 | £17.50 | 30-60 mins |
| Gas/electric hob | - | £15 | 30-60 mins |
| Hood/extractor fan | - | £15 | 30-60 mins |
A standard oven cleaning for a single oven in the UK will cost around £50. However, there are a number of factors that can affect the prices of a professional oven cleaning service:
Size and style of the oven
Condition of dirt
The extent of the clean (it will cost more to have the hob and extractor cleaned too)
Location (oven cleaning is cheaper in some parts of the country than in others).
Average oven cleaning cost: £50
Find oven cleaners your neighbours recommend
Regional oven cleaning cost
| Typical oven clean | Average cost |
| --- | --- |
| East Midlands | £56 |
| East of England | £92 |
| Greater London | £87 |
| North East | £66 |
| North West | £55 |
| Scotland | £40 |
| South East | £73 |
| South West | £63 |
| Wales | £84 |
| West Midlands | £67 |
| Yorkshire | £57 |
One of the factors that will affect the average cost of an oven clean is the geographical location. Costs tend to be higher in Greater London and the East of England than in Scotland and in the North West. It's always worth getting multiple quotes to get the best price from a professional tradesperson near you.
Note: The average prices shown here are indicative prices of oven cleaning calculated from customer feedback sent to Checkatrade. These jobs may vary in complexity but this gives you an idea of what expert tradespeople in your local area are charging.
What's involved in professional oven cleaning?
Professional oven cleaners will come equipped with the latest tools and products to provide high-level oven cleaning. In most cases that means they will:
Clean the interior cavity, door, glass and racks of your oven.
Take out the removable parts of the oven and soak them in a specialised cleaning solution.
Use biodegradable, fume-free, non-caustic and other eco-friendly products.
Clean all oven makes and models within three hours.
Types of oven
Single oven
Average single oven cleaning cost: £50
Time: 1-2 hours
Single ovens are what the majority of British homeowners have in their kitchens. They're about 60cm tall and are often slotted under countertops or at eye level.
Cleaning a single oven is the most straightforward and comes with the lowest price tag.
Double oven
Average double oven cleaning cost: £70
Time: 1-2 hours
Designed for family cooking and entertaining, a double oven offers more versatility for cooking. Double ovens are commonly installed at eye level and measure about 90cm high.
In general, double cookers are fairly straightforward to clean but they can take slightly longer and cost more because of their size.
Range cooker
Average range cooker cleaning cost: £90
Time: 2-3 hours
A range cooker combines an oven and hob in one and is typically bigger than a standard oven. Many range cookers feature two ovens, as well as a separate grill, warming drawers, and sometimes even storage compartments.
Due to their larger size and more complex structure, cleaning range cookers takes longer and costs more than standard ovens.
Hob
Average hob cleaning cost: £15-£20
Time: 30-60 mins
There are commonly five types of hob in UK homes, these are ceramic, gas, electric, induction and domino. The cleaning process will vary slightly between the different hob types but should generally be done in under an hour, whichever hob you have.
Find oven cleaners your neighbours recommend
How long does professional oven cleaning take?
Cleaning a standard oven, hob and hood takes about 1-3 hours. For larger ovens and range cookers cleaning may take longer (and cost more).
What are the benefits of professional oven cleaning?
It might seem obvious that having your oven cleaned professionally means it gives you a fresh and clean oven to use. There are also a number of other benefits that more than justify the price you pay for professional oven cleaning:
Professionals have the right equipment to take your oven apart and give it a thorough cleaning, quickly and easily.
Clean ovens are safer as burnt-on food and grease increase the risk of an oven fire.
Better energy efficiency because burnt-on residue requires more energy to heat up the oven, and a clean oven door means you don't need to open it to check your food.
Save time by letting a professional clean your oven much quicker and more thoroughly than doing it yourself.
Food tastes better cooked in a clean oven because it's not taking on the flavours of old food residue.
Saves money thanks to the improved efficiency lowering your energy bills.
Avoid the hassle and mess of the cleaning process and the clean-up afterwards.
If you live in a rental property, using a professional cleaning service helps to ensure full repayment of your deposit.
Can I clean my oven myself?
You certainly can, however, it's unlikely you'll be able to reach the same level of cleanliness that a professional oven cleaning service can offer for the cost. Plus, it will take you a lot longer as you most likely won't have the right tools or cleaning agents to do a thorough job easily.
Additional costs to consider
As well as the cost of cleaning the main oven unit itself, there are additional costs to consider. Depending on your oven type you'll probably want the professional cleaning service to also clean the hob and extractor fan/hood, so include that in your budget.
Average additional oven cleaning price list
Ceramic/glass hob cleaning cost: £17.50
Gas/electric hob cleaning cost: £15
Oven hood/extractor cleaning cost: £15
Useful oven cleaning checklist
Speak to your local oven cleaning experts for advice and accurate prices.
Ask if they offer eco-friendly or chemical-free oven cleaning services.
Request a detailed quote so you know what the oven cleaning prices include (racks, hob, hood, etc).
When hiring a professional, make sure they are licensed and insured.
Find out how long the job will take and how long before you can use your oven again.
Always shop around to get fair and competitive prices.
Find oven cleaners your neighbours recommend
Good jobs, guaranteed
Get covered when you book with Checkatrade.