Replacing kitchen cabinet doors is a smart option for anyone looking to upgrade the look of a dated kitchen without spending a fortune. In many cases, people get tired of their kitchen after a decade or so or might inherit a kitchen not to their taste when buying a new house. Yet in most cases, the cabinetry and carcassing remains in good condition and so, if the layout is OK, replacing the kitchen doors is a great way to get a fresh look without the hassle. And, of course, at just a fraction of the cost. Don't forget; it's often a lot more tricky than you may think to undertake a replacement kitchen doors project. We recommend considering hiring a professional to tackle this job. You can find a local qualified kitchen fitters at Checkatrade.
What does it cost to replace a kitchen door
| Door Type | Vinyl Wrapped MDF | Glass Acrylic | Painted Real Wood |
| --- | --- | --- | --- |
| Drawer Front 283mm x 596mm | £33 | £36 | £57 |
| 596mm x 715mm door | £45 | £51 | £100 |
| Typical kitchen (6 fronts 12 doors) | £736 | £814 | £1542 |
Costs will vary considerably when selecting replacement doors. The quality of the door will impact how far your budget will go. It's also worth checking the state of your kitchen units to ensure they have no damp or other issues  Failure to check the kitchen cabinets structural condition may lead to problems when attempting to fit new doors to warped or damaged units.  Check out our cost table to get some ballpark costs for your project.
Which size doors?
The easy bit about replacing kitchen doors is that you know exactly what size door you'll need to buy. Measure to the millimetre in both width and height on the back of the unit (as the front might have bevelled edges). The doors tend to be 4-5mm smaller than the cabinet, so in most cases, a door for a 60cm wide unit will in fact by 596mm wide. Most cabinet doors tend to be 22mm thick.
Find a Kitchen Door Expert
Hinges and pre-drilled holes
Replacing k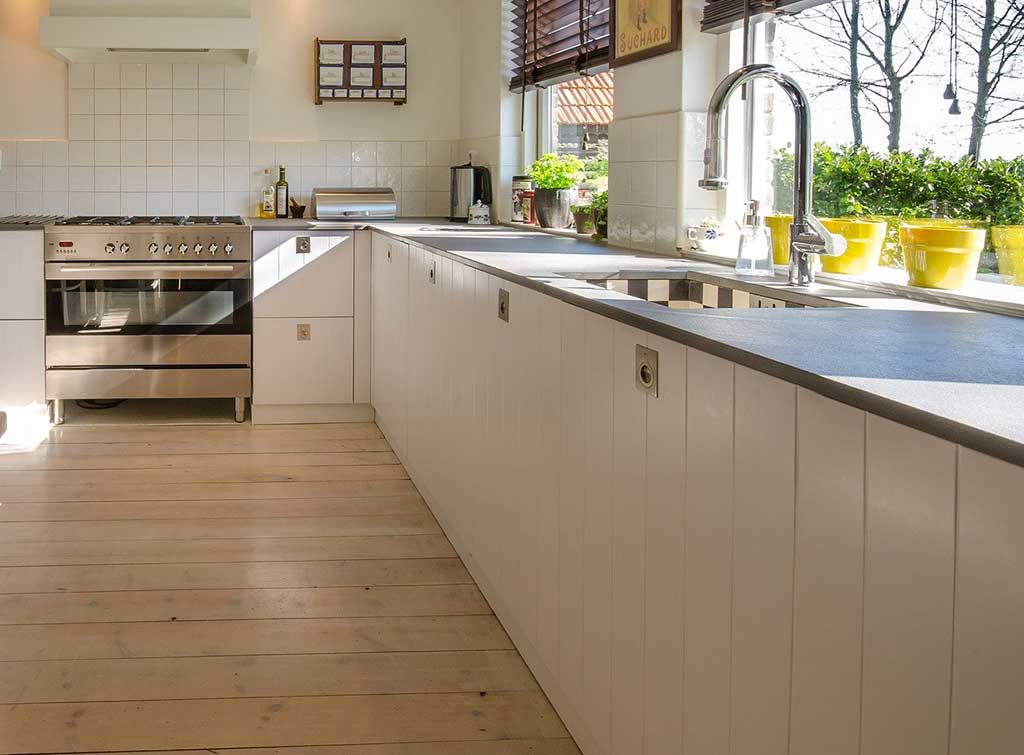 itchen doors is an excellent time to replace or upgrade the existing hinges too – years of hard work will invariably make them loose. You can specify pre-drilled 35mm holes for the hinges on your replacement kitchen doors, but of course, you'll need to measure their position. Doors usually have two hinge holes (occasionally three) so measure from the top or bottom to the centre of the existing door's 35mm hinge hole. Your replacement kitchen doors supplier might be able to supply standard 110-degree hinges, but if not, these are readily available from online retailers.
Replacing kitchen doors on integrated appliances
If your kitchen has integrated appliances such as fridge freezers and dishwashers – meaning that the appliance doors are the same as the rest of your kitchen cabinetry – it's possible to replace the door in much the same way as the rest of the kitchen. Kitchen doors are held on to the appliance front with clips, which can be released through screws on the inside front of the appliance (or at the side, depending on the model). Have a look at the handbook/user instructions with the appliance for more advice on how to remove the door. Remove the door by unlocking the clips and apply the new door to the appliance using the same clips.
Options for replacing kitchen cabinet doors – a style guide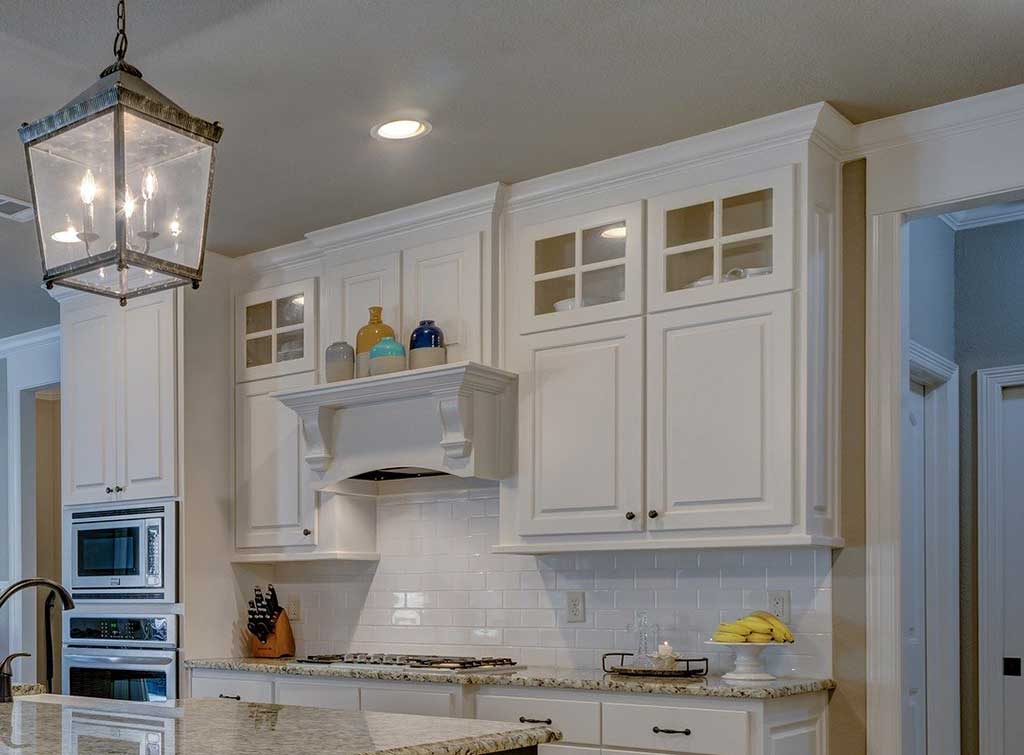 Kitchen doors are the main style statement of the whole kitchen, so replacing the doors is a great chance to swap out the overall style. Traditional Shaker-style doors are still highly popular and are defined by a recessed centre panel with simple detailing. Contemporary doors tend to be even more straightforward, with blank front slabs and a matt or gloss finish.
What to look for in quality kitchen doors
Kitchen cabinet doors tend to fit into three different types: Melamine faced chipboard, MDF with an applied facing (typically veneer, foil wrapping, or vinyl) and solid timber. Solid timber is the most expensive type of door, but MDF is the most commonly used by most high street kitchen retailers. It's solid and dimensionally stable, and in many ways, the choice is in the finish rather than the core material. Foil and vinyl wrappings aren't without their problems – for a start if they get scratched they are challenging to repair and can eventually let water into the mdf core and degrade it – but wrappings of this sort do offer a wide variety of styles and finishes, including wood grains. Solid timber doors can always be repaired, sanded down and repainted – but do come at a cost.
Where to shop for new kitchen cabinet doors?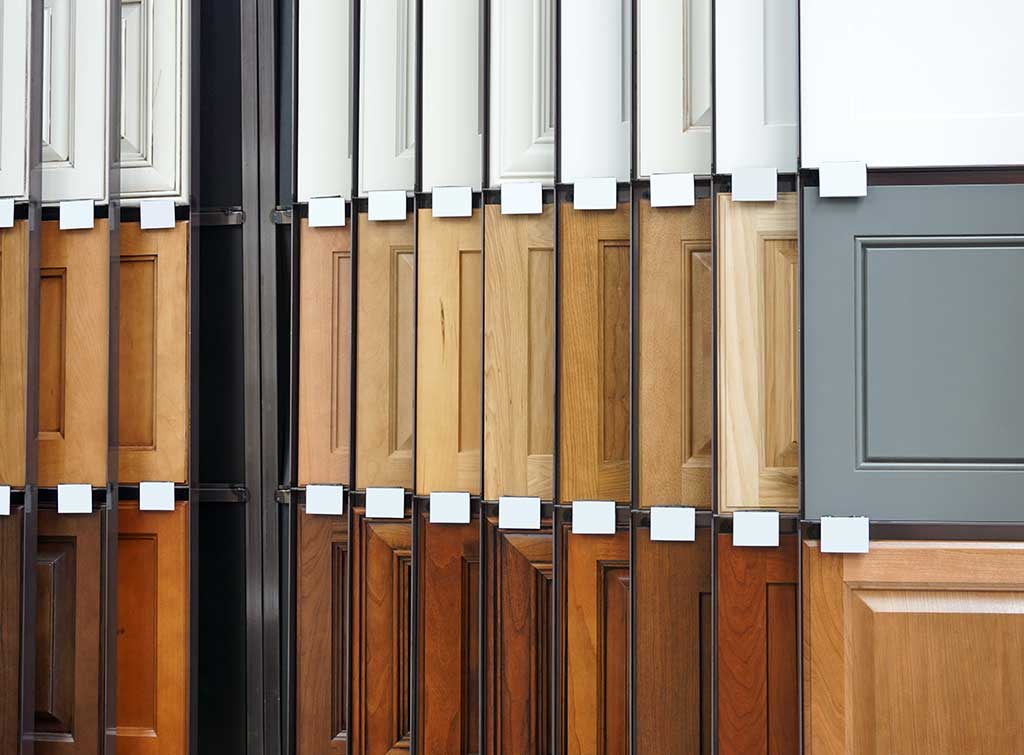 The major DIY sheds such as B&Q and Wickes sell doors, but the range is usually better – in terms of both style and size – at the many online retailers now specialising in selling individual replacement doors. They will often produce doors made to measure and can supply doors with pre-drilled holes for hinges if required.
How to fit
Replacing kitchen doors is one of the easier DIY jobs. Remove the hinge from the existing door and cabinet. Keep the hinge to one side unless you're replacing the hinges. Pre-drill any handle holes that you'll need and fit the handles to the front of the door. Screw the hinge to the door first, then
It's not just about the doors
There are a lot of elements of a standard kitchen, and as such, replacing the kitchen cabinet doors alone won't complete the look. Your kitchen will need new co-ordinating plinths, end panels and so on – as well as the finishing touches like handles.
Find a Kitchen Door Expert
Tell us what you think
What others think of this cost guide:
Need More Information?
Related posts