Last updated on March 31st, 2022
Cost to install kitchen sink and taps
Why install a kitchen sink and taps? A pivotal part of any kitchen, we rely on kitchen sinks for numerous important tasks. As such, when they break or stop working, this can have a devastating effect on your daily life.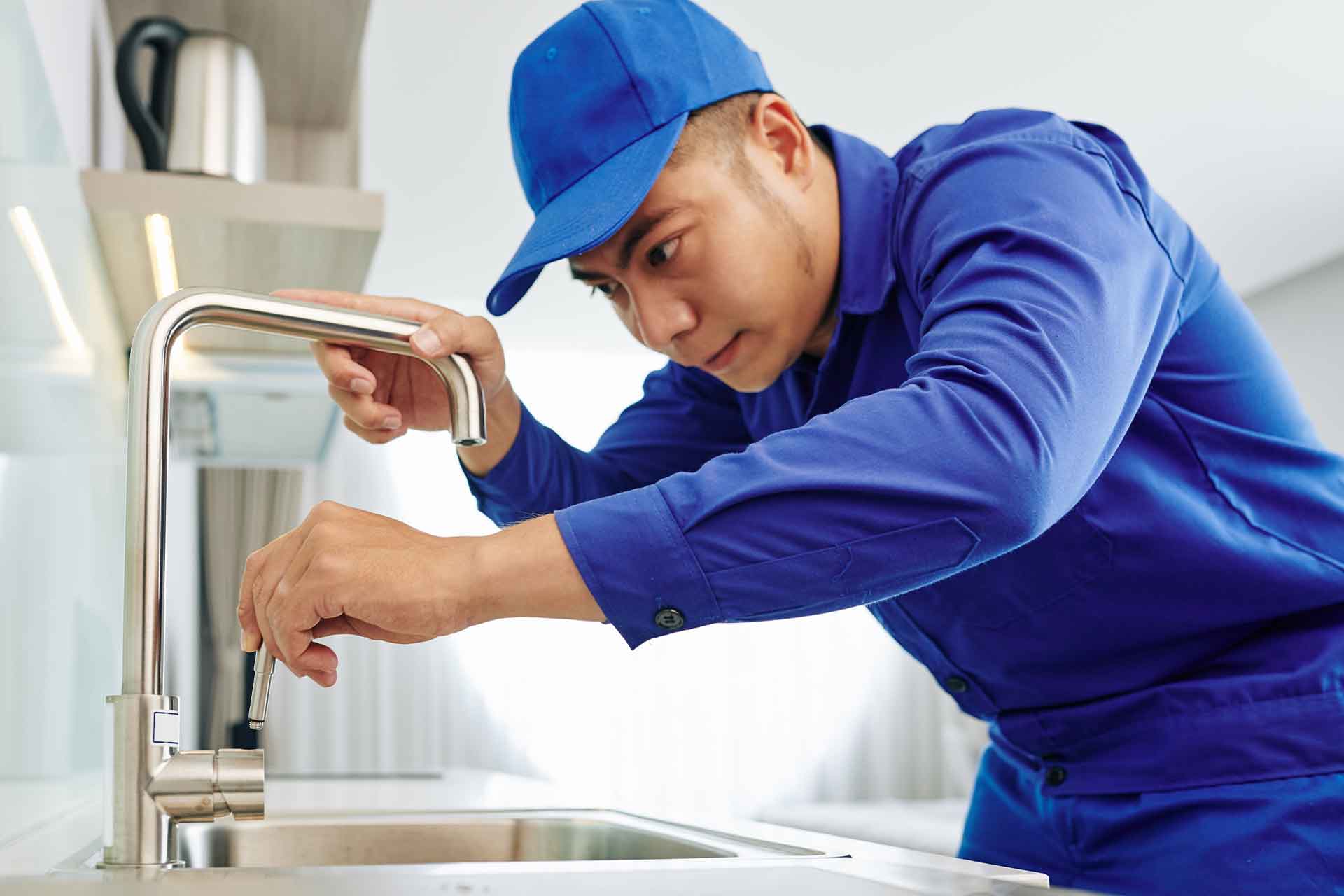 If you are unlucky enough to be in this situation, and your sink cannot be repaired, the best remedy is purchasing a new kitchen sink.
In some circumstances, it is best to replace your sink before you reach the point where it completely breaks down. This way you'll save yourself from panic buying a sink that may not be right for you. It is a great idea to also replace your faucets at the same time as your sink and the cost to install a kitchen sink and faucets (an American word for taps) may be lower than you think.
Installing a new kitchen sink can breathe life back into a dated kitchen, and the wide variety of sink styles available makes finding your perfect model that much easier. It is even possible to move from a single to a dual sink or to add new features such as a waste disposal.
Choosing a new kitchen sink can be confusing due to the wide variety of choices on offer. That is why we have created the following guide to assist you with costs to install kitchen sinks and taps, different options and essential considerations.
How much does it cost to install kitchen sink and taps?
Sink & tap (faucet) costs
Cost + VAT
(Range low - high)
Average cost
Sink & taps - labour
(3 - 4 hours)
£75 - £150
£112.50
Sink & taps - materials
£120 - £800
£460
Replacing old sink with new
£350 - £450
£400
It is important when purchasing a new kitchen sink and taps that you take your time and carefully consider the options that are available. There are so many choices, with practical and visual benefits and the prices vary from unit to unit.
The average cost to install a kitchen sink and taps is £572.50. 
This is made up of £112.50 for labour and £460 for materials. 
Common sink materials
Kitchen sinks come in many different materials, each with their own benefits and costs. Below are the most common sink materials:
Ceramic: Very common and traditional, ceramic sinks are durable and easy to clean. They can be difficult to install due to their weight and if not looked after properly can chip.
Stainless steel: These sinks are the most popular option and are usually quite affordable. Lighter than ceramic sinks, stainless steel sinks are also durable and low maintenance.
Composite: Stylish and modern, composite sinks come in a wide variety of styles and colours. Composite sinks are also heatproof and highly durable.
Cast iron: These sinks are stunning and colourful while also being easy to maintain. If looked after, cast iron sinks can stay beautiful for a long time but they can be expensive.
See the tradespeople we've checked and recommend for your job
Kitchen sink and tap additional features
In order to maximise your new kitchen sink and taps' potential, you can choose to add extra features. The following list covers some of the more common options:
Waste disposals.
Removable spray heads.
Trickle features.
Draining boards.
Motion activated taps.
Factors affecting the cost of fitting a kitchen sink
The price of your new kitchen sink is determined by a wide number of factors affecting its performance and style. When budgeting for your new sink it is wise to consider the following:
Materials: As we discussed earlier, the material of your kitchen sink can influence the overall cost. In general, a cast iron sink will be the most expensive option, and a stainless steel sink the most affordable option.
Pipework: Depending on the sink you choose; it may be necessary to add extra pipework in order to match up pipes with the shape of your new sink. If the kitchen sink you purchase has the same shape and configuration you will likely not need any pipework to be done.
Extra features: As mentioned in the previous section, additional features such as waste disposals and draining boards will increase the cost of your new sink and taps.
Size of sink: As you'd expect, larger sinks will be more expensive due to the need for more materials. The installation will also usually take longer with increased labour costs.
Replacement or new: Replacing a current sink is usually cheaper than installing a kitchen sink in a new area.
Location: Your location in the country can influence the price you will pay for any professional job. More expensive areas include London and the South East.
Accessibility: Sinks that are more difficult to access can be more expensive to install.
Labour cost to install kitchen sink
It is essential to consider the labour costs involved when installing your new sink. Generally, it will take 1 – 4 hours to install a new kitchen sink, depending on the complexity of the installation e.g. cutting new holes or adding new pipework.
The average labour cost to install a kitchen sink is £112.50.
Average cost to install a kitchen sink
New sink in the same location: If you are having trouble with your current kitchen sink then you may be looking to have a new sink installed in the location of your old sink.
New sink in a new location: Alternatively, you may be undergoing renovations or simply looking to change up your kitchen and would rather install your replacement kitchen sink in a completely new location.
There is a fairly significant price difference between the two options with the average cost to install a kitchen sink in the same location being £400 vs installing a sink in a new location being £572.50.
See the tradespeople we've checked and recommend for your job
Can I install a sink and taps myself?

It is certainly possible to install a kitchen sink and taps yourself, however, you should take into account the following when making this decision:
Hiring a professional will mean your drains and pipes are checked at the same time and any issues can be dealt with before they escalate.
New sinks can be heavy and if dropped could be damaged or even cause you an injury.
While a professional will likely only take 1 – 4 hours, it can take twice as long to install a sink yourself, anything from 4 – 8 hours.
The quality of the finish will probably be impacted unless you have specific training and experience.
It is much easier to replace an old sink like for like than to install a sink from scratch.
Considering the above, we would recommend hiring a professional. To find a local, reputable, tradesperson in your area and get a personalised kitchen sink and tap replacement quote use our free search feature.
FAQs
What is the difference between replacing and installing a new kitchen sink?
It is more affordable to replace a current sink than to install a new sink. This is because when installing a new sink from scratch, new piping will need to be installed, your work surface will need to be cut and the area will need to be properly finished.
What are the most common types of taps/ faucets?
When choosing your new taps or faucets, it is important to consider how they will be used and what features you require. Most DIY or home shops will carry a range of taps including those with single or double handles, waterfall taps, touch taps, and even motion-activated taps.
Useful sink and tap checklist
Replacing your kitchen sink and taps can give your dated kitchen a much-needed makeover.
Kitchen sinks can be made from materials such as ceramic, composite, stainless steel and cast iron.
The size of the sink, the materials used and added features all impact the cost of fitting a kitchen sink and taps.
It is much easier to replace a sink like for like than to install a completely new kitchen sink.
The weight of the sink, the complexity of the job and the time needed are all reasons that make it difficult to install a kitchen sink yourself.
See the tradespeople we've checked and recommend for your job