Last updated on May 14th, 2023
Window cleaning prices
Whether you've just moved in or your windows haven't been cleaned in a while, we've set out the average window cleaning price for a range of properties to help you budget for the job.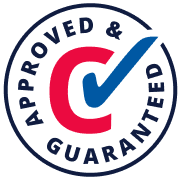 The Checkatrade guarantee
When you book a job with Checkatrade, our guarantee covers you for up to 12 months. You can claim up to £1,000. Exclusions and T&Cs apply.
Windows are there to be clean. They welcome light into your home and they protect you from the elements. A dirty window looks horrible, and if left too long, it can become a health risk.
A professional window cleaner will scrub your windows, window screens or window tracks to keep them sparkling, in good working order, and free of mould. And the good news is they can take care of it quickly and safely, so you don't have to.
How much does window cleaning cost?
Naturally, window cleaning services will come at a cost. Typically, you can expect your window cleaning price to start from £40. Residential window cleaning prices will vary depending on how many windows need cleaning and how high they are from the ground.
To show how broad a quote may be:
A one-bedroom home, prices will start from £40 but could rise to £150.
A large commercial business may cost over £500 to clean the windows.
This is why it's essential to speak with a vetted professional to get a quote for your property.
| Type/size of property | Time (hours) | Starting cost |
| --- | --- | --- |
| Semi-detached | 1-2 | £45 |
| Detached property | 2+ | £50 |
| Terraced property | 1-2 | £40 |
| Bungalow | 1-2 | £30 |
| Commercial property | Speak to a pro | £100 - £500 |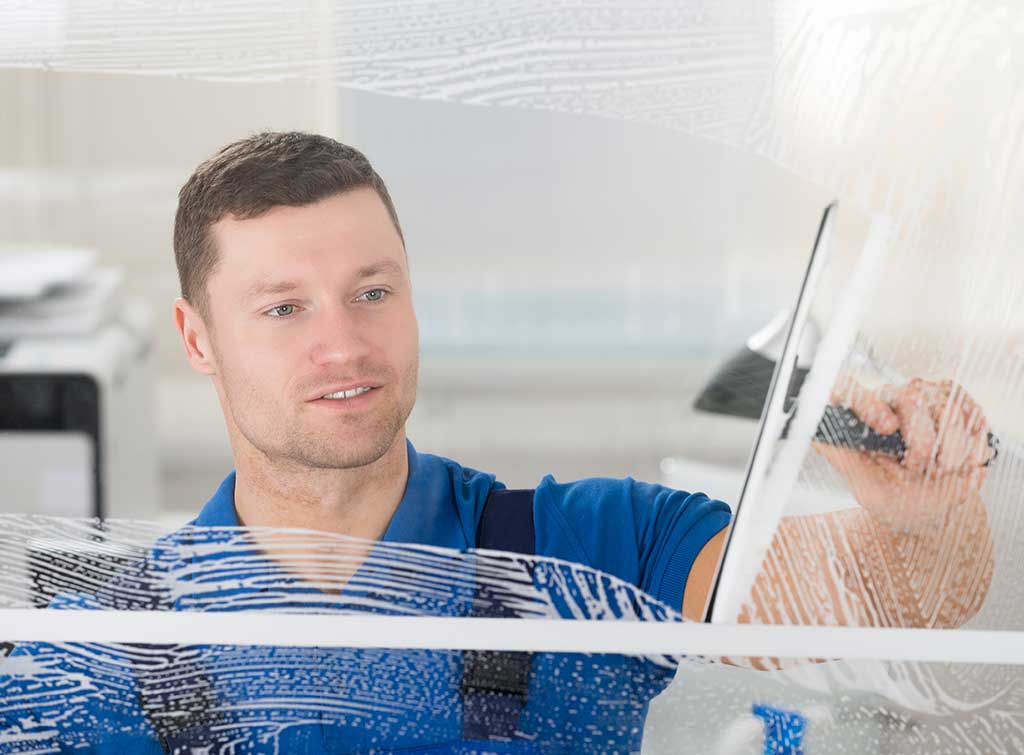 Factors affecting the cost of window cleaning
The cost of window cleaning services ranges according to the size of the building and the scope of the work.
When getting a window cleaning price for your property, most tradespeople will ask you how easy your windows can be accessed. If they are particularly hard to reach, an additional charge may be added to the final window cleaning price.
When quoting for window cleaning, professional tradespeople will always take into account a number of factors in order to set a price that accurately reflects the job at hand. The primary factors influencing the cost of window cleaning include:
Height of windows
Size and type of property
Number of rooms
Location
Time
Accessibility
Windowsills and frames as an additional service
See the tradespeople we've checked and recommend for your job
Residential window cleaning prices
Quotes for a residential window cleaning price will depend on the size of the property/number of windows and how easily they can be accessed for cleaning.
A breakdown of average window cleaning costs for residential property can be seen in the table above, with prices typically starting at £40 for a full exterior and window frame clean. 
Prices will vary depending on the service you choose and whereabouts you are based geographically.
Commercial window cleaning prices
Commercial window cleaning is typically a more time-consuming and dangerous task than residential property, with professional costs ranging anywhere between £100-£500.
Generally speaking, a commercial window cleaning price will be calculated by the size of the building, the number of windows and the kind of challenges a window cleaner will be up against when doing the job.
If, for example, there is a need for scaffolding, cherry pickers, cradles or abseiling, the cost of this equipment will be factored into the total window cleaning cost.
The importance of regular window cleaning
If left uncleaned, window glass can become fragile and prevent natural light from getting into your property. This is only made worse when a build-up of pollutants such as salt and grit starts to create smears, streaks and pigmentation spots on your windows.
Not only from an aesthetic point of view is window cleaning important, but it's also good to keep the windows clear of mould. Windows can become damp and dirty, and if not clean, the dirt and damp fester into mould. It's a horrible look, but it's also unhealthy for you.
Professional window cleaning may come at a cost, but it's worth it to keep your windows in great condition all year round.
Window cleaning methods
Window cleaners use a range of methods to reflect the requirements of the job. The method used will depend on the height of the building and accessibility to windows, but will typically be one of the following:
Traditional window cleaning
Traditional window cleaning is a complete residential service that is carried out with scrapers, squeegees, high-quality cleaning products and microfiber pads that can help to preserve the quality of glass.
Water-fed pole window cleaning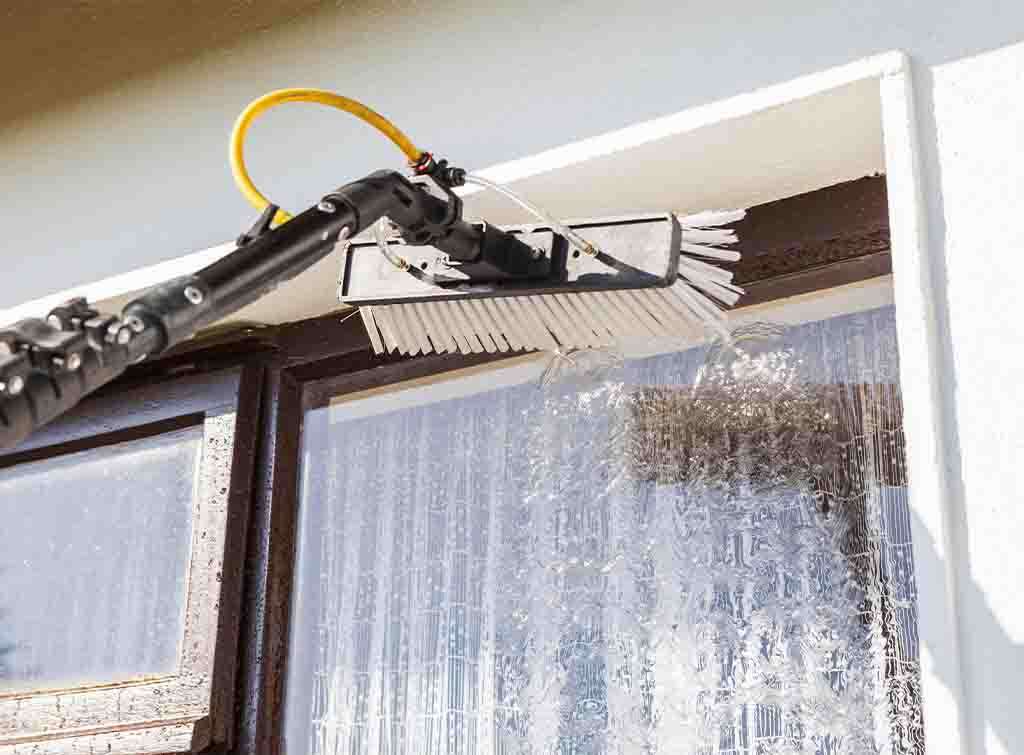 For large-scale projects that involve cleaning windows that are approximately 24m high, the preferred method used by professionals in this trade is water fed pole window cleaning.
This is where water is sprayed onto the window at a height from a pole fitted with a brush and water jets. The brush is used to scrub the dirt and the water washes it off to leave your windows looking pristine.
Mobile elevated platforms
If windows can not be cleaned from the ground with a pole and a ladder is deemed too dangerous, the safest method is to use a mobile-elevated platform. This involves a mechanical lifting system that is controlled by operatives in a cradle and can reach windows of up to 60m in height.
Rope access
In certain circumstances where windows are either high up, hard to reach or both, scaffolding may be deployed temporarily to facilitate access.
Alternatively, professionals may opt for abseil window cleaning whereby they are connected to two ropes that are individually anchored, allowing them to traverse the exterior of the building to clean the windows safely.
How long does window cleaning take?
Any window cleaning price you're quoted will always factor in the time it will take to complete the work, so it's a good idea to get an idea of timescales before hiring a professional.
Though the time it takes to clean your windows will depend on the height of the property, the number of windows and the scope of work, the average timescale for window cleaning is around three hours.
Can I clean my windows myself?
Depending on the type of property you own, you may find it cost-effective to undertake window cleaning yourself.
While owners of bungalows can confidently clean the exterior of their windows with basic equipment, we strongly recommend homeowners with multi-story properties use a professional window cleaner. Ladders may be effective in reaching second-story windows, but a fall can lead to serious injury.
Professional window cleaning costs are usually reasonable for residential property, with prices starting from £40.
Window cleaning cost calculator
To calculate the window cleaning price for your home, start with the number of windows that you want to be cleaned and what floor they're on – it's quicker (and therefore cheaper) to clean ground floor windows that don't require a ladder or other special access.
You'll then also need to factor in the size of the windows themselves and whether you want just the outside panes cleaned, or the insides too – which will cost more.
Window cleaning quote
We always recommend obtaining at least three quotes from our trusted tradespeople.
Our request a quote feature is perfect for getting quotes – you post details about the job you want doing and we'll send it out to local tradespeople in your area. Try it out!
Window cleaning hourly rates
The average rate for a window cleaner in the UK is around £20 to £50 per hour. The exact hourly rate for cleaning windows will depend on the individual window cleaner and where you live in the country.
How much does it cost to clean a conservatory's windows?
Keeping glass panels pristine is essential in maintaining your conservatory looking bright and fresh.
Our research found that, while a window cleaning price for a complete conservatory wash will depend on the size of the conservatory, the average cost sits around £150 for inside cleaning only and £300 for inside and outside.
Hiring a window cleaner checklist
Regular window cleaning not only makes your property more visually attractive, it enhances the durability of your windows.
The average window cleaning price in the UK is £40.
Commercial window cleaning costs are almost always more expensive due to the specialist equipment needed, with quotes ranging from £100-£500.
Residential window cleaning costs depend on the number, height and accessibility of windows.
Unless it's a ground floor window, we recommend hiring a professional to help with window cleaning.
See the tradespeople we've checked and recommend for your job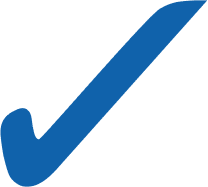 The tick you can trust
8/10 homeowners would choose a tradesperson endorsed by Checkatrade over one who isn't*
Claims are sourced from a survey conducted by Deep Blue Thinking on a nationally representative UK sample in November 2021. *8 out of 10 people would choose a trade endorsed by Checkatrade compared to one that isn't endorsed.
Claims are sourced from a survey conducted by Deep Blue Thinking on a nationally representative UK sample in November 2021. *8 out of 10 people would choose a trade endorsed by Checkatrade compared to one that isn't endorsed.