Can you paint tiles? Advice for floor, wall, roof, and bathroom tiles
Ever wondered if you can paint tiles? We answer this question with guidance on painting bathroom, roof, and floor tiles. With top tips and types of paint for tiles.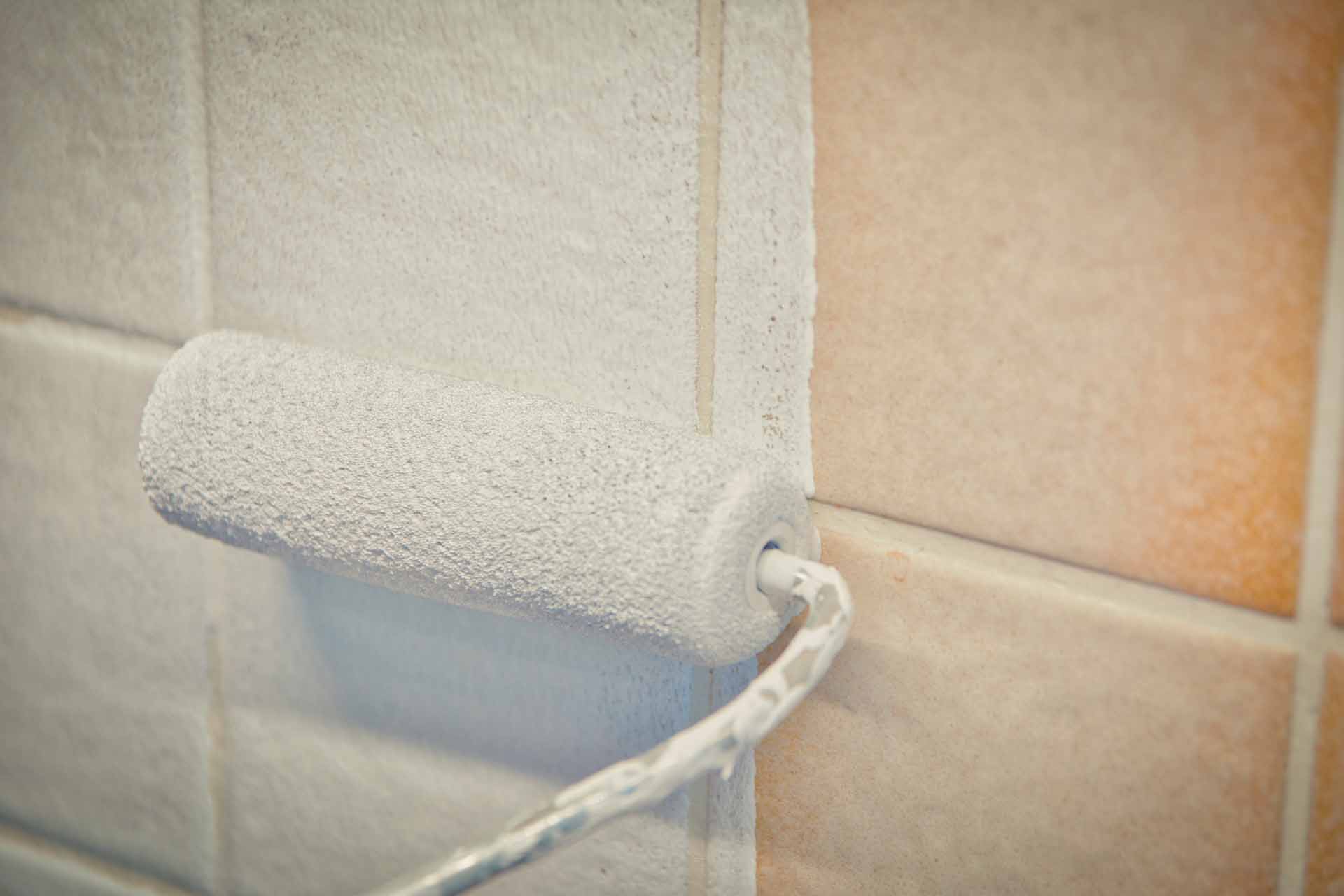 Most bathrooms in the UK are at least partially covered with tiles. But over time they can become discoloured, chipped, or go out of fashion. If your tiles have seen better days, you may be considering replacing them. Have you thought about painting over your tiles?
The process of installing new tiles is tricky, with huge potential for issues. If your tiles aren't too damaged and just need a refresh, you may be curious to know you can paint tiles.
The good news is, yes, you can paint your tiles. This is a great alternative to fitting new tiles, that'll save you hours of labour and a lot of energy. Removing tiles is also risky as they're sharp and can cause injuries and damage to your bathroom. So, you'll avoid that headache as well.
Read on for advice on painting bathroom, floor, and roof tiles as well as the right type of paint to use.
See the tradespeople we've checked and recommend for your job
Can you paint floor tiles?
Yes, you can.
Buying and having new tiles fitted can be expensive, so painting is a great option if you want to update old tiles. You may be surprised to know that you can paint floor tiles as well as wall tiles.
Painting floor tiles however is not a long-term fix. As you walk over your floor tiles every day, the paint over time will fade and rub away. However, if you're looking for a quick and affordable change, painting is a great option. Plus, to save time, you can buy specific tile paint.
Can you paint bathroom tiles?
Most bathroom tiles have a shiny finish which can make painting them difficult. Having said this, you can paint bathroom tiles, but you'll need to do a little preparation before starting.
Prior to painting, you'll need to remove the glossy surface of your tiles. You can do this by sanding them down, but always ensure you properly clean the tiles to remove any dust before you start painting.
Can you paint roof tiles?
Yes, you can paint roof tiles, and this will help to improve their lifespan and effectiveness. As with interior tiles, you can buy specific roof tile paint for great results.
Roof tiles are often made using slate and other similar materials. Unlike bathroom tiles, they won't usually have a shiny finish, which makes them much easier to paint.
Tips for painting tiles
If you're planning to paint your tiles, we've gathered some of the best suggestions to help your project be a roaring success. These tile painting tips include:
Repairing any cracks or chips in the tiles before painting. You can do this using epoxy resin which you'll need to sand down.
Ensuring the tiles are clean and free of dust before you start painting.
Sanding off the shiny finish of certain types of tiles.
Using painters' tape to cover any surfaces next to your tiles.
Keeping your bathroom ventilated by opening a window whilst painting.
Using primer for a more flawless finish that'll last longer than painting directly on tiles.
What paint can you use on tiles?
Once you're ready to revitalise your tiles, you'll need to ensure you pick the best paint for the job. There are many varieties of tile paint which will give brilliant results, however you can also try the following options:
Two process paint: This paint is applied in two different coats: a bonding agent and a topcoat.
One part epoxy paint: Applied as a single coat, one part epoxy paint dries naturally.
Two part epoxy paint: To use this paint, you'll need to mix two different materials before starting.
Expert tile painting
If your tiles are in great condition, painting can help to bring them back to life, saving you time and money. Some people are disappointed with the results they get when painting tiles and the best way to avoid this issue is to hire a qualified expert. Not only will your tiles look incredible, you can use your free time and energy on other important tasks.
At Checkatrade we know it can be nerve-wracking trying to find a tradesperson you can depend on. So, you might be wondering how to find a trustworthy professional. Well, our members are all checked, then checked again, so you can be sure you're hiring the best person for the job. Just use our online search feature to find a suitable tradesperson recommended by your neighbours.
What's more, we're now offering up to £1,000 of guaranteed cover if anything goes wrong with your job. We've got you covered!
If you'd like to learn more about finding the perfect tile painting professional, we'd recommend visiting the HomeOwners Alliance website. They even have a range of home improvement guides.
How much does professional tiling cost?
If your kitchen or bathroom tiles are damaged and no longer looking their best, it may be time to invest in replacement tiles. This will be more expensive than painting tiles, however, it'll be impossible to get good results if your tiles are in poor condition.
Our tiling cost guide covers all the average prices for professional tiling as well as the factors that affect those prices.
Which tradespeople should you use for the job?
Once you've decided to go ahead with professional tile painting, you'll need to know the right type of professional to hire. We'd recommend using a painter/decorator for this job.