Last updated on May 1st, 2022
How much does furniture reupholstery cost?
Fall in love with your furniture all over again by getting it reupholstered.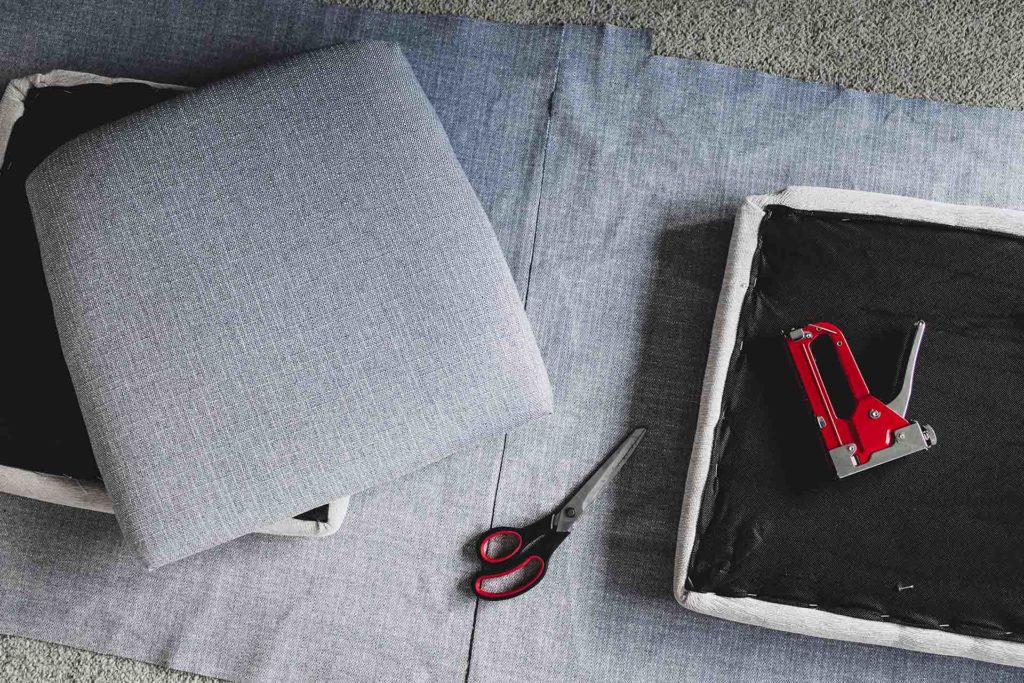 Reupholstery involves replacing the existing upholstery, such as fabric or leather, on a piece of furniture. In some cases, the term 'reupholstery' can also include internal parts of the piece of furniture (padding, fixing, springs, and more), but how much does it cost?
| Reupholstery costs | Unit | Cost + VAT | Average cost + VAT |
| --- | --- | --- | --- |
| 3-seater sofa | Per item | £850 | |
| 2-seater sofa | Per item | £700 | |
| Armchair | Per item | £480 - £800 | £612 |
| Dining chair (seat only) | Per item | £40 | |
| Dining chair (seat and back) | Per item | £55 | |
| Dining chair (fully upholstered) | Per item | £80 | |
| Fabric | Per metre | £25 - £65 | £45 |
There are many great reasons to reupholster a sofa, chair or armchair, whether it be to upcycle an old or damaged piece, change the look of your home, or give long-held family furniture a second life. You'll even be increasing the safety of your home by switching to fabrics that meet fire resistance requirements.
In this article, we break down the costs to reupholster sofas, chairs and more, in fabric and leather.
Is reupholstery expensive?
You will almost certainly be able to find a new sofa or chair that's cheaper than upholstering your old one. However, that will be reflected in the cheap quality of the new furniture.
Reupholstery is only worthwhile for furniture that is well made, as poorly made furniture tends to have low-quality frames and interiors which will be unlikely to last in the long term.
It costs more to reupholster furniture as it's a long-term investment in a high-quality item for your home that's created with considerable attention to detail. So, if you are looking to keep hold of your high quality furniture, read on to find out what you should expect to pay to have your chair or sofa reupholstered.
Find upholsterers your neighbours recommend
Reupholstery hourly rates
It's much more common for reupholstering costs to be based on items of furniture, rather than an hourly rate. The labour costs will be built into any quotes you get, with there often being options for the type and quality of the fabric used.
As a guide, expect to pay:
Armchair – £480 - £800 per chair
Sofas – £700 for a 2-seater sofa and £850 for a 3-seater sofa
Factors affecting the reupholstery cost
Not all fabrics are priced equally, so a large part of what you pay will come down to the size, style and type of fabric you choose. There are many finishing touches that can be added too, including buttons, zips, piping and decorative woodwork. Most upholsterers are very transparent about the price you'll pay and will happily share the cost of each fabric before you order.
Factors that will impact the cost of your reupholstering include:
Size of furniture – A wooden dining chair with a padded cushion will cost significantly less to completely upholster than a three-seater sofa.
Type of furniture – An antique Regency armchair with craftsmanship dating back over 200 years may prove to be a more complex job than a 1970s piano stool.
Type of fabric – Italian leather will always be more expensive than white cotton, and for faithful restorations, it may be that original fabrics will need to be sourced, all of which impacts the price you'll pay.
State of the furniture – If your piece is structurally sound and you just want a new look, then this will cost less than if your chair or sofa requires spring, castor or wood repairs before the reupholstering can begin.
Depending on the upholsterer, you can either get a quote by sending photos of your furniture or by arranging a home visit. These visits are often free and make it easier for measurements to be taken, the scope of the work to be agreed and for you to see how new fabrics and colours will work in your home.
Reupholstery cost calculator
To calculate the cost of reupholstering your furniture, you'll first need to work out the size of the pieces of furniture you want to be reupholstered.
To work out the size of your upholstered area in linear metres of fabric, here's what to do:
First, find a piece of A4 paper and draw each section of your furniture on it next to each other – the cushions, the side panels, the back etc.
Next, grab a tape measure and measure each panel, cushion or side in cm from top to bottom, then side to side. Write the two measurements for each section down inside the corresponding section on your paper (remember to measure the widest part, if the area is a 'T' shape, for example).
Convert each measurement into metres, so 56cm would be .56 metres and 230cm would be 2.3 metres.
For each section measured, multiply the two numbers together to give you the area in m2. Add 10-15% for errors/wastage.
Add all the m2 areas up to give you your total m2 of fabric. Then divide by 1.4 to give you the linear metres of fabric needed.
Add 10-15% more for errors. And if you're reupholstering with a patterned fabric, add 15-20% more again to ensure the design will repeat accurately.
You can then use total linear metres amount to get an accurate reupholstering quote, or buy your own fabric for the job.
Sizing is, of course, only one aspect that will determine the cost of your reupholstering job, another large factor is the condition of the furniture.
If a lot of repair work is needed before the specialist can reupholster your chair or sofa, then you'll need to pay for their time and materials. A recommended and professional tradesperson will give your piece of furniture an appraisal before quoting, so you should be fully clued up on this by the time you agree for the reupholstering work to go ahead.
Beyond condition, the type of fabric needed will also affect the price you pay, with leather costing more than a cotton cover for example. Once you have full consideration of all the factors listed above, you should be able to get an accurate quote from local upholstering experts.
Reupholstering cost example: An armchair with repair work needed
A typical armchair will need around 6-8 metres of fabric, with the average cost of fabric coming in at £45 per metre, remember that's just an average figure.
So, if we multiply 8 x £45 we end up with a total fabric cost of £360. Add this to an average labour cost of £480 for this piece of furniture and you're at £840. Then add an additional 20% on top for repairs, and you're looking at an average total cost of around £1,000 to reupholster a typical armchair with repairs needed.
Reupholstering cost example: A two-seater sofa in leather
A typical two-seater sofa will need around 12-16 metres of fabric, with the cost of leather with the average cost of leather being at the high end of the scale, around £75 per metre.
If we multiply 16 x £75 it gives us a total fabric cost of £1,200. Add this to an average labour cost of £700 for this piece of furniture and you arrive at an average total cost of around £1,900 to reupholster a typical two-seater sofa in leather.
How much does it cost to reupholster a chair?
Chairs are one of the cheapest items to reupholster as the cost is dictated mainly by the size of the furniture and the area to be covered.
Dining room chairs, for example, are much cheaper than large armchairs. The age of the piece will also play a factor, with furniture over 50 years old generally costing more due to additional interiors that need repairing or replacing. So, how much should it cost to reupholster a chair?
Dining chair reupholstery costs approx £40 - £80. Armchair reupholstery costs in the region of £480 - £800.
How much does it cost to reupholster a tub chair?
Tub chairs can be reupholstered and returned to their former glory for a relatively affordable price. Upholstery services are usually bespoke to your requirements, and prices will depend on the fabric you choose and whether you want it recovered or fully reupholstered.
On average, tub chair reupholstery costs range between £400 - £700.
How much does it cost to reupholster a sofa?
As with chairs, the size and age of your sofa will play a key role in determining how much you spend. Loose cushions add further to the price but can really enhance the overall look and feel of the reupholstered furniture. So, how much does sofa reupholstery cost?
Sofa reupholstery costs from £700 for a 2-seater and £850 for a 3-seater.
How much does leather sofa reupholstery cost?
Reupholstering furniture in leather is treated just like any other fabric and the process is exactly the same, so there's no considerable price increase if you'd like to do this. Equally, if you already have a leather sofa and want to switch to another fabric or vice versa then that can be done too.
Should you only have a small tear that needs fixing or stains to remove, then a simple repair or recolouring can be a cheaper solution. Leather upholstery repair costs are primarily driven by these two common issues. So, how much does sofa reupholstery cost?
Leather sofa reupholstery costs from £700 for a 2-seater and £850 for a 3-seater.
Find upholsterers your neighbours recommend
Additional reupholstery costs to consider
Reupholstery rarely involves just the cost of the fabric and with your furniture being stripped down it's the perfect time to also fix the interior and framing. This could include:
Replacing damaged springs and re-webbing sagging springs.
Replacing padding.
Frame repair or modifications.
Refinishing and mould mitigation.
Be sure to check with your upholsterer whether they include any of these extras. Some companies only replace the fabric, whilst others won't charge extra to replace damaged padding or springs.
You should ideally budget 20-25% extra for these items as it's not always possible to see how damaged a sofa is until it's been stripped down and some essential repair work may be required.
Reupholstering costs compared to buying new
New sofas can be purchased at lower prices than reupholstering although this is reflected in the lower quality and limited life. They tend to have longer guarantees and are a faster way to modernise a home.
If you want to change the size of your furniture, then new items are the way to go.
However, there's something comforting about knowing a piece of furniture fits the size and shape of your room and that it's always been there for you. Whether it's your favourite 3-seater sofa or a chair that you've inherited, reupholstering the furniture lets you keep it in the family.
If reupholstering multiple items you can ensure everything is perfectly matched too, something not always possible with new furniture.
Reupholstering furniture gives you more freedom to create new styles for your home and can be achieved quicker than the time it takes to have a new made-to-order sofa delivered. You'll even be helping the environment as the old furniture won't need to be sent to a landfill and fewer emissions will be generated than making a brand new sofa.
Reupholstery quote
We recommend obtaining at least three quotes from our trusted tradespeople. Our post a job feature is perfect for getting quotes – you post details about the job you want doing and we'll send it out to local tradespeople in your area. Try it out.
Find upholsterers your neighbours recommend
FAQs
Can I upholster my chair myself?
Reupholstering a chair or even a sofa yourself is definitely possible, and given enough time to research the techniques, source the right tools and accessories and complete the job, you may be able to achieve a finish you're happy with. Just bear in mind that reupholstering a piece of furniture you love is an investment in its future within your home, you'll want to look at it every day and love what you see, which is why getting a tradesperson to do it to a professional level is often well worth the cost.
How long does it take to reupholster a chair?
It's difficult to put an amount of time on the actual process of reupholstering a chair by an expert, mainly as each piece of furniture is different and its condition can vary considerably. You also have to factor in the availability of the fabric you want to use. That said, it's wise to expect a minimum two-week turnaround from the collection or drop off of your furniture to the completion of the job – remember a recommended professional is likely to be highly sought after and have plenty of reupholstering projects on the go.
Is reupholstering just fabric, or can cushions be refilled?
A professional reupholstery service will return your loved piece of furniture to its former glory, including coverings, studs and cushions. Just be sure to specify what kind of filling you'd like, whether that be foam or feather.
Will an upholsterer fix springs and broken wood?
An expert upholsterer will offer a full restoration of your chair or sofa, including all springs and repair of any damaged legs, arms, castors or back structure. It's important to factor in extra costs for broken parts of your furniture that may be discovered once it's completely stripped down.
Key takeaways for furniture reupholstery
Reupholstery costs more than new furniture but you'll be sure of the quality and be able to keep the furniture you already love.
The size, shape and type of fabric affects the cost.
Arrange a home consultation to get the most accurate cost and see how fabrics will look in your home.
Leather upholstery doesn't cost much more than using other fabrics so you can easily switch from fabric to leather or vice versa.
The interiors of your sofa can add a lot to the cost so be sure to budget 20-25% extra or check if they're included in the price.
Find upholsterers your neighbours recommend
Good jobs, guaranteed
Get covered when you book with Checkatrade.