No matter the size of your garden, a well-designed decking area is both an attractive landscaping feature and a great way of extending your living space outside. Whatever your reasons for creating a deck, it's only natural that you would want it to look its best.  The good news? The possibilities for garden decking design are endless.
But where to begin?
Whether you've just moved house and have been blessed with an outdoor decking area, are looking to build your own decking or are simply in need of inspiration to get you started, we've pulled together some of the best decking ideas for your garden.
Raised decking ideas
A raised deck is a perfect way to marry your outdoor space with indoor living. Whether made from timber or composite materials, raised decking creates a regal aesthetic that acts as a focal point for your garden. If you want to take advantage of the views while relaxing outside, this type of decking is ideal.
Installing raised decking
From a logistical point of view, raised decking is a great way to reclaim space in a sloped garden. So, if the uneven ground in your garden is putting you off building a deck, don't lose hope just yet.
It's worth noting that raised decking is typically trickier to install than ground decking and usually requires the help of professional tradespeople to get it looking perfect. If you are new to DIY we recommend you call in the Checkatrade professionals.
Add steps to your raised decking
In terms of style, your choice will typically depend on how much space you have, the aesthetic you want to achieve and how you plan to use it. From multi-levelled showstoppers to magical play areas and sophisticated dining spaces, it's amazing what adding height to a garden decking can do.
When it comes to adding steps, you may choose to build a staggered patio area that stretches across the exterior of your house. Complete this look with dining furniture and a garden sail, parasol or gazebo to provide some much-needed shade in summer.Alternatively, you might opt for a more contemporary feel by adding composite deck steps to the side of a raised decking, complete with panel lighting and railing for a modern yet sophisticated look.
Remember, decking plus rain can equal danger – so it's wise to consider an anti-slip decking treatment.
A sail canopy will also keep the rain off your wood.

Balustrade decking ideas
Frame your patio with decking balustrade or railing to create privacy. With a range of styles to choose from, the railing you opt for will ultimately depend on the aesthetic you want to achieve as well as potential safety considerations.
A contemporary garden deck that is raised from the ground can benefit from composite spindle railing in adding to the sense of luxury. A smaller decking intended as a cosy reading nook may be more suited to privacy screens made with metal and sandblasted balustrade panels.
Choose a theme for your decking
A raised decking can make for the ultimate social space in the summer and a cosy nook for hot cocoa in the cold winter. As well as making your neighbours jealous, a custom-built raised deck is a sure-fire way to add value to your property. The next step? Choose a theme for decorating the decking.
A partitioned decking for private dining will benefit from plenty of plant life to frame the dining furniture. To complete this look, choose rattan or wicker seating for a country-chic aesthetic. An open-plan patio perfect for lounging may benefit from a muted colour scheme and warm lighting to create a cosy feel.
Cheap decking ideas
You don't have to break the bank to build a beautiful garden decking. With a few quick fixes, you can keep to a low-budget and bring your decking area to life. From potted plants and hanging planters to upcycled crates for creative patio storage, there are plenty of ways in which you can add character and comfort while keeping the costs to a minimum.
Decking ideas for large gardens
If you are fortunate enough to have a large garden space, why not take advantage of this area to build a luxury decking area? If your budget allows, the potential is vast: from creative water features and swimming pools with space to sunbathe to adventure playgrounds, large gardens offer space for the imagination to run wild.
Decking ideas for small gardens
Just because you're limited in size, it doesn't mean you can't make the most of the space you have. Make your decking area work for you by opting for creative storage solutions and simple touches to add character.
Even a small dining area can be brought to life with stylish design: think potted plants, matching cushions, sail shades, solar lighting and ladder shelving for a start.
Garden decking ideas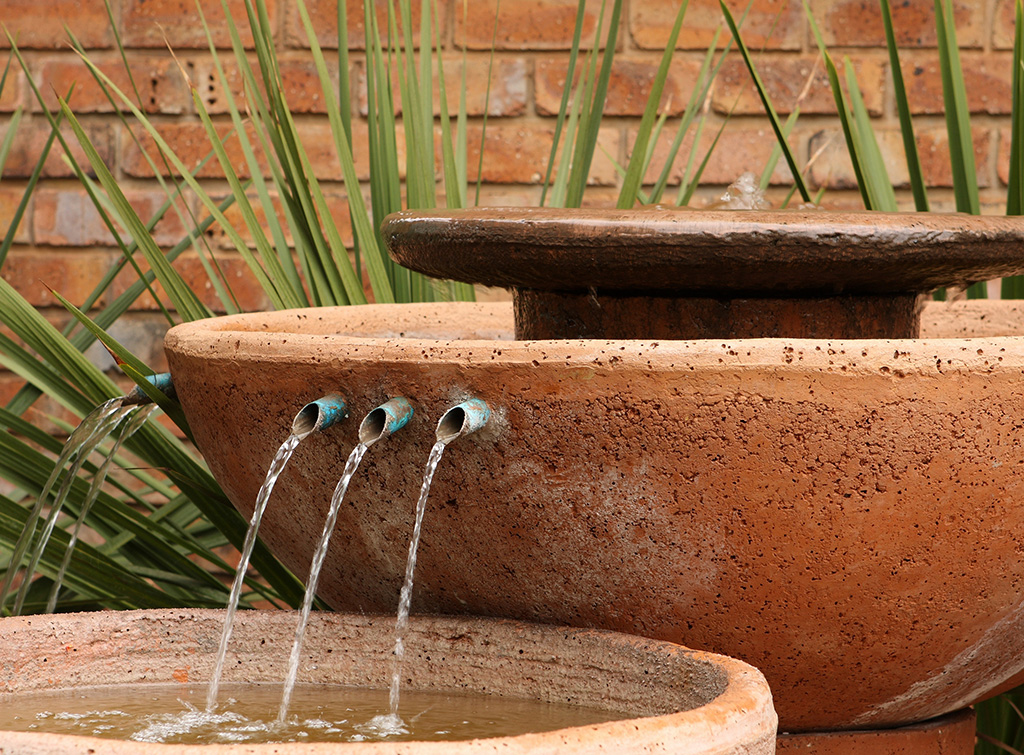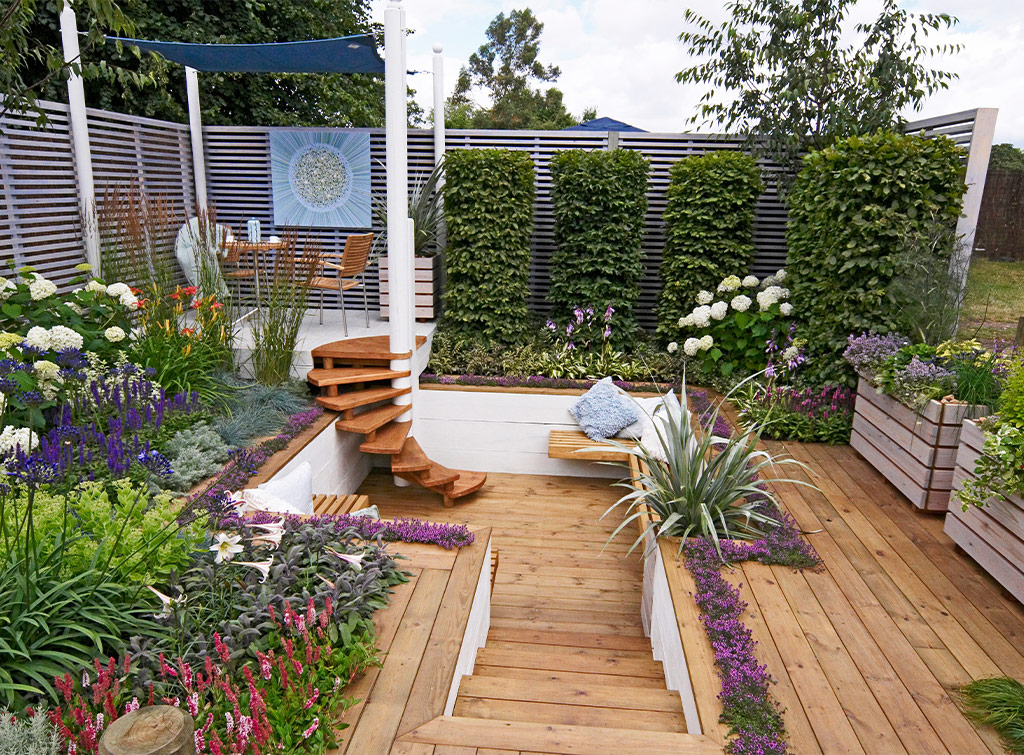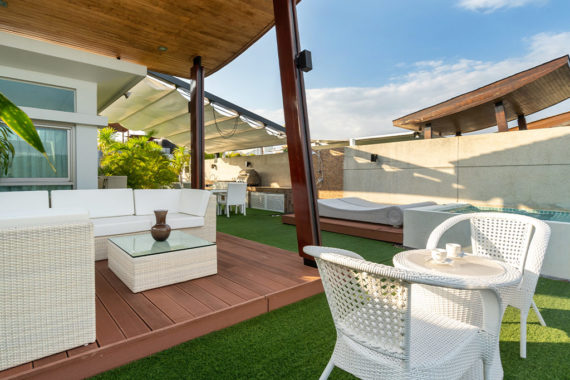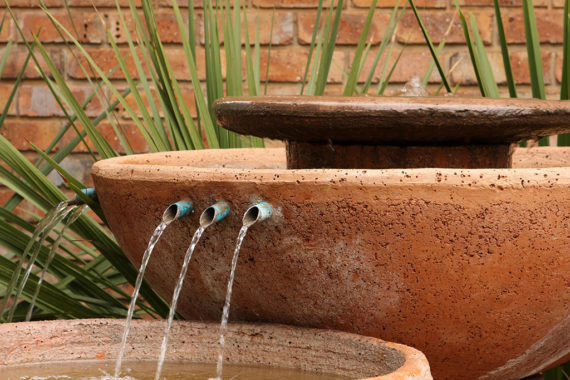 Add a colour scheme
A splash of colour can go a long way in giving your patio personality. If you're feeling bold, introducing brights and eye-catching contrasting colours can really turn a dull deck into the centrepiece of your garden. Alternatively, you could choose an accented neutral colour palette to complement wooden decking and furniture.
Add flowers and foliage
For a low-cost way to add character, frame a raised deck with a flower bed blooming with colour. We recommend sedum, as these flowers are rich in colour and easy-going in nature, but you might opt for more of a pastel feel with lavender, rosemary and sage. Coralbells are also a brilliant choice of decking foliage as they bring bright colours with low maintenance.
Recycle old furniture
If you've recently upgraded a room in your house and are pondering the costs of removal of unused furniture, consider how it could work outside. With a little bit of love (and a dash of creativity), an old chest of drawers could become a potting station while an upcycled shoe rack can make for the perfect place to display a budding herb garden.
Create the perfect play area
If you want to take advantage of your outdoor space to create an area for children's activities, a custom-built composite deck could be it. Multi-leveled decking can make for the perfect foundation to build a play shed with a slide leading down to the ground level.
The list goes on: from basketball hoops and climbing walls to garden swings and tipis for camping outside in the summer, custom decking can open a world of possibilities for children's play. Just make sure any hazardous areas are dealt with before they run wild!
Build a summer resort
Instead of going abroad, transform your garden decking into that summer resort you've been fantasising about. An expansive decking area lends itself perfectly to sun loungers, swimming pools and summerhouses.
Depending on your set up, you could choose to build your decking around an in-ground hot tub or bathing pool to create a luxury outdoor spa. Dry off under a covered pergola complete with sophisticated dining furniture for the full holiday experience all summer long.
Build an outdoor bar
If you've got the space, don't hesitate to make the most of it: a raised decking idea can be fully transformed into an outdoor bar complete with barstools, parasols and patio heaters. To save on costs, you can even get creative by upcycling wooden crates and palettes into display cases for bottles. Custom signage and bunting can help to bring the design of your outdoor bar together.
Get creative with water features
A large ground-level decking area is an opportunity for creativity: why not take advantage of the space to build an eye-catching water feature? The options are many – a modern water feature fountain with rectangular steps and stones is the perfect addition to a contemporary patio, while a lily pad pond filled with life can work well as a creative edge for your garden decking.
Build an ultra-modern decking
Enhance the visual appeal of your garden decking by breaking up large areas of wooden slats with stone paving. The contrast in light and dark colours makes a standard raised deck a focal point in any large garden and opens the door to new design possibilities. For example, the stone paving could be the perfect place to build a garden fire pit, with the raised wooden decking surrounding this area for seating. Architectural beds in the middle of a wooden or composite deck can also help to inject some greenery.
Add mood lighting
Ambient lighting can make any decking more appealing. Fairy lights are a small investment with a big impact, while paper lanterns can be made by hand to create a romantic warming glow. For more contemporary lighting, try solar lights or LED light panels to make a statement. Clever under-lighting can illuminate your decking in the evening, allowing you to extend your evenings outside as the sun sets.
Dining furniture with storage
If you're restricted in space, take a leaf out of the Scandinavian designer's book and look for garden furniture that has in-built storage. Your decking area can be a charming hub for relaxation by adding storage benches where you can keep picnic blankets, throws, cushions and dining sets to free up some space indoors.
Reclaim space in a sloped garden
A sloped garden isn't the end of the world when it comes to design. In fact, it's an opportunity to build a multi-levelled patio that uses the slope in your garden to tis advantage.
Find a landscaper near you
Also in this project
Tell us what you think
What others think of this cost guide:
Need More Information?
Related posts