Advice on selecting & installing a hot tub
Transform you garden into a haven of relaxation with our hot tub installation guide. Let us guide you through how to choose and install your new hot tub.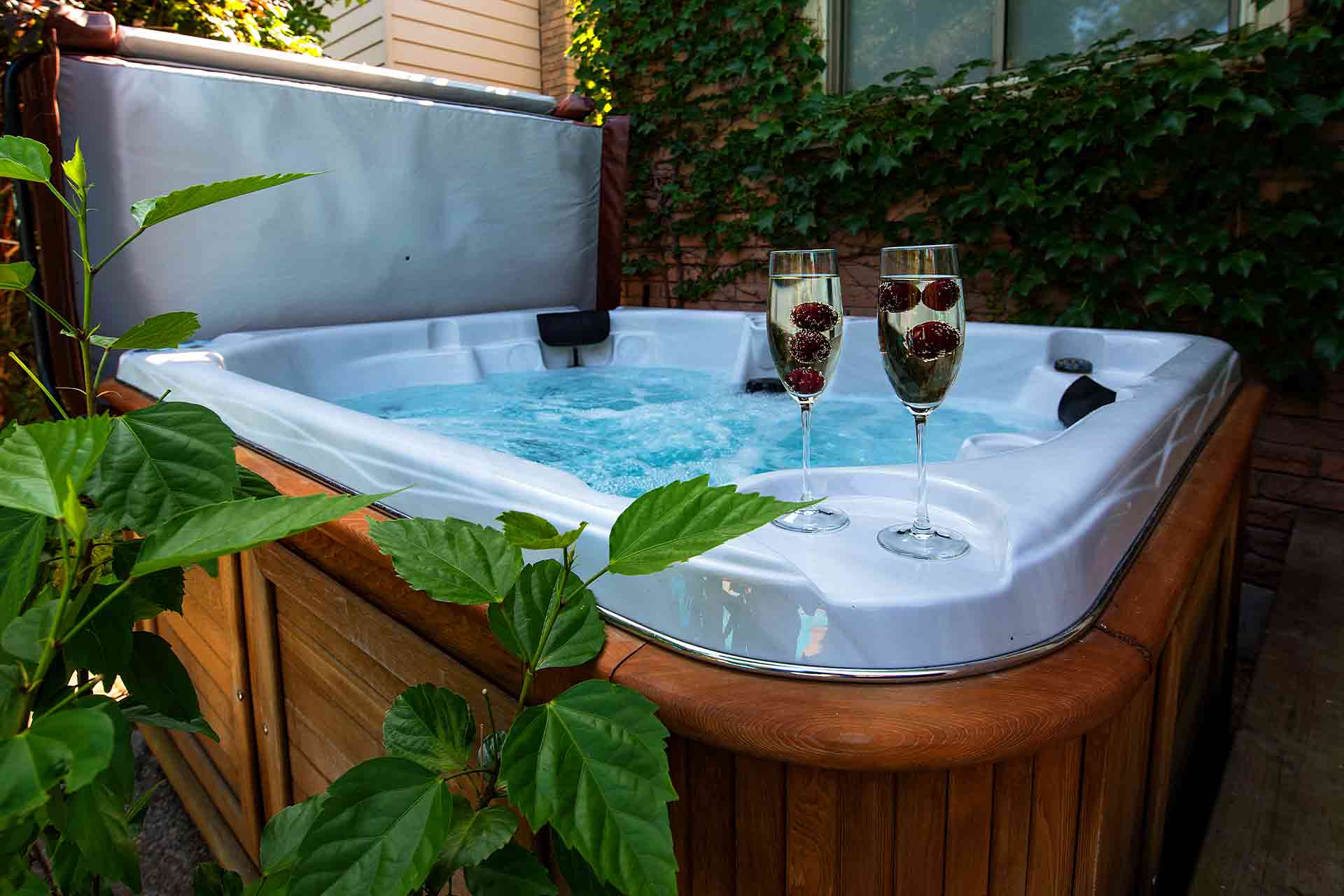 Owning a hot tub is a dream for many homeowners and it's not surprising considering the many benefits of installing a hot tub. Perfect for socialising, relaxing and even improving the look of your garden, hot tubs are the ultimate addition to your outside space.
If you want to save on hot tub installation, this guide will teach you all you need to know about doing it yourself. In addition, you'll learn about DIY hot tub surrounds, the difference between a hot tub and jacuzzi, plus we'll answer the question "What is the best hot tub to buy in the UK?"
What are the benefits of installing a hot tub?
In addition to upgrading your garden, hot tubs allow you to enjoy your outside space even on chilly evenings. What's more, your friends and family will love nothing more than catching up with a cool drink in your new hot tub.
You can even look forward to a range of physical and mental health benefits, including:
A reduction in muscle tension, helping with headaches.
Lower stress levels thanks to the soothing effects of warm water.
Improvements in circulation due to the heat and jets.
A reduction in the painful symptoms of arthritis.
An increase in joint fluidity, reducing pain and stiffness.
See the tradespeople we've checked and recommend for your job
How to choose the right hot tub
If you are ready to reap the incredible benefits of owning a hot tub, you may be wondering "what hot tubs are the best?" Well, consider the following:
Size: The right sized hot tub for you will depend on how many people will be using it. Most hot tubs will give a rough figure of their capacity.
Layout: There are many different hot tub layouts to choose from. For example, you have the option of regular seats or reclined options.
Depth: Not all hot tubs are the same depth, so it's worth checking this before buying.
Jets: Each hot tub will have a different number of jets. So, if you intend to use your hot tub for massage, you will want one with a good number of these.
Extras: Nowadays, hot tubs are sold with different features, examples of these include lighting, cup holders, steps and speakers.
Filtration: Make sure to check your new hot tub has sufficient filtration for your needs.
Shop around: It's worth visiting a range of local retailers to see different hot tub ideas and how they'll work in your garden.
Hot tub installation step-by-step
Once you have chosen your hot tub, you will need to know how to install a hot tub. There are three main steps to hot tub installation, which we've detailed below.
1: Getting your hot tub into position
When your hot tub arrives, the first thing you will need to do is get it into position. Please remember that hot tubs are very heavy and difficult to move so you will need to account for this. One option is to check with your supplier as to whether they supply a trolley to help transport your hot tub to your garden. If not, you may need to hire a crane.
2: How to install hot tub electrics
Your hot tub will need to be connected to an electricity supply to allow it to heat up and power the jets. It's important that this is done by a qualified electrician to ensure the connection is safe for you and your family. For average prices, please see our electrician hourly rate guide.
If you are curious about the electrical connection your hot tub needs, the following are all key criteria:
The minimum supply for a hot tub is 13 amps.
For hot tubs that need a dedicated supply (over 13amps) an RCD (residual current device) is essential.
The electrical supply should have its own MCB (mains circuit breaker).
SWA (steel wired armoured) cabling should be used.
An isolation switch should be installed over 2m from the hot tub.
3: Installing hot tub plumbing
Of course, not only do hot tubs require a supply of electricity, but they also need water to work. It's worth noting that most hot tubs are self-sufficient and do not need to be plumbed in. Other hot tubs simply require a garden hose connection, and they then heat the water coming in.
DIY hot tub extras
In addition to installing a hot tub, you may want to build a base out of concrete or decking, build a surround for convenience and even build a pergola or gazebo. Read on to learn more about these extras.
How to make a hot tub base
Hot tubs are heavy even before a large amount of water is added, so will need a sturdy base. It's important to choose a level spot in your garden, so the water doesn't end up unevenly distributed. The ground will also need to be stable, and this may mean you need to build a DIY hot tub base.
Just use the following steps to construct a concrete base:
Remove any weeds, grass and debris from the area.
Lay a damp proof membrane to prevent weeds from sneaking through.
Build a timber formwork to outline where your base will sit.
Cover the area with a layer of building sand.
Mix and pour concrete into the frame.
Level out the concrete to create a flat, even surface.
Homemade hot tub decking
Another alternative to building a hot tub base is to lay homemade hot tub decking. You can even extend the decking, creating a beautiful surface for entertaining and relaxing.
Wondering how to lay homemade hot tub decking? Use the below tips and if you need more information, please see our how to lay decking guide.
Draw your decking plan and then measure and mark out the area you are covering.
If you are installing your decking over a lawn dig down to 50mm, then lay landscaping fabric and gravel.
If you are planning to join the decking to your home, attach a wall plate.
Build the frame.
Install internal joists.
Add noggings.
Lay out the new decking boards.
Install fascia boards.
How to build a hot tub surround
A brilliant way of enhancing your new hot tub is to build a hot tub surround. These can be purchased ready-made and are available in many sizes, colours and materials so you can match your outside aesthetic.
While it's possible to build a DIY hot tub surround, it will be much simpler to buy a readymade option. Alternatively, you could hire a local carpenter to make a custom-made wood surround. Find an experienced carpenter using our handy search feature.
Build your own hot tub gazebo or pergola
Why not upgrade your hot tub by constructing a gazebo or pergola? You can even choose to build your own pergola to perfectly complement your new hot tub. Gazebos and pergolas are a great choice as they offer protection from the rain, meaning you can use your hot tub every day of the year. In addition to added privacy, they also make for a beautiful garden focal point.
Professional hot tub installation
If DIY hot tub installation seems too difficult, a great option is to use a local hot tub installer to do the work for you. This will save you time and energy, plus you can be confident your hot tub is correctly and safely installed.
To connect with a local installer, click here to search our trusted Checkatrade professionals.
See the tradespeople we've checked and recommend for your job
FAQs
What is the best hot tub to buy in the UK?
It's difficult to pinpoint the best hot tub available for purchase as this will heavily depend on your needs. For example, if you are on a tight budget, inflatable hot tubs are very affordable, but they aren't as comfy or durable as other types.
When it comes to brands, Jacuzzi is a great option, or for inflatable hot tubs, Lay-Z Spa is a wise choice. It's important to always make sure your new hot tub will meet your requirements, in terms of size, layout, jets etc.
How much will it cost to run my hot tub?
We have two fantastic guides that can help you with this question. Our guides on hot tub running costs and hot tub maintenance costs have all the information you'll need.
What is the difference between a hot tub and a jacuzzi?
There's a wide range of hot tubs and spas available on the market. But what is the difference between a hot tub and a jacuzzi? Technically, jacuzzi is a brand rather than a specific type of hot tub, but it's often used to describe a spa. What's more, hot tubs don't always have jets, unlike spas.
Do I need planning permission?
Hot tub installation does not usually require you to obtain planning permission unless you are in a conservation area, your home is listed, or you live in an Area of Outstanding Natural Beauty. However, if you do intend to build a gazebo or decking you may need planning permission.
What building regulations apply to installing a hot tub?
Unless your hot tub is over 30 metres square, you will not need to apply for building regulations approval.
Where should I install my hot tub?
Something many buyers ask is "where should I install my hot tub?" We already covered how to build a hot tub base to ensure your hot tub is level, but there are a few other important considerations when deciding where to install your hot tub. Think about:
How easy it will be to connect your hot tub to electrics and a water supply.
Positioning your hot tub near to your house for convenience, especially if you are planning to use it during cold weather.
The dangers of having a hot tub accessible by children and pets.