With sunshine-filled days already here for many of us, it's the perfect time to put your green fingers to good use in the garden. Making over your garden will ensure you're all set to spend the warmer months soaking up the sunshine, enjoying drinks alfresco and living off BBQ food at every opportunity!
Whether your garden is in need of just a little TLC or a complete makeover, investing in garden landscaping is a great approach. It goes a long way to enhance the functionality and aesthetic appeal of any garden or outdoor space, no matter what you're working with.
| Garden landscaping example | Average cost |
| --- | --- |
| Artificial grass realistic installed 10m2 | £880 - £1940 |
| Levelling | £1200 - £1500 |
| Terracing | £800 - £1500 |
| Flagstone Paving | £45- £75 per m2 |
| Decking 24m2 | £1200 - £1600 |
How much does garden landscaping cost?
If you're looking for garden landscaping costs, you've certainly landed in the right place. Here's our guide to the average costs of garden landscaping, so you can plan and budget for your dream outdoor space.
What does garden landscaping involve?
Garden landscaping involves bringing together a whole host of elements in order to create a functional and aesthetically pleasing garden space. This might include mixing botanical elements, such as lawns, trees, shrubs and flowerbeds with hardscapes, such as pathways, furniture, decking, fences and water features.
So, what's the difference between landscaping and gardening?
Whereas gardening generally means maintaining and caring for living plants and where they grow, landscaping is all about visualising a space, designing it and then creating it. That means incorporating lawns, trees, pathways, greenery, planting and other features to bring a garden space to life.
Of course, gardens come in all shapes and sizes, which is why garden landscaping prices vary significantly, depending on the work that you are getting done.
Find a local landscape gardener
Low maintenance garden ideas
Garden landscaping needn't cost the earth. There are lots of low maintenance garden ideas that will allow you to enjoy your outdoor space, even if you don't have green fingers! After all, with life often pulling us in all manner of different directions, many of us want an outdoor space we can relax in, without the work.
A low maintenance landscaping project involves looking at the areas of your garden that require the most work, care and attention, including grass areas, flower beds and fast-growing shrubs, and trying to find low maintenance alternatives that meet your budget.
Create a no-maintenance relaxation area
A great way to make use of your outdoor space is to create a relaxing area where you can unwind and soak up the sunshine.
A relaxing outdoor space for socialising and spending time with family and friends is also super easy to create. You could incorporate a garden dining set to enjoy meals al fresco or comfortable loungers for relaxing in the sunshine on a sunny day.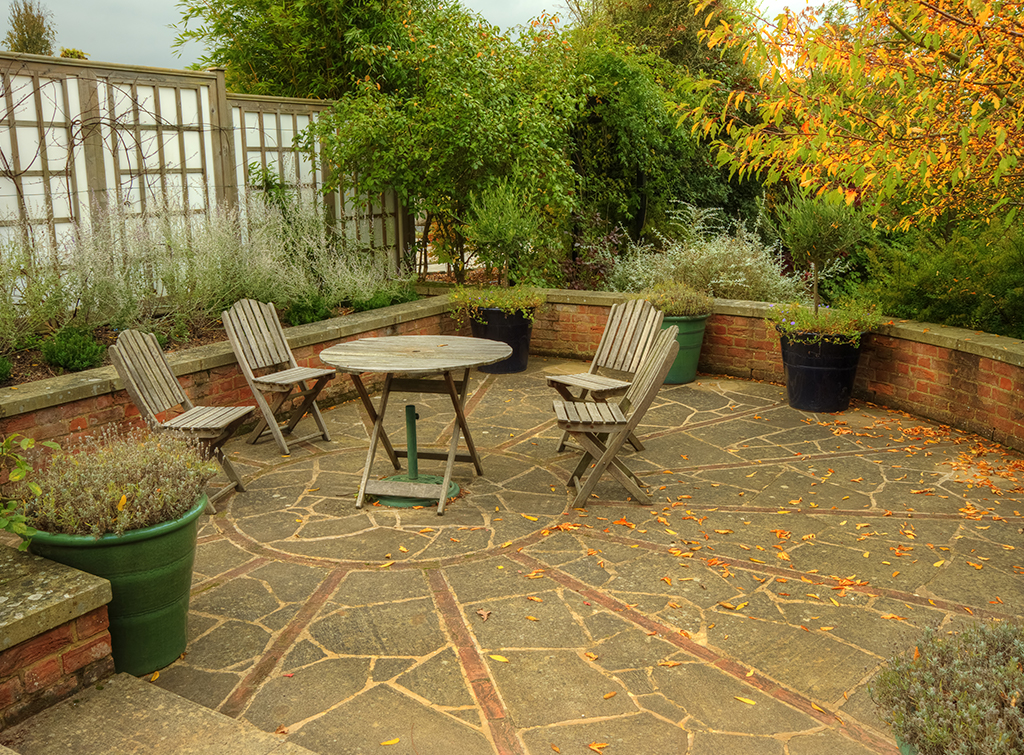 When it comes to creating a functional dining space, decking and clean paving slabs are great for creating an easy to maintain, functional, designated space. Clean paving slabs are a particularly good option as they have been designed to prevent weeds from creeping through the cracks.
The nature of a relaxation area means you can adapt it to meet your budget. Creating a paved area usually starts from £900 depending on the materials and the size of the space, while there are lots of dining sets and loungers available, often starting from just £50.
Spread a little mulch
Spreading a layer of mulch can be a great help to trees, shrubs and perennials, especially when it comes to adding important nutrients to the soil. But that's not all. If you're looking to create a low maintenance garden, mulch can help control weeds and conserve moisture, reducing the amount of upkeep your garden requires.
Mulch typically costs around £12 – £38 for per m2.
Reduce the size of the planted areas in your garden
Cutting down the size of planted areas in your garden will instantly make your outdoor space a lot easier to manage. But this doesn't mean your garden needs to look bland and boring – far from it!
If you take the time to understand your space, there are a whole host of low-maintenance plants you can use to fill out your garden, including wildflowers. These you can leave pretty much to their own devices in a dedicated area of your garden, which also creates a little haven for wildlife.
Keeping your plants in big pots can prevent them from becoming too big and of course, potted plants are much easier to take care of.
Buying the right plants is an important part of having a low-maintenance garden. Opt for hardy evergreen plants as they will last longer and are easier to manage.
The costs of plants will vary significantly depending on the type, size and where you purchase them from. If you want to keep the budget down, seeds and bulbs are cheaper than pre-grown plants and flowers, but you'll need to spend more time caring for them while they grow.
Introduce shrubs
As we've already said, it is possible to fill your garden with lovely plants that require minimum maintenance. One of the best ways to do this is to swap flower beds and borders for attractive shrubs. You'll be amazed at how much time and energy this will save you!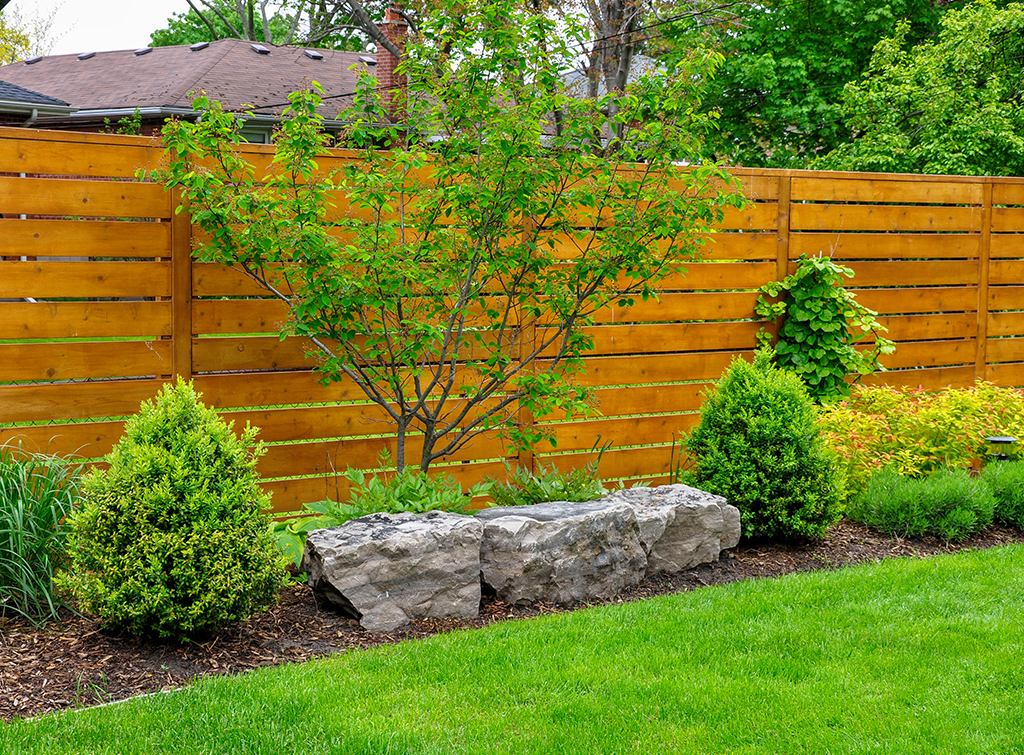 Good options include lavender, as you only need to worry about pruning it once a year, and geums and geraniums, which only need to be cut once a year.
Scale back the lawn
Lawns require a lot of work. Although they are a functional and aesthetically pleasing part of any outdoor space, they require frequent mowing, feeding and watering if you want them to stay looking their best.
A neglected lawn can have a huge impact on the look and feel of your garden, leaving it looking unloved, tired and overgrown. With this in mind, if you are thinking about creating a low maintenance outdoor space, you should definitely scale back your lawn.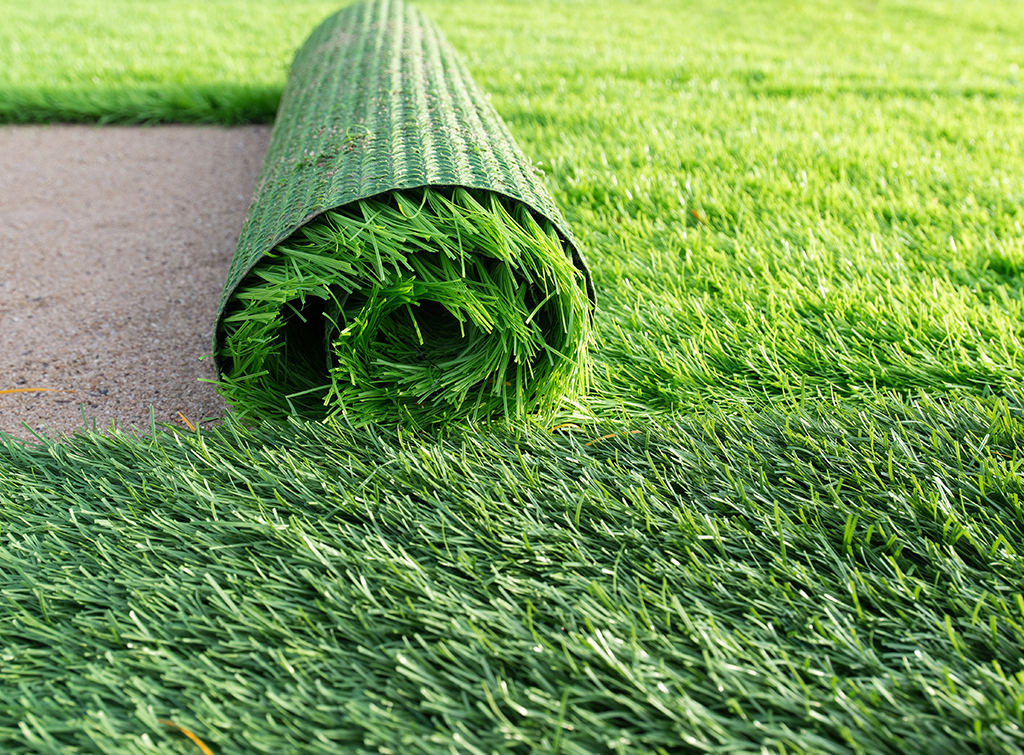 Introduce artificial grass
Having said that, if you're reluctant to scale back your garden lawn, why not consider swapping your grass for artificial grass?
This clever garden hack is quickly becoming one of the most popular options for low maintenance garden projects.
Offering outstanding durability, versatility and instant aesthetic appeal, artificial grass is also safe for children and easy to maintain. You won't have to worry about using fertilisers or pesticides either.
Again, depending on the size of your garden and the type of artificial grass you choose, prices will vary, but you can expect to pay anything from £880 to £1940 for artificial grass. Prices fitted with realistic grass usually start from around £82 per m2.
Find a local landscape gardener
Sloped garden ideas
Just because a garden isn't level, doesn't mean that that it can't benefit from garden landscaping. There are lots of ways that garden landscapers can work with a sloped garden in order to create an interesting, functional and inviting environment.
From levelling, terracing and incorporating outdoor dining ideas through to storage options, flooring options and garden lighting, you'll be amazed at how a sloped garden can be transformed.
Levelling
If your sloped garden is causing you issues and you would like to create designated areas for flower beds, shrubs, vegetables or even an inviting outdoor dining area, it's possible to create a series of level garden areas.
This can be done by levelling out each garden patch and building terrace walls made from wood, stone or concrete.
The costs of levelling out your sloped garden depend on the size and how much work needs to be carried out. However, if you're hiring a professional, you can expect to pay anything between £1200 and £1500.
Terracing
Adding interest and usability, the way to terrace a sloped garden depends on whether the slope is away or towards the house. Allowing you to add workable space, terracing a garden slope often requires professional help from a landscape gardener.
There are lots of materials that can be used for effective terracing, including reclaimed railway sleepers, stone retaining walls, new sleepers and gabions.
Depending on the size of your garden and the terracing you choose to use, prices will differ. The right terracing for your garden will also depend on whether you have an uphill or a downward facing slope. As a general rule, however, you should allocate anything from £800 to £1500 in your budget.
Outdoor dining ideas
Whether you create the perfect spot for entertaining on a summer's night, you want to make the most of a sun trap or you simply want to create a comfortable space to relax and unwind, a sloped garden provides the perfect setting to create an inviting outdoor area.
From full dining sets, comfy hanging swings and luxurious day beds and loungers, there are lots of options to choose from.
Flooring options
Paving and decking can add character, function and practicality to a sloped garden. There are lots of designs and styles available to bring your garden to life.
However, laying the perfect garden flooring or patio area can be tricky, especially when working with bricks, paving, decking or gravel.
All of these materials are a great option, even for sloping gardens and uneven surfaces, but it's definitely worthwhile calling in the professionals to help! Again, depending on the bespoke requirements of your garden, prices will vary.
As a general rule of thumb, you can expect to pay anything from £45 – £75 per m2 for paving, £1200 – £1600 (24m2) for decking and £35 – £45 per m2 for brickwork.
Storage options
Storage is always a good idea for any garden space, especially when it comes to keeping your garden neat, tidy and accessible.
From garden sheds and outdoor boxes through to bin stores and log stores, there's a wide range of garden storage options that are ideal for keeping all of your garden tools safe and sound.
A basic garden shed will start from £700 installed (6ft x 4ft Budget Shed on a Simple Slab Base), whereas you can expect to pay up to £1100 or more for a higher range model.
Outdoor kitchen
An outdoor kitchen is a great addition to any garden. Great for entertaining and socialising, a garden kitchen allows you to make a seamless transition between the indoors and outdoors.
It can also increase the value of your home, save on utility bills and keep cooking smells outdoors. Ideal for using all year round, outdoor kitchens are ideal for any outdoor environment.
Garden lighting
During the summer months, most of us spend a lot of time outdoors, enjoying al fresco dining, relaxing and socialising.
With this in mind, adding garden lighting to your outdoor space is a great way to enhance the aesthetic appeal of your garden.
Cost calculator
A garden landscaping cost calculator is a great way to gauge how much your garden landscaping project is likely to cost.
Garden landscaping projects vary in price depending on the size of your outdoor space and the work involved but you can expect to pay anything from £800 upwards It's always worthwhile getting a number of different quotes to compare.
And remember, if you are planning a complete garden overhaul and are looking to transform your garden with landscaping, it's advisable to call in the professionals. Check out our range of fully approved and vetted landscape gardeners to find someone in your local area.
Find a local landscape gardener
Tell us what you think
What others think of this cost guide:
Need More Information?
Related posts