Last updated on May 25th, 2022
Garden landscaping cost guide
With sunshine-filled days already here for many of us, it's the perfect time to put your green fingers to good use in the garden. Making over your garden will ensure you're all set to spend the warmer months soaking up the sunshine, enjoying drinks alfresco and living off BBQ food at every opportunity!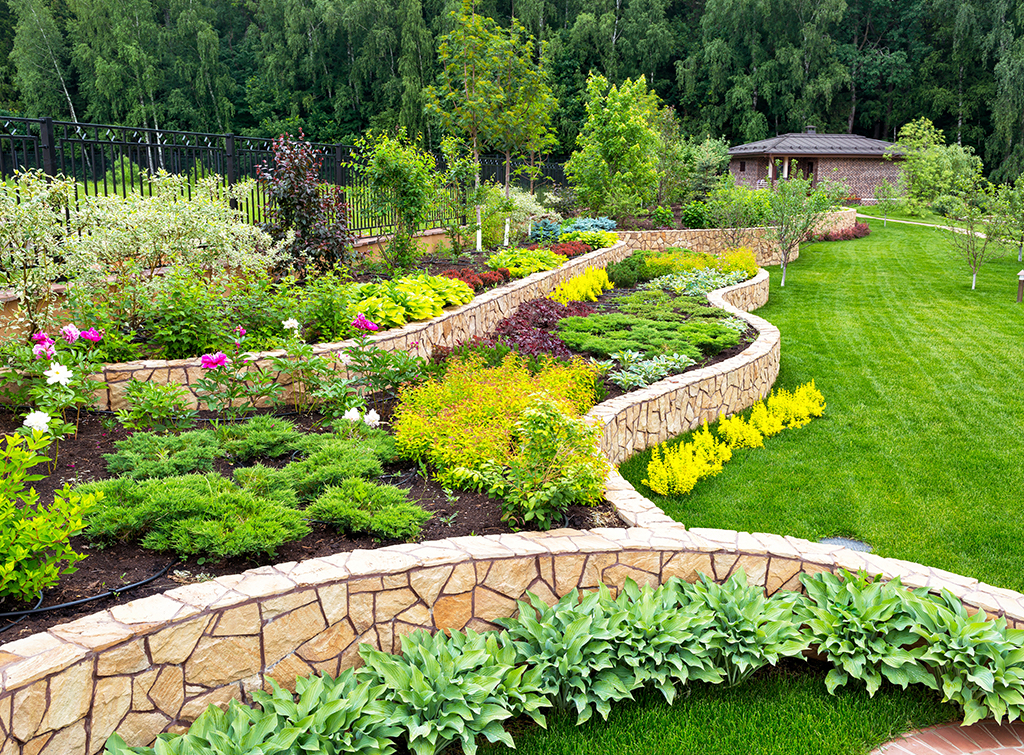 In this article, we'll cover:
Whether your garden is in need of just a little TLC or a complete makeover, investing in garden landscaping is a great approach. It goes a long way to enhance the functionality and aesthetic appeal of any garden or outdoor space, no matter what you're working with.
| Garden landscaping example | Average cost |
| --- | --- |
| Real grass (per m2) | £10 - £30 |
| Artificial grass realistic installed (per m2) | £30 - £60 |
| Levelling (per m2) | £20 |
| Terracing (10m long, 1m deep) | £800 - £1500 |
| Flagstone Paving (inc. base, supply and installation) | £45- £75 per m2 |
| Decking (per m2) excl. handrails | £50 - £100 |
| Brickwork (per m2) | £35 - £45 |
How much does garden landscaping cost?
If you're looking for garden landscaping costs, you've certainly landed in the right place. Here's our guide to the average costs of garden landscaping, so you can plan and budget for your dream outdoor space.
Sloped garden landscaping cost
Just because a garden isn't level, doesn't mean that it can't benefit from garden landscaping. There are lots of ways that garden landscapers can work with a sloped garden in order to create an interesting, functional and inviting environment.
From levelling, terracing and incorporating outdoor dining ideas, through to storage options, flooring options and garden lighting, you'll be amazed at how a sloped garden can be transformed.
Levelling
If your sloped garden is causing you issues and you would like to create designated areas for flower beds, shrubs, vegetables or even an inviting outdoor dining area, it's possible to create a series of level garden areas.
This can be done by levelling out each garden patch and building terrace walls made from wood, stone or concrete.
How much does it cost to level out a garden UK? The costs of levelling out your sloped garden depend on the size and how much work needs to be carried out. However, if you're hiring a professional, you can expect to pay approximately £800 for a garden of 40 m2.
Terracing
The way you terrace a sloped garden will often depend on whether your garden slopes upwards away from your house, so you're house is at the bottom of the slope. Or the garden slopes downwards, so your house is effectively sitting at the top of the slope.
Landscaping a sloping garden using terracing can create some wonderfully useful and beautiful spaces, and a professional landscape gardener can help you utilise your garden to its full potential.
There are lots of materials that can be used for effective terracing, including reclaimed railway sleepers, stone retaining walls, new sleepers and gabions.
Depending on the size of your garden and the terracing you choose to use, prices will differ. The right terracing for your garden will also depend on whether you have an uphill or a downward facing slope. As a general rule, however, you should allocate anything from £800 to £1,500 in your budget for a 10m x 1m terrace.
Find a local landscape gardener
Flooring options
Paving and decking can add character, function and practicality to a sloped garden. There are lots of designs and styles available to bring your garden to life.
However, laying the perfect garden flooring or patio area can be tricky, especially when working with bricks, paving, decking or gravel.
All of these materials are a great option, even for sloping gardens and uneven surfaces, but it's definitely worthwhile calling in the professionals to help! Again, depending on the bespoke requirements of your garden, prices will vary.
Patio
Patios have long been a common addition to gardens, where homeowners are looking for a more sturdy feel under foot. Many patios are designed to meet your exact needs but, as a general rule of thumb, you can expect to pay in the region of £45 to £75 per m2 for paving. To find out more about patio prices in the UK, check out our patio laying cost guide.
Decking
Decking has become a hugely popular feature in British gardens, adding both a stylish feature and a functional platform to utilise. There are a wide range of decking styles available, so you're guaranteed to find one that suits your personal taste. The average cost of a 24m2 decking is around £1,200 to £1,600. To find out more, take a look at our garden decking cost guide.
Brick
If you're a fan of brick flooring in the garden, you can opt for brickwork at a cost of about £35 to £45 per m2. This cost will depend on the exact type and quantity of bricks you use, and whether they're new or reclaimed bricks.
Gravel
If you are on a tighter budget, gravel is a cost-effective garden flooring option at approximately £10 to £30 per m2.
If drainage is a problem in your garden you could also consider sustainable urban drainage system (SUDS) compliant surfaces such as resin-bound stone. This typically costs £70 to £100 per m2.
Grass options
Real grass
Having a beautiful garden lawn adds charm, beauty and a special place to spend time outdoors. And having traditional real grass is, for some, the only way to properly finish a landscaped garden. Another great benefit of real grass in a garden is that it's often cheaper than decking, paving or laying artificial grass. The average cost of real grass is around £10 to £30 per m2.
Artificial grass
Lawns require a lot of work. Although they are a functional and aesthetically pleasing part of any outdoor space, they require frequent mowing, feeding and watering if you want them to stay looking their best.
A neglected lawn can have a huge impact on the look and feel of your garden, leaving it looking unloved, tired and overgrown. With this in mind,why not consider swapping your grass for artificial grass? Offering outstanding durability, versatility and instant aesthetic appeal, artificial grass is also safe for children and easy to maintain. You won't have to worry about using fertilisers or pesticides either.
Do carefully consider what you want from artificial grass before installing. Although it is generally very safe and easy to maintain, artificial grass can reach high temperatures in summer and be problematic for pets and young children in the heat, so bear this in mind.
Depending on the size of your garden and the type of artificial grass you choose, the cost of artificial grass will vary, but you can expect to pay anything from £880 to £1,940 for artificial grass. Prices fitted with realistic grass usually start from around £30 to £60 per m2.
Find a local landscape gardener
How to create a zero maintenance relaxation area
Spread a little mulch
Spreading a layer of mulch can be a great help to trees, shrubs and perennials, especially when it comes to adding important nutrients to the soil. But that's not all. If you're looking to create a low maintenance garden, mulch can help control weeds and conserve moisture, reducing the amount of upkeep your garden requires. Mulch typically costs around £12 to £38 for per m2.

Reduce the size of the planted areas in your garden
Cutting down the size of planted areas in your garden will instantly make your outdoor space a lot easier to manage. But this doesn't mean your garden needs to look bland and boring – far from it!
If you take the time to understand your space, there are a whole host of low-maintenance plants you can use to fill out your garden, including wildflowers. These you can leave pretty much to their own devices in a dedicated area of your garden, which also creates a little haven for wildlife.
Keeping your plants in big pots can prevent them from becoming too big and of course, potted plants are much easier to take care of.
Buying the right plants is an important part of having a low-maintenance garden. Opt for hardy evergreen plants as they will last longer and are easier to manage.
The costs of plants will vary significantly depending on the type, size and where you purchase them from. If you want to keep the budget down, seeds and bulbs are cheaper than pre-grown plants and flowers, but you'll need to spend more time caring for them while they grow.
Introduce shrubs
As we've already said, it is possible to fill your garden with lovely plants that require minimum maintenance. One of the best ways to do this is to swap flower beds and borders for attractive shrubs. You'll be amazed at how much time and energy this will save you!
Good options include lavender, as you only need to worry about pruning it once a year, and geums and geraniums, which only need to be cut once a year.
Additional costs
How much does it cost to dig up a garden?
| Dig up garden costs | Unit | Average cost |
| --- | --- | --- |
| Garden clearance/dig summer | Per hour (team of 3 people) | £68 |
| Additional summer hours | Per hour (team of 3 people) | £50 |
| Garden clearance/dig winter | Per hour (team of 3 people) | £71 |
| Additional winter hours | Per hour (team of 3 people) | £46 |
| Skip to remove soil 35 cubic metres 7 x @£265 large (builder) skip hire | Per project | £265 |
If your garden is in an unruly state to begin with or you need to level out sections (of all) of your garden, then you may need to dig it up. The average cost to dig up a garden varies seasonally, but you can expect to pay around £70 per hour for the work.
When planning your garden project, it's also worth considering the access that the garden excavation team will have, as that can affect the price you pay. If access is poor, it can take a lot longer for them to remove dirt and soil – which will hike up the price. You'll also need to consider the cost of skip hire and disposal of the waste soil and debris.
Outside storage
Storage is always a good idea for any garden space, especially when it comes to keeping your garden neat, tidy and accessible.
From garden sheds and outdoor boxes through to bin stores and log stores, there's a wide range of garden storage options that are ideal for keeping all of your garden tools safe and sound.
A basic garden shed will start from £700 installed (6ft x 4ft Budget Shed on a Simple Slab Base), whereas you can expect to pay up to £1,100 or more for a higher range model.
FAQs
Do you need garden excavation planning permission?
In general, most gardening excavation and landscaping work doesn't require planning permission – including general garden excavation for planting, laying a lawn or patio. That said, there are some occasions when you will need to apply for planning permission, such as:
Garden sheds and outbuildings – Wooden sheds and outbuildings are usually covered by permitted development rights, so you wouldn't need planning permission. However, there are some restrictions:
You plan on using it as self-contained accommodation
The shed or outbuilding has an internal floor area of 30m2 or more
It occupies 50%+ of the land around your property
It's closer to the road than your existing house
It's a large brick outbuildings
Paved driveways – Planning restrictions also apply to paved driveways if it's more than 5m2 and the surface is non-porous. If you're laying or replacing a driveway with a permeable surface (such as gravel, permeable concrete or porous asphalt) that allows water to run through then you shouldn't need planning permission.
Decking – Typically, timber decking won't require planning permission unless it's higher than 30cm above the ground or it is going to cover 50% of your total garden area.
Major landscaping or elevation changes – If you're planning a significant landscaping project, including a significant change to the elevation or slope of your garden then it's sensible to check with your local authority to see if garden excavation planning permission is needed.
If in doubt, speak with your local planning office before starting any excavation work to check if planning permission is required.
What does garden landscaping involve?
Garden landscaping involves bringing together a whole host of elements in order to create a functional and aesthetically pleasing garden space. This might include mixing botanical elements, such as lawns, trees, shrubs and flowerbeds with hardscapes, such as pathways, furniture, decking, fences and water features.
So, what's the difference between landscaping and gardening?
Whereas gardening generally means maintaining and caring for living plants and where they grow, landscaping is all about visualising a space, designing it and then creating it. That means incorporating lawns, trees, pathways, greenery, planting and other features to bring a garden space to life.
Of course, gardens come in all shapes and sizes, which is why garden landscaping prices vary significantly, depending on the work that you are getting done.
Find a local landscape gardener
Good jobs, guaranteed
Get covered when you book with Checkatrade.