How to build a pergola
Create an amazing space in your garden with this guide on how to build freestanding, corner and attached pergolas. With step-by-step tips.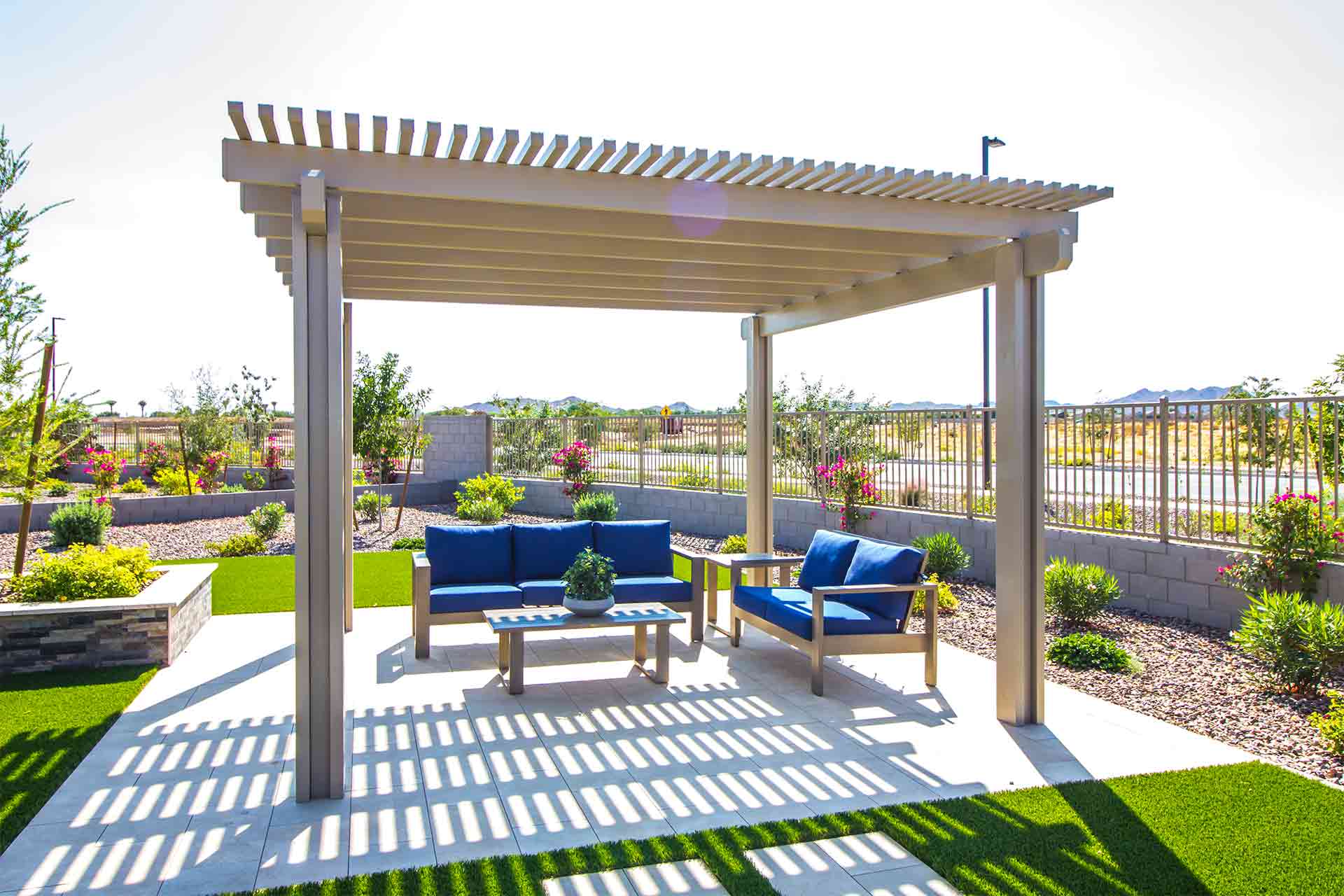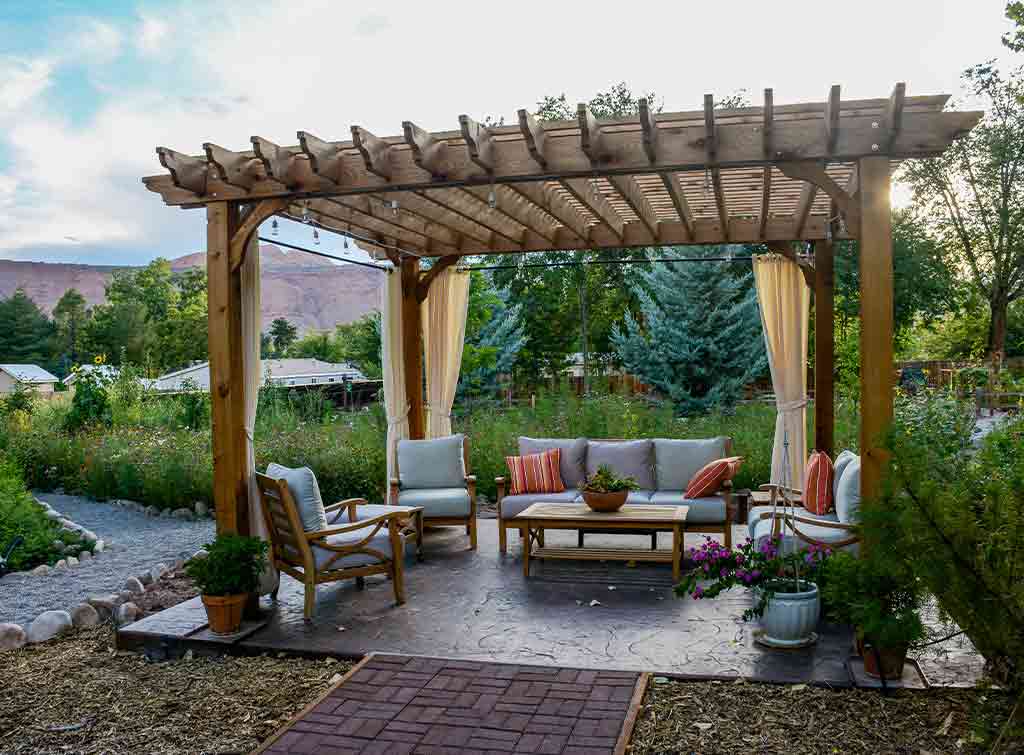 Pergolas are a great place for entertaining, al fresco dining and relaxing in your garden. These beautiful structures are a must-have feature for all seasons and can transform a garden into a tranquil space you'll love spending time in. If you're looking to add a pergola into your own garden, read on for our top tips on how to build a pergola in the UK.
We've got advice on how to build wooden, steel and freestanding pergolas, or a pergola attached to the home.
How to build a wooden garden pergola
Before building a pergola, you should first check with your local authority if you need planning permission. You'll definitely need it if it's at the front of your home or will cover more than half of your land.
You can then move on to securing the materials and building the pergola.
Tools and materials
Pergolas can be purchased in kit form, but you can save money and create one to your exact specifications by building it from scratch. Either way, you'll need the following materials:
Lumber (or pergola kit)
Jigsaw
Wood primer
Wood chisel
Mallet
Drill
Nails
Screws
Spade
Concrete mix
See the tradespeople we've checked and recommend for your job
Step by step guide to building a wooden pergola
Below, we've outlined everything you need to know to build a garden pergola from wood. If you want to know how to build a pergola on a concrete patio, or a steel patio, we have some specific steps in the sections below as well.
Measure the size of the available space, including the width and length. You'll also need to consider how high your pergola can be, for example, if you have trees in the way or any overhang from the house.
Use these measurements to draw a sketch of the design you would like. This should include posts (which hold the pergola up), doubleheader boards (which attach to the sides), crossbeams or purlins (which sit on top), and top stringers (which go on top of the purlins).
Factor into the design anything you want to be placed under the pergola, such as a hot tub or table and chairs. Ensure you have enough space for everything before committing to the design.
Purchase a kit for the desired size, or enough wood to suit the space and the number of posts, doubleheader boards, purlins and top stringers. Top tip: It's worth spending a bit more on thicker wood posts (such as 6 x 6 posts) now so the pergola will last longer. Ensure the planks are straight and have no visible flaws. It's always good to buy a few spares, especially if you'll be cutting it to size yourself.
Next, lay the wood out flat in the desired area to ensure it fits nicely. If you need more wood, or anything is too short, get the correct materials before proceeding. If everything is correct you can then cut the wood to size, or even add decorative touches such as carving shapes into the purlins.
Paint the cut ends of the timber with a wood primer.
Use a saw, wood chisel and mallet to carve notches into the header boards where the purlins will sit. These must be very carefully measured and lined up to ensure the purlins are straight. They must also be tight enough that the purlins won't shift.
Lay two posts and two header boards on the ground. Once you've got them positioned right and level to create an "n" shape you can drill the boards into the posts. This can be done by drilling pilot holes and using nails, or screws. Repeat this step for the other side of the pergola and any further posts.
Dig post holes in the ground in line with the posts. Set the posts in place and use temporary supports to hold them there.
Once the posts are in place and you're happy with their positioning you can concrete them in place. Leave them for 48 hours before continuing.
You can then slide the purlins into the notches we made earlier.
Place the top stringers on top and screw or nail them in place.
For added security, add bracers, which are pieces of wood that connect from the posts to the purlins to form a triangle shape.
Following the above steps will provide you with a pergola that's strong, stable and will last for many years. If you've struggled with any of the above stages, get a professional in to ensure that your pergola is the best it can be.
See the tradespeople we've checked and recommend for your job
How to build a pergola on a concrete patio
Instead of concreting the posts in the ground, you can anchor the posts to an existing concrete patio. This will allow you to make the most of an existing feature or turn an unused patio area into a new space for relaxation.
You can even dig below the patio or other surface and cement in the posts for added security, or if you have uneven surfaces. Be sure to check for any pipework or utility lines if you are digging down.
Instead of buying concrete for the above steps, you'll need to get the following:
Post anchors
Drill with masonry drill bits
Plastic dowels and lag screws
You can then follow the steps in the 'How to build a garden pergola' guide until you get to step nine. At this point you should:
Ensure you're working with a flat, level section of concrete that covers the entire area of the pergola. If it's not level you'll need to buy adjustable post anchors.
Lay the posts flat on the ground and mark where the bottoms touch the floor. This is where your post anchors will need to go.
Drill holes for the post anchors using the drill with masonry drill bits.
Next, install the post anchors into the concrete by using plastic dowels, a mallet and lag screws.
Place the posts into the post anchors. You may need to use the mallet to drive them in, so it helps to have an extra person for this bit to hold the posts in place.
Secure the post into the post anchor and you're all set to continue from step 10 in the above guide.
Choosing from freestanding or attached pergolas
If your concrete patio or grass goes all the way up to your home then you may choose to attach the pergola to your house for added stability, or to offer a shaded area as soon as you step outside. To help you decide, let's take a look at how to build a pergola attached to the house, corner pergolas, and freestanding pergolas.
If you're thinking about installing a shade sail, take a look at our shade sail planning guide.
How to build a pergola attached to the house
For extra security, many choose to attach their pergola to their homes. This is also a useful option if you don't have the space for all four posts, as you can use the wall of the house to replace two of the posts. This is typically known as a wall leaning pergola or lean-to pergola.
If this is the type of pergola you'd like it's imperative you make the connection to your home as solid as possible. Or you'll be faced with an unstable pergola that could injure you or damage your garden and home.
To build this type of pergola you'll need to attach a strong ledger board to the house and install the posts before attaching the header boards. Once these are in place you can attach the header boards, purlins and top stringers.
How to build a freestanding pergola
Freestanding pergolas are ideal if there is no grass that reaches the walls of your home (for example, if a patio runs from the edge). Plus, they're the perfect way to build a separate area where you can get away from it all and enjoy your garden.
We've covered the steps for building a freestanding pergola in our above section, so if you've followed along this far, you're already in a great position to build one.
See the tradespeople we've checked and recommend for your job
How to build a corner pergola
Corner pergolas are ideal for those short on space, or who would like a pergola in the corner of their garden. They are built in a similar way to the example we've shown above with the main difference being that you'll use three posts instead of four.
As you no longer have the stability of creating two 'n' shaped sections, it's easier for this project if you cement the posts in place, wait 48 hours and then attach the header boards, purlins and top stringers. You'll also need to get the purlins and top stringers cut so that they start small and get longer as they go from one end of the pergola to the other.
How to build a steel pergola
We've looked at how to build a wooden pergola above, but what about a steel pergola? Well, there are a few extra things to consider:
Ensure the steel is treated so that it will be protected from rust and corrosion.
Steel pergolas are stronger than wood, but also heavier so you may need more assistance with installing the pergola.
Using steel greatly reduces the risk of fire.
Construction is similar to wood pergolas – cut the pieces to size, attach them together, install the posts and ledger board, then fit the top sections. The only difference is the type of screws and bolts needed.
If you're at all unsure, then it's best to get a professional in.
How to install pergola roofs
Whilst we've focused on open pergolas above, there are different types of roofs that can be added to protect you from the elements or turn the space into a gazebo. These include:
Gable pergola: A gabled roof is raised in a triangle shape, similar to a normal house's roof. It's aesthetically pleasing, allows water to run off, and creates a space that feels larger. To build a gabled pergola you need to construct and attach two roof faces that form in the middle to create a triangle.
Flat roof pergola: For a simple solution, a flat roof pergola can be achieved with a minimal budget. Clear plastic roofing panels can be quickly installed with a few screws, creating a waterproof space. Or, you can add flat wooden panels in a similar way.
Covered pergola: There are many other ways to cover a pergola, including plants, sheet wood, tiled roofs, drop cloths, vinyl, straw, fabric, curved roofs and a whole lot more. Our garden patio idea and gazebo idea guides have some great examples.
How much does a pergola cost to be installed by a professional?
Now you know how to build a pergola, you may feel a little outside of your comfort zone. It's a tricky job, with lots of heavy materials, working on ladders and precise cutting/measuring. There are also many occasions where you'll need an extra person to help out.
Plus, if you get it wrong you can waste a lot of materials or have an unstable structure that could cause significant damage. If you're not confident with DIY it's worth considering hiring a professional.
Pergolas range in cost from £400-£6,000, with labour costs of around £200 per day. Our pergola cost guide covers all the options in more depth, or you can find a trusted tradesperson in our comprehensive directory.