Last updated on February 22nd, 2023
How much does it cost to install bifold doors?
Bifold doors are a great way of bringing the outdoors in, and adding lots of light to a space. Read on to find out how much to budget for your project.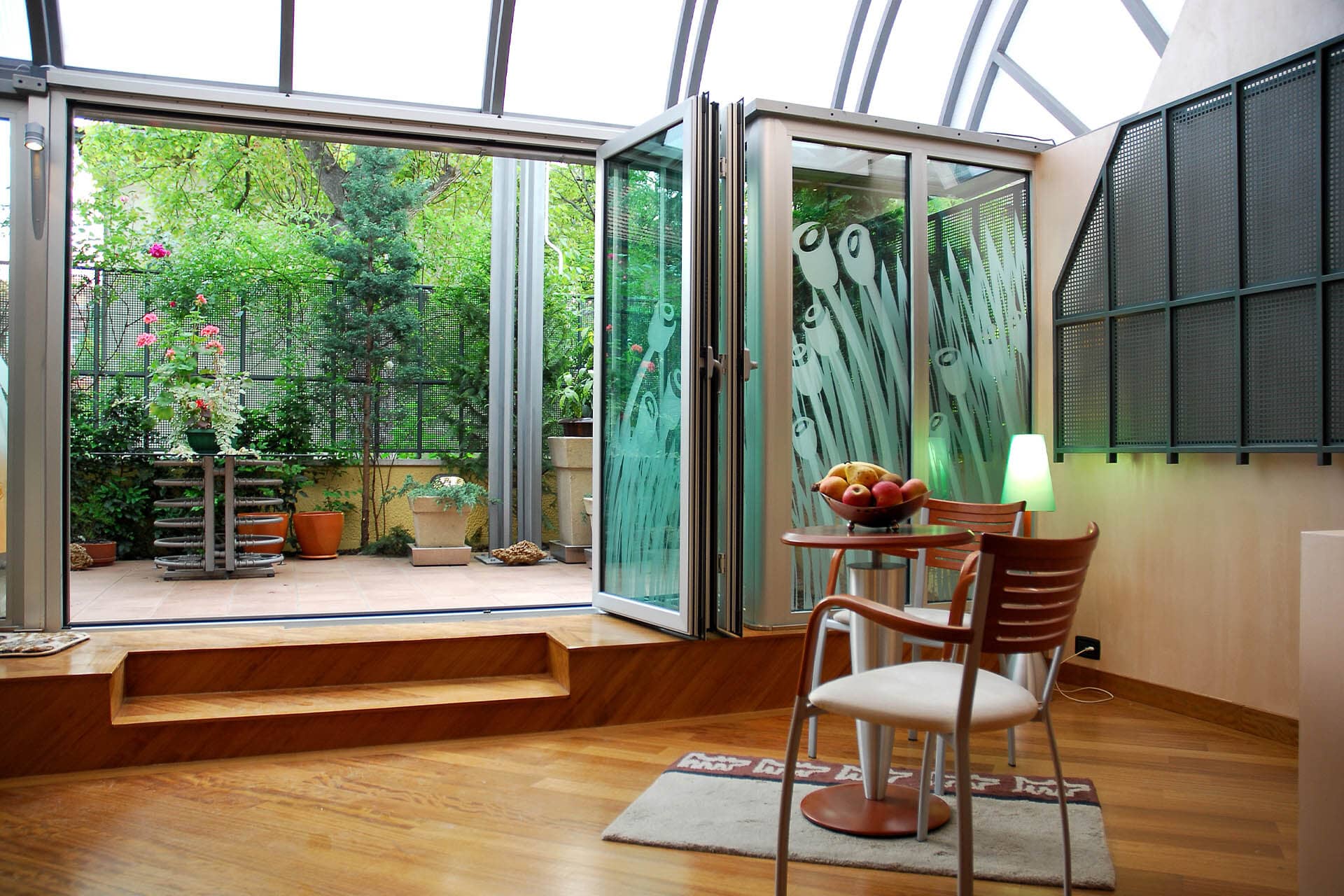 Making the decision to install bifold doors can be confusing and complicated due to the wealth of information available, but it's well worth it for the transformation it provides to your living space.
This guide covers the different options and their pros and cons, a breakdown of the cost to install bifold doors and the factors that affect them, plus handy tips to help you take the next step towards your perfect home.
Bifold doors offer a multitude of benefits throughout the year when they're both open or closed:
During colder months they flood your inside space with light and give excellent views of your garden
During warmer weather, you can open up a whole wall of your home. This not only allows fresh air to fill your home but seamlessly blends inside and outside to create an extended living space
Other reasons to install bifold doors include adding value to your home, replacing damaged or old doors, or even saving space compared to other doors
All in all, bifold doors are a wise choice and offer so much in terms of aesthetics and practicality.
How much does it cost to install bifold doors?
Bifold doors are becoming more and more popular for their stylish, classy appearance and as an energy efficient, easy to maintain entryway option. As such the cost to install bifold doors is a little more costly than other options, but they are definitely worth the investment.
Door type
Cost + VAT
(Range low - high)
Average cost
Aluminium doors (supplied and installed)
£3,000 - £7,500
£5,000
uPVC doors (3 - 5 panels), supplied & installed
£2,000 - £4,500
£3,000
Timber doors (3 - 5 panels), supplied & installed
£2,500 - £5,500
£4,000
Cost of installing bifold patio doors
From £600
Labour costs (Small to Large door)
£600 - £1,200
£800
The average price to install bifold doors is £4,000.
The average time to install bifold doors is usually one day.
What is the best material for bifold doors?
The most common material types used for bifold doors are uPVC and aluminium however composite and timber options are available too. Each material has its own benefits and we have compiled the following list to help you choose the perfect door for you:
Aluminium
If aesthetics are important to you, aluminium doors are the best option. With a modern, chic appearance, these bifold doors need little maintenance but can be expensive. Furthermore, they are energy efficient and extremely strong.
The cost of aluminium bifold doors with 3 – 5 panels ranges from £3,000 - £7,500.
Related guide: How much do aluminium sliding doors cost?
uPVC
The cheapest option and perfect for those on a tight budget. uPVC doors are durable and available in a large choice of colours and styles.
The cost of uPVC bifold doors with 3 – 5 panels ranges from £2,000 - £4,500.
Timber
Although difficult to maintain, as is the norm with most wooden products, timber doors bring a natural style and complement older properties well. It is essential to regularly paint or treat timber doors to ensure they stand up against the elements.
The cost of timber bifold doors with 3 – 5 panels ranges from £2,500 - £5,500.
Composite
These doors are made from a combination of two other materials. As such composite bifold doors can be stronger, more durable and easier to maintain than other options.
Factors affecting the cost to fit bifold doors
The above table includes average costs to install bifold doors, however, the actual amount you will pay is impacted by a number of factors that we have summarised below:
Material – As we have discovered, the material that bifold doors are made with will largely affect the overall cost. For example, aluminium doors are much more costly than uPVC doors
Number of panels – Bifold doors are sold with differing numbers of panels depending on the size of the doorway you have. The more panels you need for your space, the higher the cost will be
Width and height – These doors are designed to fit in most spaces and as such are sold in different heights and widths. The larger your doorway, the more the cost to install bifold doors will be
Quality – Not every bifold door is created equal so choosing the right door will depend on your requirements and your budget. In general, the higher the quality of the bifold door, the higher the overall amount you will pay
Ease of access – With any installation that has difficult to reach areas, the cost will be greater than the average
Time – An important consideration is the time the installation takes. For more difficult or larger installations more time will be needed. As such this will increase the labour costs

What's the labour cost to fit bifold doors?
When fitting bifold doors, tradespeople usually work in pairs as the job can be arduous and difficult for a single professional to do correctly. Labour costs will widely vary due to the size of the door, the type of door and the time required.
The average labour cost to fit bifold doors is £800.
Can I install bifold doors myself?
When undertaking a job of this magnitude it is essential to ensure you have the skills to complete the installation. You should consider the following factors when making the decision whether to install bifold doors yourself:
Weight of doors – Large panels of glass are very heavy and if dropped may shatter, so a certain level of physical strength is crucial. Even professionals will often work in twos to ensure they can correctly install the doors
Difficulty of installation – Installing bifold doors is not a simple job. As such, anyone wishing to attempt this must have an in-depth knowledge of the process
Potential for injury – When working with these heavy, large objects there is a high potential for injury caused by dropping the glass panels
Damage to surroundings – If bifold doors are not correctly and safely installed they may fall and damage any object in the vicinity
Finish – When properly installed bifold doors look stylish and chic plus offer high security, however, if not properly installed the appearance and security of your home will be compromised
As the safety of you and your family is crucial and with the high potential for damage and injury, it is strongly recommended that you hire a professional.
To find a local, reputable, tradesperson in your area and get a personalised cost to install bifold doors use our free search feature.
Key takeaways for bifold door installation
Bifold doors are available in timber, uPVC, aluminium and composite options
Installation usually takes one day but can take longer for larger doors
The cost to install bifold doors depends on many factors such as the number of panels, type of material and time needed
Installing bifold doors is a tricky and dangerous job for those without proper training so it is recommended you do not install bifold doors yourself unless you are qualified
See the tradespeople we've checked and recommend for your job