Relaxing with a cold drink following a long day is a fantastic way to let off some steam and recuperate. Unfortunately, visiting a bar or pub is not always possible, so what is the solution? Our garden bar ideas will help you to design a stunning, functional bar in your own outside space.
Convenient, and a popular choice during the pandemic, a home bar is the perfect way to unwind in your own back garden. Whether you are looking for themed garden bar ideas or ways to maximise space for a small bar, keep reading to learn more.
Themed garden bar ideas
If you have spent time and money investing in a beautiful garden, why not take the time to design a bar that complements your outside space. Choosing a theme opens up a whole world of possibilities as well as creating a visually stunning effect.
Below, are the most common themes people choose for their garden bar:
Tiki bar
Nautical bar
Gin bar
Traditional pub
Cocktail bar
Optional extras to create a functional garden bar
Adding finishing touches and extras to your outside bar is essential to create a functional, aesthetically pleasing bar. If you are unsure what to include in your finished project, the following garden bar ideas are all great additions:
Draught beers and lagers
Lighting
Storage for snacks and glasses
Seating
Themed decorations
Personalised signs
Work with a builder for your dream space

Small garden bar ideas
While your outside space may be limited, there are many small garden bar ideas that can allow you to still design a great chillout spot. Ways to save space and make the most of your garden no matter the size include:
Instead of tables and chairs, use bar stools to allow guests to sit at the bar itself.
Consider converting an existing current shed or summer house into a bar. This would mean no extra space would be needed, while converting a disused structure into something practical and fun.
Use consistent colours to create a cohesive finished look. This can make your bar appear more streamlined and less bulky.
DIY garden bar ideas
If you are planning to build the bar yourself, this can be an exciting process. Having said that, you will need to learn new skills and ensure that you are always taking the proper precautions. When it comes to DIY garden bar ideas, the sky is the limit.
You can truly customise your outside bar to your requirements and when finished will have a unique structure that works for you. Below are a few excellent garden bar design ideas:
Use a mini fridge to keep drinks cool during hot weather.
Use your creative skills to create a unique bar. Incorporate signs, a design theme and fun extras like lighting.
After building the bar as a DIY job, consider buying decorations to save time and create a fantastic aesthetic.
Alternatively, if you want something custom made, then view our carpentry prices guide.
Outdoor garden bar ideas
An outdoor bar is a perfect choice for lazy summer evenings with friends. With your favourite drinks and snacks at hand, you can create a stylish, social space for guests without needing to go out to a bar or pub.
By implementing the following outdoor garden bar ideas, you can be sure your bar will be packed full of friends and family every weekend:
Use different types of lighting to create a magical space no matter the time of day. Choose from fairy lights, recessed lighting and even solar-powered lights.
Use waterproof seating options to prevent water damage on rainy days. This will prevent the need to store all your furniture away during every little rain shower.
Consider adding heating in the form of a fire pit or hot lamps for cooler evenings.
Inspirational garden bar ideas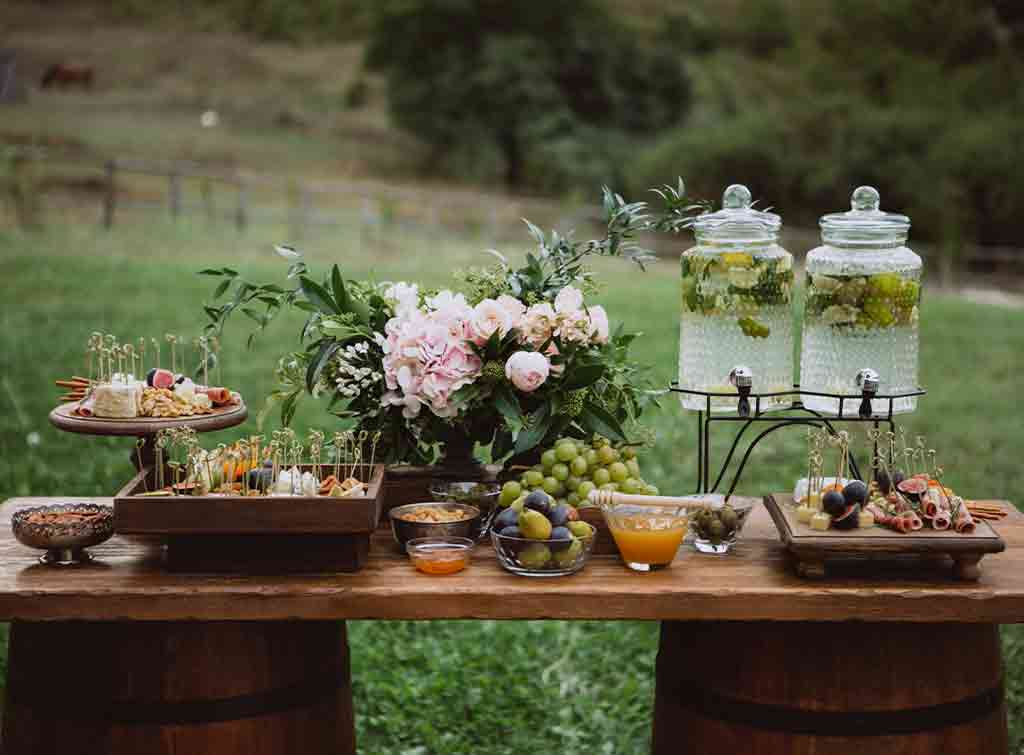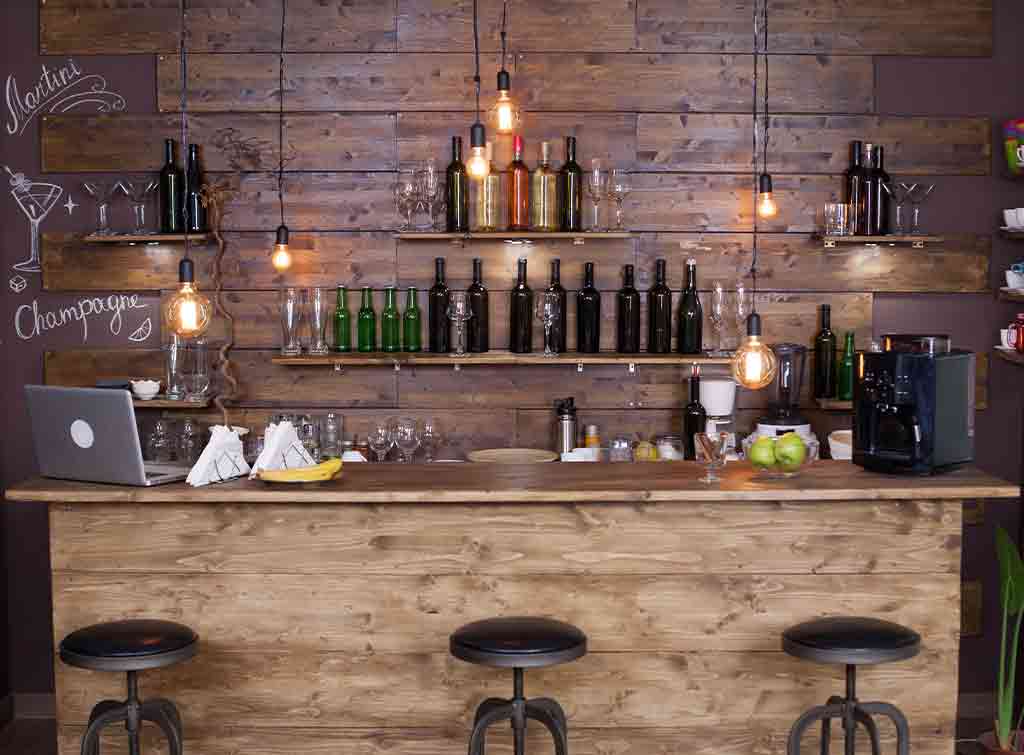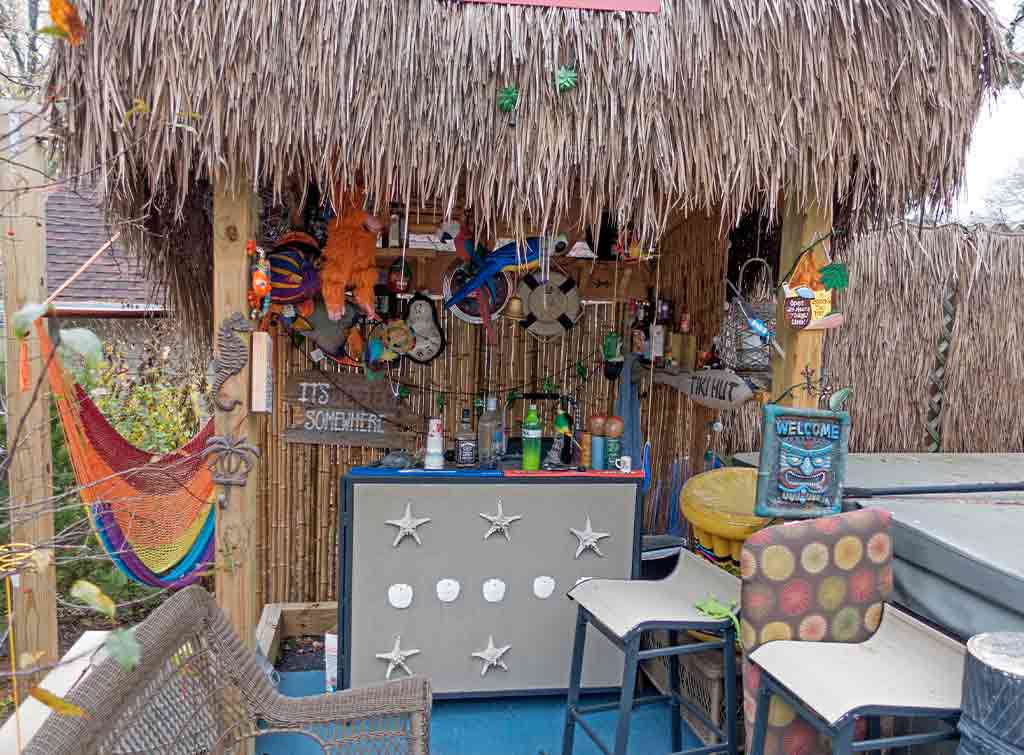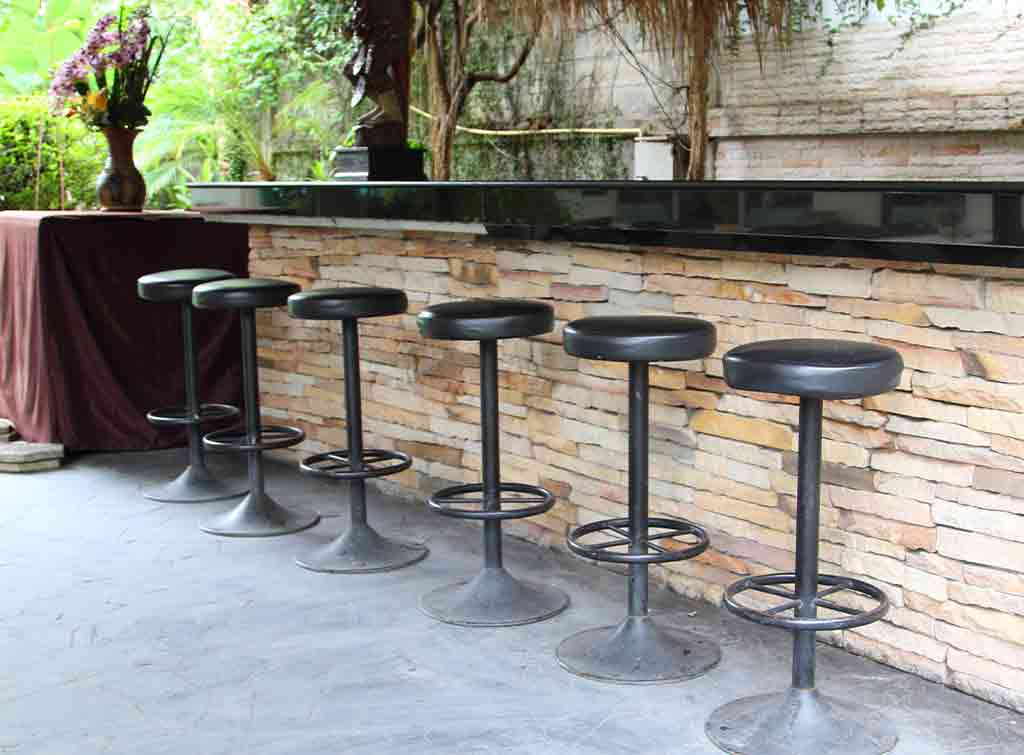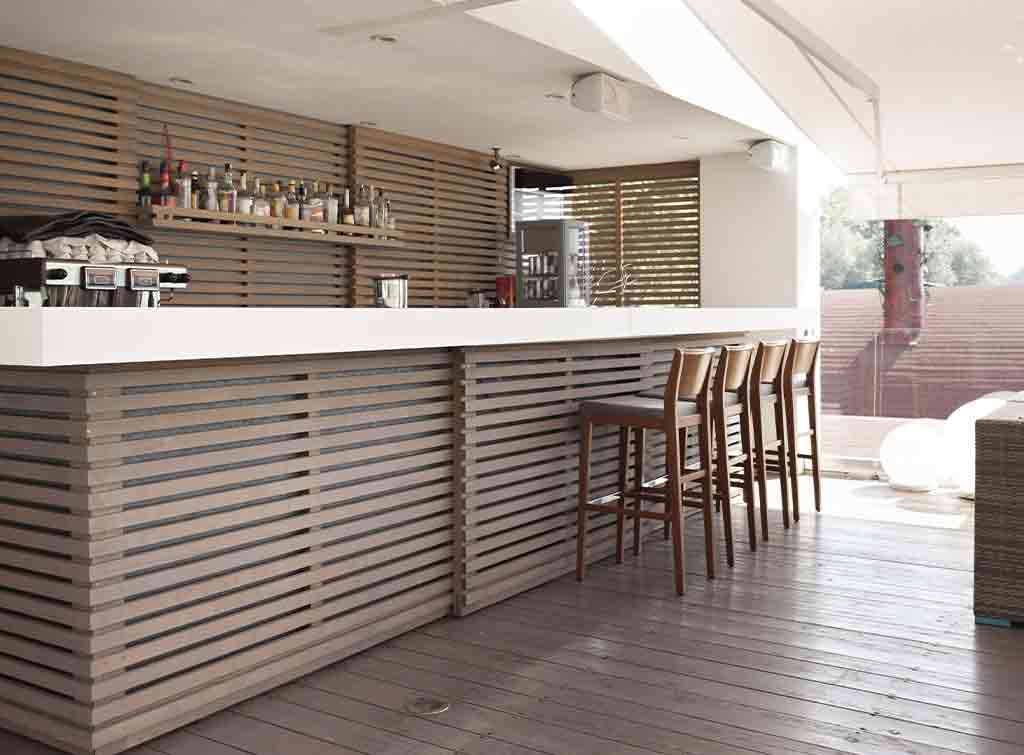 Compact garden bar
For homes with smaller outdoor areas, this garden bar would fit perfectly. Two recycled barrels have been used to support a wooden plank, making a unique seating area. Not only is this a compact solution, it looks fantastic and can be easily stored during winter months.
There is even room for snacks, drinks and decorations, making this an excellent choice for those with limited space.
DIY garden bar
This home bar looks professional and has a vintage finish. Despite the great aesthetics, this is something that could be done as a DIY job. Using a small structure like a garden shed with one wall removed, you would just need to construct a bar from wooden planks and put-up shelves to finish.
Once you have constructed your bar, adding personalised decoration like the writing in this image can be the perfect finishing touch. So why not start planning today?
Or, find a specialist by reading our shed conversion cost guide.
Themed outdoor garden bar
Not all homes will suit a stereotypical bar and this is a great opportunity to play around with fun themes. Here a nautical, tiki theme has been used to create an authentic garden bar in a small space. Bamboo and reeds have been brought in to replicate the tiki theme with brightly coloured decorations.
This compact bar would fit into most gardens and you can add any existing garden furniture to provide seating and save on costs.
Outdoor bar seating
There are many different seating options for garden bars, including plastic, wooden or metal chairs, stools, and benches. In this picture a sophisticated bar has been installed into the garden of a lucky homeowner.
If you can, it helps to match the seating design with the style of the bar. In this example, the brickwork and a shiny black contemporary counter mean the bar wouldn't look out of place in any garden, no matter the style. The black stools perfectly complement the counter tops and add authenticity.
Impressive garden bar
This bar looks like it is straight out the pages of a professional design magazine! A place for relaxation and socialising, a modern bar has been constructed using slats of wood with an elegant, deep counter.
With the addition of a coffee maker and a fridge, plus a range of different drink options, this bar could work in a large garden or even a professional setting.
Work with a builder for your dream space
Tell us what you think
What others think of this cost guide:
Need More Information?
Related posts