Consider elevating your landscape with these exciting garden steps ideas. First of all, make them a feature for greater aesthetic appeal. Secondly, use stylish finishes and exciting material combinations to help them stand out. And finally, choose complementary designs to turn your garden from 'no' to 'woah!'
Garden steps ideas to consider
Try to integrate and match your plants, accessories and furniture with your stair design.
Safety over style! Above all, make sure your stairs are sturdy and fit for purpose.
Seek professional input to ensure a clean and safe finish.
Complex designs with strict design specifications require a stair installation expert.
Take a look at our landscaped garden ideas for further inspiration.
See the tradespeople we've checked and recommend for your job
Like what you see? Thankfully, there's more where this came from. Check out Checkatrade's blog for more tips, ideas, how-tos, and inspiration.
Garden steps ideas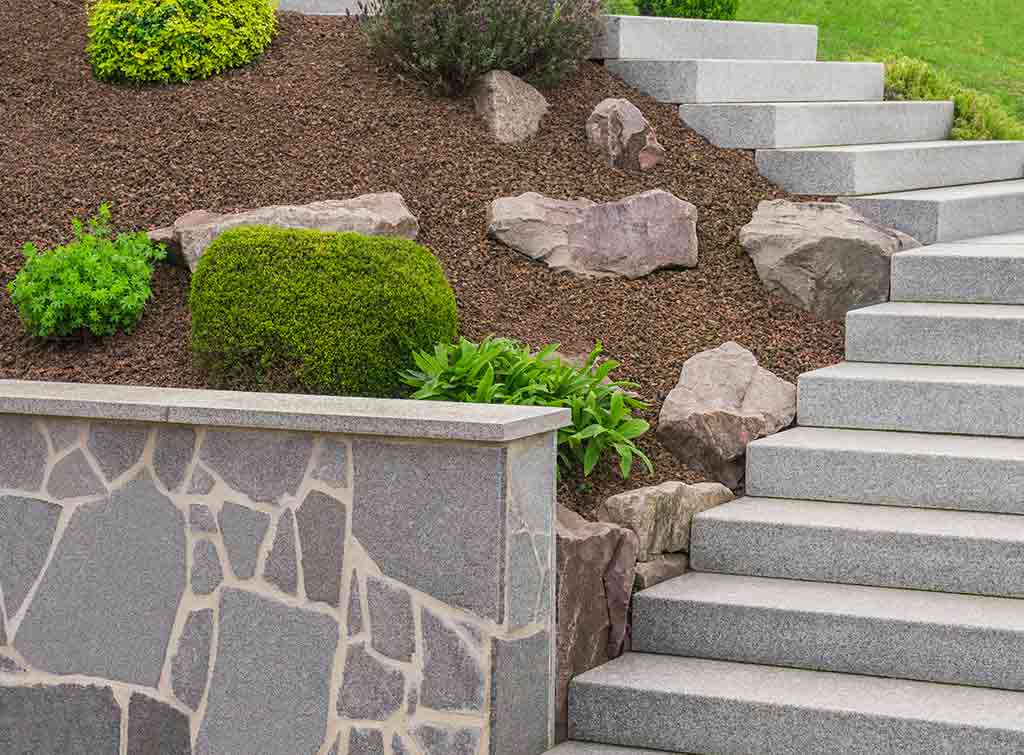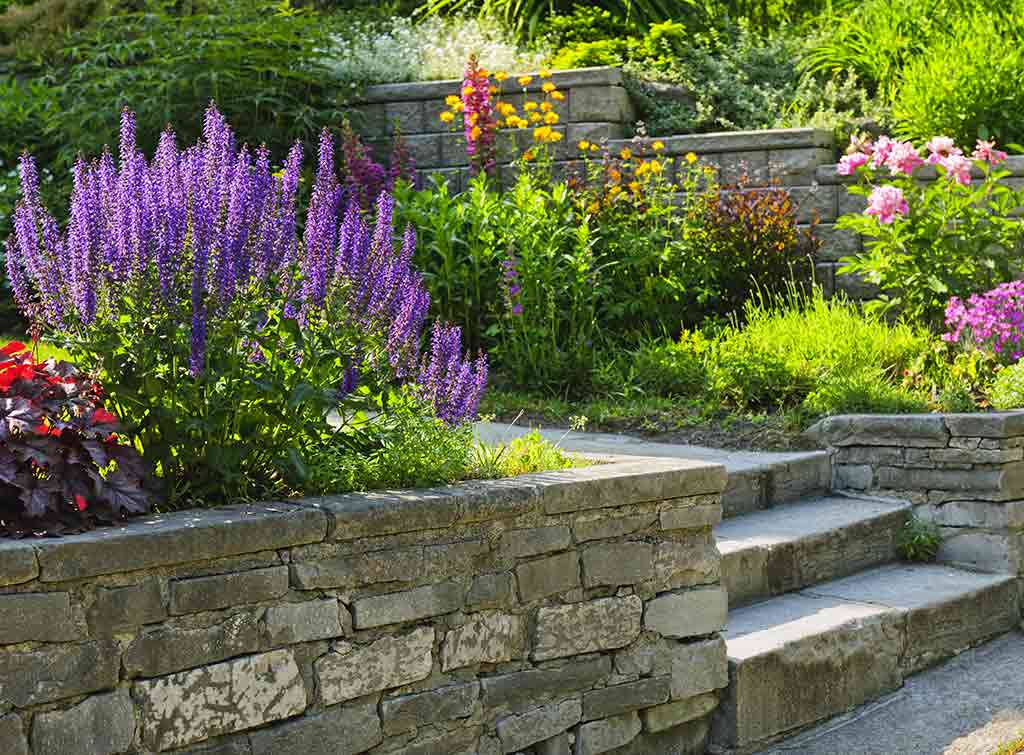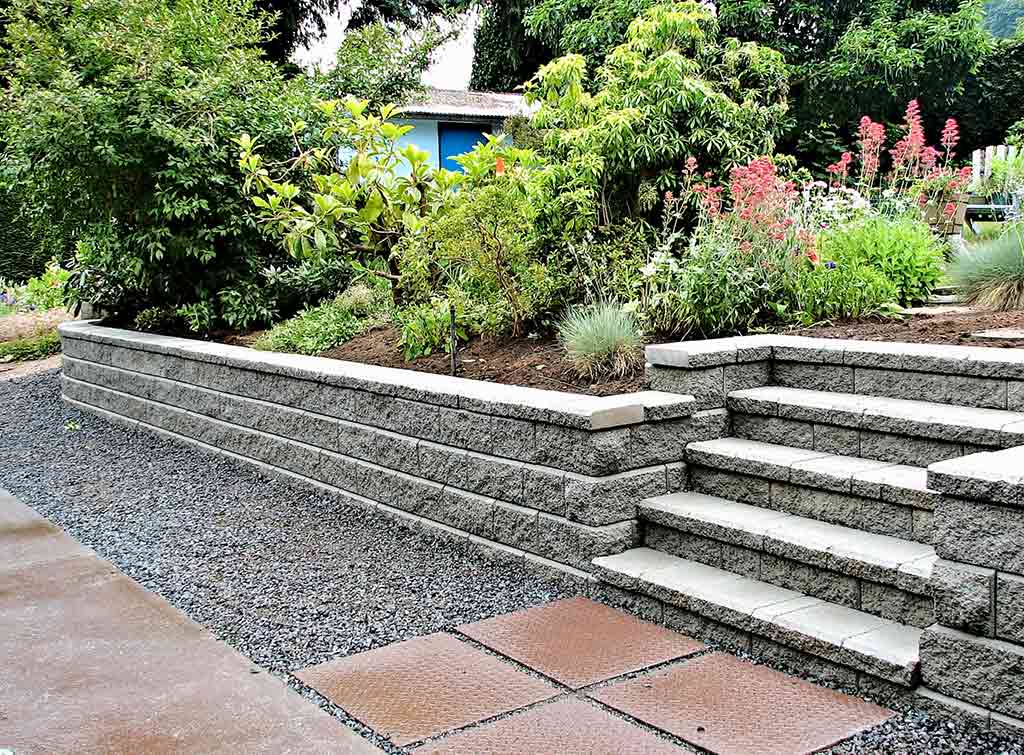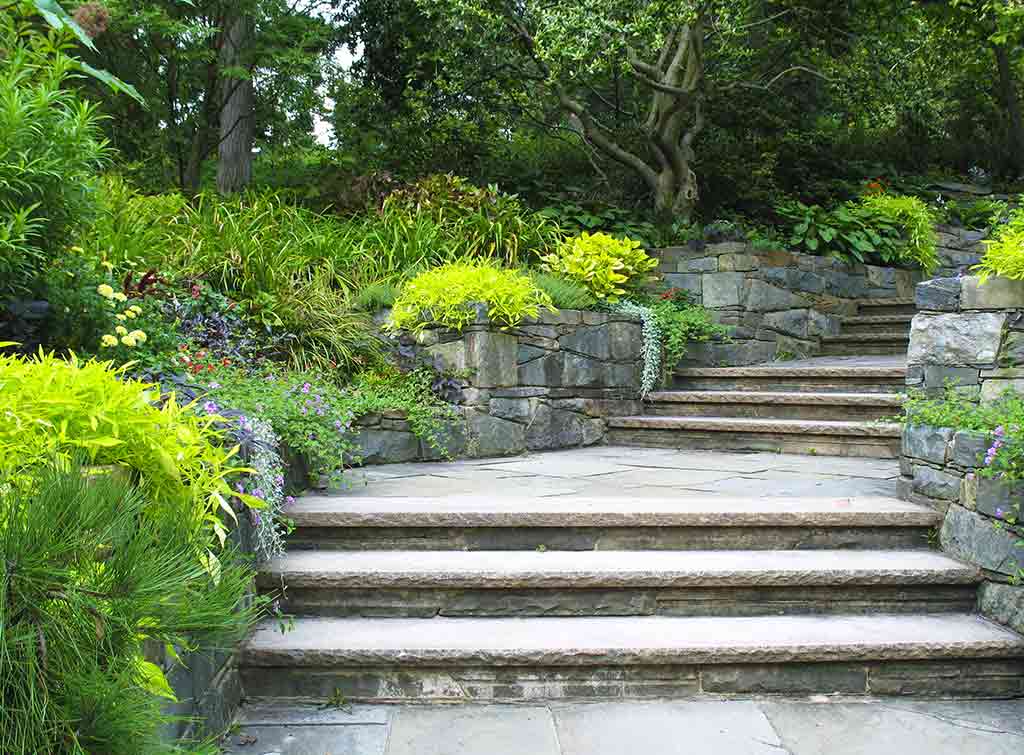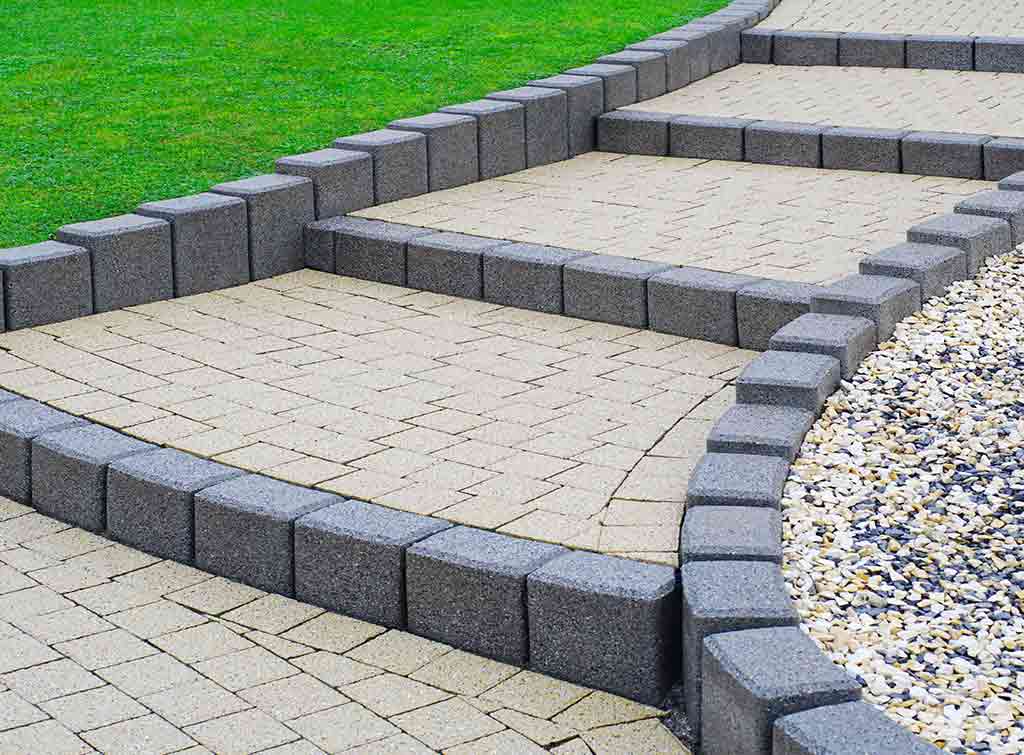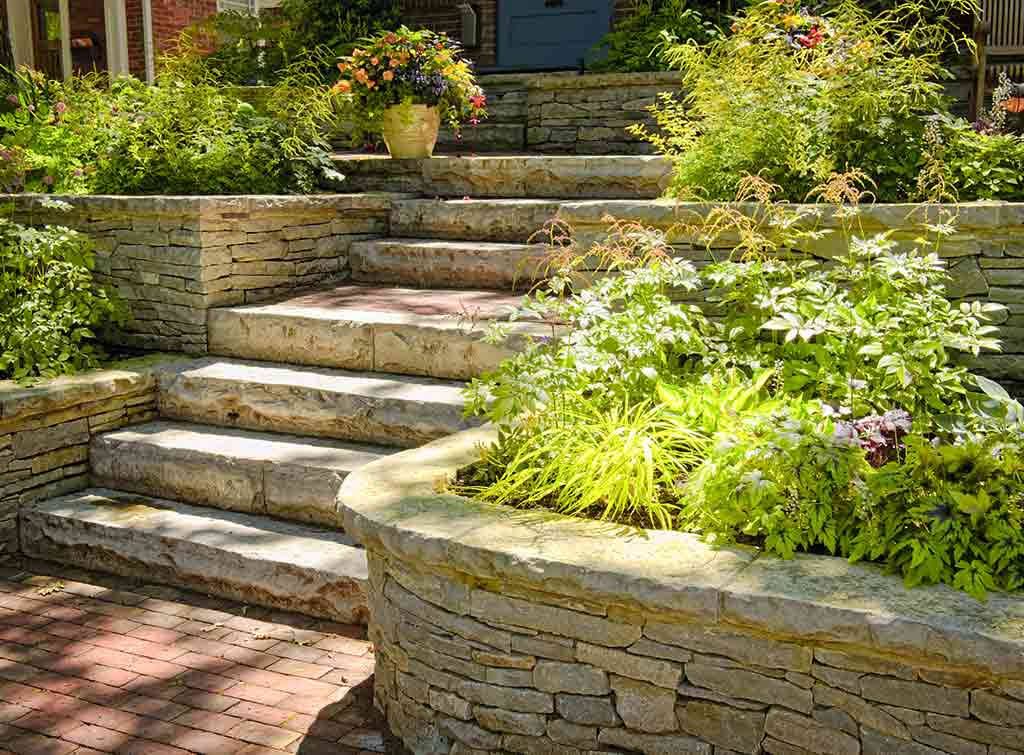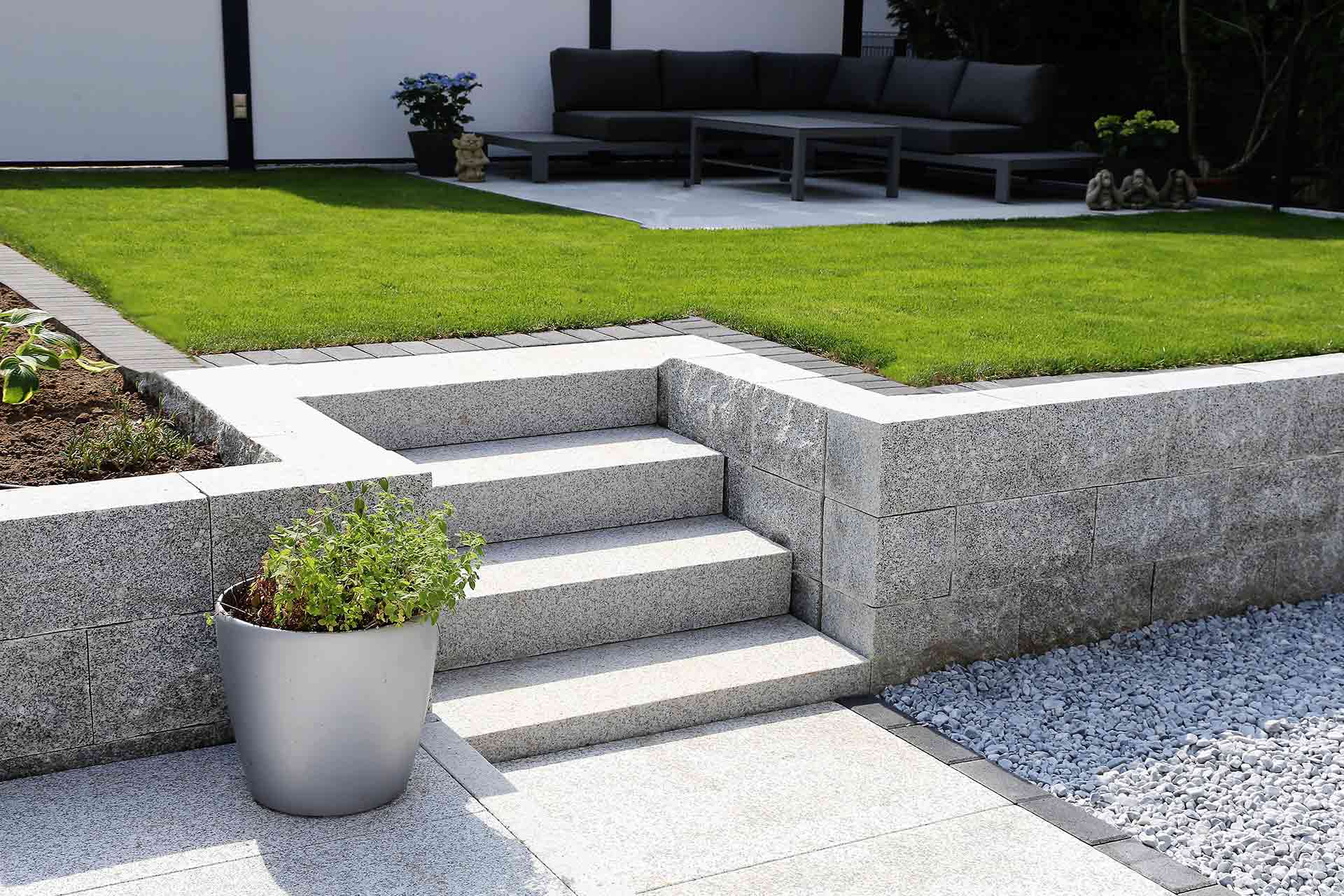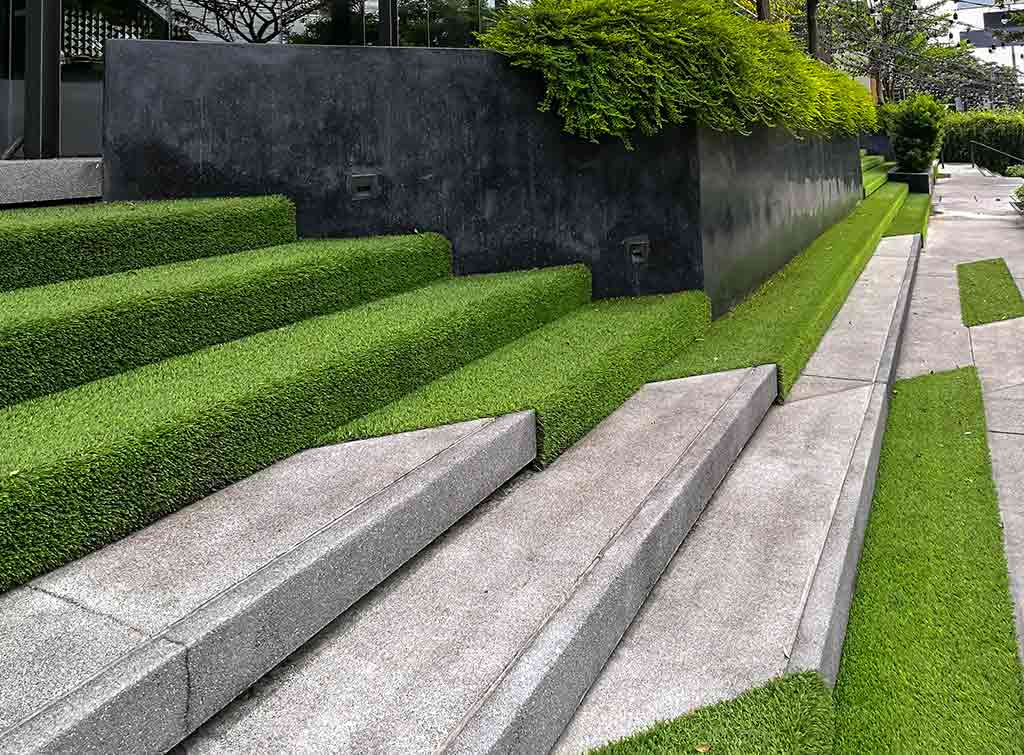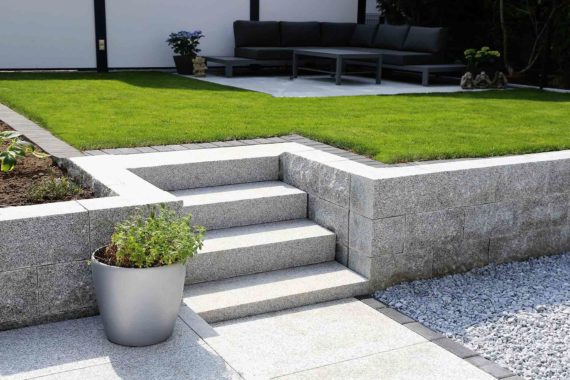 Garden steps ideas
These minimalist garden steps are seamlessly built into the surrounding landscape. Made from granite, which is a hardwearing and stylish material perfect for nature, they stack together beautifully as they lead the eye upwards.
What's great about this design is how the homeowners are still able to enjoy their steep garden – both aesthetically and practically. The lawn on one side is perfect for sunbathing, while the chip and mulch perennial patch and rockery is a stylish accompaniment to the overall look.
Finally, the granite stone wall effortlessly finishes off (and secures!) the design.
Garden steps design ideas
This cottage-chic garden uses gorgeous stone bricks to create the walls and steps we see here. Choosing to keep things rustic and natural is both a low maintenance and effective design choice. It lets the natural materials do the work without overpowering the garden, while the resulting ledges are perfect for adding in interest such as garden furniture or plants.
These border plants are vibrant and striking. They're also bee-friendly, which means the homeowner can bask in the glory of their biodiversity credentials! Lavender, roses, plum puddings, and St. John's Wort are just some of the species seen here. Why not incorporate a few in your garden and reap the benefits?
Garden patio steps ideas
This stone and concrete staircase is incorporated into a block retaining wall with steps leading into a lush landscaped garden. We love how the wall matches the grey gravel path, while the brown patio slabs contrast effectively – matching the soil in the plant patch atop the raised garden.
Finishing the look with trees, shrubs, lupins, and various other garden plants creates a nice separation from the patio and the garden, offering a lush lined invite up those textured steps!
Why not get the look by hiring one of our professionals?
Stone garden steps ideas
Create a walkway with your garden steps. This wide and shallow stone design takes up most of the sloped garden for an elegant and ethereal finish.
We love the stone slab walls that rise up either side of the steps. The mottled effect adds interest and character, while the verdant plants inject this garden with colour and energy.
Get the look by hiring one of our professionals today!
Brick garden steps ideas
This clean and striking step design uses three key elements to create the look:
Symmetry
Simplicity
Texture
Granite grey bricks are used for edging and framing the steps, while limestone bricks are used to fill the frames – cut to fit the curve of the steps as they wind upwards.
On the left of this garden is a lush green lawn, while on the right is a gravel path with stones that match the steps. The result is a low maintenance and classic finish that remains aesthetically pleasing throughout the year.
Front garden steps ideas
Your front garden is the first thing people see, and if you live on an incline or atop a steep edge, then incorporating a stunning step design leading up to your front door is essential.
We love this beige stone example. Starting with a red bricked patio that leads up to the first set of steps, which are bordered by raised plant beds, the pattern repeats itself three times before you reach the front door.
This creates a symmetrical, verdant and welcoming first impression that benefits both the local wildlife and your guests, who are given a sensory treat whenever they visit!
How to build garden steps ideas
When it comes to building your own garden steps, the first thing to do is work out your dimensions. Next, you need to check whether you're able to level out your garden so you can have two flattened layers like this contemporary design.
Finally, what do you want to use your garden for? If you'd like to sit out in the sunshine, why not incorporate steps that lead onto a patio area? If you want to grow food or flowers, why not add some wide set steps that allow you to build raised beds either side of them?
When you've decided on the kind of design you're looking for, consider what materials work best and suit your house. Your aesthetic should match your home to avoid clashing decor. For example, a contemporary garden next to a cottage would look out of place.
Turf and stone garden steps design
These stone steps incorporate fake grass for a clean and minimal aesthetic. Cutting the steps in half like this easily creates interest without overpowering the space.
Turf is a low maintenance and easy to install material that stays the same all year round. If you like the look of grass on your steps but want them to remain safe even in wet or cold conditions, opt for a short-pile turf that's easy to clean and salt when the temperature drops.
Get the look by hiring one of our professionals today!
See the tradespeople we've checked and recommend for your job
Tell us what you think
What others think of this article:
Need More Information?
Related posts