It's the time of year when many of us start to think about getting our gardens into shape for the warmer summer months.
If you want to give your garden a whole new look, adding a water feature is a great way to transform your outdoor space. The sight and sound of water in motion can be incredibly soothing, and a water feature also creates a focal point and an air of relaxation.
But what does a water feature cost?
If you're looking to take the plunge with a water feature for your garden, here's our guide to the average costs.
| Example water feature type | Low Range | High Range |
| --- | --- | --- |
| Small garden pond (includes labour) | £600+ | £800+ |
| Pondless waterfall 6ft | £8,500 | £10,000+ |
| Fountain | £30 | £222+ |
| Drilled rock water feature | £500 | £950+ |
| Rills | £800 | £5,000+ |
| Stainless steel water feature | £60 | £2,000+ |
| Resin water feature | £65 | £2,000+ |
| Glass water feature | £880 | £10,000+ |
| Granite water feature | £99 | £2,700+ |
| Labour rate for installing water feature (Per day) | £200 | £300+ |
The most popular water features
From ponds and streams, through to fountains and waterfalls, there's a water feature to suit every garden or patio, and virtually every budget.
These are some of the most popular types of water feature:
Ponds
When you think of a garden water feature, a pond is probably one of the first things that springs to mind. A pond will create a lovely natural space in your garden, where you can enjoy the relaxing sound of gently trickling water.
A pond is also a great option if you want to encourage more wildlife in your garden – so expect visits from frogs, toads, birds and insects. You could even give some fish a home in your pond!
Ponds are relatively easy to install. The process usually involves digging a hole that's the right size and depth, lining it with a specialist pond liner and filling it with water. If you want to take your pond to the next level, you can then introduce fountains, pumps, rockeries and decorative touches.
Of course, if you're thinking of adding a water feature to your outdoor space and you have children or pets, you need to be very careful. A pond may not be the best option for you.
The cost of a pond will vary significantly depending on all sorts of factors, including the size, depth, existing conditions and more.
Smaller garden ponds typically start from £600+ (includes labour) and increase from there.
Find a local water feature specialist
Self-contained water features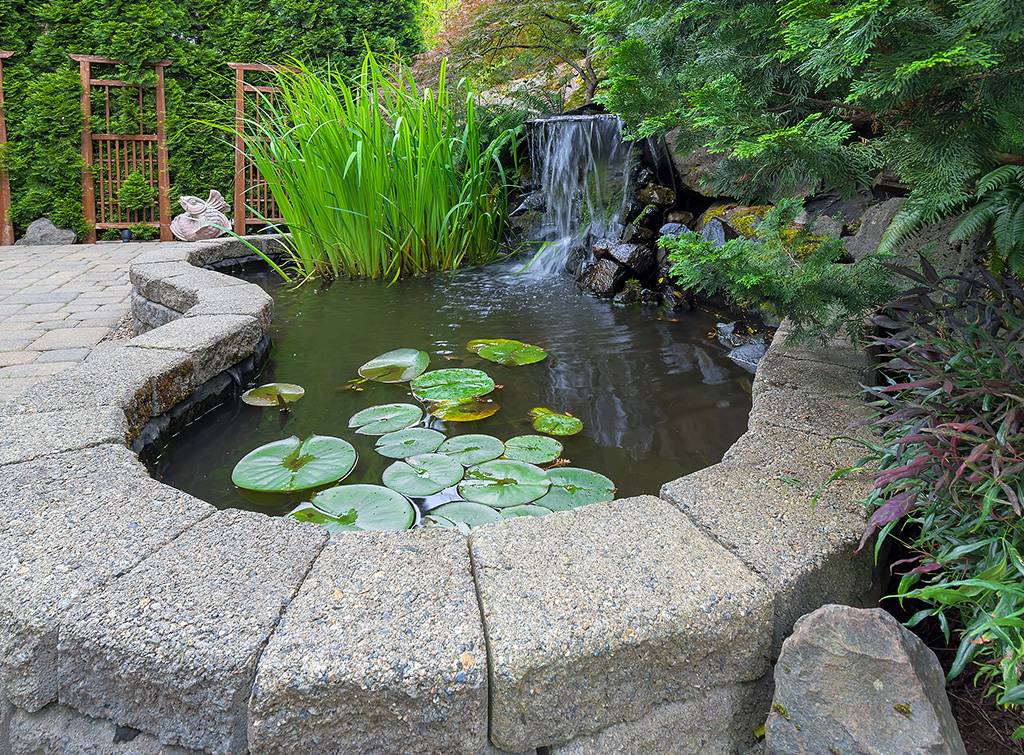 The best way to introduce a water feature to a small garden, patio or courtyard, self-contained water features are practical and affordable, without compromising on the overall effect. From water bowls, through to small self-contained fountains, you're sure to find something that fits into your outdoor space.
Pondless waterfalls
A pondless waterfall uses rocks and pebbles to create a waterfall and stream. Rather than cascading down into a pond, the water flows down through the rocks. Once it hits the bottom, it is pumped back to the top and continues to flow in this cycle.
This is a great option if you have little ones or pets, as it allows you to enjoy all the benefits of a water feature, without the potential risks.
The cost of a pondless waterfall depends on a range of factors, including the size, type, and quality of the parts you use, as well as the layout of your garden and how much prep work is required.
This can be a relatively expensive take on a water feature as you'll need plenty of rocks, as well as a heavy-duty pump to carry the water back up to the top of the waterfall. Generally speaking, a small pondless waterfall will typically cost around £8,500+.
Fountains
If you have limited space, a fountain could provide be the perfect water feature for you. Available in a huge range of types and sizes, there's sure to be a fountain to complement your garden design and your budget.
For larger gardens, centrepiece fountains surrounded by a pool are popular, while self-contained, self-circulating fountains look impressive in smaller spaces.
A fountain is a great option if you want to hear the sound of water in your garden, regardless of how big your outdoor space is.
Fountains usually start from around £30 to £222. As well as the fountain kit that forms the basis of the water feature, you'll also have to allow room in your budget for installation, preparation and a power outlet.
Drilled rock water features
These popular water features are ideal for small gardens. Made from a rock with a hole drilled through the centre, these water features use a pump to push water through the top of the rock. The water then runs gently down the side of the rock.
There are endless styles and sizes to choose from, including everything from limestone and slate to concrete.
Drilled rock water features typically range from £500 to £950+ excluding labour costs.
Rills
A more formal, structured type of stream, rills channel straight lines of water across a garden or outside space. Shallow and narrow, they are often used to draw the eye to a pond, fountain, drilled rock or another type of water feature.
Rills work best in larger gardens and are relatively expensive, usually starting from £800.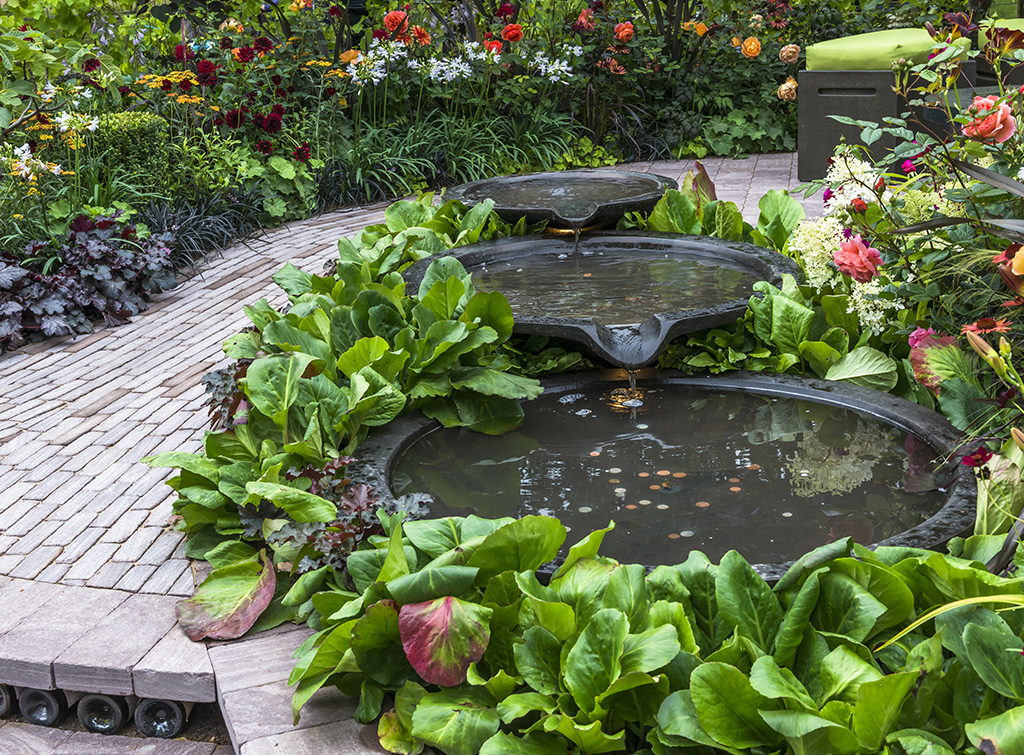 How much does a water feature cost?
The cost of water features can vary significantly, depending on factors such as the size, complexity of the design and the materials involved.
Here are some estimated, average costs from them for different types of water feature.
There is a wide range of different types of water features available, from stainless steel water features to resin water features. However, they can be grouped into the following categories:
Stainless steel water features
Stainless steel water features are great if you're looking to create a sleek, contemporary outdoor space. Water features made from stainless steel create a wonderful mirrored effect, reflecting light as well as the beautiful plants and flowers around them. They're also well equipped to stand up to the unpredictable British weather!
Stainless steel water features usually range from £60 to £2,000+.
Resin water features
Polyresin water features are ideal if you want to create a realistic rock or stone effect. These water features can be made into almost any shape or texture. They're also much cheaper and easier to install than using a real solid rock.
Resin water features usually range from £65 to £2,000+.
Glass water features
A great option for patios and outdoor spaces with a cool, modern sense of style, glass water features not only look incredibly impressive during the day, but they can also be lit from the inside to enhance the effect at night. Try colour changing bulbs to really make a statement.
Glass water features usually range from £880 to £10,000+.
Granite/stone water features
If you want to create a classic outdoor space, a water feature made from real granite or stone is a great choice.
Granite and stone water features usually range from £99 to £2,700+.
How much does it cost to run a water feature?
Although most water features run on electricity, the costs are usually fairly low and you shouldn't notice a huge increase in your energy bills.
You also shouldn't use much extra water. Most water features only need topping up when the weather has been particularly hot or windy.
Do I need planning permission for a water feature?
Many people think that planning restrictions only apply to work on a building. In actual fact, certain changes to your grounds or gardens also require planning permission.
If your property is listed, you may need to secure planning permission for a larger water feature, such as a pond. Otherwise, planning permission shouldn't be required. It's always best to check with your installer, however.
Water feature system controls
There are a number of ways to control your water feature:
On/Off switch
Traditionally, water features have an on/off switch that controls the pump. A switch like this would usually be located in the garden, close to the feature itself.
Remote control system controls
Remote control power switches for water features are becoming increasingly common.  Allowing you to turn your water feature on and off from a distance, it is far easier to operate than having to walk across your garden to press the on/off switch. This also makes the process safer as you won't have to venture near the water in the dark.
Timers
Timers allow you to programme your water feature to come on at a certain time. These controls are particularly useful for fountains, water features within ponds, and those with lights. Again, these controls are safer and more convenient than on/off switches.
Find a local water feature specialist
Timeline for installation
The amount of time it will take to install your water feature will depend on the type of water feature you choose, your current garden set up, and how much prep work needs to be done.
First thing's first, you'll need to choose the right location for your new water feature.
Of course, if you have a small garden or patio, you may be limited on options. But, if possible, try to avoid an overly sunny location as this creates a welcoming environment for weeds. You should also avoid having trees above your water feature, as any falling leaves could pollute the water. Most importantly, ensure that the water feature is in a safe, visible spot, especially if there's likely to be little ones in your garden.
It's also important that any cables located underground are buried deep enough to ensure that they won't be hit with gardening tools.  All outdoor cabling and equipment must be fitte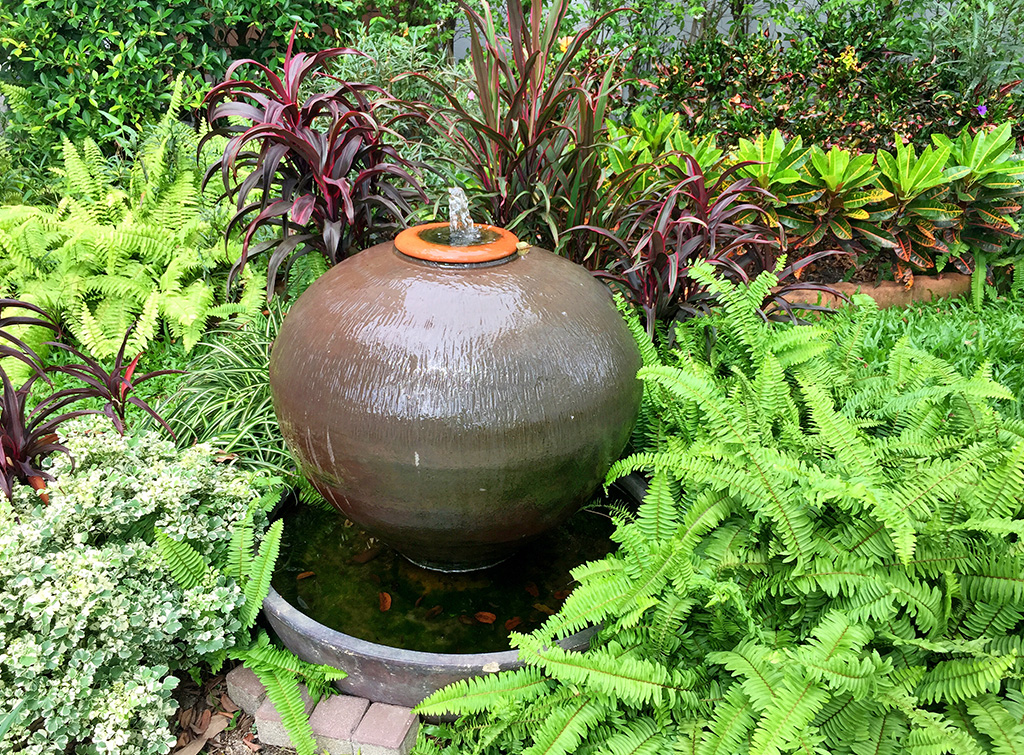 d with a residual current device (RCD) at the fuel box for protection. If a fault is detected, it will ensure that the electrical supply is immediately cut off.
Because of the electrics involved in most water features, not to mention the weight of some of the designs, it's always advisable to call in a qualified professional to take care of the installation process. They'll have the correct training, equipment and expertise needed to safely lift and install the feature, and ensure it's all set up and working properly.
Generally speaking, most water features can be installed in a day or two. However, if you're opting for a pond, rills or a more complex design, it may take longer.
Working with a professional will ensure that it is installed as quickly and efficiently as possible.
If you're planning a water feature for your garden, make sure it makes a splash for all the right reasons! Check out our range of fully approved and vetted water feature specialists to find someone in your local area.
Tell us what you think
What others think of this cost guide:
Need More Information?
Related posts