How to build a fire pit
Want to learn how to build a fire pit? Our handy guide covers everything you need to know from building a fire pit grill to using rocks, stones and bricks.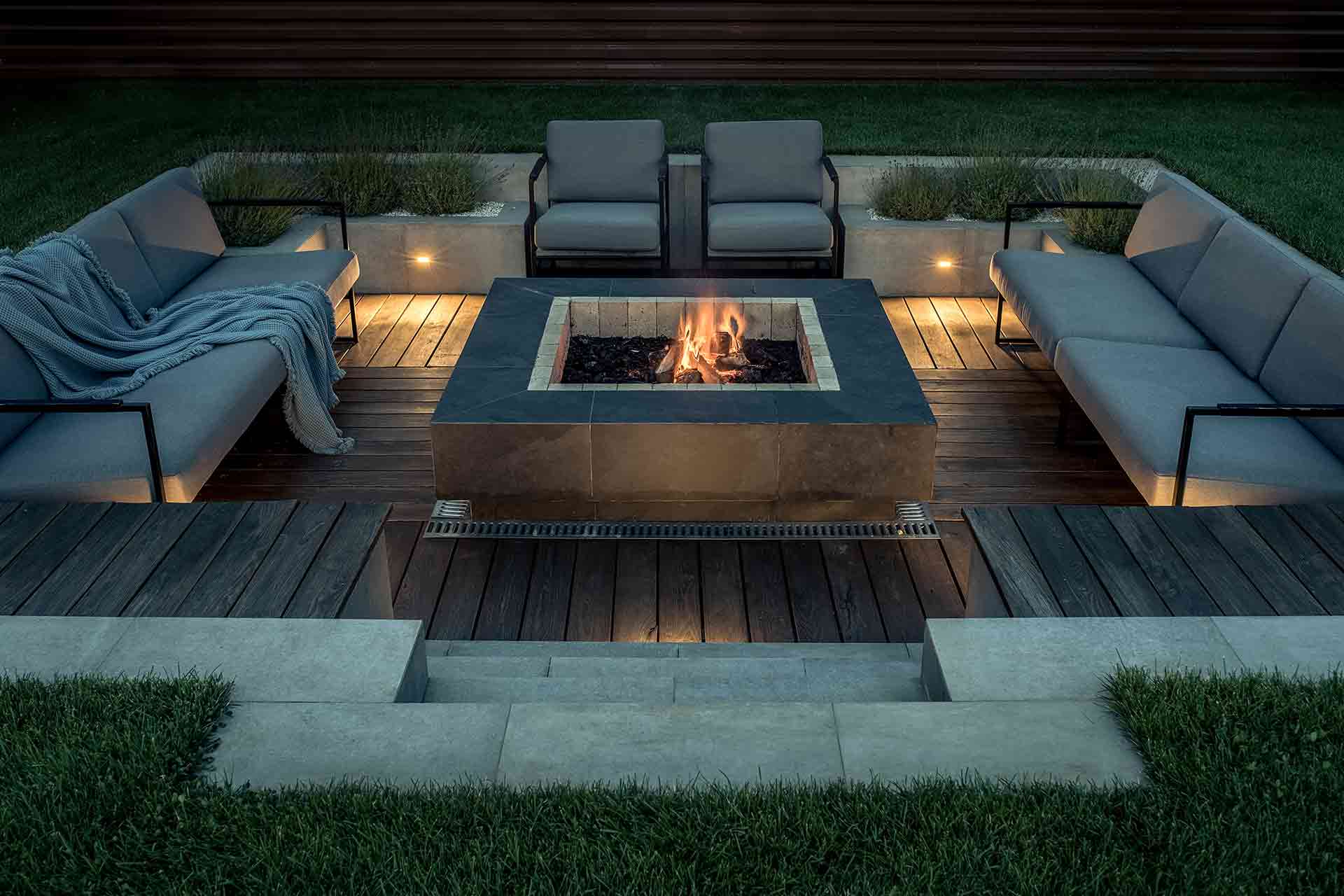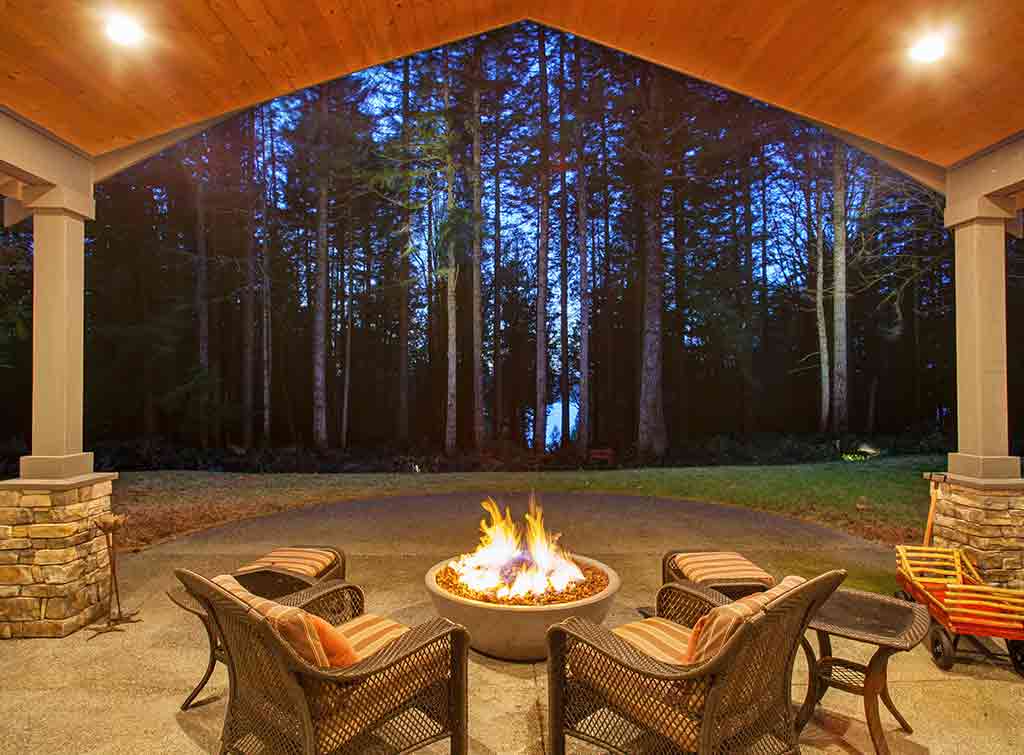 Fire pits are a brilliant way to stay warm on chilly evenings, as well as being a stunning visual feature for any garden. In this guide, we explain how to build a firepit, what materials to use, the tools needed and the safety guidelines.
Plus, we've got great step-by-step guides to teach you how to build a fire pit grill, how to build a concrete block fire pit and more.
General guidelines
Learning how to build a fire pit can be a fun project, but before jumping in headfirst you will need to properly plan and prepare. The below list covers a range of general guidelines to consider when building a fire pit:
Legal permissions: Ensure you get the correct legal permissions before beginning. You will need to review your property deed and check with your local authority and/or homeowners association as to whether you are permitted to build a fire pit.
Location: Make sure your fire pit isn't located near anything flammable, your house, trees or wood structures.
Size and shape: Carefully plan the size and shape you want your fire pit to be. Remember you may be limited legally as to what size your fire pit can be.
Materials: Always use materials that aren't flammable or non-porous. This will ensure your fire pit is safe to use and not at risk of catching fire or exploding.
Steel ring: It may be worth using a steel ring to line your fire pit. This will keep it working well and increase its longevity.
Top tip: To look deeper into planning your fire pit project, please see our fire pit installation guide.
See the tradespeople we've checked and recommend for your job

Tools and materials
The tools and materials you choose will ultimately determine how durable and long-lasting your fire pit is. Never be tempted to buy cheap, poor quality options as these will affect the appearance and potentially the functionality of your new fire pit.
Make sure you collect the following tools and materials:
Hammer
Drill
Concave jointer
Goggles
Trowel
Concrete float
Bucket
Tuckpointing tool
Shovel
Spirit level
Cardboard concrete tubes
Fire bricks
Face bricks
Heatproof screed
Refractory cement
Wooden stakes
Mortar
How to build a fire pit with bricks
One of the best ways to build a fire pit is using fire bricks. Not only are these bricks a great practical option, but they also look amazing when properly installed.
Wondering how to build a fire pit with bricks? The following step-by-step guide should help to guide you through the process:
Start by checking there are no utility lines running under where you will be digging.
Mark out the space where your fire pit will sit. Once you know how big your fire pit will be (we recommend a three-foot diameter), use cardboard concrete tubes to make two circles around 36 inches and 48 inches. Top tip: You can also use a hardboard to make two circles in the shape of your fire pit.
Next, dig a circle about three inches wider than the larger circle you constructed that is seven to nine inches deep.
You can then begin excavating the centre of your fire pit. Do this using a spade or shovel and again dig down about eight inches.
Completely flatten and compact the earth, making sure the hole is level.
Place both cardboard concrete circles into your fire pit then use wooden stakes to hold in place.
Mix and pour the heatproof screed between the two circles. Fill to the top of the forms and tap gently to level the mixture.
Wait about 48 hours for the screed to completely dry. Then you can remove the circles.
Split four fire bricks in half then lay them across the fire pit from each other to create air holes.
Lay the rest of your fire bricks around the circular footing. Then use refractory cement to set them in place.
Prop the four half fire bricks up using supports and cement them in position.
Ensure your bricks are level before the cement dries.
Split about 80 of your face bricks in half using a hammer then place them around the outside of your other fire bricks.
Use about three inches of mortar to fix these bricks in position, then smooth the mortar joints.
Lay the top row of face bricks over the screed circle and top of the face bricks. Use whole face bricks on their sides and again mortar into place.
Strike the joints with a concave jointer tool and fill in any holes or gaps in your fire pit with mortar.
Finally, give the fire pit 10 – 15 days to set before lighting a fire. It is always worth adding a layer of gravel before you add the logs.
See the tradespeople we've checked and recommend for your job
How to build a fire pit grill
Now we know how to build a fire pit, in order to properly cook dinner you will need to add a metal grill to your fire pit. Wondering how to build a fire pit grill? Well, it's actually really easy.
Follow our above instructions on 'how to build a fire pit with bricks' and place a metal grill (available from most DIY stores) over the top. Ensure the grill is big enough to cover the fire pit and hold itself in place when cooking.

How to build a stone fire pit
If stone is more your style than brick, then you'll want to know how to build a stone fire pit.
For this project, we will be using fieldstone for its aesthetics and building the stone fire pit into the ground. For an above-ground fire pit, follow the instructions in our 'how to build a fire pit with bricks' section.
Start by gathering your flat, large fieldstones. You will also need a shovel, gravel and a rake.
Mark out a circle the size you want your fire pit to be.
Next, dig the centre of the circle down to about 16 inches.
Use a layer of gravel to cover the bottom of your fire pit for drainage.
Stack your fieldstones, starting around the inside edges of the fire pit and working upwards to create a wall. Top tip: Stagger the positioning of your stones for stability.
Build your stone wall up to over 24 inches high.
Finally, rake the ground around your fire pit and cover with a thin layer of gravel to prevent your grass from setting on fire.
How to build a fire pit with rocks
If your outside space is immaculately manicured, a brick fire pit may be your best option. For those who prefer a natural finish, however, using rocks to form a fire pit is a great choice.
Pick a location far away from your home and anything flammable, then follow the below steps:
Remove any weeds, grass and rocks to create a smooth surface where your fire pit will sit.
Dig a 12-inch hole in a circle. This should be the width you want your fire pit.
Then, place concrete pavers in a circular pattern (we would recommend about 36 inches in diameter).
Pour sand or gravel into your fire pit and level out by tamping.
Next, continue stacking your pavers onto the initial circle. Keep going until your fire pit protrudes by a minimum of 12 inches from the ground.
Ensure you cover the base of the fire pit with a layer about four inches deep of sand.
Your fire pit is now ready to use!
See the tradespeople we've checked and recommend for your job
How to build a concrete block fire pit
Another way to build a fire pit is to use an inner steel ring surrounded by concrete blocks. A concrete block fire pit can be built by following these steps:
Pick a safe location for your fire pit away from anything flammable.
Position your steel ring where you want your fire pit to sit and lay a few concrete blocks around it.
Use a can of spray paint to draw a ring around where the concrete blocks will sit.
Remove the ring and blocks then dig out the circle down to a few inches.
Fill the space with gravel.
Reposition your steel ring and start laying concrete blocks around it.
Adhere the blocks using mortar and build up to the height of the steel ring.
Let the mortar set before using the fire pit.
Professional fire pit installation
While we hope this guide will help to simplify the installation process, learning how to build a fire pit can be very complex or confusing for less experienced DIYers. If you feel lost or unsure, the best option is to speak to a professional.
For convenience, our handy search feature means qualified tradespeople in your area are just a click away. If you are looking to learn more, our fire pit installation guide and fire pit cost guide are packed full of helpful tips, prices and considerations.