Last updated on March 31st, 2022
Cost to build a playground
Looking to transform your garden into a cool area for your little ones? Check out the cost to build a playground in your garden.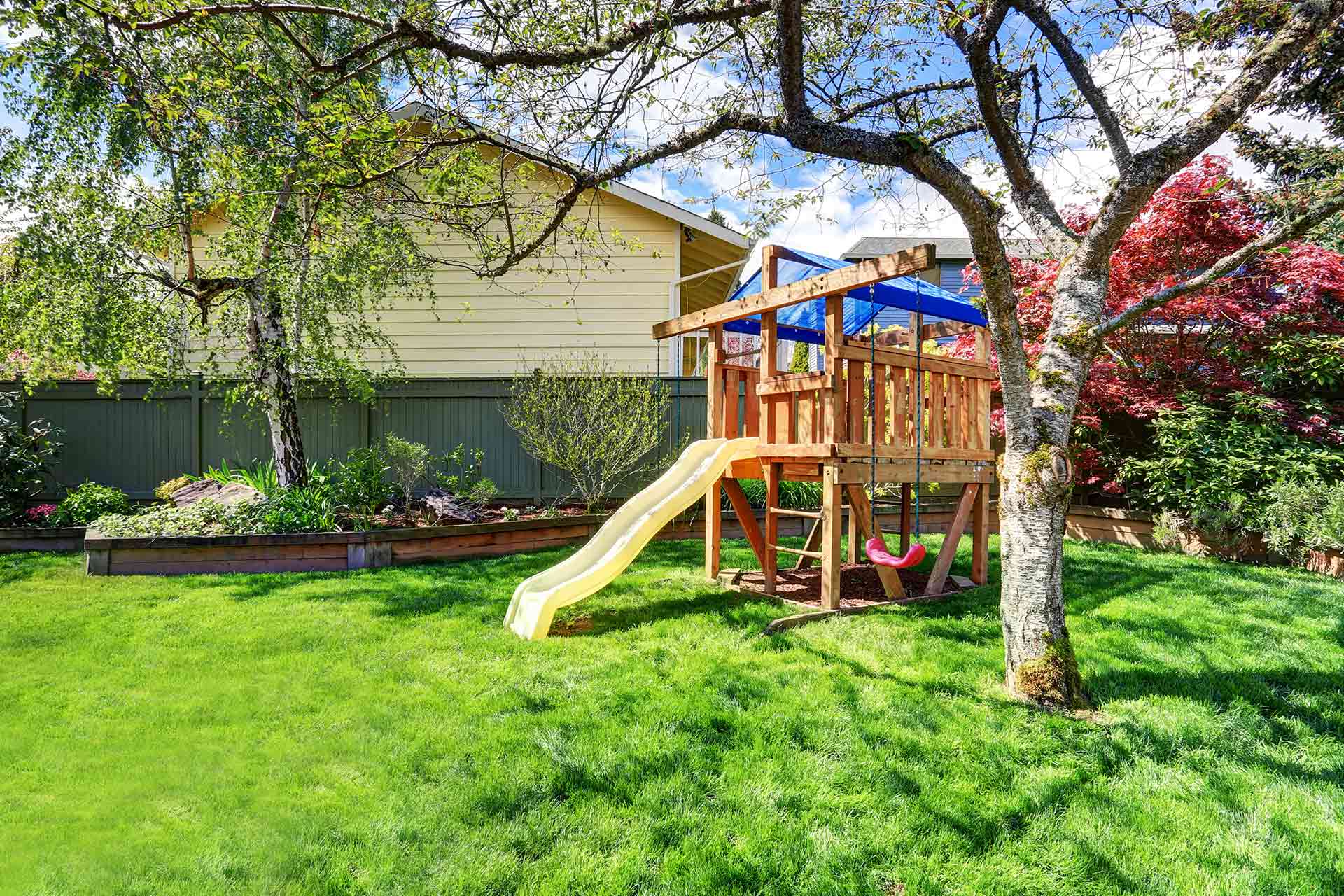 If you're looking to transform your garden into a cool area for your little ones and have a good outdoor space to play with, then creating your very own children's playground is a great option. Imagine your little one's face when they see their very own private playground – hard to resist, right?
In this guide, we'll explore whether it's feasible for you to build your own garden playground. We've covered the costs of building your very own playground should you gain the help of expert tradespeople, along with your garden playground options, and the steps to complete the project.
Playground construction prep work
| Material | Unit | Cost estimate |
| --- | --- | --- |
| Ground levelling | | £1,200 - £1,500 |
| Real grass | Per m2 | £10 - £20 |
| Artificial grass | Per m2 | £82 |
| Playground sand | Per m2 (depth of 25mm) | £20 |
| Tarmac | Per m2 (depth of 75mm) | £45 - £65 |
| Rubber playground matting | | £35 - £55 |
| Gravel board edging | Per m | £2.50 - £3.50 |
| Edging stakes | 50mm x 50mm x 450mm | £1.65 - £1.85 |
The total cost of your playground build will entirely depend on:
The size of the playground
The design of the playground
Any prep work required before installing your playset
The cost of your playground equipment
Before you begin 'seesawing' different playground equipment to add to your new play area, consider your outdoor space and its surroundings:
Do you need to level the ground/surface?
Are you changing the surface area from grass to tarmac, artificial grass, or sand?
Are there any sharp edges or safety risks near the space that need to be removed? Maybe you need to rethink retaining walls or a nearby patio area? Maybe there's a trailing washing line or hanging basket hook where you picture a swing going.
See the tradespeople we've checked and recommend for your job
Start from the ground up, literally
There's no playground without a safe area to install it. You will need to weigh up the area and then work with a landscaper before installing any playing apparatus. If you're unsure whether groundwork is needed, you can always reach out to a landscaper to come and have a look and advise.
Before setting up your playset, you will need to:
Level the ground
Clear out rocks, roots, and debris
Have the surface compacted to take the base of a playset
A lot of the cost for the landscaping will depend on exactly what work is required for the groundwork. This includes:
Your ground type
How much prep work is needed (like levelling)
The labour time for a landscaper to complete the work
For any playset to be safe, they need something to sit on or for an anchor. Wood chips, pea gravel, sand, rubber tiles, and grass are good options. The cheapest option is grass, typically because your garden will already have grass. The most expensive ground anchor will be rubber tiles, but they're the safest. If you opt for sand or wood chippings you will need to consider the cost of installing an edging.
The price for a landscape gardener is around £280 per day.
See the tradespeople we've checked and recommend for your job
Playset installation cost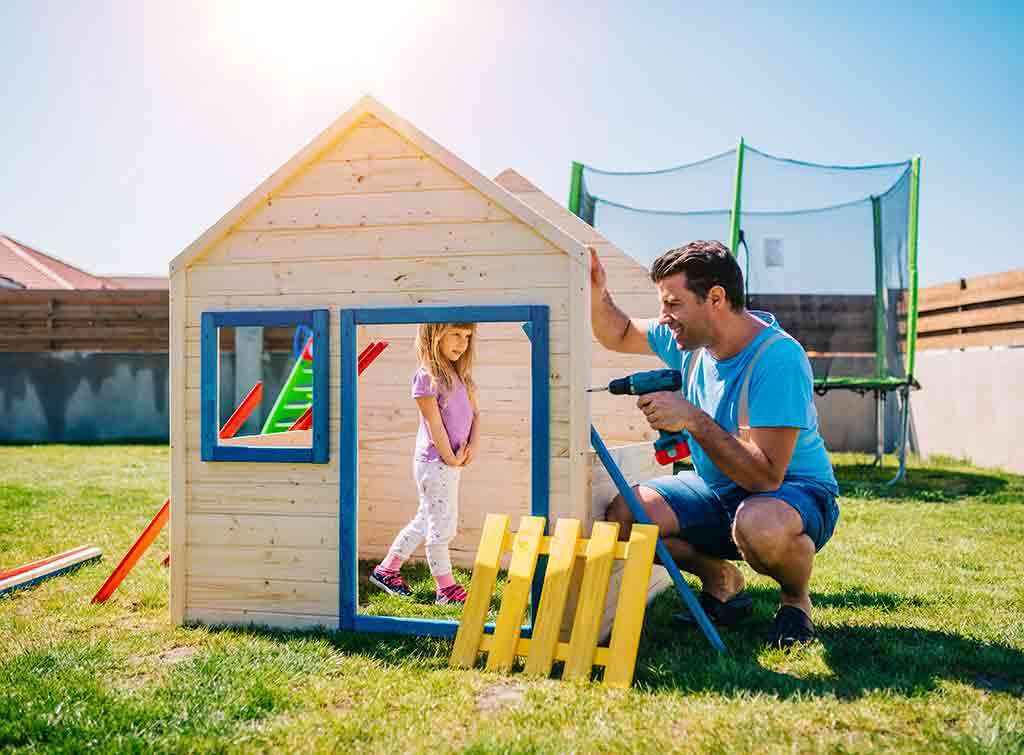 The cost for a handyperson to set up your playground equipment will depend on the complexity of installing the pieces of equipment. If it's a case of securing it into your lawn, then it may only be priced at around half a day's work. If digging and cement are required to secure your playground swings or climbing frames, then you will need to pay for the handyperson's labour, as well as for the cement.
Typically the work to install a playset should take around a day at most. It may stretch over two days however if concrete pads are required.
A handyperson would be more than capable of installing your playsets securely. The average UK hourly rate of a handyman is £20 – £30 per hour. The labour you pay will depend on the complexity of the playset installation.
For the job of installing a playset in your garden, you can expect the cost to be around £150 – £300.
How much does it cost to build an indoor playground?
Unfortunately, an indoor play area cost is harder to estimate. It depends on:
The size of space
Safety proofing, including soft padding against walls etc
The play equipment itself
It would need to be an entirely bespoke space for your home. It's not like having the luxury of outdoor space.
How much does it cost to build a community playground
Any community or school playground installation should be left to professionals. In this case, here are ballpark costs of installing various sized playgrounds:
A small play area (for babies – toddlers): £30,000
A medium sized play area: £50,000 – £70,000
A large activity area with more advanced structures: £70,000 – £160,000
As you have read, the cost of building a playground really depends on a few factors. Each factor from the prep work before installing any playsets to the type of playset itself will influence the cost of your project.
Your best bet is to consult with professional tradespeople once you know what you wish to do with your back garden playground. You will likely need a landscaper and handyperson. You may also wish to consult a carpenter should you want bespoke playsets.
See the tradespeople we've checked and recommend for your job
FAQs
What is the cost of a bespoke playset being made for my playground?
This is something you would need to speak with a professional on so they can understand your specifications for the playset. However, a carpenter may be a good professional to approach. A carpenter's hourly rate usually starts from £25.
A custom built playset could be extremely expensive, with hours of labour and a lot of material. You could spend anything from £5,000 – £30,000+ depending on the specification of your playsets.
We recommend you obtain at least three quotes for a bespoke playset for your garden.
Can I install a playground myself?
If you have the tools, knowledge and experience with DIY, then yes. With a simple purchased playset, you should be able to install it yourself.
The difficulty is if the piece of equipment is sophisticated or the playground is for the community or a school, then it's best left to a team of professionals.
Which tradespeople can help with my new garden playground?
We envisage you requiring the expertise of a landscaper and handyperson. You may also want to consult a carpenter if you're looking for bespoke playsets.
These professionals typical rates are:
See the tradespeople we've checked and recommend for your job