Interior design is a broad term that covers all aspects of décor in your home from paint to furniture. However, this can mean the world of interior design is complex and difficult to navigate. To help you find what's right for you, our stunning interior design ideas are perfect for every room of the house with a range of different styles.
You may also enjoy our further guides on interior designer costs and painter and decorator prices.
Interior design ideas
Let's begin by discussing lighting. Using light is a great interior design idea due to its ability to transform any space without costing an arm and a leg. You can use zoned lighting to create different moods in different spaces of your home or add spotlights to highlight certain areas.
Another great way of adding authenticity to your home is to fill it with unique antiques and showpieces.
Prefer a modern design scheme? Try using black, white and grey to decorate your home.
Bright house interior design ideas
Why live in a dull and plain house when you can bring your living space to life? Our bright house interior design ideas will help you to do just that. Starting with wallpaper, there are a multitude of designs available including patterned, dazzling and colourful designs.
Happy with your walls and flooring? You can upcycle boring old furniture items by painting them sunny or pastel colours. For a more subtle effect consider combining neutral walls with a brightly coloured carpet.
Bedroom interior design ideas
Great bedroom interior design ideas all begin with making the most of the available space. Even smaller bedrooms with awkward spaces can be spacious with the right furniture. For example, you could install custom wardrobes designed to perfectly fit any size space.
Adding comfort to a bedroom is essential, this is the room where you will relax and unwind. You can do this by adding soft furnishings like throws and cushions in neutral colours. To make the room feel even more inviting, choose paintings or artwork in soothing colours.
Living room interior design ideas
Often referred to as the hub of the house, your living room is a versatile space for relaxing, socialising and enjoying hobbies. This makes coming up with stunning living room interior design ideas especially important. Why not add drama with dark wall paint or patterned wallpaper?
It's always a good idea to keep your living space tidy and clean, and an excellent way to do this is with clever, dual-purpose storage options. For example, a stool with internal storage or a sofa bed. Another way of instantly updating the style of your living room is with a statement coffee table.
Interior design ideas for a hallway
Hallways are a transitional space giving you access to different rooms and areas of your home. By no means does this mean they need to be boring and plain. One hallway interior design idea is to use a long runner. This can add style and colour plus soften up wooden floors and stairs.
Often hallways can be quite narrow, and this becomes a problem when clutter builds up. Consider creating a dedicated area with hooks and storage for coats and shoes. Dark hallways can also benefit from extra lighting to illuminate the space.
Finishing home interior design ideas
The finishing touches are essential to create a stunning, functional home. Unsure where to start with finishing home interior design ideas? Begin by focussing on the little details like light switches or skirting boards. You will be surprised with the impact these have on your home's appearance.
Using textiles to add pops of colour and comfort will help to elevate your living space aesthetics. Alternatively, you can use cleverly positioned mirrors to make small spaces feel larger.
See the tradespeople we've checked and recommend for your job
Interior design examples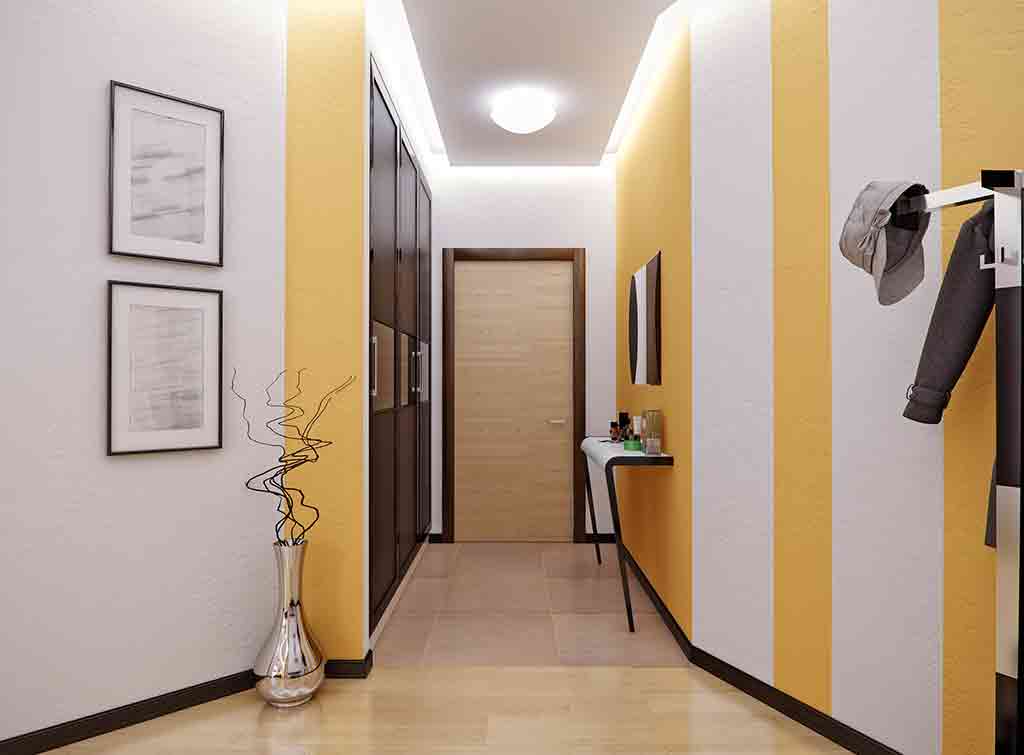 Edwardian house interior design idea
This home is a great option for anyone looking for Edwardian house interior design ideas. The large windows give great views while flooding the room with light.
The wide fireplace adds heat and an element of comfort, while the black sofas look perfect to snuggle into. Beautiful wooden floors and a black coffee table complete the room.
Garden room interior design idea
Garden rooms often inspire awe with their incredible floor to ceiling views of gardens. This home is no exception and is a great example when it comes to garden room interior design ideas.
With tempting sofas spread throughout the space, each with a different view, this garden room is a fantastic example of modern design. Using monochromatic shades, this room offers clean lines and symmetry. The wall mounted TV is a great finishing touch.
Relaxing bedroom interior design idea
Using copious amounts of white when designing a room can make the space feel a little sterile. This room however has an abundance of soft furnishings like throws, rugs and cushions, creating a tranquil and soothing space to relax.
Pale grey and light wood have also been used to complement the white colour scheme, and beautiful, vibrant plants are scattered throughout, infusing the space with life.
Modern living room interior design idea
Popular with homeowners throughout the country, modern design is truly here to stay. To achieve the perfect modern living room, take notes from this stunning, spacious home. Using monochromatic shades and sleek lines, this room is one that can be emulated in any home.
With silver accents, wood effect materials and a strong focus on minimalism, this living room even benefits from floor to ceiling windows and incredible views. Truly inspiring.
Bright hallway interior design ideas
Unfortunately, many hallways aren't reaching their potential due to a lack of light and too much clutter. In fact, this hallway is absolutely the opposite. With sunny yellow and white striped walls and light, neutral flooring, this space feels open and joyful.
Fantastic lighting completes the design, flooding the hallway with bright, inviting warmth.
See the tradespeople we've checked and recommend for your job
Tell us what you think
What others think of this article:
Need More Information?
Related posts