Garden fire pit installation: Tips to plan your fire pit project
Is there anything cosier than gathering around a fire with your family and friends for an evening of relaxation? An in-ground garden fire pit can transform your outdoor space, adding warmth and ambience for those long summer nights. Before you get going with garden fire pit installation, it's a good idea to put aside some…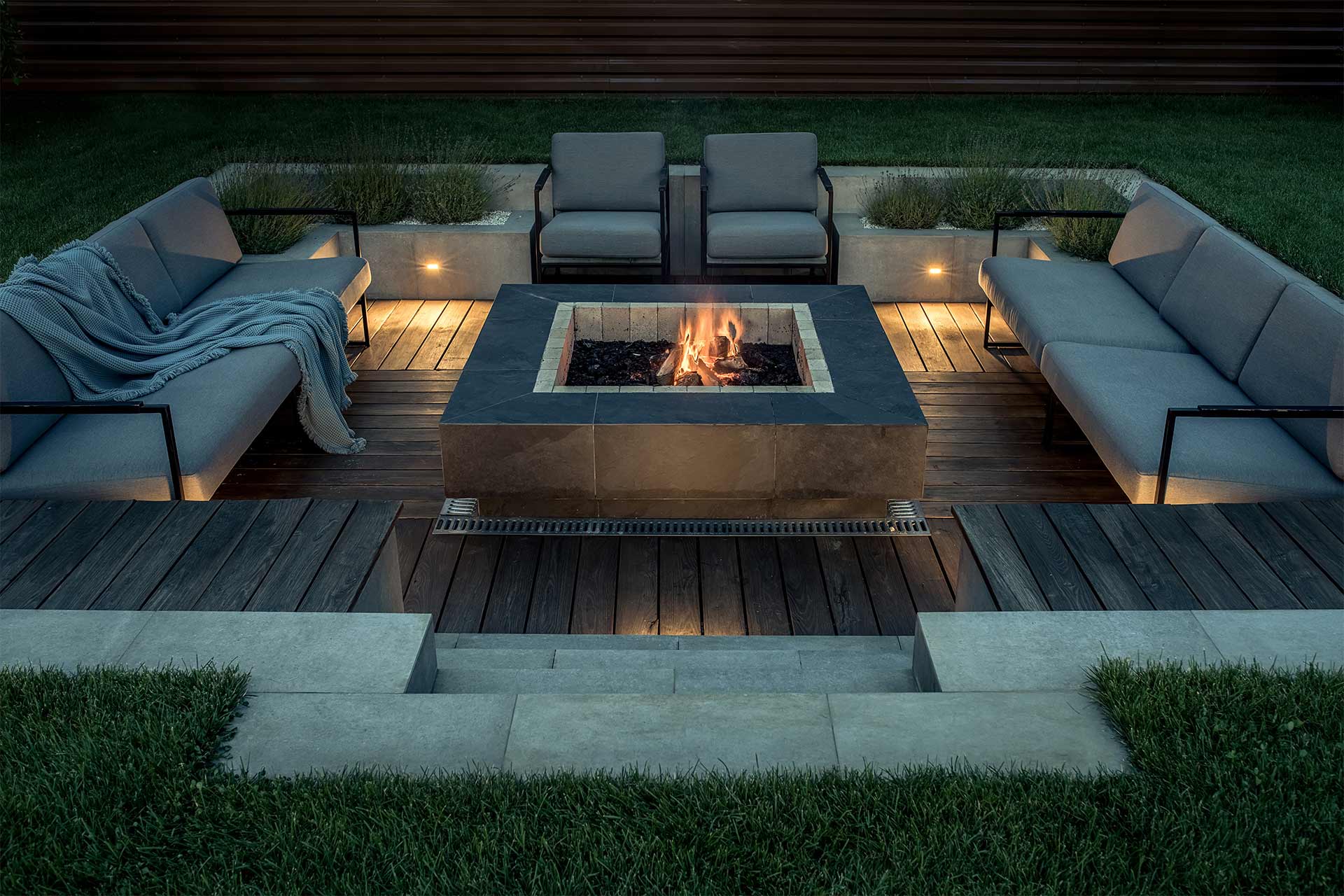 Is there anything cosier than gathering around a fire with your family and friends for an evening of relaxation? An in-ground garden fire pit can transform your outdoor space, adding warmth and ambience for those long summer nights. Before you get going with garden fire pit installation, it's a good idea to put aside some time to plan your project.
Whether to heat your patio, add flair to your garden or do some al-fresco cooking in the warmer seasons, a garden fire pit is a relatively small job that can make a big difference. We've plotted out the key steps and top tips for your fire pit installation.
Choosing the perfect fire pit
Adding a fire pit as part of your landscaping will extend the enjoyment of your garden and add value to your property. The fire pit you choose will depend on the intended purpose as well as the type of garden space you have and the aesthetic you want to achieve.
There are many options when it comes to size, shape and style. You will likely select a material that ties in with the style of your patio and the materials on the exterior of your home.
You will also want to consider the size of the outdoor space you have, and take into consideration the need for a seating area around your fire pit.
Style of firepit
A garden fire-pit doesn't have to have a rustic feel, despite how popular this aesthetic is amongst homeowners looking for a snug feel.
Fire pits can be built into ceramic tables for a contemporary approach; they can be designed from clean-lined concrete to create an elegant lounging space; they can combine irregular stacked stones with a smooth concrete top to build a luxurious outdoor dining area.

The most common types of garden fire pit include:
Freestanding designer fire pits
Fire pit grills
Built-in permanent stone or brick fire pits
Fire bowls
Portable fire pits
Tabletop fire pits
Chiminea
The possibilities are not endless, but they are vast. So, before you start planning your project, think about the type of space you want to create. Will you use the fire pit for barbecues and summer parties, or will it be mostly decorative?
What kind of budget do you have set aside for the project?
If you're keeping costs to a minimum, or can't have a fire pit as a permanent feature, you might want to look into tabletop or portable fire-pits as a short-term solution.
Type of fuel
Wood burning fire pits
Wood burning fire pits are the most common choice amongst homeowners – and it' not hard to see why. The smell of kindling alone is usually synonymous with good times, be it a campfire on the beach or a fireplace in the home.
Combined with the authentic sounds, traditional flames and generous amounts of heat, a wood-burning fireplace is popular for those looking to add a little magic and sparkle to their garden. The biggest drawbacks are the maintenance – you need to ease the flame along as it burns rather than simply switching it off – and the amount of smoke that these types of fire pits create.
Gel fuel fire pits
Since gel fuel fire pits are usually isopropyl alcohol or methanol-based, they do not leave behind soot or ashes as fire pits burning timber do. What they do leave behind can be recycled, making gel fuel fire pits environmentally friendly.
While perhaps not as authentic as wood burning fire pits, a gel based fire pit does still produce considerable heat, and has a burn time of between 2-3 hours. What's more, they are easy to use and simple to put out.
Natural gas fire pits
Gas fire pit installation comes with an initial set-up cost to secure the gas line to the firepit. However, the running costs are the cheapest fuel option. Not only that, but natural gas fire-pits burn cleanly, making them the most environmentally friendly and low maintenance option. The need for know-how in gas piping is essential in natural gas fire pit installation, so we wouldn't recommend the DIY approach.
Finding the right spot for your garden fire pit
It should go without saying that the flames and sparks that come from your fire-pit can be hazardous, and should be far out of reach of other structures such as seating, plants or combustible materials such as timber wood decking.
Think of the neighbours
As envious as they may be of your brand new fire pit, don't get underway with fire pit installation without considering your neighbours. Depending on the type of fuel, a fire pit adjacent to their garden will cause bothersome smoke to billow over.
Find level ground
Try to find a place in your garden where the ground is level, or use a rake and other tools to clear some space and flatten out any bumpy areas for a flat, solid surface.
Many professionally installed fire pits aren't actually pits at all. Instead, they are built 16 to 21 inches above ground to prevent drainage issues and to help the fire draw more air.
Work with your layout
Aesthetics will inevitably factor into your choice of location. A garden fire pit can be the perfect addition to a patio, particularly one that is built into a stylish table to form a snug outdoor area.
The do's and don'ts of fire pit installation

Do build it at a minimum of ten feet away from your house and as far from your neighbours garden as possible.
Don't build it under low hanging tree branches, fences, structures or build on power lines.
Do think about wind direction for flames.
Don't install a fire pit near your septic tank or boundary lines.
Do check with your local authority if you aren't sure whether your fire pit is too close to your neighbour's plot.
Don't install a gas fire pit without professional help
Do invest in some fire safety items – fire blanket, first aid pack with burns kit, multipurpose fire extinguisher
Framing your garden fire pit
Settled on a style of fire pit? Decided on the type of fuel it will burn and set out your ideal location? It's time to get started with your fire pit installation project.
Plan your seating area
With the right landscape design and decorations, a fire pit can be a show stopper to any garden. A seating area is a must for homeowners who want to take advantage of their new fire feature for cooking or gathering around its warming glow. But what style should you choose? The type of fire pit and the size of your garden or outdoor space will inevitably factor into your decision.
For example, a circular stone fire pit with a rustic feel will come to life with a matching, custom-built stone wall bench that frames the fire pit. A sophisticated concrete set-up could work well with a circular concrete wall seat, complete with cushions and throws for colour. A square, in-built table fire-pit will be complemented by rattan benches on either side of the table.
Find a professional
We strongly advise getting help from a professional landscaper to ensure it's fully functional and looking its best. This is especially important if you are having a natural gas fire pit installed, if you are using heavy materials like concrete or have multiple requirements such as custom-built seating arrangements.

Add the finishing touches
A couple of little finishing touches can go a long way in bringing the design together.
To accentuate the glow of the fire pit in the evenings, install underlighting to your property's exterior.
Fairy lights always help to add charm to an outdoor area, as do potted plants – but always make sure they are kept well away from the fire pit itself.
Adding cushions and blankets to your seating area will be the final touch in creating a cosy space to enjoy all year round.
Like what you see? We have plenty more where this came from. Check out Checkatrade's blog for more home inspiration, how-to's and project ideas.