Last updated on March 31st, 2022
Cost to create a spa holiday in your own back garden
Can't go on holiday this year? How about a garden spa staycation instead. You can turn your garden into a holistic haven.
With lockdowns easing, spas and retreats have (thankfully) returned to our lives. But long gone are spontaneous days out – higher demand means booking has become a minefield, and with foreign holidays and uncertainty too, many of us are giving up – and turning to our gardens as the next best option.
People are becoming creative and achieving zen by transforming their back gardens into holistic havens. Who wouldn't want to step out their back door into a peaceful paradise? The beauty of it is that once a garden has been transformed into a retreat, a spa garden is open 24/7, 365 days of the year, without even having to queue up.
If you'd like to turn your back garden into a space where you can relax and unwind, then we can assure you it's definitely achievable. Read on to discover how you can transform your outside space into an ultimate zen den and how much it could cost you.
See the tradespeople we've checked and recommend for your job
Spa holiday garden must-haves
| Cost provided item | Unit | Range - low | Range - high | Average cost |
| --- | --- | --- | --- | --- |
| In-ground swimming pool cost | Per pool | £60,000 | £110,000 | £85,000 |
| Above Ground swimming pool cost | 12ft x 24ft | - | - | £4,000 |
| Swimming pond cost | 80m2 | - | - | £75,000 + VAT |
| Plunge pool cost | Per pool | £7,500 | £25,500 | £16,500 |
| Outdoor shower cost | Per shower | £500 | £5,000 | £2,750 |
| Home sauna cost | Per sauna | £3,600 | £14,800 | £9,200 |
| Home sauna installation cost | Per sauna | £1,850 | £2,500 | £4,350 |
| Steam room cost | Per room | £1,500 | £40,000 | £20,750 |
| Ready made steam room cost | Per room | £800 | £3,500 | £2,150 |
| Ready made steam room installation cost | Per installation | £3,000 | £5,000 | £4,000 |
| Hot tub cost | Per hot tub | £3,000 | £42,000 | £22,500 |
| Garden bar construction cost | Per hour | £20 | £30 | £25 |
| Full outdoor kitchen cost | Per kitchen | £4,000 | £50,000 | £27,000 |
| Modular garden room cost | Per m2 | £750 | £1,500 | £1,125 |
| Bespoke garden room | m2 | £745 | - | - |
Without a doubt, the best parts of a spa trip are lounging around in a swimming pool, sweating it out in a sauna or steam room, soaking in a hot tub and enjoying food and drinks in the evening.
To recreate this at home, all you need is an outdoor space and a vision. Take inspiration below and see how much it could cost (although we would argue that a spa garden is absolutely priceless).
Cost to install a swimming pool
Whether you're one to do lengths or simply float, a swimming pool is a must-have for a spa break.
Building an outdoor swimming pool can set you back between £60,000 – £110,000. Or, if you're looking to save money, you could get an above-ground swimming pool. These can cost upwards of £3,000 and be installed a lot quicker than a fully built-in pool.
If you're looking for more of a natural vibe, you may wish to consider a swimming pond. These cost around £350 per square metre, so for an 80m2 swimming pond, you could be looking at around £75,000 + VAT.
If you're strapped for space, and neither a swimming pool nor a swimming pond is a practical option, a plunge pool could be a great option. Plunge pools are much smaller than swimming pools and usually are around 1.5m x 1.5m. You can get bigger ones, but generally, no longer/wider than 5m. Their depth, on the other hand, can range from 1m to 2.5m. Depending on the size and material you choose, your plunge pool could cost between £7,500 – £25,500.
Outdoor shower or bathtub cost
If you have a swimming pool in your back garden, you'll also want an outdoor shower. You wouldn't want to have to traipse water through your house to get changed, would you? An outdoor shower will cost around £500 – £5,000 to install, depending on its size and style and how complex it will be to install.
Showers may not be your thing, and that's fine because you could install an outside bathtub instead. This could cost you around £850 to install (not including the bathtub).
This bath could also be used as an ice bath. With so many health benefits, from easing sore muscles to boosting your immune system, ice baths can be great for your mental health too. All you will need is cold water and ice machine. You can expect to pay between £1,000 – £3,500 for a self-contained machine, or between £2,000 – £5,500 for a modular machine with the storage bin included.
Cost of a sauna
Is there anything better than a hot sauna to melt away the stresses of day to life? Didn't think so. Installing a home sauna is not as expensive as you might think.
You can get hold of a very basic sauna kit for as little as £900. For a larger, high-quality Scandinavian sauna kit, you could end up paying as much as £17,000, but you'd need to factor in installation too. Take a look at our home sauna cost guide for more information.
Cost of a steam room
If dry heat's not your thing, then why not consider a steam room? Steam rooms are great for not only relaxing but for clearing all the toxins out of your body, improving circulation and loosening your joints.
You can have a steam shower installed for around £1,500 – £5,000, or for a full steam room, anything between £1,500 – £40,000. It will all depend on the size and style of your steam room.
A ready-made steam room could set you back between £800 – £3,500 and between £3,000 – £5,000 for installation.
See the tradespeople we've checked and recommend for your job
Cost of a hot tub

Hot tubs are a great way to chill out and can be very easy to install. You can pick one up for anywhere between £3,000 – £42,000 for a proper hot tub. They're great for entertaining any guests you may have, but if you want to keep it to yourself, that's fine too!
How much does a hot tub take to maintain?
You may wonder if installing a hot tub is worth it, especially regarding maintenance and running costs. It turns out it's not that bad. You're looking at a cost of around £760 – £1,270 a year to run your hot tub.
Garden bar ideas
After a fun day in the pool or hot tub, you can enjoy a relaxing evening drink – you know, one of those fancy ones with a little umbrella! A garden bar can be a great addition to your back garden, whether for your spa holiday or for regular entertaining. And, it doesn't need to cost a lot.
You can get a detailed breakdown in our home bar cost guide, but as a quick summary, you can pay a cabinet maker £20 – £30 an hour to build your bar. The cost of the materials for the bar itself will depend on what you decide.
Arguably the most important part, a bar fridge can set you back by £150 – £700. After that, you'd need to think about lighting, seating and all the other special touches.
Outdoor kitchen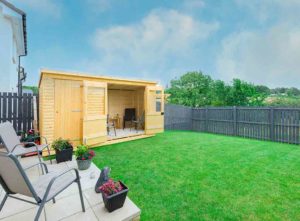 If you've got a bar, then it's worth considering a dining area, and having an outdoor kitchen is then the logical next step. No need to worry about going back indoors to cook yourself something tasty; you can remain in your zen den and have it all to hand.
Whether it's a BBQ or a full slap-up meal, you can enjoy carefree cooking in your garden paradise. You could even install a pizza oven because, hey, let's face it, nothing beats homemade pizzas fresh from the oven!
A full outdoor kitchen can cost anywhere between £4,000 to over £50,000 and is worth every penny if you entertain regularly.
Garden room cost
We all know that an overseas holiday is more than just lounging around, eating and drinking. It's also a change of scenery. A back garden spa won't feel like a holiday if you're sitting inside your own home. So, why not install a garden room, so you're not in your usual space? Whether you use it to chill out after dinner or put a bed there and pretend to be in a hotel, it can really add to your back garden spa holiday experience.
A modular garden room will cost between £750 – £1,500 per m2, while a bespoke one starts from £745 per m2.
See the tradespeople we've checked and recommend for your job