From the tall and towering to the small and quaint, homeowners have long had a love for structures that surround or separate their gardens. Whether you're undertaking an ambitious landscaping project or are simply looking for garden wall ideas to improve an existing structure, you've come to the right place.
Your garden is an extension of your living space; it's a patch of land to call your own, a space to style as you see fit. Beyond its practical purpose, a garden wall can make for a stunning landscaping feature in itself.
From retaining walls to help you reclaim land to walls that screen off your lawn or patio for privacy, there is a range of garden wall ideas just waiting to be explored. Read on to discover how you can build a beautiful structure or decorate a wall to complement your garden design.
Do I need planning permission for a garden wall?
You will need planning permission for any garden wall over 1 metre high on the edge of a public highway and for any free-standing wall over 2 metres high. We recommend seeking out the services of a structural engineer and professional bricklayer to ensure your design is strong and stable.
How to choose the right wall design for your garden
Think carefully about wall designs when planning your project: height, colour, costs and material are all essential considerations, as is the shape of your wall in defining the look of the landscape.
For example, a curved brick wall with a raised bed bursting with greenery and foliage makes for a stylish and sophisticated outdoor space, particularly when contrasted against stone slab flooring. On the other hand, an angular garden with a modern aesthetic would benefit more from a concrete retaining wall with clean and smooth lines that lead the eye in a commanding way.
If budget allows, your garden wall design may incorporate benches, lighting and custom features such as an arched entry-way or brickwork steps that lead up to your law. Looking for a quick fix? Planters and lights can be a cheap and effective way to improve an existing but worn-out garden wall. For homeowners looking to make large landscaping changes, go big or go home build a wall that stands out as a star feature that turns heads.
Garden wall ideas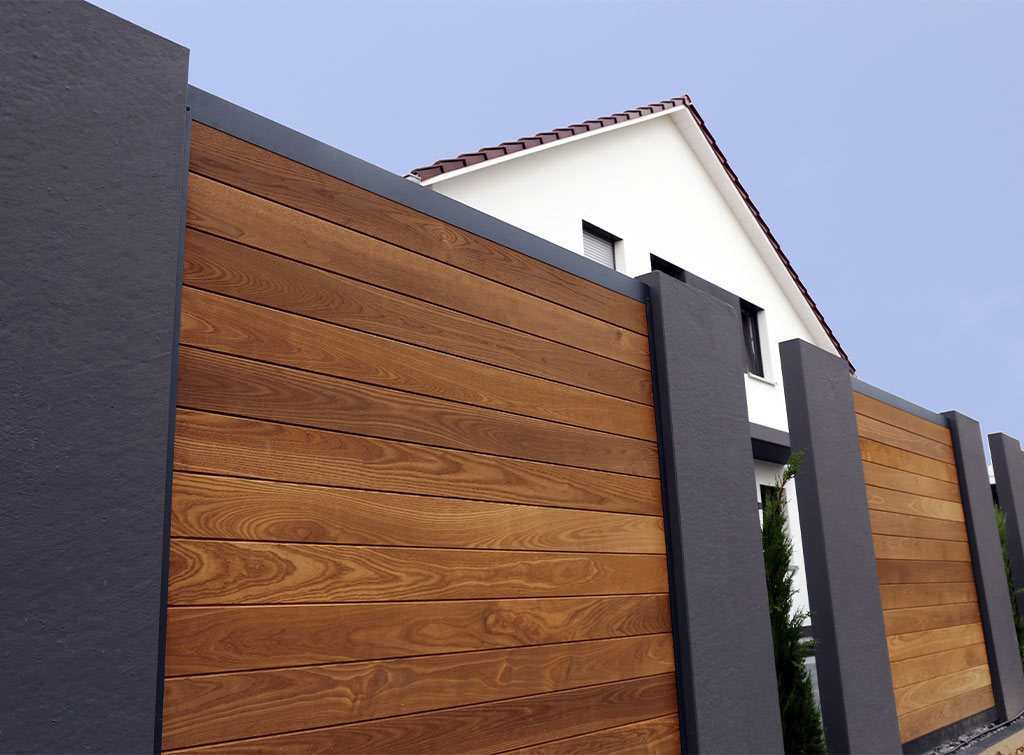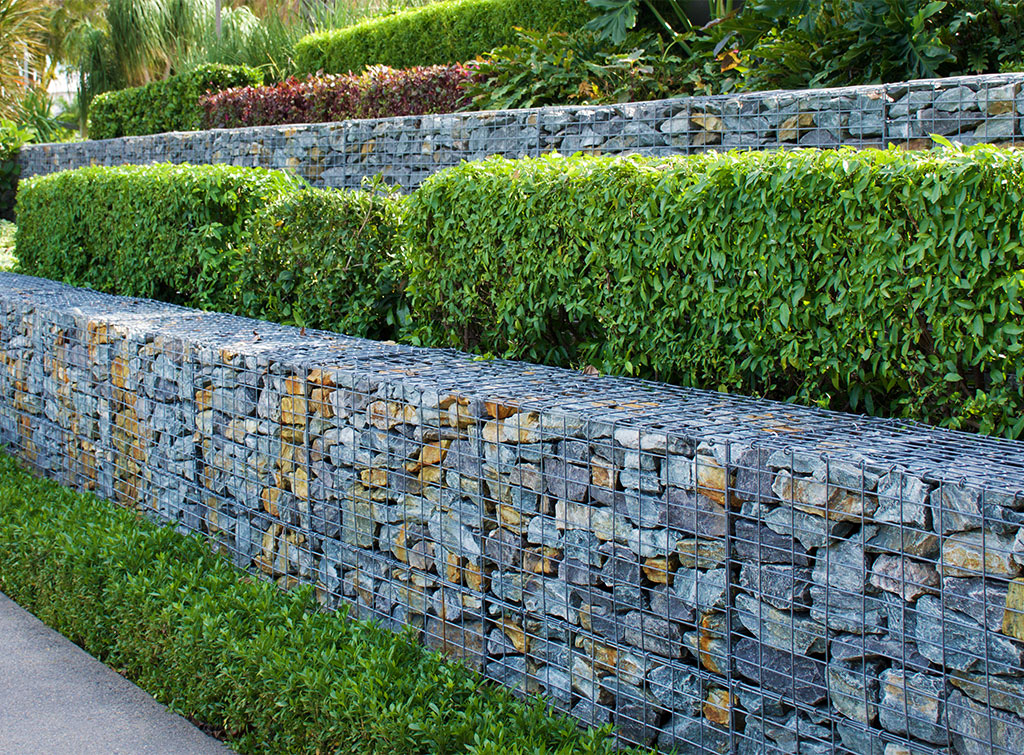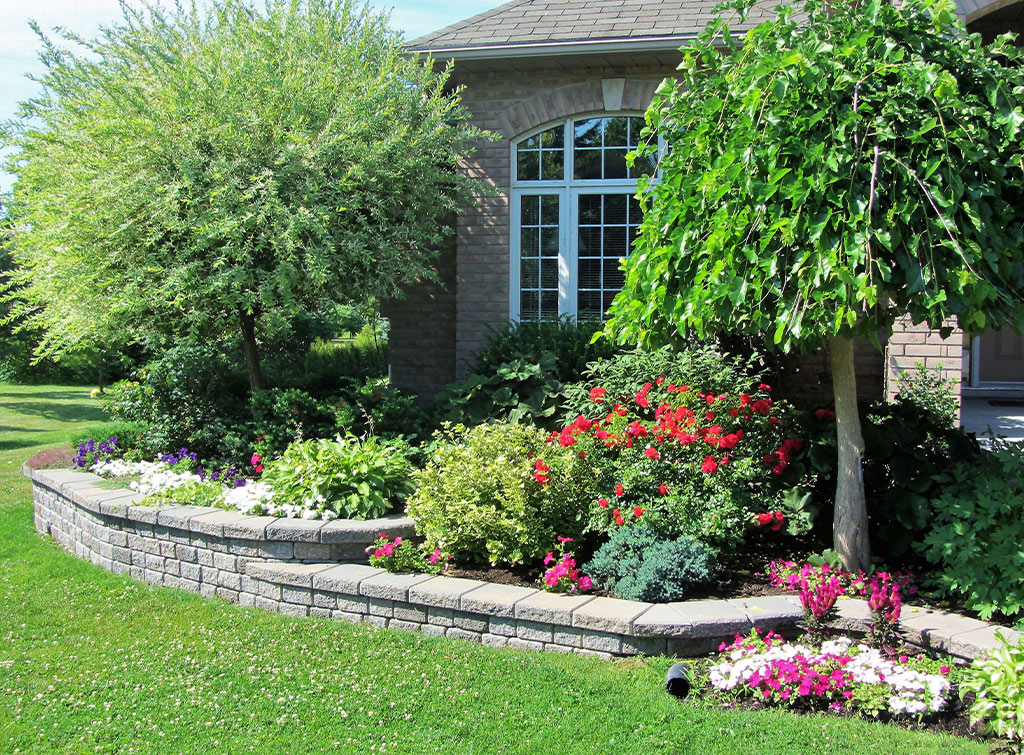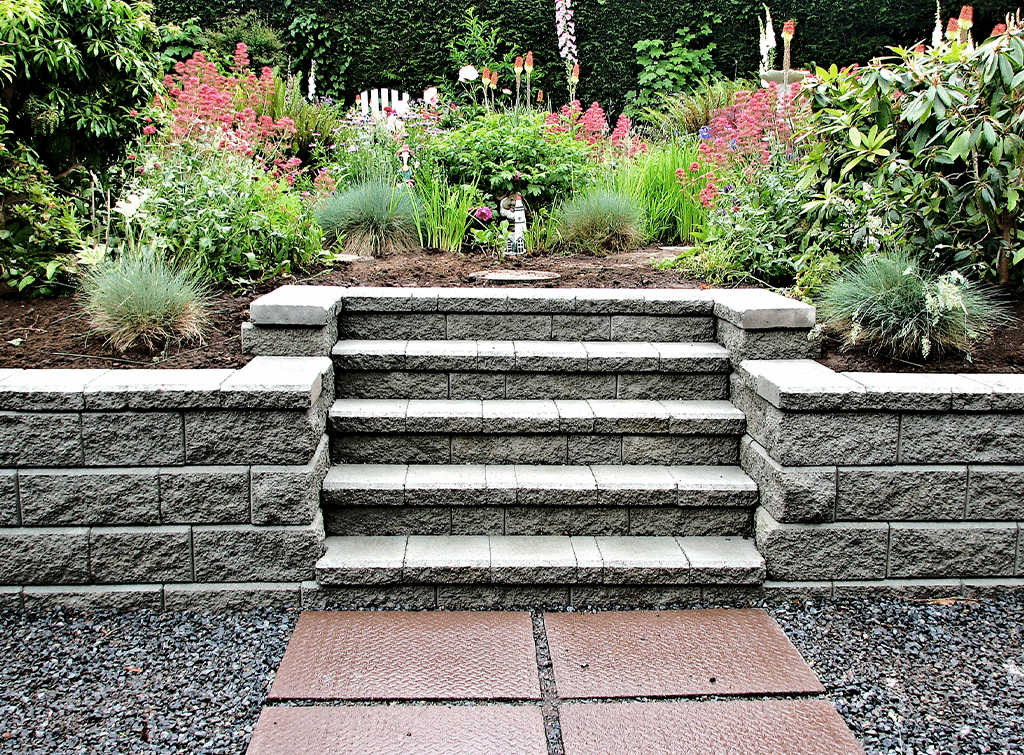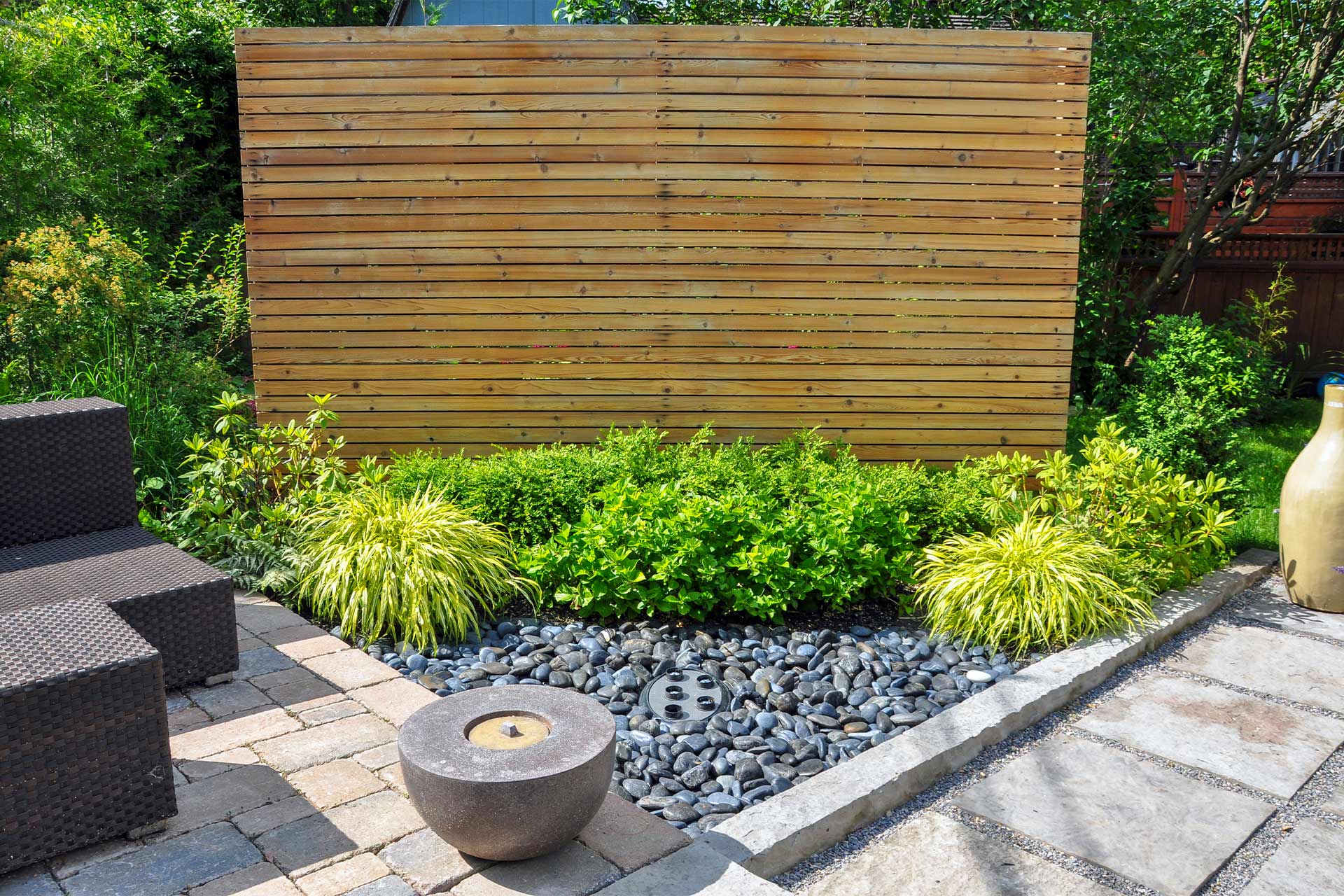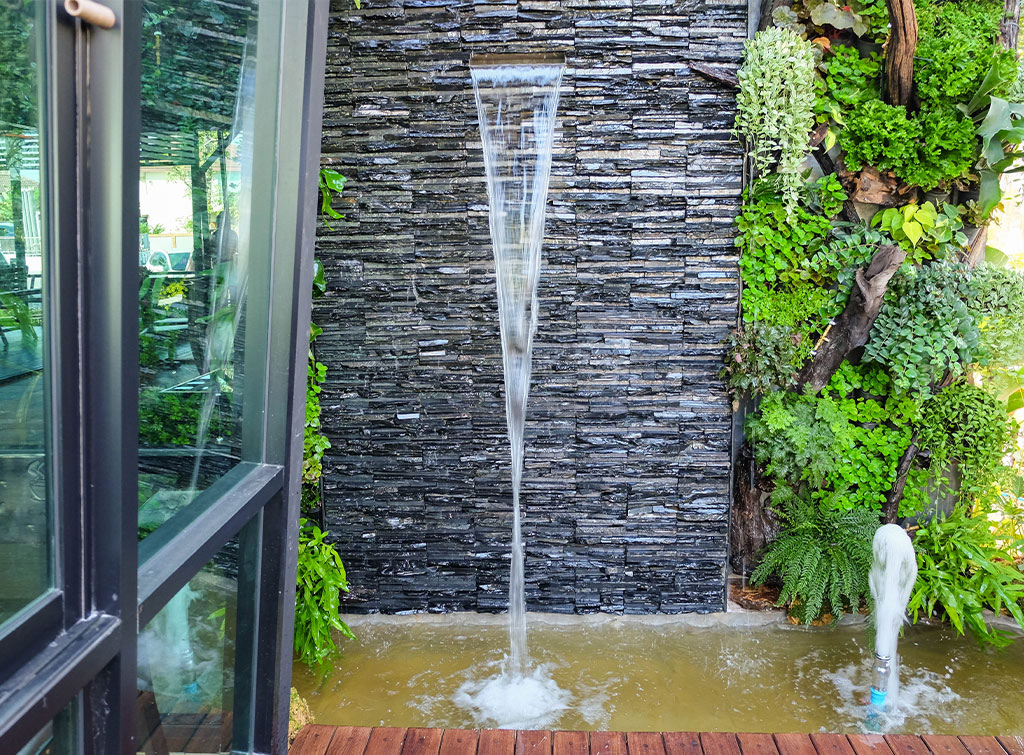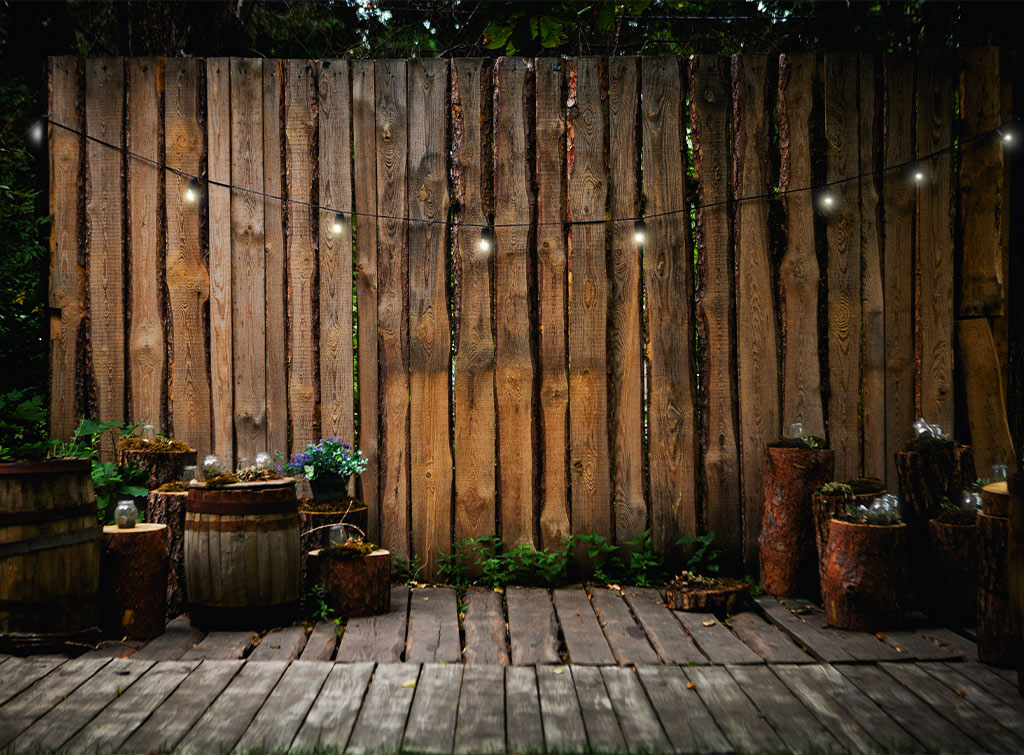 Privacy wall ideas
Gardens are meant for lounging. So, what's the point in having outdoor space if you don't feel comfortable taking advantage of it? No matter how well you get on with your neighbours, a low boundary wall or fence just doesn't cut it when it comes to privacy (and relief from the small talk).
Privacy walls are the perfect solution to help you reclaim your space, and they come on many forms to suit your needs – from contemporary screens and bamboo slats to wood lattice fencing atop an existing boundary wall, the choice is yours to make.
Don't let the Jones' keep up with you: build a privacy wall around the perimeter of your garden and let the lounging commence. Privacy walls are also perfect for homeowners who like to entertain guests in the summer and can come in a range of materials.
Build a retaining wall
When the soil in a sloped garden erodes over time, it can render the best part of your outdoor space unusable. Retaining walls are structures designed to support the soil laterally so that it can be retained at different levels.
Installing a retaining wall can often be the best way to tackle this issue, turning a problem area into an elegant garden design feature that allows you to reclaim your space.
Retaining walls come in different materials, the most common being concrete, masonry or stone. They can be single-layered or stacked up and staggered to add depth to your outdoor space.
Your choice will depend on the location of the wall and your own design preferences – whether it's decorative block-work on a multi-tiered structure or irregular flagstone to inject character into your garden design.
Build a raised bed
For homeowners seeking contemporary garden wall ideas that add visual appeal, a raised bed could be the perfect accompaniment to a well-kept lawn. They're also a great way and make use of tricky design challenges in awkwardly shaped gardens.
Not only that, but plants typically thrive in raised beds compared to in-ground since they allow for more control of the quality of soil and water drainage.
For the green-fingered homeowners amongst us, a raised bed built from stone, brick or wood makes for both a practical and pretty addition to gardens of any shape or size.
Paint your garden wall
For an eye-catching wall that oozes personality, get creative with colours and start painting.
Add instant character to your outdoor space by painting a red brick wall with a colour of your choice. Whites and creams can be ideal for the front garden boundary and driveway walls, adding kerb appeal to your property by giving the entrance a finished look.
A colour palette that borrows from Meditteranian clay can make for a stunning garden wall – oranges, pinks and pastel teal all make for a stylish choice to bring your garden to life.
Create a green wall in your garden
An old stone wall can start to look unsightly when wear and tear from weather exposure eventually takes its toll. If you aren't prepared to knock it down and build from scratch, consider using vines and bright flowers to cover your garden wall with greenery. Alternatively, place a trellis in front of the wall and weave plant-life through to create a privacy screen bursting with life.
Front garden wall ideas
Your front garden is the first thing your visitors will see – but don't spend money impressing them. Build a beautiful garden wall that will put a smile on your face each time you come home. A front garden wall can be difficult to get right, but with the right planning, you can build something that will instantly boost the kerb appeal of your property.
Always make sure to check with your local council about building regulations for garden walls.
Depending on the size and location of the wall, you may need to apply for planning permission.
Use light colours in a small garden
If your garden is modest in size, a tall wall can make the space feel cramped and closed-in. When researching small garden wall ideas, your top priority is to find solutions that will keep the garden feeling both bright and spacious. Choosing light colour bricks in off-white shades or sticking to a soft, light palette when painting your brick wall will help to keep the garden feeling spacious and serene.
Aged limestone is the perfect material for a garden wall in a quaint cottage; the weathered edges and worn appearance creating a charming, traditional feel that is reminiscent of times gone by.
If brick isn't your bag, bamboo screens put the peace in 'peace and quiet'. As well as building in privacy, they instantly add an air of zen to your outdoor space. Pair a bamboo screen with wicker garden furniture and yucca trees to achieve a fresh and contemporary garden design.
Build a water wall
A garden wall needs not be purely functional. Step out of your comfort zone and get creative with garden wall ideas, including building a water-feature wall. Water walls mimic the look of a trickling waterfall to bring peace and serenity to a back garden.
For a more modern look, opt for a stainless steel structure for the water to glide off.
For a traditional zen garden feel, opt for a stone wall where the water runs off into a beautiful garden pond. Complete the look with plant life on either side of your wall to truly create a sense of calm.
Add a wooden wall to your patio
Decorative garden walling is a great way to create height or divide areas within your outdoor space. Transform a portion of your garden into an outdoor living room, using a dividing wall to split up the landscape and create a sense of enclosure. Screen walls are perfect for getting a little privacy on your patio while still benefiting from the wide-open space of your garden.
A wooden wall in a large garden is often the perfect landscaping feature to complement an outdoor dining area. If custom-made, use the opportunity to build in boxes to the wall for plants, herbs or flowers to bloom.
If budget allows, complete the look with a stilted hedge. This technique involves lining clear-stemmed trees either in the ground next to your wall or in a raised bed built-in to the wall. With careful pruning, these trees will eventually grow together to create a stunning elevated screen.
See the tradespeople we've checked and recommend for your job
Tell us what you think
What others think of this article:
Need More Information?
Related posts