Can you paint over wallpaper?
Are you fed up with your wallpaper and want to give your walls a fresh lick of paint? Find out if and how you can paint over wallpaper.
Painting your home can completely change your living space and is one of the easiest and best ways to switch up your interior style, especially if you're on a tighter budget. But what if you've got wallpaper there that you'd like to change up? Many people wonder if you can paint over wallpaper to save time and energy because removing wallpaper is tricky, time-consuming and can cause damage to your walls.
In some cases this is possible, however, certain types of wallpaper make this an impossible task, especially if you want to get a beautiful finish. For this reason, painting over wallpaper generally isn't recommended.
Read on for more information and tips on how to make your home look great.
Important considerations before painting over wallpaper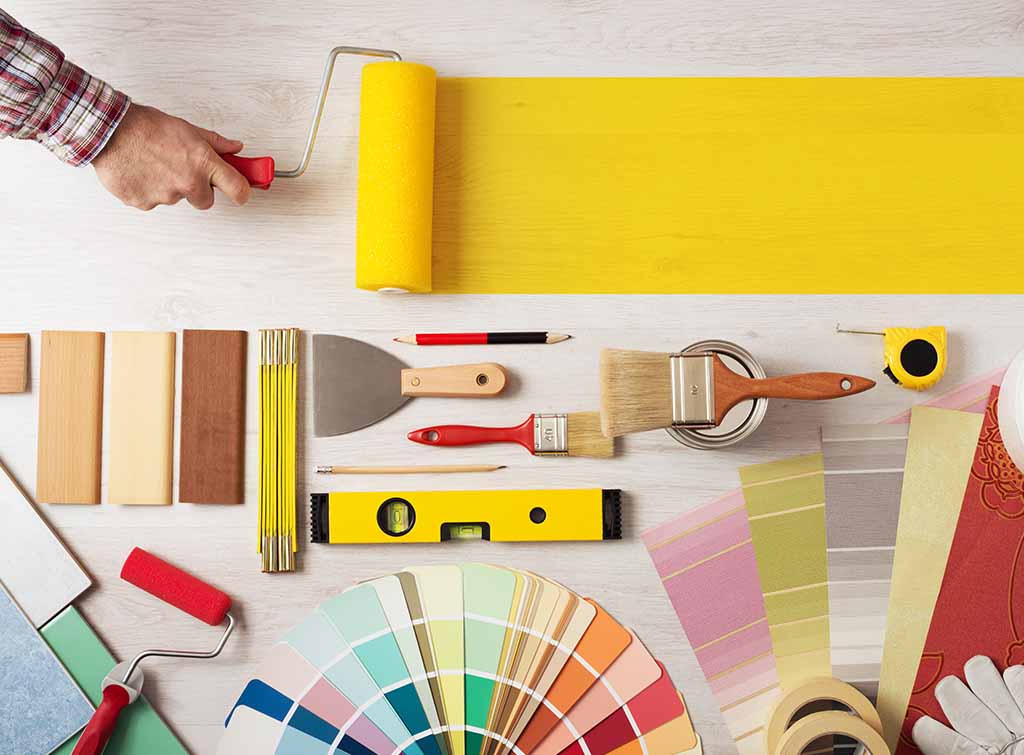 Before you decide whether or not painting over wallpaper is the right choice, there are a few things to consider. The most important consideration is the condition of your wallpaper. Old, peeling or torn wallpaper doesn't make an even base for paint, leading to terrible results.
Also, think about how old your home is. Removing wallpaper can cause plaster and parts of the wall to crack, and the older the wall, the worse it will be. With this in mind, you may choose to paint over it in order to prevent these issues in the short term.
If you're unsure about what to do, we recommend contacting a professional painter/decorator to get their advice.
If you're thinking of painting yourself and have got everything prepped, check out our how to paint a room guide.
Painting over vinyl wallpaper
When it comes to painting over vinyl wallpaper, you'll need to use the right preparation methods to achieve great results. We'd recommend thoroughly cleaning the wallpaper before beginning and treating any mould at the same time. You'll also need to use a primer or undercoat to help the paint settle over the wallpaper before painting. We'd suggest using Zissner Wallpaper Cover Up.
Painting over textured wallpaper
While it's possible to paint over textured wallpaper, this is definitely not advised. The texture of the wallpaper will usually show through the paint, affecting the appearance of your walls. You always have the option of covering your old wallpaper with plaster, but this is a difficult job to do well unless you have experience in this area. In fact, skimming may be trickier than wallpaper removal.
Painting over wallpaper glue
Even after removing wallpaper, you may find your walls are still covered with wallpaper glue. Painting over this is not a good idea either, as your finished walls will appear bumpy and clumpy when the paint mixes with the glue.
What should I do?
While painting over wallpaper is possible, it's generally not advised and the finished results tend to vary from job to job. If you want stunning, flawless walls, your best option is to hire a professional to remove your wallpaper and paint the walls from scratch.
Finding a tradesperson is easy, simply search here and have a look at the profiles of the tradespeople near you. You can be confident in the knowledge that all of our members go through 12 checks before becoming a Checkatrade member. You can also see all their previous reviews so you can see who your neighbours have recommended.
See the tradespeople we've checked and recommend for your job
FAQs

Can you paint over lining paper?
Yes, you can paint over lining paper. In fact, lining paper makes an excellent base for wallpapering or painting. It covers small cracks and bumps, making a uniform surface that's perfect if you plan to paint your walls.
Can you paint over patterned wallpaper?
Patterned wallpaper can create a beautiful effect in any home, however if this isn't to your taste, it may be tempting to simply paint over the top. It's possible to paint over patterned wallpaper, although you need to be prepared for the pattern to show through the paint. We'd suggest using a primer or undercoat to best cover the pattern.
How much does professional painting cost?
Utilising the skills of a professional painter is a great way of getting beautifully finished walls, however this will come at a cost. Thankfully, hiring a decorator is quite reasonable with an average cost of £190 per day. To help you plan your project, all the prices, factors and information you need is covered in our painter/decorator cost guide.