This guide is jam-packed with inspiration, tips and tricks to designing a stunning, functional patio. We will look into areas including back garden patio ideas, cottage garden patio ideas and so much more. Read on for helpful patio solutions designed for every type of garden.
To find out prices and view the different types of patios, visit our patio cost guide.
Patio materials
First things first, you will need to choose your patio materials. Each option has its own benefits with easy to install, long-lasting and stylish choices. The following are a few great material ideas:
Stone slabs
Slate
Pebbles
Gravel
Decking
Tiles
Concrete

Garden patio ideas
Whether you are looking to upgrade a dull, lifeless garden or starting from scratch, patios are a practical, aesthetically appealing choice. Looking for garden patio ideas? Why not install an outdoor fireplace on your patio for warmth on chilly winter evenings.
You can also brighten up your patio by adding pops of colour with painted slabs, coloured gravel or picturesque tiles. Another way to enhance your patio is by constructing a pergola for shade and privacy.
Back garden patio ideas
Back patios are usually more private than front patios, therefore are the perfect place to relax and unwind. A great back garden patio idea is to add outdoor furniture. This will transform your patio into an area for dining and sitting, especially if you enjoy entertaining.
Alternatively, you could add multiple patios to your back garden, each with a specific purpose. Or, to create a truly tranquil back garden patio consider using garden screening for complete privacy.
Small garden patio ideas
No matter how small your garden is, there is always space for a patio. Even if that patio is only big enough for a chair and table, the upgrade is well worth the investment. If you are struggling for small patio ideas, consider installing your patio over different levels. This adds visual interest and works perfectly with sloped gardens.
You can even use light colours and mirrors to make your small patio look larger. If you have no patio floor space available, you can instead add plants to your fencing or house wall. Finally, for really small patios, choose folding furniture to save on space when it's not in use.
Front garden patio ideas
Not every home is lucky enough to have a front garden but for those that do you can create a welcoming space full of life. If you have no clue when it comes to front garden patio ideas, begin with choosing colours. For a modern feel choose grey slate, or to improve the visuals of your front garden, pick a brightly coloured crazy paving patio.
You can also combine your stunning patio with grass or plants to make the front of your home more inviting. Furthermore, for an air of sophistication, add manicured topiary to your patio.

Cottage garden patio ideas
Patios can work well with any garden design scheme, and cottage patios are no different.
For a great cottage patio idea, add plants to help bring the space to life. Or, build a colourful patio and display plants in coloured pots that complement the patio.
For a beautiful space to relax, choose comfortable furniture for your patio with outdoor textiles. You can even add a pond into your patio for a stunning garden feature.
Team up with a garden patio expert!
Garden patio photo gallery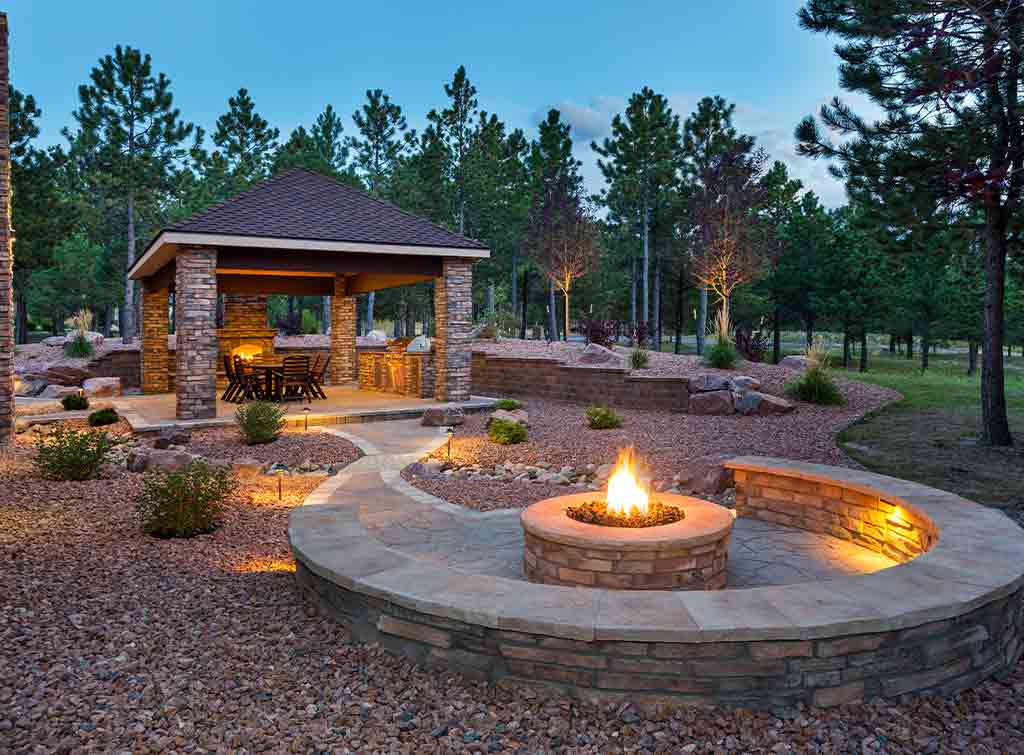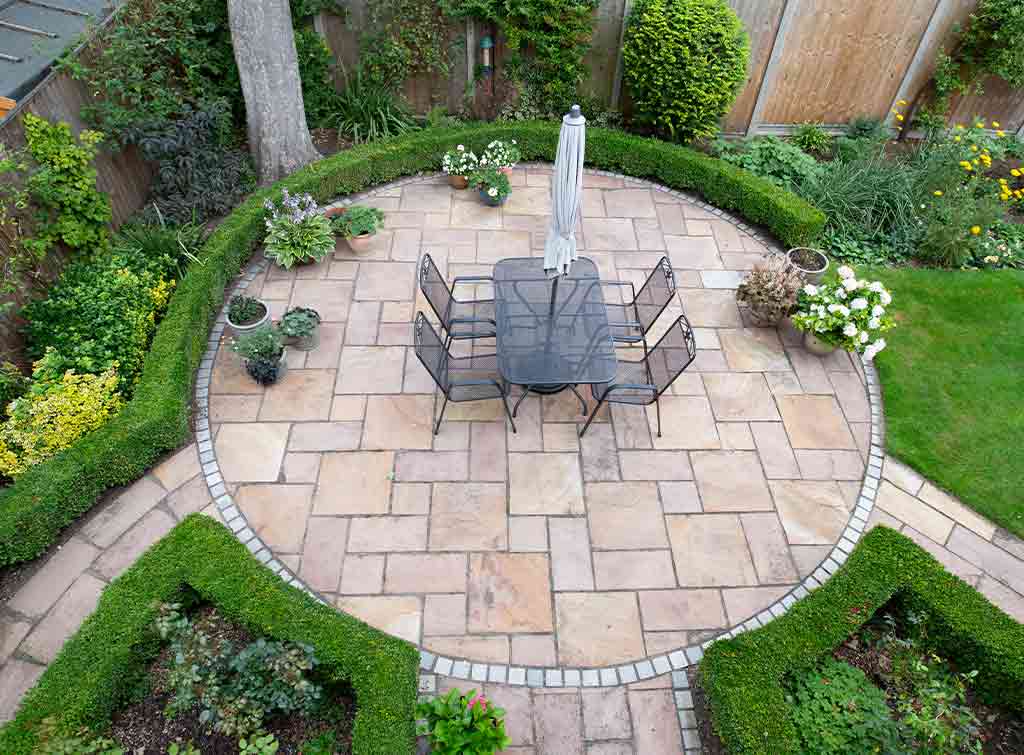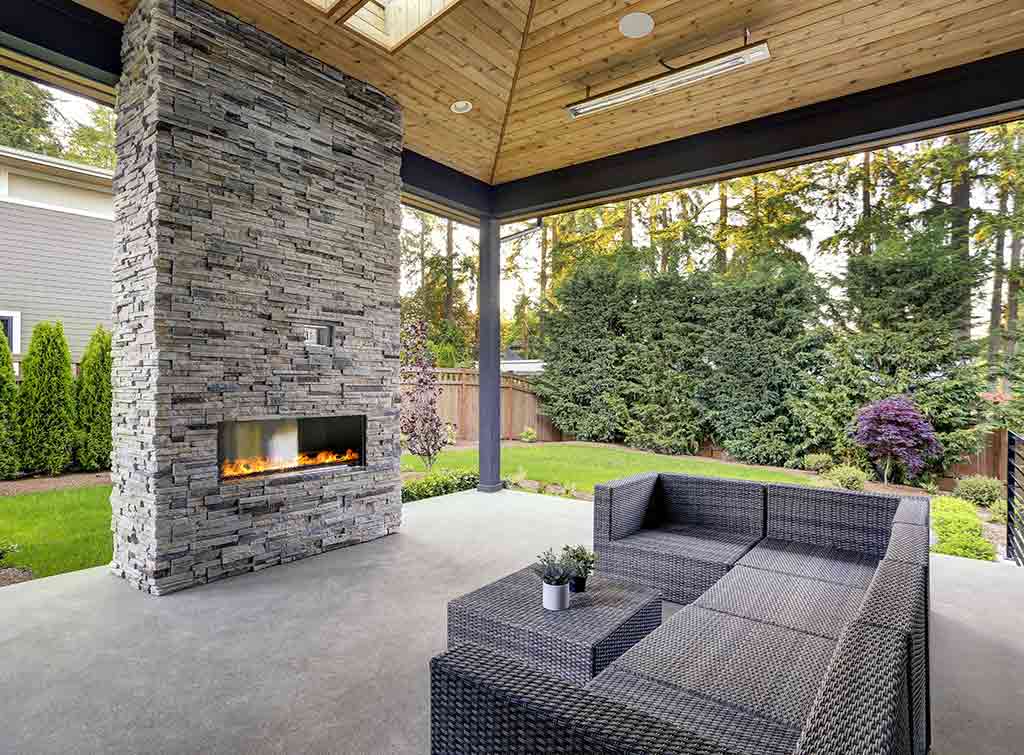 Garden patio lighting ideas
Lighting is essential when designing a patio as it will enable you to enjoy your garden well into the evening on warm days.
This homeowner has chosen a great garden patio lighting idea, using string bulbs hung over the patio to illuminate the space. Combined with the incredible views and a cosy hanging chair, this patio feels tranquil and soothing.
Garden patio decking ideas
Decking can be a fantastic patio option for modern and traditional homes. Although it can be tricky to come up with original garden patio decking ideas.
Using timber helps to breath warmth into any garden giving it a natural feel. You can even use wood effect boards for a more durable patio. Here dark wood has been used to create the flooring which contrasts well with the lighter wood furniture.
Find out how much garden decking costs, with our guide.
Garden patio with firepit
Fire pits are a striking choice to enhance any patio. A perfect way to keep warm with incredible aesthetics, fire pits are definitely worth the cost.
In this garden a circular patio with stone slabs has been built around a brick fire pit. There is even stone seating surrounding the pit. See our fire pit cost guide for more details.
What's more, a small distance away is another patio with a beautifully designed pergola that is linked to the fire pit patio by a stone path.
Circular back garden patio
Looking for something a little different? Your new patio can take any shape you imagine.
Here a circular patio has been constructed with light stone slabs, creating an inviting space for dining and entertaining. In fact, stone slabs are durable and can last for years to come.
Radiating outwards, three stone paths lead to other areas of the garden, making access easy and safe.
Modern garden patio idea
This spectacular example of a modern patio is perfectly designed for comfort and visual appeal. One solid block of marble effect concrete makes up the patio itself, while a beautiful stone fireplace floods the space with warmth and light.
Here greys, whites and blacks have been used to create a modern theme with minimalist décor.
Team up with a garden patio expert!
Tell us what you think
What others think of this cost guide:
Need More Information?
Related posts